The Pirates spent much of the winter trying to insulate themselves against the potential departures of players who had been keys to their successful 2013 and 2014 seasons. In the end, they spent surprisingly heavily, given their usual thriftiness, signing two familiar starting pitchers and adding a high-profile but largely untested Korean infielder.
Major League Signings
Francisco Liriano, SP: Three years, $39MM
Jung-ho Kang, SS: Four years plus club option for 2019, $11MM guaranteed (plus $5,002,015 posting fee)
A.J. Burnett, SP: One year, $8.5MM
Corey Hart, 1B/OF: One year, $2.5MM
Radhames Liz, P: One year, $1MM
Total spend: ~$67MM
Notable Minor League Signings
Trades And Claims
Extensions
Notable Losses
Needs Addressed
The Pirates lost catcher Russell Martin, a key to their franchise-changing 2013 and 2014 campaigns and a bargain to the franchise when he signed following the 2012 season for two years and $17MM. Martin headed to Toronto at a dramatic markup, with the Pirates receiving only a draft pick in return. In Martin's place, the Bucs acquired former Yankees backstop Francisco Cervelli, who has struggled to stay healthy and isn't likely to hit nearly as well as Martin did, since Cervelli's strong offensive performance in a small sample last year was largely BABIP-fueled. Via StatCorner, however, Cervelli and backup Chris Stewart have both ranked as above-average pitch framers in each of the last four seasons, potentially giving the Pirates an edge that won't be reflected in their catchers' offensive numbers. Cervelli and Stewart aren't likely to replace Martin's .290/.402/.430 2014 season at the plate, but they could approximate Martin's value behind it at a fraction of the cost.
The Bucs also faced uncertainties in their rotation, given that Francisco Liriano and Edinson Volquez were eligible for free agency. The Bucs re-signed Liriano for $39MM, more than doubling Martin's record for the organization's largest ever free agent contract. To some extent, the Pirates paid heavily for their own handiwork, as their combination of framing, defensive shifts and strong coaching had helped Liriano rebuild his value after he posted consecutive seasons with five-plus ERAs in 2011 and 2012. But the Bucs needed pitching, and there were few better bets on the market, with Brandon McCarthy the only pitcher in the Pirates' presumed price range who might have been as good a fit for their ground-ball-heavy approach. Liriano's price was reasonable, too, given that McCarthy and Ervin Santana, pitchers in a similar tier, each got four years and more money (although it should be noted that McCarthy, unlike Liriano and Santana, did not require the loss of a draft pick).
The Pirates' replacement for Volquez (another pitcher whose value skyrocketed thanks in part to the Bucs' planning and coaching) fell into their laps in November, when A.J. Burnett told his agent he was only interested in playing in Pittsburgh. Burnett had rejected a $12.75MM player option to remain in Philadelphia, and he took a significant discount to return to the Pirates. Burnett's peripherals declined with the Phillies, and at 38, he'll be hard-pressed to repeat his excellent performances with Pittsburgh 2012 and 2013. Like Liriano and Volquez, though, he's a good fit for the Pirates given his ground ball tendencies and the Bucs' defense and ballpark, so some rebound from his disappointing, hernia-plagued 2014 season is likely.
The Pirates also allowed Clint Barmes, a light-hitting shortstop whose good glove was often a crucial part of the Bucs' swarming infield defense, to leave for the Padres via free agency. With Jordy Mercer remaining as the Pirates' starter, the Bucs first aimed to replace Barmes' glove by collecting low-cost infielders, including Sean Rodriguez, Justin Sellers, Pedro Florimon and Jake Elmore (who is already out of the organization). Rodriguez, who can also play the outfield, still looks like a fit for the Pirates' bench, but the Bucs' plans for the others likely changed in December, when they unexpectedly won the bidding for Korean shortstop Jung-ho Kang. The Bucs then signed Kang to a four-year deal with an option for 2019.
It's hard to tell what to expect of Kang, the first position player from the KBO to arrive in US baseball via the posting system. The 27-year-old posted a ridiculous .356/.459/.739 line with Nexen in 2014, although the KBO is an extremely hitter-friendly league with a competition level significantly lower than that of the Majors, and there are questions about Kang's ability to handle shortstop in the big leagues. He'll likely start the season as a bench option for the Pirates. If he proves he can handle big-league pitching, however, he might not stay there. Mercer has never been a star, first baseman Pedro Alvarez is strikeout-prone and erratic, second baseman Neil Walker has struggled to stay healthy, and third baseman Josh Harrison is versatile and can be moved back into his previous super-utility role, so there could be opportunities for Kang to start at some point in the future.
Kang wasn't the only player from the KBO the Pirates added, also signing Dominican pitcher Radhames Liz, who pitched for the LG Twins from 2011-2013, to a cheap one-year deal. Liz started in Korea, but the Pirates have already suggested they're likely to use him in relief — not a surprise, given the 31-year-old's live arm and history of control issues.
To make up for the departure of lefty Justin Wilson in the Cervelli deal, the Bucs traded lefty prospect Joely Rodriguez to the Phillies for Antonio Bastardo, who they'd also reportedly pursued at the 2014 trade deadline. As a fly ball pitcher, Bastardo doesn't match the Pirates' usual pitcher type, but he whiffed 11.4 batters per nine innings last season and should give the Bucs an effective second lefty to pair with Tony Watson.
Finally, the Pirates signed Corey Hart to a cheap deal to provide a right-handed bat at first base and in the outfield. Hart effectively replaces Gaby Sanchez, who struggled while serving as the right-handed side of an underwhelming platoon with Ike Davis in 2014. Hart himself missed the entire 2013 season due to injury and had a terrible 2014 in Seattle, but he was well above average in three straight seasons before that, so he might have some upside that Sanchez doesn't. At $2.5MM (plus some incentives for plate appearance thresholds he isn't likely to reach), Hart poses little risk.
Questions Remaining
The Bucs have few obvious holes, but it's unclear whether they have the talent necessary to topple the Cardinals and hold off the Cubs in the NL Central. (And while the Brewers and Reds aren't as likely to contend, they won't be complete pushovers either.) With the departure of Travis Snider in a deal with the Orioles, the Bucs will lean heavily on Gregory Polanco in right field. Polanco, who has stratospheric upside, should certainly start, but he struggled in his rookie season in 2014. He has more than enough talent to make the necessary adjustments, but if he doesn't, the Pirates' outfield picture could get interesting, particularly if Kang proves he's good enough to start somewhere in the infield — in that case, Kang could take over at third with Harrison moving to right.
The Pirates' new first base platoon of Alvarez and Hart might or might not pan out. Alvarez, who had to be moved off third after a series of throwing misadventures last season, has barely played his new position. And then there's his offense — he's only two years removed from a 36-homer 2013 campaign, but he has strikeout issues that dramatically limit his ability to hit for average. He improved his plate discipline in 2014, but his new approach perhaps cost him power, as he went from one home run every 17 plate appearances to one every 25. He's set to make $5.75MM in his penultimate season before free agency eligibility, and this year could be his last in a Pirates uniform, since the arbitration process threatens to pay him more than he's worth.
The Pirates will also have to determine who belongs in their rotation. Liriano, Burnett and Gerrit Cole are easy choices, along with Charlie Morton, as long as Morton remains on track after having hip surgery late last season. After that, there's Vance Worley and Jeff Locke, both of whom are out of options. Worley was the better of the two last season, posting a 2.85 ERA with 6.4 K/9 and 1.8 BB/9, so he could take over the fifth spot. Locke is too valuable to designate for assignment and probably isn't ideally suited to relief work, so it wouldn't be a shock to see the Pirates trade him near the end of Spring Training if all their big-league starters are healthy. If they did, it would make sense to get a starting pitcher who has options. The Bucs' rotation depth took a hit in early March when it was revealed that Brandon Cumpton, a starter on the 40-man roster who figured to begin the year at Triple-A Indianapolis, needed to visit Dr. James Andrews.
The Pirates' biggest problem, though, is that they'll have to make up for some individual performances they probably won't get again. Cervelli is capable, but he's not Martin. Harrison produced an out-of-nowhere 4.9-WAR season that he's unlikely to repeat, given his previous performance record, although his breakout was fueled in part by an increase in his line-drive rate that's probably sustainable to some degree. Andrew McCutchen, Starling Marte and Neil Walker had terrific seasons as well. Breakouts from Polanco or Cole would help offset likely declines at other positions. If flame-throwing rookie reliever John Holdzkom can pitch as well over a full season as he did for the Pirates in September, that would help, too.
Deal of Note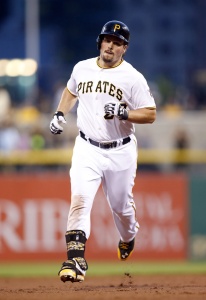 The Pirates spent most of the offseason accumulating veteran talent where they could, but they went in the opposite direction when they traded Travis Snider to the Orioles for pitching prospects Stephen Tarpley and Steven Brault. They had traded two young pitching prospects, Joely Rodriguez and Buddy Borden, in previous offseason deals, so their return in the Snider deal allowed them to replenish their farm system. But it still seemed like an odd trade — even with the left-handed Polanco projected to take over for the Snider in right field, Snider had a clear role on the team as the Bucs' only projected lefty bench option. Snider hit a solid .268/.338/.438 and produced 1.7 fWAR in just 359 plate appearances last season, so his loss is a significant one, at least on the surface.
Many projection systems think Snider and minor-leaguer Andrew Lambo will produce at about the same rate next year, though, and Snider had never previously had a big-league season like the one he had in 2014. So perhaps the Pirates thought they sold high on Snider while clearing a space for Lambo, who clobbered Triple-A pitching for the second consecutive season last year. And while trading Snider for prospects seems like the behavior of a rebuilding team, not a contending one, GMs increasingly seem to be pursuing multiple goals at once — not just trying to win now or just trying to win later, but trying to do both at the same time.
Overview
Pirates GM Neal Huntington, his front office, and the Bucs' coaching staff have now produced two straight teams that were better than they appeared to be on paper. The Pirates target pitchers who induce buckets of ground balls, then get the most out of what seem to be average infield defenses with expert positioning. Add in a pitcher-friendly ballpark and the NL's lack of the DH, and many Pirates pitchers during the last two years — Burnett, Liriano, Volquez, Charlie Morton, Mark Melancon, Jared Hughes — were probably as likely to succeed with the Pirates as with any other team in baseball. The way the Bucs help pitchers, chronicled in detail in Travis Sawchik's forthcoming book Big Data Baseball, is specific and sophisticated enough that certain types of pitchers — ground-ballers who can pitch into the Bucs' shifts — give the Pirates a significant edge on their competition. The number of pitchers it even makes sense for them to pursue in any given offseason is thus fairly small.
Because of their pitcher support system, the Pirates have a good chance at continued success in the future despite payrolls that most of their fans still find frustratingly low. They have a collection of relatively cheap pitching that they are ideally suited to nurture. They have a franchise player, Andrew McCutchen, who's under control for four more years thanks to one of the most team-friendly contracts in the game, and an emerging star in Starling Marte who's signed to a team-friendly deal of his own. The Bucs also have one of baseball's better farm systems, with Tyler Glasnow and Jameson Taillon set to join their rotation by 2016 and Josh Bell perhaps set to take over for Alvarez and Hart at first base around then. By 2018, after which McCutchen is eligible to depart via free agency, maybe those players will be part of a Pirates core headed by Marte, Polanco and Cole.
2014-2015 was about as flashy as Pirates offseasons get, and yet, by the standards of most other teams, they did very little. In fact, with Martin gone, they probably even downgraded. But the Pirates' plans don't center on flashy offseason moves. Or, as Huntington puts it, "We'll never win the offseason." They probably won't head into any season in the near future as a favorite to win the World Series, or perhaps even as a runaway favorite to win their division. But they do look like they could continue to contend for the next several seasons, 2015 included.
Photo courtesy of USA Today Sports Images.