The World Series winners brought back some familiar faces from their latest championship team, yet they'll have to account for a Panda-sized hole in their lineup.
Major League Signings
Jake Peavy, SP: Two years, $24MM
Sergio Romo, RP: Two years, $15MM
Nori Aoki, OF: One year, $4MM ($5.5MM club option for 2016 with $700K buyout; option becomes mutual with 550 plate appearances)
Ryan Vogelsong, SP: One year, $4MM
Total spend: $47.7MM
Notable Minor League Signings
Trades And Claims
Extensions
Notable Losses
Needs Addressed
With five key members (two position players and three pitchers) of last year's roster facing free agency, the Giants brought back all three of the arms.  Madison Bumgarner, Tim Hudson and a hopefully-healthy Matt Cain will be joined in the rotation by the re-signed Jake Peavy.  Ryan Vogelsong seemed to be on the verge of going to the Astros, but after a bit of controversy scuttled that deal, he ended up re-signing with the Giants.  Vogelsong is currently slated to fill a long relief role but he (or Yusmeiro Petit) could be elevated to the fifth starter's role if Tim Lincecum's struggles continue.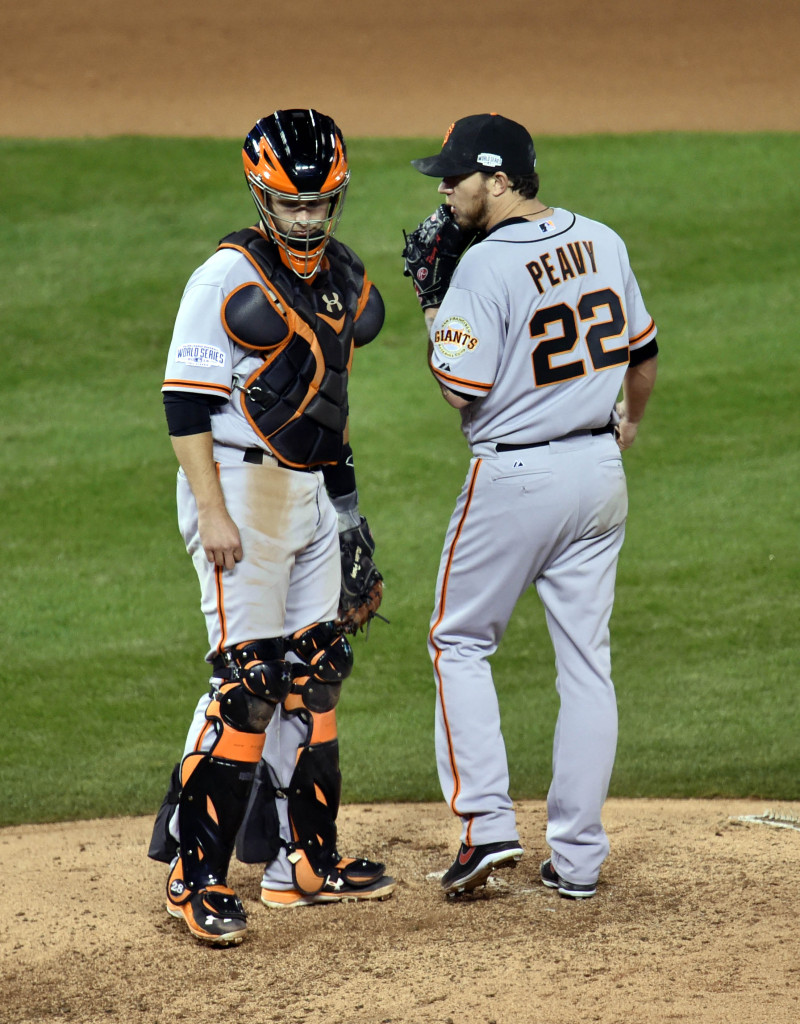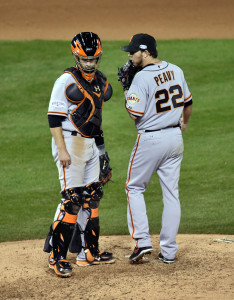 After receiving some interest from the Astros, Dodgers, Yankees and Red Sox, Sergio Romo instead returned to San Francisco on a two-year, $15MM deal.  The veteran relief trio of Javier Lopez (37 years old), Santiago Casilla (34) and Romo (32) have played major roles in the Giants' three World Series titles since 2010, and they'll continue to hold down the back of the bullpen.
The Giants will miss Mike Morse's .279/.336/.475 batting line (133 wRC+, or 33 percent better than the league-average hitter) and 16 homers, yet in replacing him in left field with free agent signing Nori Aoki may be an overall upgrade.  While Aoki posted only a 104 wRC+ and obviously fell far short of Morse in the power department, he generated 2.3 fWAR to Morse's 1.0 fWAR last season due to a big edge in defense and baserunning, as well as a better batting average and OBP.  Aoki's skill-set makes him a good fit for AT&T Park, and his defensive versatility may already have come in handy for the Giants; Aoki may be a short-term replacement in right field while Hunter Pence is on the DL.
Sabermetrically speaking, the gap between Pablo Sandoval and the newly-acquired Casey McGehee was closer than you might expect at first glance.  Sandoval posted a .279/.324/.415 slash line, 16 homers, a 111 wRC+ and .323 wOBA over 638 PA last season and generated 3.0 fWAR.  In his return to North American baseball after spending 2013 in Japan, McGehee hit .287/.355/.357 with four homers over 691 PA, good for a 102 wRC+, .319 wOBA and 2.0 fWAR.  Since McGehee will earn $4.8MM in 2015 as compared to Sandoval's $17MM salary from the Red Sox, the Giants will be overjoyed if there's only a one-win gap between the two third basemen next year.
Questions Remaining
While the Giants brought the band back together pitching-wise, Bumgarner's postseason dominance obscured the fact that the club actually didn't get much from its rotation in 2014.  San Francisco starters generated only 8.2 fWAR last season, the third-lowest total in baseball.  While this number should rise with Cain's return and a full season from Peavy, there is still plenty of uncertainty given Cain's health, the fifth starter spot and the 39-year-old Hudson's fade down the stretch last year.  Hudson's health isn't a 100 percent guarantee, either, as the veteran righty underwent January surgery to remove bone spurs from his ankle. Though he's expected to be ready for Opening Day, the aftereffects of that operation are yet undetermined.
With questions surrounding their rotation, the Giants checked in on several top free agent pitchers this offseason.  They were serious suitors for both Jon Lester and James Shields (though their four-year, $80MM offer to Shields was reportedly taken off the table once they signed Peavy), and they at least considered the likes of Max Scherzer, Francisco Liriano and Ervin Santana.  I would guess that if the Giants are still in the race by midseason but have one or two pitchers struggling, they'd be prime candidates to pick up a top-tier arm at the trade deadline.
It seemed that "close-but-no-cigar" was the theme of the Giants' offseason, as they explored what would've been very notable trades and signings for the likes of Nelson Cruz, Justin Upton, Torii Hunter, Ben Zobrist, Chris Johnson, Asdrubal Cabrera, Chase Headley, Jed Lowrie, Nick Markakis, and some of Boston's extra outfielders.  They also fell short in the bidding for Cuban slugger Yasmany Tomas, who could've helped the club in either left or third.  Timing seemed to be an issue on some of these non-moves; with the Giants not knowing until the Winter Meetings if they would land Lester, they couldn't make other commitments until they knew if they'd need the $140-150MM they had earmarked for the ace southpaw.
The Giants also made a strong push to re-sign Sandoval, though the Panda had reportedly made up his mind to leave San Francisco before last season even began.  (His postseason hitting display was quite the parting gift.)  McGehee's 2014 stats were boosted by a .335 BABIP, and given Sandoval's clear edge in career hitting totals, McGehee will likely fall well short of matching Sandoval's production.  Given how the Giants looked elsewhere for third basemen this winter, McGehee might just be a one-year stopgap until they can find a more long-term answer at the hot corner.
Losing Sandoval and Morse will damage a Giants' lineup that posted middle-of-the-pack numbers in most offensive categories last year.  Missing Pence for potentially all of April certainly won't help in the team's search for more runs.  On the flip side, the lineup should get a bit of a power boost with Brandon Belt healthy again after an injury-plagued 2014.
Romo actually posted a negative fWAR (-0.3) last season, largely due to career highs in both FIP (3.94) and HR/9 (1.4).  He lost the closer's job partway through the season but rebounded enough that he earned a share of the closing duties with Casilla, though it was Casilla who received all four save opportunities during the playoffs.  As a result, Casilla will be the Giants' closer going into Spring Training.
With this in mind, guaranteeing $15MM to a 32-year-old setup man coming off his worst statistical season was something of a risky move.  San Francisco already had a pretty strong bullpen without Romo, and with Vogelsong/Petit (or maybe Lincecum) added in a swingman or long relief role, a case could be made that the Giants could've let Romo go and spent that $15MM elsewhere.  Romo does provide depth for Casilla, who's a non-traditional closer, but the Giants are investing a lot in the hope that Romo's poor first half was just an aberration.
Deal Of Note
While the Giants couldn't land a frontline ace like Lester or Shields, they did sign a guy who pitched like an ace while in a Giants uniform.  Peavy posted a 2.17 ERA, 3.41 K/BB rate and 6.6 K/9 in 78 2/3 innings after his late-July trade from Boston to San Francisco, though his peripherals (3.03 FIP, 4.01 xFIP, 3.91 SIERA) indicate that he enjoyed some good fortune ERA-wise.
A 2.17 ERA over a full season probably isn't in the cards, yet Peavy should provide the team with quality innings and a solid return on their two-year, $24MM investment.  As Peavy himself hinted while speaking with reporters (including MLBTR's Zach Links) after his signing, he may have taken less money than he could've found elsewhere to return to the Giants due to his love of the organization and his desire to win.
Overview
While the Giants' projected $170MM payroll for 2015 is one of the game's highest, it was expected they would spend a little more than $52.7MM (their free agent signings and McGehee's salary) on players given the extra revenues from their playoff run.  It seems like the team expected the same thing given the number of high-salaried targets they pursued but couldn't land.
Still, a fairly quiet offseason is not a huge cause for alarm.  Not spending in winter means that the Giants probably have some cash to spend in June or July.  As mentioned earlier, the club could be contenders for pitching upgrades, or potentially could aim for bullpen help or lineup additions should the need arise.  The Giants could add short-term rentals, or pursue pricier players who are signed beyond 2015.  San Francisco can afford to consider such additions since they'll have roughly $53MM coming off the books after the season (expiring deals for Lincecum, Hudson, McGehee, Vogelsong, Jeremy Affeldt, Marco Scutaro and Joaquin Arias) and possibly more if club options for Casilla and Aoki aren't exercised.
For now, however, the Giants should be in pretty good stead given that they're returning the large majority of a world championship roster.  Bruce Bochy will have to work some of his usual creativity to make up for the absences of Sandoval and Morse, and the club will have a tougher road in the NL West with the reloaded Dodgers and the rebuilt Padres both looking like contenders.  Still, anyone writing off the 2015 Giants simply due to the "Odd Year Curse" does so at their own peril.
Photo courtesy of Peter Aiken/USA Today Sports Images