After a largely quiet offseason, the Mets have sprung into action by acquiring a pair of left-handed relievers and now formally announcing a four-year extension with center fielder Juan Lagares. Lagares' new contract reportedly calls for a $23MM guarantee. New York will also pick up a $9.5MM club option ($500K buyout) for an additional season.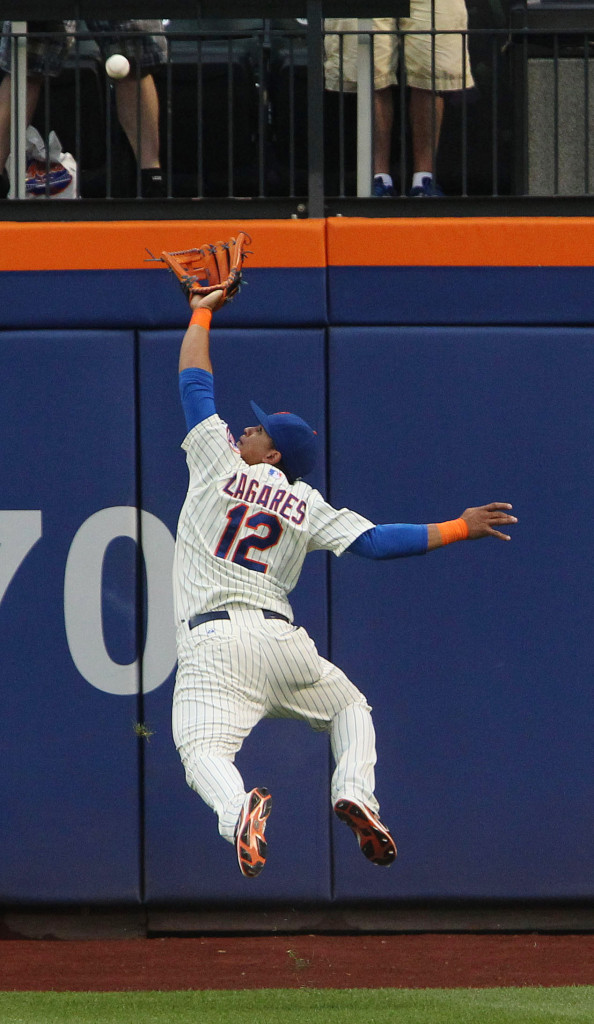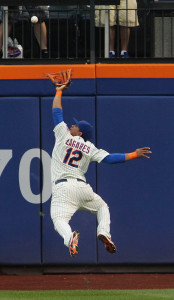 Lagares, 26, is represented by ACES. The annual breakdown of the deal is as follows: $2.5MM in 2016, $4.5MM in 2017, $6.5MM in 2018 and $9MM in 2019. As that indicates, the contract does not kick in until meaning that New York has locked in salaries for all of Lagares's arbitration years while picking up a club option over his first season of free agent eligibility. Lagares entered the offseason with 1.160 years of service, meaning he'd almost certainly have qualified for Super Two eligibility next year. All told, New York will stand to gain control over Lagares through his age-31 season.
Lagares established himself last year with an outstanding campaign in the field and solid effort at the plate. There is no doubt that his primary value comes with the glove: Lagares led all qualifying outfielders with 25.3 UZR/150, with Defensive Runs Saved and scouting reports concurring in his excellence.
Of course, Lagares had already showed that kind of capability in center. What last year did more than anything was show his capacity on the offensive side of the equation. Lagares slashed .281/.321/.382 over 452 plate appearances, an approximately league average line, while contributing four home runs and 13 stolen bases.
There may not be much upside left in the bat given his age, but the aggregate package has obvious appeal. Lagares was worth 4 fWAR and an even more impressive 5.5 rWAR last year, making him the type of well-above-average player that any team hopes to be able to lock in up the middle.
In terms of the payday, which is yet to be reported precisely, Lagares obviously had some reasonably anticipated caps on his earning capacity since his skillset is presently not valued highly in arbitration. The most obvious comp for this deal is the recent Adam Eaton extension — a five-year, $23.5MM pact (plus two club options) for a center fielder who had one less year of club control but who was on track to qualify for arbitration just three times. Eaton is also 26, and both players have missed some time due to injuries over the last few years. While they profile differently, and appear to have agreed to differently-structured deals, the overall value of the two players is arguably fairly similar.
Another way of looking at it, though, would be to compare this agreement to the Andrelton Simmons extension from last winter. Simmons, of course, is also an elite defender whose bat is slightly below average to average. The Braves cornerstone, then 24, got seven years and $58MM in exchange for his age-24 through age-31 seasons. With this deal, the Mets appear set to control Lagares through his age-31 season with a more modest annual guarantee and lower overall risk.
ESPN.com's Jim Bowden first reported the deal and its parameters (links to Twitter). Jeff Passan of Yahoo Sports reported the final terms (via Twitter; web link).
Photo courtesy of USA Today Sports Images.