Newly installed president of baseball operations John Hart wasted little time in aggressively turning over a roster that disappointed last year, adding loads of young pitching and reshaping the team's offensive profile.
Major League Signings
OF Nick Markakis: four years, $44MM
RP Jason Grilli: two years, $8MM
OF Dian Toscano: four years, $7.5MM
OF Jonny Gomes: one year, $4MM
IF Alberto Callaspo: one year, $3MM
C A.J. Pierzynski: one year, $2MM
RP Jim Johnson: one year, $1.6MM
RP Josh Outman: one year, $925K
OF Zoilo Almonte: one year, unknown (presumably, the league minimum)
Total spend: ~$71.5MM
Notable Minor League Signings
John Buck (since retired), Matt Capps, David Carpenter, Pedro Ciriaco, Todd Coffey (since released), Kelly Johnson, Michael Kohn, Peter Moylan, Wandy Rodriguez (since released), Gus Schlosser, Eric Stults, Donnie Veal, Jose Veras (since released), Chien-Ming Wang, Eric Young
Trades And Claims
Extensions
Notable Losses
Needs Addressed
The Braves spent last winter locking up young talent for the long run, but changed course swiftly after the club's first losing campaign since 2008. Moving into the driver's seat was former Indians/Rangers GM John Hart, who will be accompanied by well-regarded young executive John Coppolella. With the former taking on the title of president of baseball operations and the latter remaining the assistant GM, the club technically has no general manager. Expectations are that Coppolella will eventually ascend to that position, but for now at least he'll work under Hart.
Club president John Schuerholz has explained that Wren's sacking was motivated not by the club's failure to contend in 2014, but rather by the overall lack of organizational strength that he perceived. The new leadership promptly set out to trade in many of its best big league pieces for young talent, transforming a lagging farm into a system that many now rank in the top ten league-wide.
It all started with the departures of Heyward and Upton, a pair of corner outfielders who will hit the open market after the season — arguably as the best two available free agents. The cumulative return was highlighted by Shelby Miller, who once looked to be the future staff ace of the Cardinals but will seek to get back on track after a relatively disappointing 2014. Tyrell Jenkins and Max Fried represent some younger, high-upside arms, while Jace Peterson surprised this spring and has opened the year in Atlanta's everyday lineup. As always, evaluating the quality of a prospect haul requires time, but there is an argument to be made that Atlanta could have squeezed more value had it waited for the trade deadline.
At the time, it was not out of the question that the club would stop there in terms of major moves. That proved not to be the case. The Braves proceeded to deal two key players who carried plenty of team control in Evan Gattis and, most controversially — among the fanbase, at least — star closer Craig Kimbrel.
Gattis always made more sense in the American League, particularly for a club that has a young catcher (Christian Bethancourt) who it expects to provide a level of defense that Gattis cannot. But he was affordable and useful, so it took an impressive haul for the Astros to pry him away. Atlanta netted two highly-regarded prospects in righty Michael Foltynewicz and third baseman Rio Ruiz.
As if that were not enough, the Braves and Padres stunned the baseball world once again on the eve of Opening Day. Kimbrel, one of the team's longest-tenured and most marketable players, was traded to San Diego along with Melvin Upton Jr. and his ball-and-chain of a contract. Atlanta took back some salary commitments by adding Cameron Maybin and Carlos Quentin (since released), but Maybin still has some value and fills an immediate need in center. In addition to financial relief, of course, the Braves picked up another top-100 pitching prospect in Matt Wisler along with the 41st pick in this year's draft.
A series of smaller deals brought back other young arms, including former top prospects Manny Banuelos and Arodys Vizcaino. Cuban outfielder Dian Toscano was added on a lower-profile, but still fairly significant, international deal. And more young talent will be coming: in addition to adding a sandwich pick in the Kimbrel deal, Atlanta picked up some international pool money and the 75th overall pick through other trades.
That last draft choice came as part of the deal that brought starter Trevor Cahill to Atlanta. Still just 27, Cahill will fill some frames in the near term but also comes with upside. He managed a 3.89 FIP in spite of awful results last year, and comes with a history of throwing a high number of solid innings. While it would take quite a turnaround for his two options ($13MM, $13.5MM) to become attractive, Cahill could theoretically become a summer trade chip. Alternatively, the Braves could simply hold onto him in the event of a rebound, content to have a solid contributor at a reasonable price. Given the relatively meager cost to acquire him (in terms of cash and prospects) and the fact that Atlanta also ultimately added extra bonus pool flexibility with the draft pick, it looks like a solid gamble, even if a resurgence seems unlikely.
All of those moves filled long-term needs, but obviously also functioned to open up holes in the current big league roster. The club opted to fill them with veteran free agents who figure to hold down the fort as the team transitions. While some teams have foregone such spending in rebuilding years, relying more heavily on organizational depth and minor league free agents, the Braves have made clear that they intend to field a competitive team and quickly ramp up with a new park set to open in 2017.
Jason Grilli and Jim Johnson head to the back of the bullpen, Jonny Gomes to the corner outfield, Alberto Callaspo to a utility infield role, and A.J. Pierzynski to the backup catcher slot, all for a total commitment of just over $18MM. Of course, the Braves did make one much more significant outlay: outfielder Nick Markakis, whose signing we'll look at more closely below.
Questions Remaining
The re-made staff, fronted by Julio Teheran and Alex Wood, is cheaper, younger, and perhaps more talented than last year's unit (which went without the since-departed Kris Medlen and Brandon Beachy), but it remains to be seen if it will be more productive. Miller and Cahill have plenty of upside, but each needs to re-establish himself in his new environs. Behind them, Eric Stults (and, perhaps, Chien Ming-Wang) will eat innings and try to hold off Foltynewicz, Wisler, and Banuelos. Atlanta will presumably hope that at least two-thirds of the young trio can force the issue and head into 2016 prepared to take over full-time jobs.
The biggest rotation question of all, however, is 27-year-old lefty Mike Minor, who has struggled with health and consistency. He is owed $5.6MM in his second year of arbitration eligibility (as a Super Two player) and will once again start the year on the DL with shoulder problems. Minor struggled last year after an outstanding 2013, and if his shoulder problems are severe enough, he could conceivably become a non-tender candidate given his growing cost. That, of course, is somewhat of a worst-case scenario, though.
Suddenly lacking not only Kimbrel but also top setup man Jordan Walden and middle relievers David Carpenter and Anthony Varvaro, among others, the Braves' bullpen is a new-look affair. Indeed, Atlanta's pen will feature just one player — southpaw Luis Avilan — who made more than twenty appearances for the team last year. Grilli will need to show that his improved second half of 2014 is sustainable at an advanced age, Johnson will look to re-establish himself, and newcomers like Cody Martin and Brandon Cunniff will try to take advantage of an opportunity. (Promising righty Shae Simmons is a notable absentee after undergoing Tommy John surgery prior to the season.)
As for the lineup, the Braves made clear that they wanted to move away from an all-or-nothing, high-strikeout approach, and certainly have angled to do so. But it remains to be seen what kind of offensive output the new group will provide. Beyond the excellent bat of first baseman Freddie Freeman and the solid production of Nick Markakis, the lineup is full of questions at the plate.
Behind the plate, Bethancourt looks to be a reliable defender but has much to prove offensively after a .248/.274/.274 line in 117 plate appearances last year. The veteran Pierzynski was not much better last year, though he has long provided a serviceable bat behind the dish.
In the middle infield, Andrelton Simmons is a generational glove man but has seen his productivity on the other side of the ball decline steadily over the last three years. Second base is wide open: Peterson has the first crack at the job, while Kelly Johnson joins Callaspo as established options who have been slightly below average at the plate and in the field over recent seasons. Likewise, third base could be manned at times by either of those veterans or Chris Johnson, who failed to live up to his extension in his second season in Atlanta.
And that, finally, brings us to Markakis.
Deal Of Note
A four-year, $44MM free agent deal for a franchise right fielder? That's a bargain. The question, of course, is whether Markakis really fits that mold. He gets on base, is said to be an excellent clubhouse presence, and has a sterling defensive reputation. But he has meager power for his position, is only a slightly above-average overall offensive player, and does not score particularly well in terms of defensive metrics, despite the facts that plenty of scouts seem to vouch for his glove. And then there's the fact that Markakis is already 31 and just underwent neck surgery.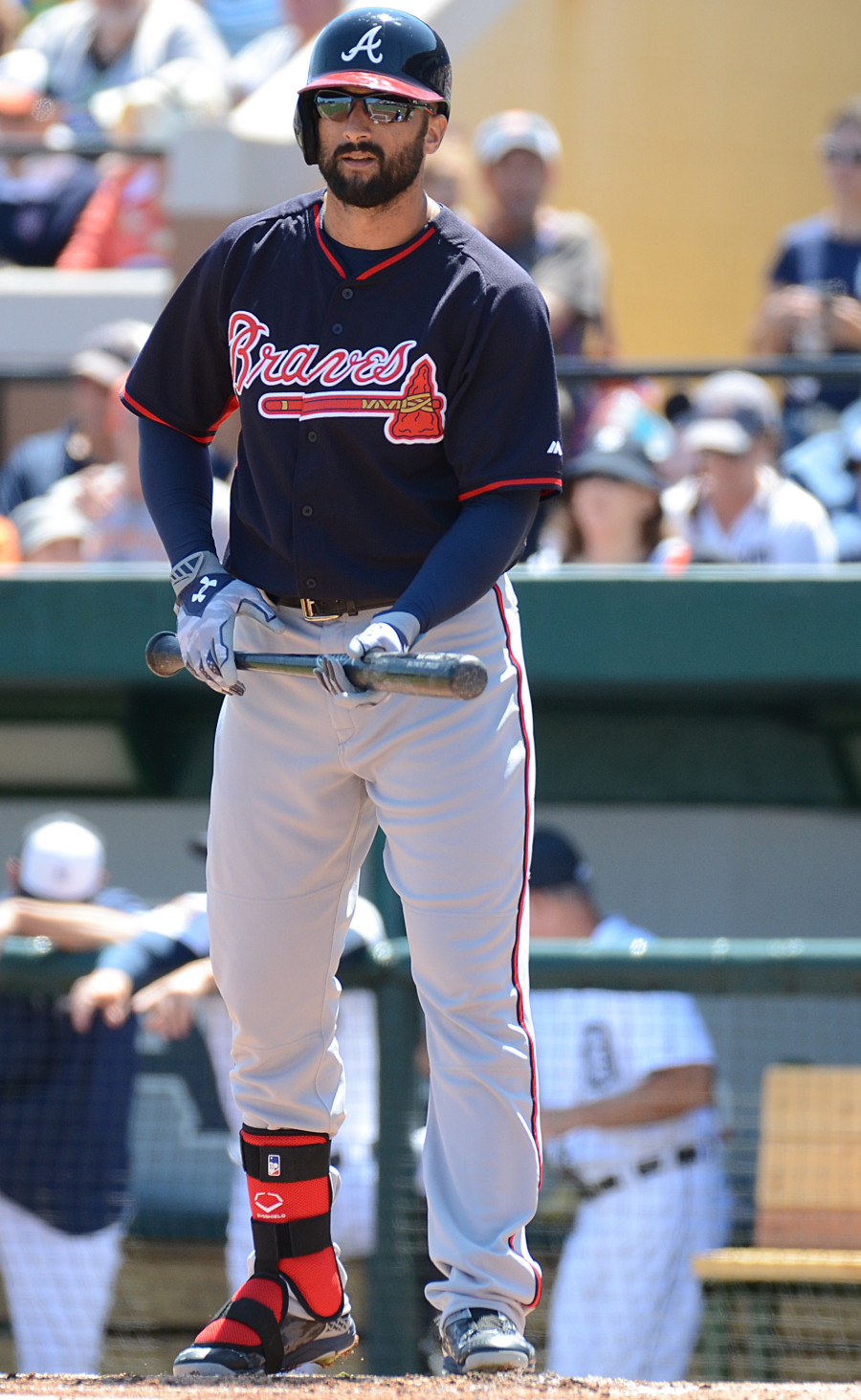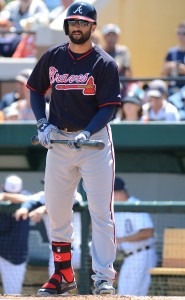 By wins above replacement, Markakis has generally been worth about two or two-and-a-half wins per season over the last several campaigns (excepting a rough 2013). If you accept that he is a significantly better outfielder than the metrics suggest, and buy into the idea that he'll age well, then you can see some merit in a contract that pays him more or less what the Indians gave Michael Bourn, who was probably a 3 to 4 win player, depending upon which formula you prefer.
But there is risk here, and not a lot of upside. And there is a rather significant loss of flexibility for an Atlanta club that has fairly limited payroll (at least until it sees how revenues look upon the new park opening) and many needs. Notably, the Braves took on about the same overall commitment as they shed when they eventually traded away Melvin Upton Jr.
As always, it remains to be seen. Markakis could be a steady presence that helps make a bridge to the future and supports a pennant-winning club in the not-too-distant future. Or, he could be an expensive (albeit probably not crippling) mistake.
Overview
In the aggregate, the Braves managed to reduce their future (2016 and beyond) payroll commitments by just $7.55MM over the offseason. And that includes the savings achieved by moving Kimbrel himself, not just the Upton side of the deal. This is why the Markakis signing drew some quizzical reactions: as much turnover as Atlanta achieved, it did not substantially reduce its long-term cash on the books.
Of course, that is but one element of what the front office set out to do. By cashing in on expiring assets while they could, rather than extending players at all costs or trying to win one more time with the old core intact, Atlanta sought to cut off the downside scenario bypassed a potentially painful rebuilding process. Most of that future cash is owed to Freeman and Simmons, which is hardly a bad thing; each is still approaching his prime. And, the Braves will be free of Dan Uggla's salary after the year.
Whether or not one agrees with the Markakis move, he seems likely to be a useful player over the life of his deal. And the overall health of the franchise seems to have ticked upward after an immensely active winter.
Photo courtesy of USA Today Sports Images.