After a heartbreaking exit from the AL Wild Card playoff, A's GM Billy Beane and his staff architected another massive roster overhaul, acquiring both rental players and long-term assets in an effort to sustain the team's recent stretch of playoff appearances.
Major League Signings
Trades and Claims
Extensions
Notable Minor League Signings
Notable Losses
Jon Lester, Josh Donaldson, Jeff Samardzija, Brandon Moss, Derek Norris, John Jaso, Jason Hammel, Luke Gregerson, Alberto Callaspo, Nick Punto (released), Daric Barton
Longtime assistant GM Farhan Zaidi left the Oakland front office to become GM of the Dodgers
Needs Addressed
The Athletics' second base situation was a black hole from an offensive standpoint in 2014, as Eric Sogard, Nick Punto, Alberto Callaspo and others combined to bat a mere .233/.297/.282 with one home run while playing second base. The addition of Zobrist, whose bat has been about 24 percent better than the league average over the past four seasons (124 OPS+), should be a massive boost to the team's second base production. His excellent glove should provide equal or greater value than the Athletics' group last season.
The next weakest spot in Oakland's lineup, somewhat surprisingly, was designated hitter. The A's received a combined batting line of just .215/.294/.343 from their designated hitters, so while many were surprised by the contract received by Billy Butler coming off a down season, he'll still be an upgrade. That, of course, doesn't necessarily justify the deal, and he'll have to prove that he's closer to the hitter he was from 2009-13 than the hitter he was in 2014. Entering his age-29 season, it shouldn't come as a surprise if Butler can return to an OPS+ north of 120, though it'll likely be driven more by OBP than by power. A repeat of his 29 homers from 2012 does seem unlikely.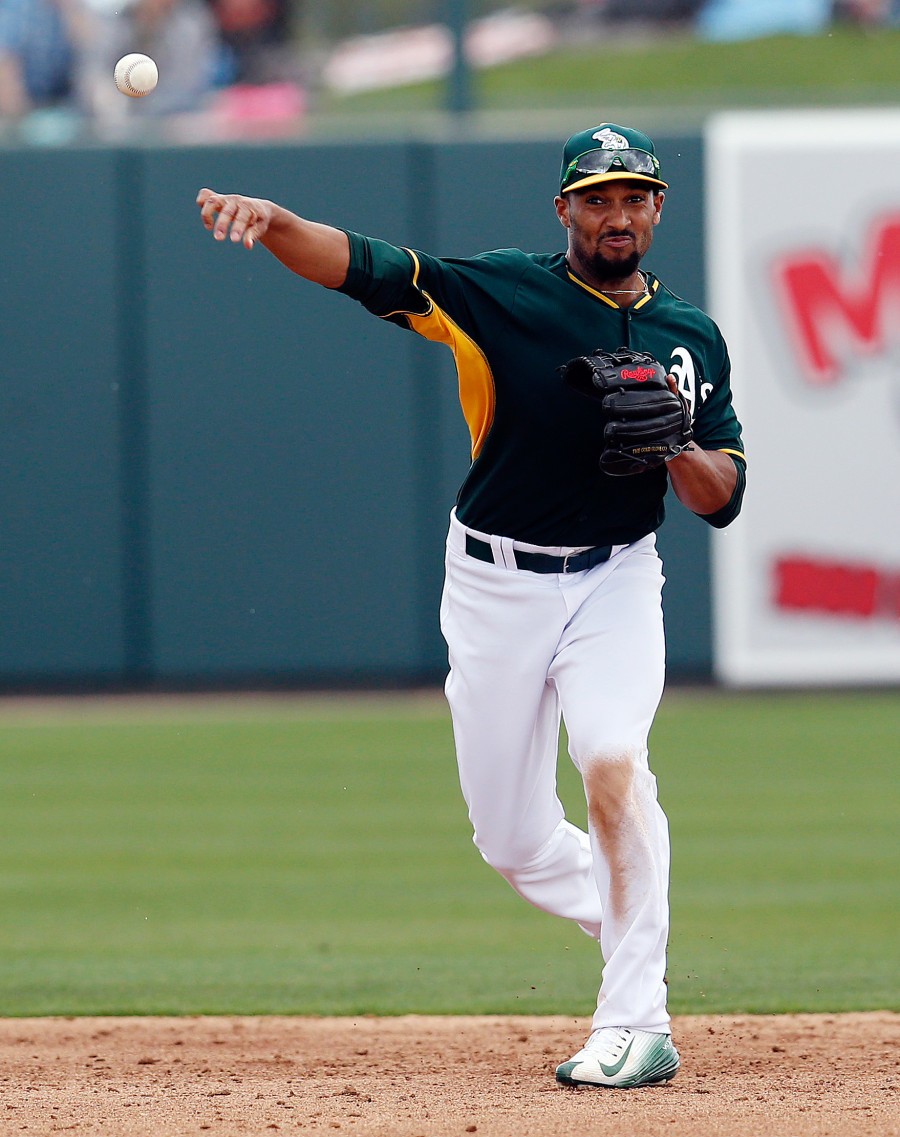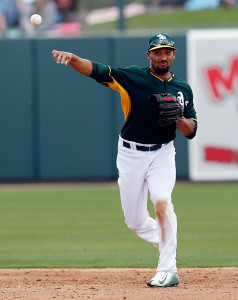 On the other side of the middle infield equation, the A's found themselves with a hole to fill following the departure of Jed Lowrie via free agency. Rather than meet Lowrie's open-market price (three years, $23MM with the Astros), the A's made a move to acquire a potential long-term answer at the position by making Marcus Semien (pictured) the centerpiece of the Jeff Samardzija trade. Semien comes with some defensive question marks, but Lowrie has never been considered a premium defender, so perhaps the A's feel that there may not be a significant defensive drop-off. If Semien struggles enough defensively, he can flip with Zobrist and play second base, and Zobrist's status as a free agent next winter means that Semien could slide over to the keystone in the future once Zobrist leaves.
In that sense, 2015 will be a tryout of sorts for Semien as a shortstop. If he passes, then the heir apparent at second base might be prospect Joe Wendle, who was acquired from the Indians in the Brandon Moss trade. Most pundits felt the return was a bit light, but A's assistant GM David Forst has explained that the team has had interest in Wendle for quite some time. Wendle opened the year at Triple-A (and is hitting quite well), so perhaps he can be ready for the Majors in 2016 if Semien proves capable at shortstop.
The bullpen lost one of baseball's best setup men when Luke Gregerson signed in Houston, but Beane and his staff replaced Gregerson with one of the few relievers who can claim to be a definitive upgrade when they acquired Tyler Clippard. Though he'll cost quite a bit at $8.3MM, Clippard's ability to miss bats and experience in the ninth inning make him a natural candidate to step into the closer's role early in the season while Sean Doolittle is recovering. It's easy to envision his time in Oakland playing out much the same as Gregerson's, however, as he's set to hit the open market next winter and will likely command a sizable contract.
Financial limitations likely played a role in losing Gregerson as well as the trades of Samardzija and Moss, and they certainly played a role in the loss of Lester. The departure of Lester, Samardzija and Jason Hammel created plenty of openings in the rotation, but the A's filled those spots via trade, as Jesse Hahn figures and Kendall Graveman have opened the season in the rotation. Hahn's debut with the Padres was impressive, as he worked to a 3.07 ERA with 8.6 K/9, 3.9 BB/9 and a 50.3 percent ground-ball rate. Sabermetric estimators such as FIP (3.40), xFIP (3.59) and SIERA (3.73) feel that his control problems should've led to a higher ERA, but Hahn showed better command coming up through the Minors and could improve in that regard if he remains healthy this season.
In addition to Hahn and Graveman, the A's added other options such as Sean Nolin and Chris Bassitt. However, they didn't add an established arm, which serves as a nice transition into the next portion of this breakdown.
Questions Remaining
With Lester and Samardzija gone, Sonny Gray will be asked to step up into the spotlight as the ace the A's hoped they were getting when they selected him 18th overall in the 2011 draft. Behind him will be the resurgent Scott Kazmir, Hahn, Drew Pomeranz and Graveman. There's some undeniable upside in the group — Pomeranz was the fifth overall pick in the 2010 draft, after all — but quite a bit of uncertainty. It's not difficult to envision the Athletics' end-of-season rotation looking quite a bit different than its present state. Jesse Chavez can again step into the rotation if needed, and Bassitt and Nolin (once Nolin is healthy) are also nice depth options to have. Both Jarrod Parker and A.J. Griffin (each recovering from Tommy John surgery) are likely to surface as options midseason.
It's a deep group of pitchers, but there's a lack of experience and many project more as back-end options than frontline starters or even mid-rotation options. It wouldn't be a surprise to see the A's eventually trade from their bulk of MLB-caliber starting pitchers, as there simply isn't room on the roster for all of them. While the oft-cited "you can never have too much pitching" caveat may seem applicable, Beane's aggressive nature does seem to suggest that some of these arms could be wearing new uniforms by season's end.
The infield, aside from the remarkably consistent Zobrist, is rife with uncertainty. While Davis and Lawrie are former Top 100 prospects and Semien was highly regarded by the White Sox, none of the three has experienced consistent success in the Major Leagues. Lawrie has been plagued by injuries, although moving off the artificial turf in Toronto may aid his quest to stay healthy. Davis failed to win the first base job in Queens on multiple occasions before losing out to Lucas Duda, and the Pirates traded him for a middling return this winter. Semien has little big league experience, and some have written that he projects more as a utility option than an everyday player (to say nothing of the aforementioned questions as to whether or not he can handle shortstop, from a defensive standpoint). He has, however, hit well to open the season and was a highly productive Minor Leaguer throughout prior to his emergence at the game's top level.
The outfield has a number of question marks as well, but the most significant is likely this: which Josh Reddick will show up in 2015? Reddick broke out with 32 homers and elite defense in 2012, but he struggled greatly in 2013 and into the All-Star break in 2014. However, in the season's second half, Reddick was brilliant, batting .299/.337/.533. His .296 BABIP seems more or less sustainable, but it remains to be seen if he can maintain the surprisingly excellent 10 percent strikeout rate he showed in the second half.
Coco Crisp was set to move to left field, but his lack of durability has already been on display, as he's out for up to two months following elbow surgery. Crisp has been an underrated contributor when on the field, but he's averaged just 118 games per season since signing in Oakland. In the interim, the team has added Cody Ross, following his release from the D-Backs, and Rule 5 pick Mark Canha has been making the most of the extra at-bats he's seen. The platoon of Craig Gentry and Sam Fuld in center field should be brilliant from a defensive standpoint, but the offensive contributions of the duo may not be much.
The departure of Derek Norris will seem significantly easier to stomach if Josh Phegley can hit left-handed pitching as well as he has throughout his time in the upper Minors, as nearly all of Norris' damage came against lefties. With Jaso out of the picture, the A's will be relying on a platoon of two largely unproven backstops in Phegley and Vogt.
Deal of Note
The Donaldson trade caught many off guard, particularly due to the fact that Athletics officials had bluntly criticized the notion of trading him earlier in the offseason. "That would be stupid," one executive told Susan Slusser of the San Francisco Chronicle. And, just three weeks before the trade, Ken Rosenthal of FOX Sports received definitive indications that Oakland had no intention of parting with its star third baseman. The scenario serves as another reminder that we should never rule anything out entirely when it comes to the Athletics, as Beane is among the game's most open-minded general managers.
While the trade did make Oakland a younger team simply by swapping Donaldson for Lawrie in this year's lineup, Lawrie actually comes with one less year of control than Donaldson, despite being four years younger. However, as a Super Two player coming off a pair of MVP-caliber seasons, Donaldson will be considerably more expensive in arbitration.
The A's clearly think highly of Lawrie, but shortstop prospect Franklin Barreto might be the key to the deal. He may have the highest ceiling of any player received by Oakland in that trade, and he gives the team a high-upside shortstop prospect to replenish its system after parting with Addison Russell in the Samardzija/Hammel trade. Barreto is just 19 and is likely three (or more) years away from the Majors, so the merit of his inclusion won't be known for quite some time.
Graveman and Lawrie have already been factors for the A's this year, and Nolin could very likely pitch for Oakland in 2015 as well. Together, Graveman and Nolin add to an incredibly deep stable of pitching from which to deal if further upgrades to the roster are necessary midseason. Both project as back-of-the-rotation arms according to most player evaluation outlets, and six controllable years of that type of commodity certainly has value, even if the upside is limited. And, if Oakland chooses to hold onto them, the team has a good track record with that type of pitcher. Their home park/emphasis on defense typically allows the A's to get more out of pitchers than projections deem likely.
Overview
While I focused quite a bit on the uncertainties facing the A's, there's still little doubt in my mind that the pieces are here for this to be a contending team in 2015. Oakland should again have a good defensive club overall, and the team's reliance on platoons is advantageous and outweighs a lack of star power in their lineup.
The A's placed a good deal of faith in young hitters like Lawrie, Semien and, to a lesser extent, Davis, with a hope that the untapped potential of those hitters will come to the surface and back a deep pitching staff. If Oakland struggles or identifies an area of weakness in its lineup, the team will likely have to deal from that starting pitching depth in order to repair the deficiency, because the team's farm system lacks quality, MLB-ready hitting prospects.
General manager Billy Beane's reputation as unpredictable and unorthodox is well-deserved, but he and his staff routinely manage to maximize the value of their assets in order to put together contending ballclubs on a tight budget. The 2015 Athletics may not have a lot of brand-name star power up and down their roster, but that's commonplace for the boys in green and gold, and it'd be a surprise if they weren't firmly in the mix for a playoff spot come September.
Photo courtesy of USA Today Sports Images.