7:34pm: Per Jesse Sanchez of MLB.com (via Twitter), Ventura's two $12MM options could reach $16MM due to escalators.
4:51pm: The Royals and right-hander Yordano Ventura have agreed to a five-year contract extension that contains club option years for the 2020 and 2021 seasons, the team announced.  The deal will pay Ventura $23MM over the five guaranteed years, while each option year is worth $12MM (with a $1MM buyout) with escalators based on Cy Young Award voting finishes.  All told, Ventura stands to earn at least $47MM if his contract reaches the full seven seasons.  Ventura is represented by Relativity Baseball.
According to Andy McCullough of the Kansas City Star, the deal breaks down as follows: Ventura receives a $1MM signing bonus and earns $750K this season, $1MM in 2016, $3.25MM in 2017, $6.25MM in 2018 and $9.75MM in 2019.  The extension covers Ventura's two remaining pre-arbitration seasons and his three arb years while giving the Royals control over his first two free agent seasons.  Gaining those extra years of control over a very promising 23-year-old is a nice score for the team.  Under GM Dayton Moore, the Royals have also locked up Salvador Perez, Alcides Escobar, Billy Butler and Joakim Soria to pre-arb extensions.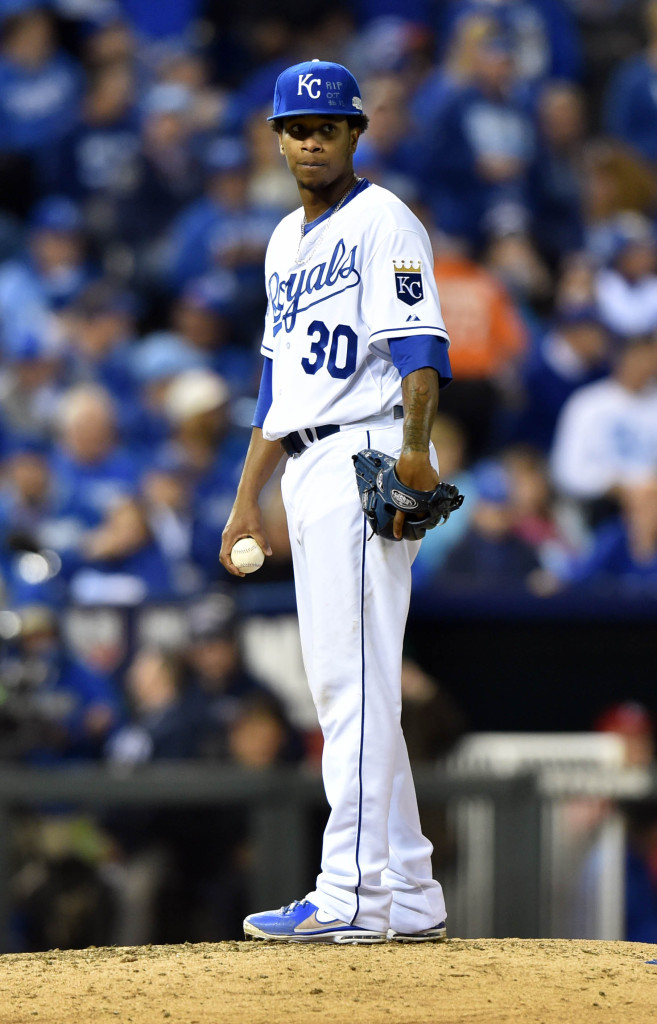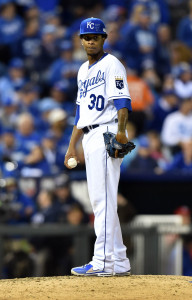 Ventura is the latest notable Relativity client with between 1-2 years of service time to sign an extension, joining the likes of Julio Teheran, Andrelton Simmons, Paul Goldschmidt and Madison Bumgarner.  Among recent extensions for pitchers with comparable service times, Ventura's deal is less expensive than the deals signed by Bumgarner ($35MM over five seasons with two club options) and Jose Quintana ($26MM/five years with two club options).  Teheran's deal ($32.4MM) was also pricier, though the Braves righty signed for six guaranteed years and only one club option.
Signed out of the Dominican Republic in 2008, Ventura drew a lot of attention as he moved through Kansas City's farm system and entered the 2014 season ranked as one of the top pitching prospects in the game.  Ventura made three starts for K.C. in 2013 and then posted a 3.20 ERA, 7.8 K/9 and 2.30 K/BB rate over 180 IP for the Royals last season, also notching a 3.20 ERA over 25 1/3 postseason innings.
As Passan noted in his original report, Ventura dealt with soreness in both his elbow and shoulder last season, and between his 97mph fastball and relatively slight (6'0, 180 pounds), there have long been concerns that the right-hander could eventually be a health risk.  From this perspective, it's easy to see why Ventura would've opted to take a big guaranteed payday now rather than risk potential injury issues through his arbitration years.  The Royals are betting that this deal will turn into a bargain for them if Ventura stays healthy and productive, though if not, the $23MM guarantee isn't too much of a payroll albatross even for a mid-market club.
CBS Sports' Jon Heyman (all Twitter links) reported that the agreement had been finalized pending a physical, and that the deal was worth $23MM.  Yahoo Sports' Jeff Passan reported yesterday that the two sides were close working out an extension for five years and at least one option year.  MLB.com's Jeffrey Flanagan had the details of the option years and that the extension would supercede Ventura's previous 2015 contract.
Photo courtesy of Peter Aiken/USA Today Sports Images