3:40pm: Ken Rosenthal of FOX Sports reports that Byrd had cleared waivers as opposed to being claimed by the Giants (Twitter link).
3:25pm: The Giants announced that they have acquired veteran outfielder Marlon Byrd and cash considerations from the Reds in exchange for Double-A right-hander Stephen Johnson.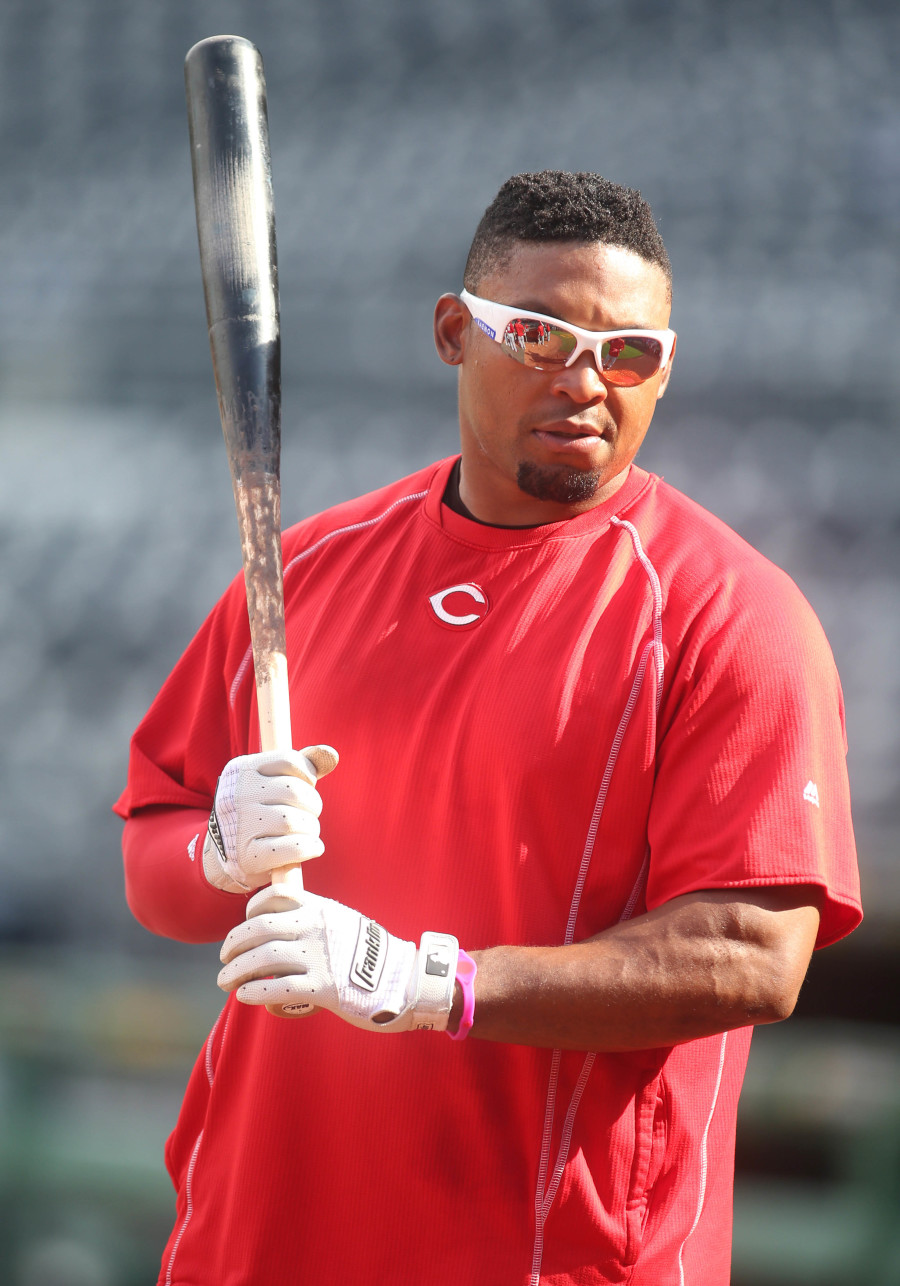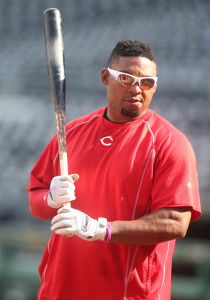 The addition of Byrd will provide the Giants with some desperately needed outfield depth, as their starting outfield has been ravaged by injuries his year. While Nori Aoki is slated to return from a concussion today, starting center fielder Angel Pagan and starting right fielder Hunter Pence are both on the disabled list. Byrd, presumably, will see time in one of the outfield corners (he's played left field this year but has recent experience in right field as well), with Aoki manning the other spot.
Byrd, 37, suffered a small fracture in his wrist in early June but made a somewhat surprisingly quick return from the disabled list, returning to action less than three weeks later. Even more surprising than his quick return is the absence of ill effects that he's shown from a wrist injury; Byrd homered in his first game back from the DL and is slashing .258/.286/.454 with nine homers in 203 plate appearances since being activated. While that OBP obviously leaves something to be desired, he's shown plenty of pop and managed to hit for a respectable average. He should serve as a relatively productive piece in the middle of the Giants' ailing lineup, and he could either slide down the order or serve as a nice bench piece down the line once everyone is healthy.
Byrd is earning $8MM this season as part of a two-year, $16MM contract originally signed with the Phillies. Philadelphia picked up $4MM of the tab when he was traded to the Reds in the first place, so there's only about $1MM remaining for the Giants and Reds to worry about. Byrd is 172 plate appearances shy of triggering an $8MM vesting option for the 2016 season. He'd need to average 3.85 plate appearances per game over the Giants' remaining 42 contests to reach the 550 plate appearances he needs, which is an attainable rate if he plays every day. Of course, he won't be with the team for tonight's game (he'll join them Friday), and the Giants, though certainly justify benching Byrd against right-handed pitching once everyone is healthy. He's slashed just .224/.268/.433 against righties this year compared to .280/.344/.500 versus left-handed pitching.
San Francisco selected Johnson, now 24 years old, in the sixth round of the 2012 draft. Baseball America ranked him as the Giants' No. 21 and 28 prospect following the 2012 and 2013 seasons, but he's dropped off their Top 30 since and didn't make MLB.com's midseason Top 30 for the Giants, either. Kiley McDaniel of Fangraphs mentioned him in his preseason look at the Giants' prospects, noting that he hit 100 mph with Division-II St. Edwards College (TX) but has settled into the mid-90s. He'll flash an above-average curve at times, but he has some command and delivery issues. McDaniel (Twitter link) and BA's John Manuel (Twitter link) both offered similar takes to that report in the minutes following the trade. Reds GM Walt Jocketty said (via the Cincinnati Enquirer's John Fay, on Twitter) that Johnson has a "big arm" and the organization projects him as a reliever. He'll go  Cincinnati's Double-A affiliate. Johnson had a 3.41 ERA with 10.6 K/9 against 4.5 BB/9 in 58 innings for the Giants' Double-A affiliate his year.
Photo courtesy of USA Today Sports Images.