Orioles righty Darren O'Day sports one of the most interesting deliveries in all of baseball. His submarine approach is much more than a novelty, however, and the reliever will hit the open market this winter as one of the best late-inning arms available.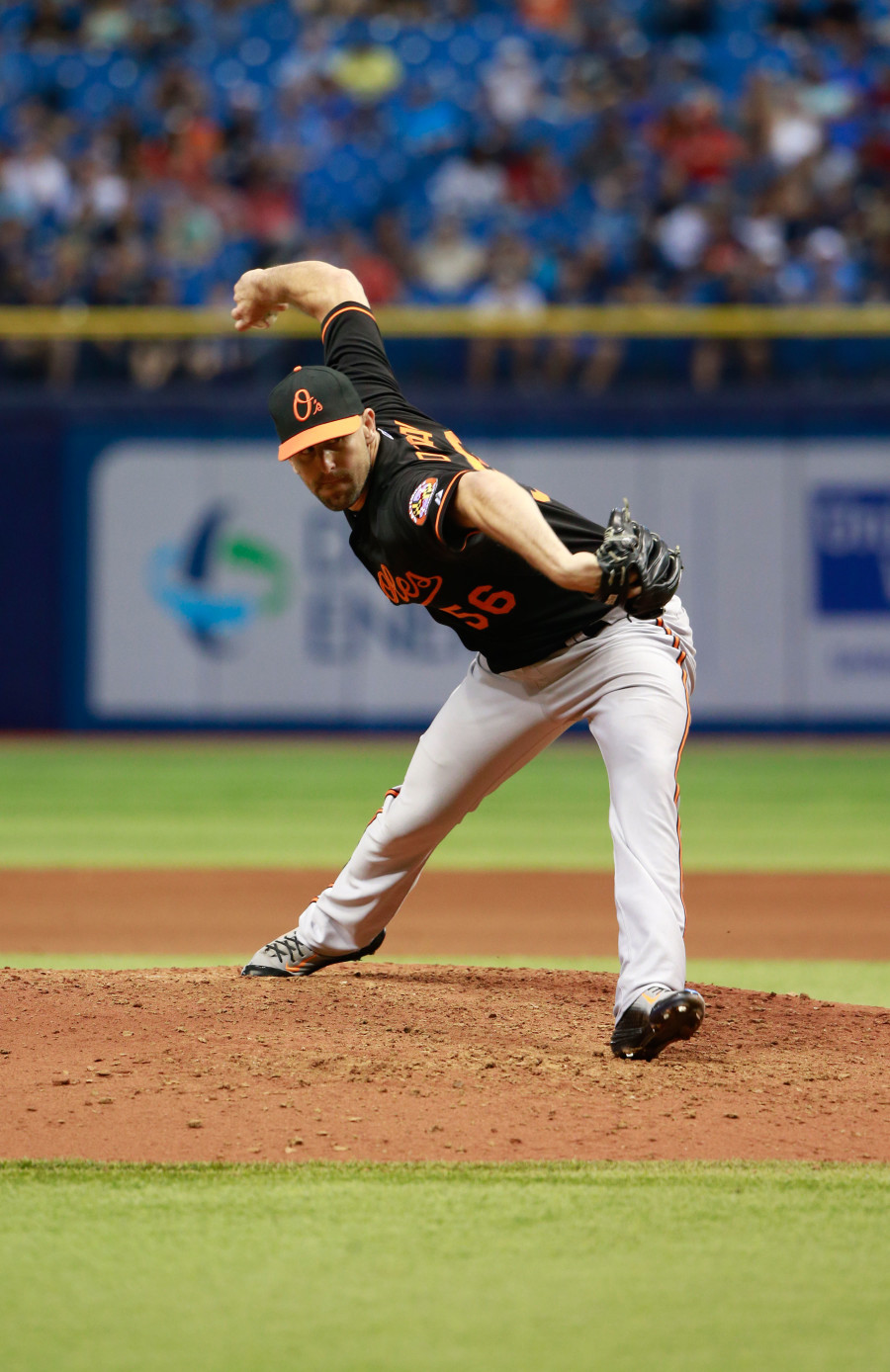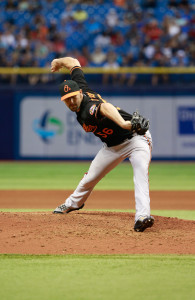 Since coming to Baltimore before the 2012 season by way of a waiver claim, O'Day ranks eighth among all MLB relievers with a cumulative 1.97 ERA over 197 2/3 innings. And while he isn't a particular stand-out in terms of FIP-based wins above replacement (more on that below), the 32-year-old has tallied the fourth-most bullpen-based RA/9 WAR in that span.
This season, in many ways, has been O'Day's best, cementing his status as a lock-down reliever. He owns a double-digit strikeout rate (11.1 K/9) for the first time ever and has averaged just 2.0 walks per nine innings. He carries a career-low 1.69 (just a shade under last year's results) and a personal-best 2.38 SIERA.
While the SIERA metric has historically viewed O'Day as a consistent sub-3.00 performer, however, O'Day's run prevention excellence has not always been fully backed by other ERA estimators. FIP and xFIP have both viewed O'Day as a low-to-mid 3.00 ERA pitcher, though he's posted his best-ever numbers (2.73 and 3.07, respectively) in each this year.
Whichever analytical tool one prefers, at some point, it's hard to discount the bottom-line results, particularly from a pitcher who utilizes such a unique style. O'Day has allowed a meager .254 batting average on balls in play throughout his career while carrying a hard-hit ball rate that falls below league average — testament to the difficulty opposing hitters have in squaring him up.
To be sure, O'Day has also benefited from a high 84.5% strand rate over his career, which is roughly ten points higher than league average. O'Day is not a high-groundball pitcher and does not generate a ton of double plays. His strikeout capabilities and low WHIP help explain that number, as does the fact that he's typically permitted low stolen base totals. But there are other factors that have enabled him to generate results that somewhat exceed his own contributions. In particular, O'Day has been backed by an excellent defensive unit in Baltimore.
Then there's the matter of platoon splits. O'Day has been less useful against lefties, both this season and throughout his career. Batters with the platoon advantage own a .233/.297/.417 total slash line against him — hardly overwhelming numbers, but certainly more damaging than the scant .192/.262/.282 line put up by opposing right-handed hitters. That is neither unique nor surprising, of course, and it hasn't prevented the veteran from performing as a regular eighth-inning set-up man.
Age is always a factor with free agents, of course, and O'Day is entering his age-33 campaign. But he has never and will never be a pitcher that relies on velocity, and he still works in the same range (87 mph or so) with his fastball that he always has. O'Day's four-seam/sinker/slider mix has remained consistent in terms of speed and usage over his time in Baltimore and is just as effective as ever. Other soft-tossing side-armers — the nearly-36-year-old Brad Ziegler is a current example — have been able to maintain their run prevention abilities into their mid and late thirties.
Looking at recent free agent comps, it's hard to ignore Pat Neshek, who parlayed a dominant 2014 season into two years and $12.5MM (while handing over a variable-value club option for another year). But while he too is a sidearming righty, Neshek looks more like a lower-end target. Neshek was not only one year older but also lacked the extensive track record compiled by O'Day in recent seasons.
Another Astros signee, Luke Gregerson, arguably makes for a more accurate comparison. The righty turned 31 in the first year of his three-year, $18.5MM pact (with incentive escalators), so he was a fair bit younger. But his run of excellence before hitting the market is a closer match for O'Day, who should have a good chance of getting a third guaranteed year at or near the price tag achieved by Gregerson.
Certainly, one can envision O'Day's representatives at Beverly Hills Sports Council will be looking for at least that to start out, as many relievers have achieved three-year deals in recent years. For example, fellow side-armer Joe Smith inked a three-year, $15.75MM pact with the Angels prior to the 2014 campaign, and O'Day's numbers — both in his contract year and in the multi-year platform leading up to free agency — trump those of Smith. That deal will also be two years old this winter, and the market for relievers arguably took a step forward last offseason.
Speaking of the market for relievers, O'Day will also be aided by the fact that this coming winter's market does not include quite the array of top-of-the-line arms that was present last year. His primary competition in terms of right-handed relievers will come from players like Tyler Clippard, Joakim Soria, and possibly Joaquin Benoit (if his option is not exercised). All have arguments in their favor as high-end arms, but none are at the level of David Robertson or Andrew Miller, and factors like injuries, age, uneven results, and/or heavy usage will impact their appeal.
However one ranks O'Day among that group, it's a nice market to enter for him to enter. And with an outstanding 2015 season nearing a close, he's well-situated to cash in.
Photo courtesy of USA Today Sports Images.