The Phillies announced today that they will not extend the contract of general manager Ruben Amaro Jr. According to a team press release, assistant GM Scott Proefrock will take over as interim GM, effective immediately. The team's search for a new, permanent GM begins today, per the release.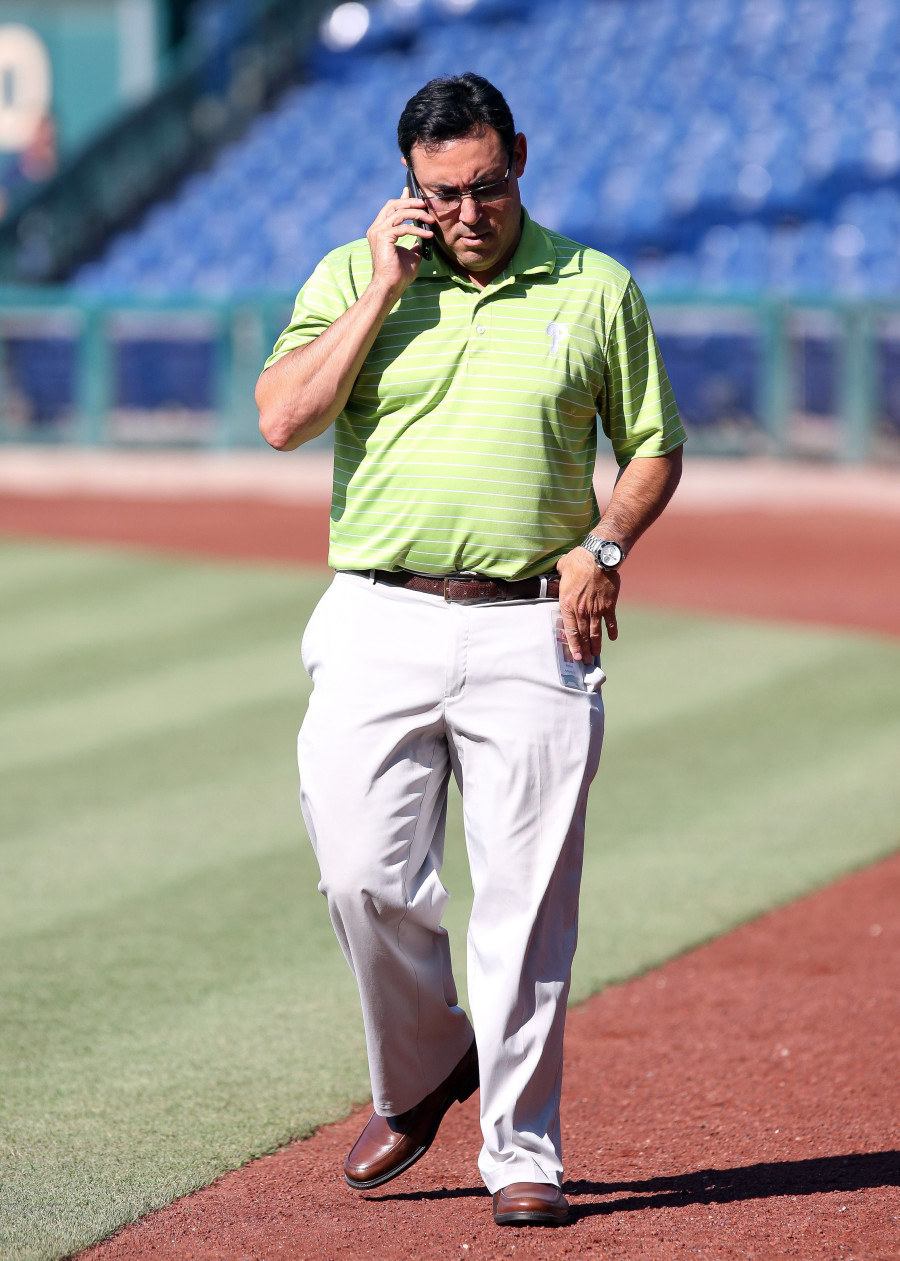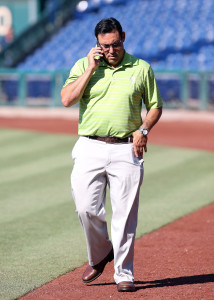 "It's never an easy decision to make a change," said president-to-be Andy MacPhail in the press release. "Ruben has had a direct impact on some of the best years in the team's history. He helped to create some great memories for Phillies fans with his accomplishments, but in order to return to a top-contending club, we believe this is the right thing to do as we continue the rebuilding process."
The writing has been on the wall for quite some time that Amaro's days as GM were numbered. It's been widely expected that in the wake of the team's collapse over the past four seasons, MacPhail would seek to hire a new GM to guide the Phillies — possibly one that will bring a stronger commitment to analytics to the organization.
Amaro, 50, has been the Phillies' general manager since the 2008 offseason, when he succeeded Pat Gillick. The Phillies made a World Series run in Amaro's first full year as GM, ultimately coming up short to the Yankees, and went on to reach the postseason in the 2010 and 2011 campaigns as well. However, a number of the trades made by Amaro that were aimed at keeping the team in contention served, instead, to only deplete the farm system while failing to pay significant on-field dividends. Some of the more notable names moved in his time as GM include Carlos Carrasco, Travis d'Arnaud, Jarred Cosart, J.A. Happ, Vance Worley, Trevor May, Domingo Santana and Jon Singleton.
While Amaro does deserve some credit for acquiring Roy Halladay and Cliff Lee without surrendering any players that have, to this point, gone on to stardom (some would suggest that Carrasco is well on his way — an argument I'd support), it can also be said that he committed too strongly to an aging core when seeking younger alternatives would have been more prudent. Specifically, the Ryan Howard contract and Carlos Ruiz signings stand out as missteps that are still haunting the team (with Howard's $125MM extension serving as perhaps the most egregious error of his tenure). Ruiz, Jimmy Rollins and Chase Utley all could have been allowed to hit free agency (or been traded in the final season of their previous contracts) but were instead re-signed to deals that ultimately carried negative value. The Phillies have also traditionally not been significant spenders on the international front, although that's begun to change in recent signing periods (including this summer's $4MM investment in 16-year-old Dominican slugger Jhailyn Ortiz).
In fact, there's little denying that the Phillies' farm system as a whole has improved substantially over the past few seasons with Amaro at the helm. J.P. Crawford and Aaron Nola both look to be outstanding top picks, and farmhand Ken Giles has emerged as one of the best young relievers in all of baseball. Maikel Franco looks like a star in the making at third base and should be considered a feather in the cap for Phillies' international scouts. Trades of several veterans have netted arms such as Ben Lively, Tom Windle, Zach Eflin, Jake Thompson, Jerad Eickhoff, Alec Asher and Nick Pivetta, while position prospects such as Jorge Alfaro, Nick Williams and Darnell Sweeney have entered the picture as well. Odubel Herrera may be the best pick from this past Rule 5 Draft as well.
Although that restocking of the farm system falls under the "too little, too late" category for Amaro, it does help to create an appealing job opening for prospective general managers. The Phillies boast a rising farm system, a well-respected president in MacPhail, an excellent 2016 draft position and significant payroll capacity. Beyond that, there are no commitments on the books beyond the 2017 season, save for a $2MM buyout on Matt Harrison's club option. As such, the Phillies GM vacancy figures to be a highly appealing position despite the club's lack of recent success.
With the Phillies now in the hunt for a GM, that creates five such openings around the league. The Angels, Mariners, Red Sox and Brewers are all on the hunt for new general managers as well, meaning there will be a significant amount of baseball operations changes in the coming months. Not only will each team employ a new GM, but those five newly minted executives will undoubtedly have some changes in store for the baseball operations departments and the field staffs which they'll inherit upon taking their new roles.
Photo courtesy of USA Today Sports Images.