After an offseason trade to the White Sox, Jeff Samardzija struggled through his worst season in four years as a starting pitcher.  He'll still likely aim for a sizable multiyear contract in free agency.
Strengths/Pros
Samardzija is, first and foremost, a workhorse.  He tossed 647 1/3 regular season innings from 2013-15, sixth-most in baseball.  David Price is the only free agent with more during that span, and he only had eight additional innings.  Samardzija has never been on the disabled list and has never missed a start due to injury.  The 6'5″, 225 lb. righty seems built to last.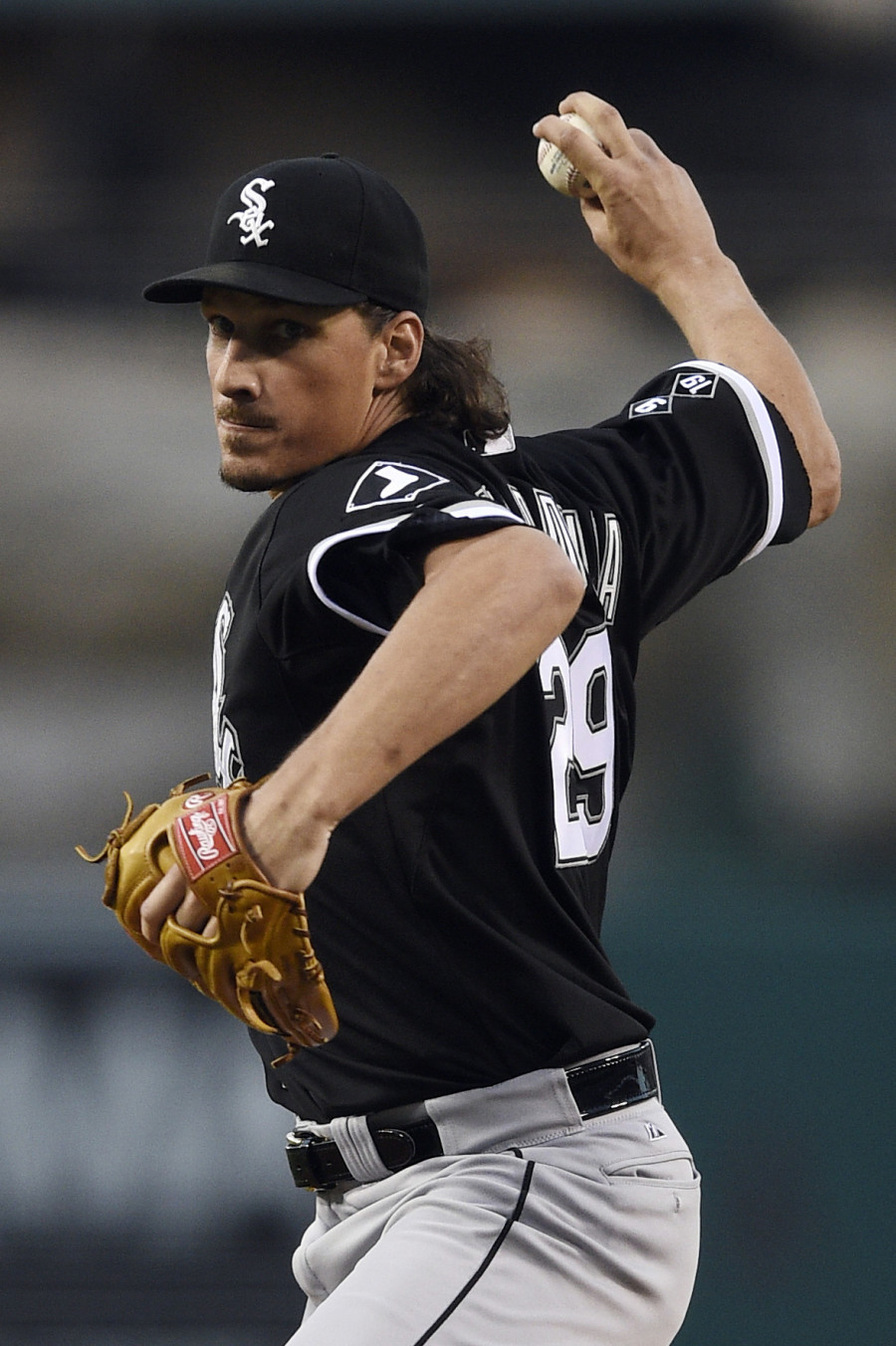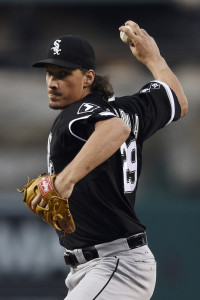 Samardzija has lower mileage on his arm than most of his fellow free agents, mainly because he spent a portion of his big league career as a reliever.  As a 31-year-old with no DL time, Samardzija has still only thrown 1502 pro innings.  Yovani Gallardo, who is a year younger than Samardzija, has 1901 innings.  Johnny Cueto and Scott Kazmir have mileage similar to Gallardo.  Ian Kennedy has 1590 2/3 innings, a total held down by 2009 shoulder surgery.  Jordan Zimmermann and Wei-Yin Chen have lower mileage than Samardzija, but both had Tommy John surgery.  Mike Leake, who recently turned 28, has 1115 career innings.
Samardzija has shown the ability to pitch at the front end of a rotation.  He was his team's Opening Day starter in each of the past three seasons, and earned an All-Star nod in 2014.  That season, Samardzija posted a 2.99 ERA in 219 2/3 innings.  His 4.7 K/BB ratio ranked 14th among qualified starters.  He also brings the heat.  From 2012-15, Samardzija averaged 94.6 miles per hour on his fastball, second only to Stephen Strasburg among those with 600 innings.
Samardzija turned the corner with his control in 2014, walking only 1.8 batters per nine innings.  His 1.9 mark from 2014-15 ranks 15th among qualified starters, and many of those ranked above him are soft-tossers.  From 2012-14, Samardzija showed an elite combination of skills and durability, ranking eighth in MLB with a 3.35 SIERA for those with 600 or more innings.  During those three years, Samardzija was firmly operating in Jordan Zimmermann/Jon Lester territory.  That valuation was borne out when Samardzija (along with Jason Hammel) netted the Cubs Addison Russell and Billy McKinney in a trade with the Athletics.
Weaknesses/Cons
There's no tiptoeing around the fact that 2015 was a very rough season for Samardzija.  He allowed the most hits and earned runs of any MLB starter, and he tied for the most home runs allowed in the AL.  In his four seasons as a starter, his 6.9 K/9 was easily a career worst, as were his 4.96 ERA, 1.22 HR/9, and 39% groundball rate.  In his 32 starts, he allowed five or more earned runs in 11 of them.  Samardzija had a stretch in August where he gave up 22 earned runs in three starts.  Zack Greinke didn't give up his 22nd earned run until his 21st start of the season.  A childhood fan of the White Sox, Samardzija's season on the south side of Chicago did not go as planned.
In four seasons as a starter, Samardzija has posted a 4.03 ERA over 822 innings, and his only campaign below 3.81 was 2014.  In each of the 2012, '13, and '15 seasons, Samardzija's SIERA was significantly below his ERA.  What has caused the big righty to post higher-than-expected ERAs in three out of his four seasons as a starter?  Batting average on balls in play, home run per flyball rate, and issues pitching out of the stretch have all manifested in those three seasons, but none consistently.  His All-Star season, 2014, was the only one where all three of those factors were normal.  I asked SIERA creator Matt Swartz about this, and he concluded, "You have to figure he's more likely to underperform his SIERA than the average pitcher, but nothing jumps out as a persistent problem."
With the White Sox, Samardzija reduced the usage of his two-seam fastball in favor of the cutter, perhaps unsurprisingly.  That pitch change mix supports the narrative that Samardzija can be fixed.  On the other hand, why couldn't Samardzija right the ship during the 2015 season?
Samardzija received and turned down a qualifying offer from the White Sox, so signing him requires draft pick forfeiture.  Teams with unprotected picks in the teens such as the Red Sox, Diamondbacks, and Orioles could shy away.
Personal
Jeff Samardzija was born and raised in Merrillville, a town in Northwest Indiana.  Inspired by his older brother Sam, Jeff played football, baseball, and basketball at Valparaiso High School.  Tragically, Jeff lost his mother Debora during that time to a rare lung disease.  With his father and brother in mind, Jeff looked at colleges close to home and landed a football scholarship to Notre Dame.  Jeff was a star wide receiver for the Irish, but quietly pitched for the college's baseball team as well.  A baseball teammate noted Jeff resembled the shark from Finding Nemo, giving him a nickname that stuck.  Since most teams thought he was destined for the NFL, Samardzija fell to the fifth round in the MLB draft in 2006.  Cubs GM Jim Hendry was a good friend of Samardzija's baseball coach Paul Mainieri, who urged Hendry to draft the greatest athlete he'd ever coached.  Jeff agreed to a $250K deal with the Cubs, provided he could return to Notre Dame for his senior season.
After making seven appearances for Cubs minor league affiliates in Boise and Peoria, Samardzija had to decide whether to commit to the Cubs or enter the 2007 NFL draft as a potential first-round pick.  Samardzija surprised the Cubs by working out a five-year, $10MM deal to commit to baseball.  Samardzija ascended through the Cubs' minor league system more because of his contract than due to success.  As an up-and-down reliever, Samardzija briefly kicked around a return to football in April 2010.  However, he had a decent year out of the Cubs' pen in 2011, and then Theo Epstein's regime took over the team's front office.  Samardzija removed his distractions that offseason and told Epstein he wanted to be a starting pitcher.  He was awarded the Cubs' fifth starter job out of camp in 2012, and his MLB career took off.
Market
We see Samardzija in a tier with Wei-Yin Chen and Mike Leake, a notch below David Price, Zack Greinke, Jordan Zimmermann, and Johnny Cueto.  Comparing Samardzija's contract with Chen's will offer an interesting data point on whether teams are really moving past ERA.  ERA makes Chen look better than Samardzija, yet Samardzija has a better reputation with the team executives to whom we've spoken, as well as superior skill-based stats.  For some teams, Samardzija offers a chance at a #2 type starter coming off a down year, resulting in a potential bargain.  Samardzija is an innings guy at worst, with the same high floor as Leake.  Leake, however, doesn't offer the same ceiling.
Though the draft pick loss will be an issue for some, a potential list of suitors for Samardzija includes the Orioles, Red Sox, Yankees, Blue Jays, Tigers, Royals, Twins, Astros, Angels, Rangers, Marlins, Nationals, Cubs, Cardinals, Diamondbacks, Padres, Dodgers, and Giants.  He could be a top choice for a team like the Tigers, who intend to add multiple starters and therefore may sit out the $100MM+ market.  Former Cubs GM Jim Hendry currently works for the Yankees (at least for now), so there's an obvious connection with Shark.
Expected Contract
In June 2014, Jon Paul Morosi of FOX Sports reported Samardzija rejected a five-year extension offer from the Cubs worth slightly more than $85MM.  A few months prior, Homer Bailey had signed an extension with the Reds for six years and $105MM, and that comparable may have compelled Samardzija to turn down the Cubs.  The Cubs' argument may have been that Bailey was younger than Samardzija, and that's why he received a sixth year.  That same question still exists: is there a team willing to sign Samardzija through 2020, his age 35 season?  Given the list of teams above, as well as the pitcher's durability, I think there will be enough suitors for Samardzija and his agents at Wasserman Media Group to get a fifth year on the open market.  A slightly lower average annual value could bolster that case – Samardzija may cost $16-17MM per year, as opposed to $20MM+ salaries for guys like Rick Porcello and, presumably, Zimmermann.  I'm predicting a five-year, $80MM deal for Samardzija.