Over the next few weeks, I will be discussing some of the higher profile upcoming arbitration cases. I will rely partly on my arbitration model developed exclusively for MLB Trade Rumors, but will also break out some interesting comparables and determine where the model might be wrong.
Tyson Ross enters his third year of arbitration eligibility coming off a very strong performance but a weak win-loss record which, while not indicative of his actual talent and performance, still holds weight in the arbitration process. Ross finished below .500 with a 10-12 record, although he had a 3.26 ERA in 196 innings and struck out 212 hitters. The strong performance combined with his poor record have given our model some trouble this year, and I believe that the $4.75MM raise it projects him to get to reach $10MM for 2016 is probably too high. However, I do still think that Ross is due for a large raise.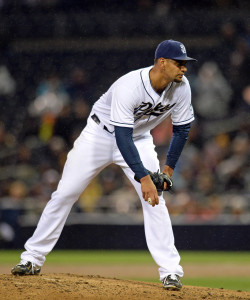 One of the benefits of using a quantitative model to project arbitration salaries is that it enables us to get reasonably accurate estimates for players with atypical numbers. Few pitchers with ERAs as low as Ross have had losing records, and fewer still have been held to only 10 wins. However, the model still had some trouble with Ross this year. So, let's examine a few pitchers that stand out as reasonable statistical comparables but got raises less than Ross' projected $4.75MM.
Last year, Jeff Samardzija had a losing record of 7-13 despite a fantastic 2.99 ERA in 219 2/3 innings, ultimately resulting in a $4.46MM raise. Although he had 10 fewer strikeouts overall than Ross and obviously had three fewer victories, his ERA and innings were much better, and I suspect it would be tough to argue that Ross should get a raise $300K larger than the one awarded to Samardzija. If those three victories loom important, it's conceivable that Ross will in fact hit his projection, but other players suggest more downside is possible.
Two other recent pitchers had exactly 10 wins in their third year of arbitration eligibility and also had about as many innings. In 2012, Matt Garza went 10-10 with a 3.32 ERA 197 strikeouts in 198 innings. He received a $3.55MM raise. Although Ross had two more losses, his case looks similar otherwise. More recently, David Price in 2014 had a 10-8 record with a 3.33 ERA in 186 2/3 innings, but he only struck out 151 hitters. Price had generally similar numbers to Garza but with fewer strikeouts, resulting in a raise of $3.89MM. Price's similar numbers and larger raise suggest that a panel would agree that the market has shifted, making the Garza result stale. As a result, Ross could argue that Price's $3.89MM raise a couple of years ago should be a floor, considering Ross' similar ERA and innings total but vastly superior strikeouts numbers.
Digging further yet, Justin Masterson could also be a plausible ceiling. His 14-10 record clearly topped Ross' 10-12 record, while his 3.45 ERA was similar to Ross' 3.26. Masterson had 193 innings and 195 strikeouts, which are not that much less than Ross' 196 and 212. As a result, the extra wins could suggest Masterson's $4.07MM raise might be a ceiling for Ross.
Putting these together, it seems clear that the range of potential raises for Ross is probably around $3.9MM to $4.45MM, which would put him between $9.15MM and $9.7MM in 2016. While this is not appreciably less than his $10MM salary projection, it does appear that guessing low on this is the safer bet.
Photo courtesy of USA Today Sports Images.