This is a sponsored post from Corey Dawkins of Baseball Injury Consultants.
"Clayton Kershaw had a 4.3% chance of getting injured last night when he pitched, but only a 0.7% chance of being hurt if he took the mound today instead."
This fictitious example highlights one goal of my company, Baseball Injury Consultants, in the medical management of professional baseball players. We are trying to take the seasonal risk assessment to a daily, and then a pitch by pitch, basis among other things. We have seen pre-season risk assessments for years, but how useful is that information other than at the start of the season? Once the season begins, it doesn't factor in any new information that comes in during that year. What if the Red Sox had a hard number to assess the risk of keeping Blake Swihart in left field on the day the wind was coming in from right field, pushing the ball closer to the cement wall on which he sprained his ankle?
We have moonshot goals because, despite great strides in the treatment of baseball injuries, the number of professional baseball injuries is only getting worse. It is not for a lack of trying or lack of talent. It just has not been put together yet. However, it is not impossible. Something has to be done because reducing injuries will, of course, make a difference in their athletic careers, but also improve the quality of life 20 years later.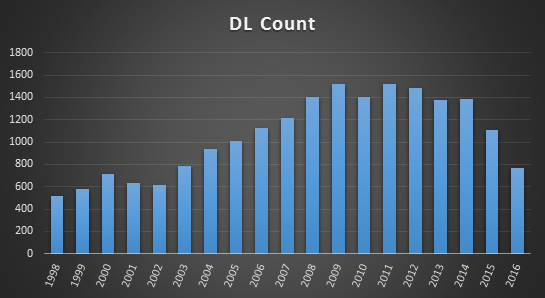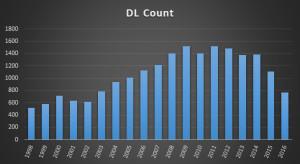 We start by collecting daily injury and performance data on all professional baseball players, giving the capability to provide customized reports and for any sector, industry, company, team, individual researcher or fan. This can include baseball operations, daily fantasy baseball players, season-long fantasy baseball players, medical researchers, biomedical device manufacturers, or insurance entities to name a few.
We track as much information as we can find, from injury details to weather information to performance data, knowing that any piece of information might be the one that solves the puzzle.
Since someone checks the information before importing into the databases every morning, we fill the information void left over from automated scripts scraping news or transaction sites that don't categorize injuries according to accepted medical terminology and/or don't update the original listing.  For example, here's a graph of MLB Tommy John surgeries by year.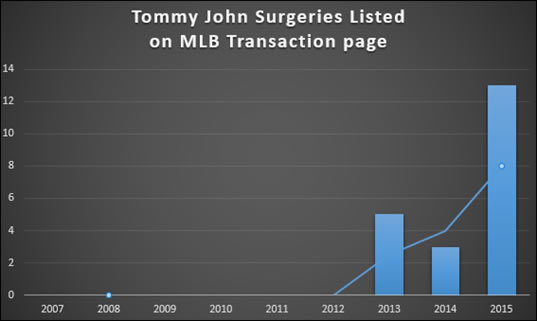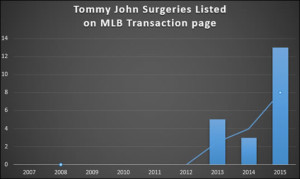 So once we get validated information into the database and onto our website, you can find the information in ways you will not find anywhere else.  If you are a casual fan or want a snapshot of MLB, you can check out our "Quick Look" page for summary information and the records I have updated within the last seven days. In the three bar/column graphs, you can hover over individual sections to find greater detail about that particular item.


You can search and find summary team data on the "Teams" page.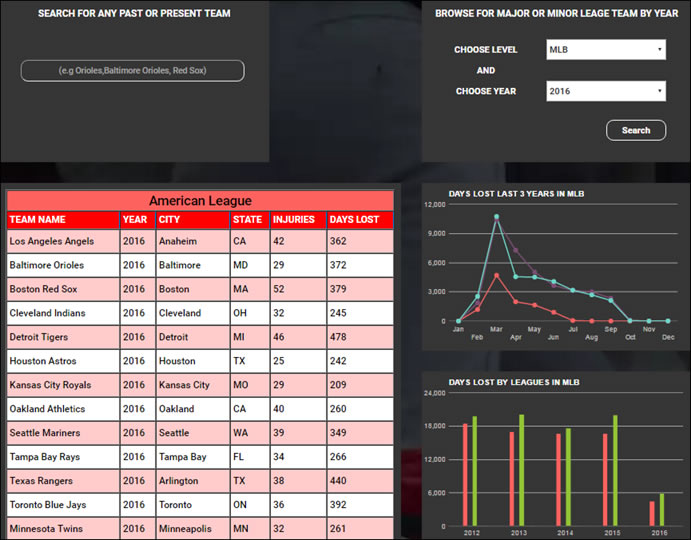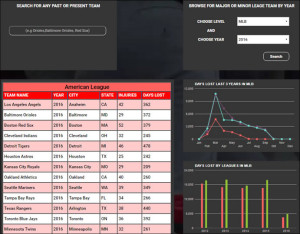 You can also find search for players by name, browse by last name or find players by position on the "Players" main page.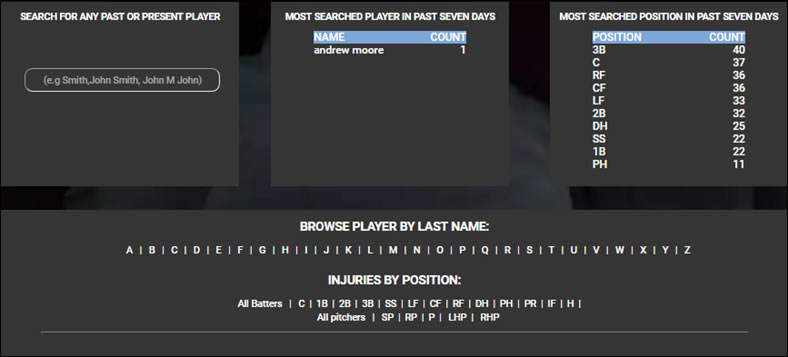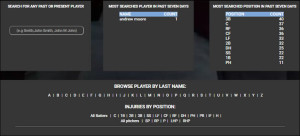 Then once we find the player we want, we can go to the individual page for details at a level you will not find anywhere else. Similar to the "Quick Look" page, you can hover over the columns to find the exact categories and measured levels.


On the "Custom Search" page, you can find information in countless combinations.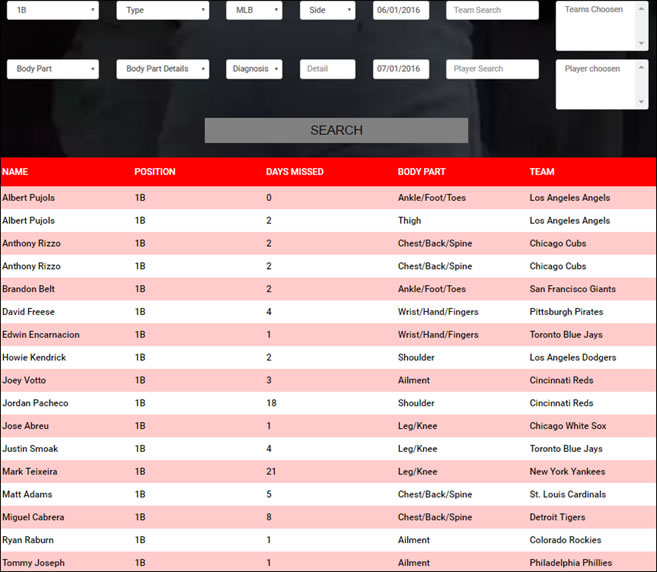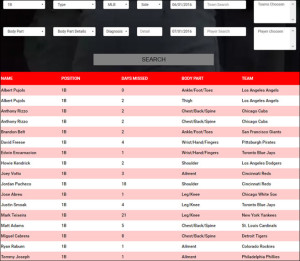 We're not stopping with just putting the information on the website. We have plans to create and put a model on the website that estimates how productive a player will be for daily fantasy leagues, based on an injury two or three days ago, such as a bruised hand. The website will also have an educational section for evidence-based injury analysis.
However, our biggest moonshot goal is to create individualized risk assessment models, drilling down information to the pitch by pitch level. This would give on-field managers and baseball operations something they never had before. What if they knew that a bruised bottom hand for a hitter affects his power by a certain percentage? What if the risk of throwing a slider on pitch number 103 more than quadrupled the risk not just immediately, but three weeks down the line as well?
These are the goals we are shooting for and hope to raise enough capital to do so soon. We look forward to you creating an account on Baseball Injury Consultants and checking out what we have to offer as well as improving the site.