Jose Bautista's offseason suitors will have to weigh his disappointing 2016 season against his track record as one of baseball's top sluggers.
Strengths/Pros
While Bautista had a down year last season, it was far from being an actually "bad" year.  Indeed, most players would be very satisfied hitting .234/.366/.452 with 22 homers and 24 doubles over 517 plate appearances.  Bautista's 122 wRC+ indicates that he still generated 22% more runs than a league average batter, and of all free agent hitters with at least 400 PA last year, only seven topped Bautista's mark of 122.
With a career .266 BABIP, Bautista has never received too much luck from the batted-ball gods, though it could be argued that his .255 BABIP in 2016 was particularly lacking in fortune.  Bautista had a career-high line drive rate of 18.8%, and he made hard contact on a whopping 41% of his balls in play, both of which were career-highs.  Bautista's vaunted batting eye made him productive even when he didn't make contact, with a 16.8% walk rate that ranked third in all of baseball (behind only Bryce Harper and Mike Trout) and an 0.84% walk-to-strikeout rate that tied him for 12th among all hitters.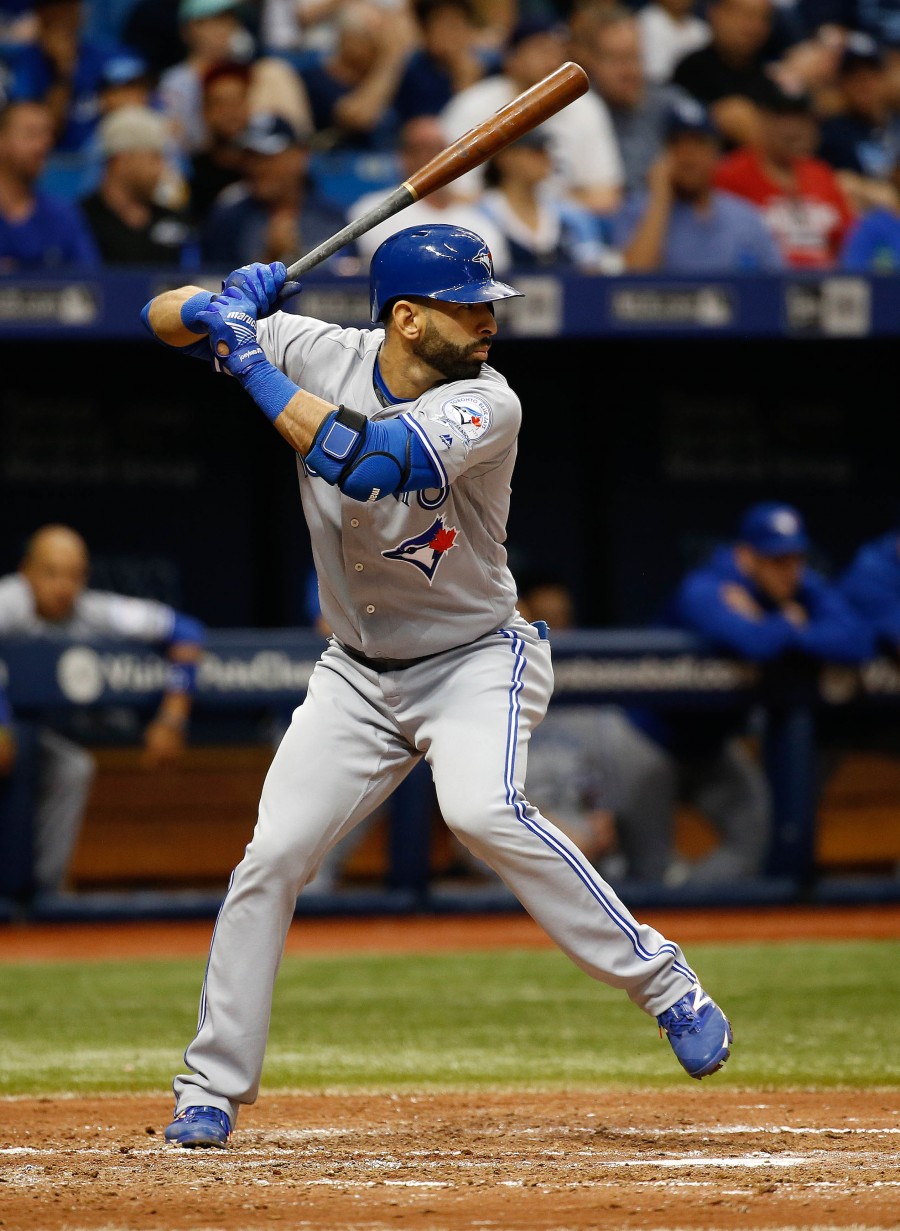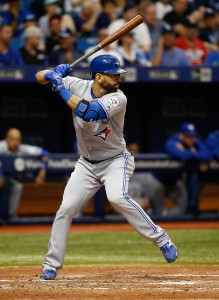 Bautista was bothered by a sore hip flexor in May and then had two separate DL stints (with turf toe and a left knee sprain, respectively) that limited him to 116 games.  It could simply be that the nagging injuries and the somewhat stop-and-start nature of his season prevented Bautista from ever really getting into a groove.  Bautista is known to keep himself in good physical condition, and he played in 308 of 324 games in 2014-15.
And of course, even with his 2016 season in mind, Bautista is still easily one of the decade's best hitters.  Since the start of the 2010 campaign, Bautista leads all hitters in home runs (249) and isolated power (.278), while ranking second in walk rate (16%), fourth in wRC+ (152) and eighth in fWAR (33.8).  If 2016 was just an aberration, then Bautista's next team could be signing him at a relative bargain.
Weaknesses/Cons
When a player is in his mid-30s, any signs of decline have to be taken as a red flag.  For every stat indicating that Bautista was more or less his old self last year, there was another that showed significant dropoff.  He posted his lowest batting average, slugging percentage, wRC+, wOBA (weighted on-base average) and isolated power numbers since his pre-breakout 2009 season, while also posting his highest strikeout rate since 2009.  Between 2010-15, Bautista made contact 70.5% of the time when swinging at pitches outside the strike zone; that number plunged to just 60.4% in 2016.
Beyond just his issues at the plate, Bautista was only worth 1.4 fWAR (his lowest as a Blue Jay) last year in large part due to below-average baserunning and fielding metrics.  Bautista posted his second straight year of rough numbers in right field, and now has -11 Defensive Runs Scored and -11.2 UZR/150 over the last two seasons.
Jay Alou, Bautista's agent, has said that his client is open to a move to left field or the infield, which should help Bautista's market.  National League teams without the luxury of a DH spot, however, may be wary about signing a player entering his age-36 season without any guarantee that he can provide passable defense.  Bautista has only played 154 MLB innings as a first baseman and 410 innings as a left fielder; a return to third base would seem very unlikely at this stage of his career.
Beyond this season's two DL trips, Bautista was also limited to 92 games in 2012 due to a bad wrist that required post-season surgery, and 118 games in 2013 due to a bruised hip that prematurely ended his season.  (In fairness to Bautista, both shutdowns were more than a little due to Toronto being miles out of the pennant race.)  He also battled a bad shoulder in 2015 that required him to receive more DH at-bats than usual, though that injury didn't appear to impact his offensive production whatsoever.
Personal
Originally a 20th-round pick for the Pirates in the 2000 draft, Bautista's rise from journeyman to superstar is one of baseball's more unlikely breakout stories.  He played for five different organizations in the 2004 season (his rookie year) before settling back in Pittsburgh and posting middling numbers in semi-regular duty as a third baseman and outfielder.  Dealt to the Blue Jays in August 2008 for catcher Robinzon Diaz, Bautista still didn't entirely break out until a swing overhaul under the tutelage of Toronto manager Cito Gaston and hitting coach Dwayne Murphy.  The results were incredible — after managing just 59 career homers over his first 2038 PA in the bigs, Bautista exploded for 54 homers in 2010 and the rest is history.
Bautista's outspoken personality made him a clubhouse leader in Toronto but also ruffled some feathers around the league, whether it's questioning the strike zones of several umpires, getting involved in the most memorable on-field brawl in recent memory or his iconic bat flip home run in Game Five of the 2015 ALDS.  There hasn't been any indication that Bautista's attitude is necessarily impacting his free agent stock; if anything, Bautista has a reputation as an intense competitor.
Market
Needless to say, Bautista won't be getting anything close to the massive asking price (five or six years for $150-$180MM) he reportedly floated during preseason extension talks with the Jays.  In fact, given his disappointing year, Bautista could've been justified in accepting the one-year, $17.2MM qualifying offer in the hopes of rebounding in 2017 and testing the market again next winter in search of a bigger contract.
Instead, he rejected the Blue Jays' offer, so any club that signs him will have to give up its top unprotected draft pick for Bautista's services.  As we've seen in the past, the qualifying offer can limit the market for anything less than superstar free agents.  Between the draft pick compensation, Bautista's age, his declining defense and hitting numbers and the number of other first base/DH types on the market, Bautista could have a tough time finding what he believes is fair value.
On the other hand, it's hard to ignore Bautista's performance prior to 2016.  There will certainly be teams interested in seeing if Bautista can bounce back to his old form, and Bautista's apparent willingness to shift out of right field will increase his list of suitors.
Teams like the Orioles, Red Sox, Astros or Mariners have multiple holes at DH, first base or the corner outfield slots that Bautista could fill, switching positions on a near-daily basis to accommodate other players on the roster.  The Dodgers, and Giants have corner outfield slots that Bautista could fill, and conceivably the A's and Phillies could be added to the list if Bautista's price drops or if he isn't set on joining a contender.  The Rockies could sign Bautista as a first baseman with an eye towards giving him some time in the outfield if Carlos Gonzalez or Charlie Blackmon are traded.  The Nationals somewhat surprisingly asked about Bautista at last summer's trade deadline so they could be a suitor now; with Ryan Zimmerman still holding down first base in Washington, Bautista would have to play right, with Harper sliding to center.  I don't know if the bad blood between Bautista and the Rangers would preclude the two sides from doing business, though Bautista is at least an on-paper fit in Texas as a first baseman or designated hitter.
The Yankees and Mets have both already been linked to Bautista, though the Mets would need to deal one of Lucas Duda, Jay Bruce, Curtis Granderson or (less likely) Michael Conforto to make room.  For the Yankees, Bautista would add veteran stability to their young first base/right field/DH mix of Greg Bird, Tyler Austin, Aaron Judge and Aaron Hicks, and left field could also open up if anything comes of trade inquiries about Brett Gardner.
While Blue Jays GM Ross Atkins recently said that the club's signing of Kendrys Morales didn't mean that Toronto couldn't still bring back Bautista or Edwin Encarnacion, talks between Bautista and the Jays are reportedly not showing any signs of re-opening.  Bautista could still technically fit playing right, first base and DH in rotation with Morales and Justin Smoak, though at this point, it seems like the Bautista era is Toronto is coming to a close.
Expected Contract
MLBTR's Tim Dierkes ranked Bautista 12th on his list of the offseason's top 50 free agents, projecting Bautista for a three-year, $51MM contract but with the potential for an opt-out clause after the first year or perhaps just a one-year deal altogether.
I would tend to think that a multi-year deal with an opt-out is the best scenario for all parties.  Bautista already feels that he vastly outperformed his previous contract — he could see another modest multi-year deal as a missed opportunity at prime earning years in 2018 or 2019, as obviously he believes he'll return to form next season.  With an opt-out, Bautista can test the market again next winter if he has that rebound year, and the signing team might be satisfied to have gotten one big year from a 36-year-old and then let off the hook for his age-37 season and beyond.
This is a tough one to predict given Bautista's lackluster platform year, though I believe Tim's projection of a $17MM average annual value will end up being accurate.  Whether Bautista gets a third year could depend on how the rest of the first base/DH market shakes out.
Photo courtesy of USA Today Sports Images