The Cubs reportedly plan to discuss a new, long-term contract with star righty Jake Arrieta early in 2017. Prior talks failed to produce much apparent traction, but there's new urgency if a deal is to be found. Arrieta, after all, will reach the open market after the season.
If nothing else, Chicago will need to sort out Arrieta's final arbitration salary with agent Scott Boras. After a huge raise following his monster 2015 season, Arrieta took down $10.7MM last year. And though he wasn't as good in 2016, there's another hefty boost coming; MLBTR projects to earn a $16.8MM payday.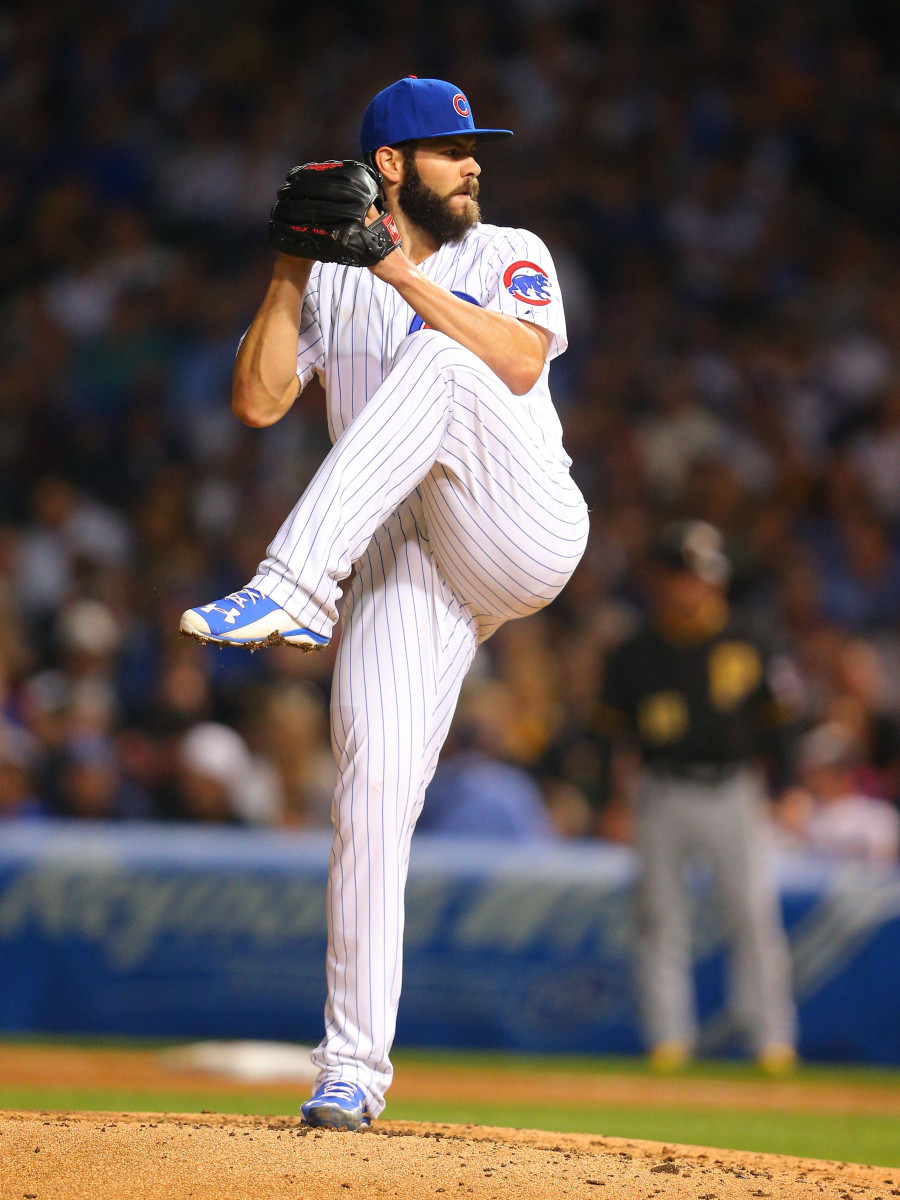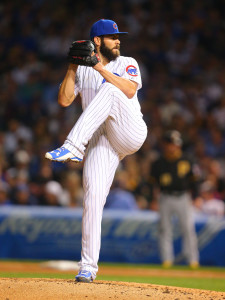 So, aside from nailing down that number, just what might the sides talk about when they sit down in the coming weeks? Expectations, perhaps, represent the most important ingredients in this particular extension scenario, because valuing Arrieta's post-2017 seasons without the knowledge of his 2017 output is particularly difficult.
Arrieta's story is well known, and need not be repeated in full here. Suffice to say, his career renaissance in Chicago has been spectacular and complete. Over 2014-15, the righty provided 358 2/3 innings of 2.08 ERA pitching over 58 starts. He was dominant, especially, in the latter of those two seasons, when he posted 9.3 K/9 against just 1.9 BB/9 and allowed a league-low 5.9 hits per nine while spinning four complete games. After filling up 229 innings and taking home the National League Cy Young award, a course was set for a huge free-agent contract.
The early portion of 2016 largely represented a continuation; though his walk rate was up, the results remained dominant. By early June, though, the earned runs began to catch up as Arrieta's typically excellent suppression of walks and home runs began faltering. Ultimately, he fell just shy of 200 innings and ended the year with a 3.10 ERA to go with 8.7 K/9 and 3.5 BB/9. Beyond the jump in walk rate, Arrieta also paced the league with 16 wild pitches.
To be sure, all the signs weren't concerning. Arrieta continued to induce grounders on about half of the balls put in play against him, didn't show any worrying changes in velocity, mostly maintained his swinging-strike rate (10.5%, down from a personal best 11.1%), and continued to suppress BABIP in a consistent manner suggestive of skill, not merely good fortune. But hitters chased out of the zone slightly less frequently and made somewhat more hard contact in 2016, while also managing a few more home runs (16).
In the aggregate, Arrieta is still exceedingly difficult to square up and seems to be about as good a bet as anyone to deliver 200 or more innings from a health perspective. Even the less-dominant version is still a high-quality pitcher. Heck, he even managed to add real value with the bat last year (.262/.304/.415). And Arrieta showed up in the postseason — the World Series, especially, where he allowed just three earned runs on five hits over 11 1/3 innings in two starts.
Still, it's hard to say that Arrieta's current standing matches his status at this time last year. If Arrieta isn't a true ace — which, at least, is in doubt — then the conversation is somewhat different. Valuing his future is more about projections and comps than it is a question of just how much a team can really spend on a single pitcher. And reaching agreement on an extension poses questions such as: Will the team will ascribe added value to the possibility of a return to full dominance? Will the player forego perhaps greater potential earnings to sell away the risk of another less-than-excellent (or worse) season?
If Arrieta isn't a true ace, then pedestrian considerations such as age — he turns 31 in March of 2017, and will turn 32 before the start of the 2018 season — rise in importance. That means Arrieta will hit the market at nearly the same age (just a few months younger) as Zack Greinke did last winter. Greinke's massive contract (six years, $206.5MM) isn't exactly a bad sign for Arrieta, but it's tough to see Chicago valuing the latter's free-agent years as highly as the D-Backs did the former's (over $34MM). That contract always seemed a reach, and came on the heels of Greinke's historic 2015 season.
Perhaps a more reasonable current comp is pitching alongside Arrieta in the Cubs' rotation. Jon Lester, who was a younger free agent than will be Arrieta, got $155MM over six years. But even that could be rich. Johnny Cueto, one of the game's most accomplished hurlers, landed shy of Lester (six years, $130MM, albeit with an opt-out) heading into his age-30 season. His late-2015 scuffles — which weren't, perhaps, all that dissimilar from Arrieta's — seemed to put a real dent in his value.
The most direct comparables, of course, are drawn to players who sign extensions just before hitting the market. Stephen Strasburg got seven years and $175MM from the Nationals in the middle of the 2016 season. Before him, Homer Bailey took home $105MM over six seasons (including his arb year) from the Reds. Neither pitcher is a clean comp — Strasburg, due to age; Bailey, due to performance — but those deals are still illustrative. Strasburg's signing, in particular, shows that an extension can't be ruled out, even for a market-leading starter repped by Boras. Both contracts show the need for compromise as well as the inherent risk in a late-arb pitching extension. Injuries slowed both Strasburg and Bailey not long after their new deals were inked. In both of those cases, they wisely (in hindsight) sold away the chance at perhaps even greater earnings to lock in contracts with their existing organizations.
It is ultimately difficult to know whether there's a realistic chance of the Cubs and Arrieta reaching a deal. The relative lack of upper-level, high-quality starting pitching prospects in the Chicago system suggests an ongoing need. And the Lester signing shows that the team will sign a long-term deal with a starter in the right circumstances. But it seems likely there'll be some cap to the team's willingness to add guaranteed years and boost the AAV in Arrieta's case. Just where those lines will be drawn by both the team and its once (and future?) staff ace remain to be seen. Is Strasburg's $25MM AAV a fair market point, perhaps over a shorter term? Does Cueto's combination of a lower AAV and opt-out provide a guide? Or will Arrieta hold out for a chance to chase Greinke?
Just for kicks … let's see how likely a deal is, in the estimation of MLBTR's readers:
Photo courtesy of USA Today Sports Images.