After a whirlwind stretch of about 27 hours in which he traded franchise cornerstone Chris Sale and one of the game's best all-around outfielders in Adam Eaton, White Sox general manager Rick Hahn expressed both the difficult and emotional nature of the decisions as well as the optimism he had about his organization's future at a press conference at Major League Baseball's Winter Meetings. Having traded Sale for prospects Yoan Moncada, Michael Kopech, Luis Alexander Basabe and Victor Diaz yesterday, Hahn acquired right-handers Lucas Giolito, Reynaldo Lopez and Dane Dunning in this afternoon's Eaton trade.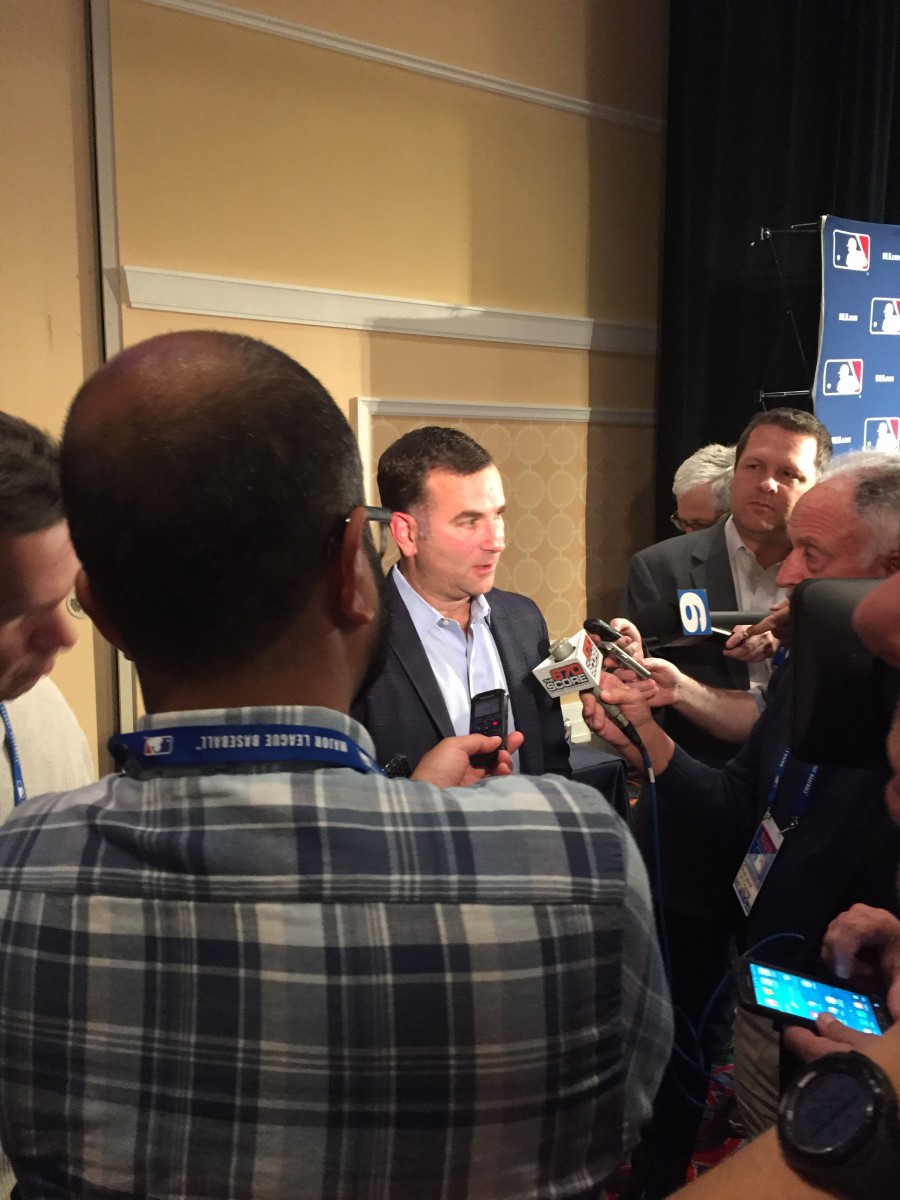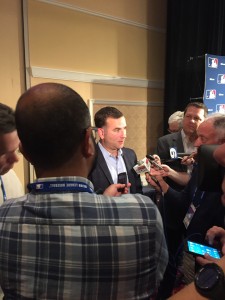 "There's going to be some difficult elements of this along the way, as we talked about yesterday," said Hahn of the decision embark on a rebuild. "I did not enjoy my phone call with Adam any more than I enjoyed my phone call with Chris yesterday. But everyone in that room, in that suite upstairs, when we went through the process of evaluating whether this was the right thing to do, was unanimously on board that this will help further our process."
Though the front office was seemingly all on board, Hahn didn't characterize that as an easy consensus to reach. Trading a player with five years of remaining club control was understandably characterized as a difficult decision to reach and one that at times was the source of some debate.
"We certainly expect to be in a position to contend for championships within the next five years," the GM stated, "so we had to have our own debate. 'Are we better off doing this now, perhaps diversify a bit and bring in some other high-ceiling talent? Or do you stick with Adam yourself?' I do think he had perhaps a little bit more appeal than maybe some free agent options, given the price points, or perhaps than some other players on the market because of the length of their control relative to Adam. That also meant that he came with a higher asking price."
In the case of Eaton, that was three right-handed pitchers that Hahn termed "potential front-end-of-the-rotation fixtures." The White Sox entered negotiations with high expectations and didn't merely sell to the highest bidder, Hahn explained, and that'll be the manner in which he continues to operate as he fields interest in other players on the roster. Names like Todd Frazier and Melky Cabrera represent short-term assets (free agents next winter) that could potentially be explored in deals, while others such as David Robertson (two years of control) Jose Abreu (three years) and Jose Quintana (four years) could merit larger commitments due to the fact that each can be a long-term (and reasonably priced) solution for an interested party.
Unsurprisingly, Hahn didn't make mention of any specific players he's already discussed or plans to market to other clubs, but he made no secret of the fact that the Sox hope to again find themselves in a position to receive a trade offer that they feel too strong to rebuff.
"There may well be nothing else while we're [at the Winter Meetings," Hahn explained. "There may not be anything else until after the holidays, or through the trade deadline or until next offseason. We're taking a longer-term view, and we're going to do this deliberately and with reason and logic, and react accordingly to the market. Eaton came together because Washington was fairly aggressive, as were a few other suitors that accelerated the time frame. We are open and eager for that to happen again, but if it doesn't, we'll be patient and move when the time is right."
Though five of the players that they've acquired since Tuesday morning are pitchers, the White Sox weren't specifically focusing on high-end pitching prospects when negotiating with other clubs. The Sox pursued the best prospects possible, regardless of position, according to Hahn. The end goal, he further explained, is to develop enough of a base of talent that the Sox don't need to be so reliant on a top-heavy roster. In recent years, the White Sox haven't had the "one-through-25 depth or even the one-through-40 depth" that a team needs in order to play at a championship level, Hahn opined.
Fostering that level of depth obviously isn't a short-term endeavor, but that also doesn't mean that the White Sox won't reap any benefits in 2017. While Dunning — whom Hahn noted was high on the team's draft board in 2016 — will begin the season in Class-A, both Giolito and Lopez are expected to open the season in the Sox' Triple-A rotation and will get the opportunity to pitch in the Majors if they prove ready. "The good ones have a way of forcing the issue," said Hahn, noting that both Giolito and Lopez "conceivably will contribute to the 2017 White Sox."
And, depending on how the remainder of Chicago's trading efforts work out, there could be further ripple effects on the Opening Day roster. The White Sox now look at Cabrera, Charlie Tilson and Avisail Garcia as their starting outfield alignment, according to the GM. Further subtractions throughout the roster, though, could lead the team to "augment" the roster as Spring Training approaches. If the Sox don't have the requisite upper-level depth to fill a void or if the team doesn't wish to rush a prospect to the Majors, it seems reasonable to expect the Sox to pursue a veteran option that could serve as a bridge to younger talent.
Over the past few years, Hahn has been used to speaking at press conferences in which he's announcing a newly acquired addition to his Major League roster with an eye toward contending, making the past few days somewhat uncharted territory for the South Side GM.
"The weird part for me is that we walk around here, you have a lot of people congratulating you — kindly, with well-intentioned congratulations — whether it's scouts, or executives from other clubs," Hahn explained. "It's a little awkward, because we traded Chris Sale. That's not something you feel great about. That's not a feather in your cap, so to speak, but this is where we are."