Aroldis Chapman and the Yankees have agreed on a five-year deal worth $86MM, FOX Sports' Ken Rosenthal writes (Twitter links). Chapman will receive an $11MM signing bonus and $15MM per season, FanRag's Jon Heyman tweets. He can opt out of the contract after three years, and he has a full no-trade clause through the first three years of the deal and a limited no-trade clause for the last two. He also cannot be traded to a West Coast-based team, ESPN's Marly Rivera tweets. Since the Yankees traded Chapman last season, he was not extended a qualifying offer and thus will not cost the Yankees a draft pick. Chapman is a client of Magnus Sports.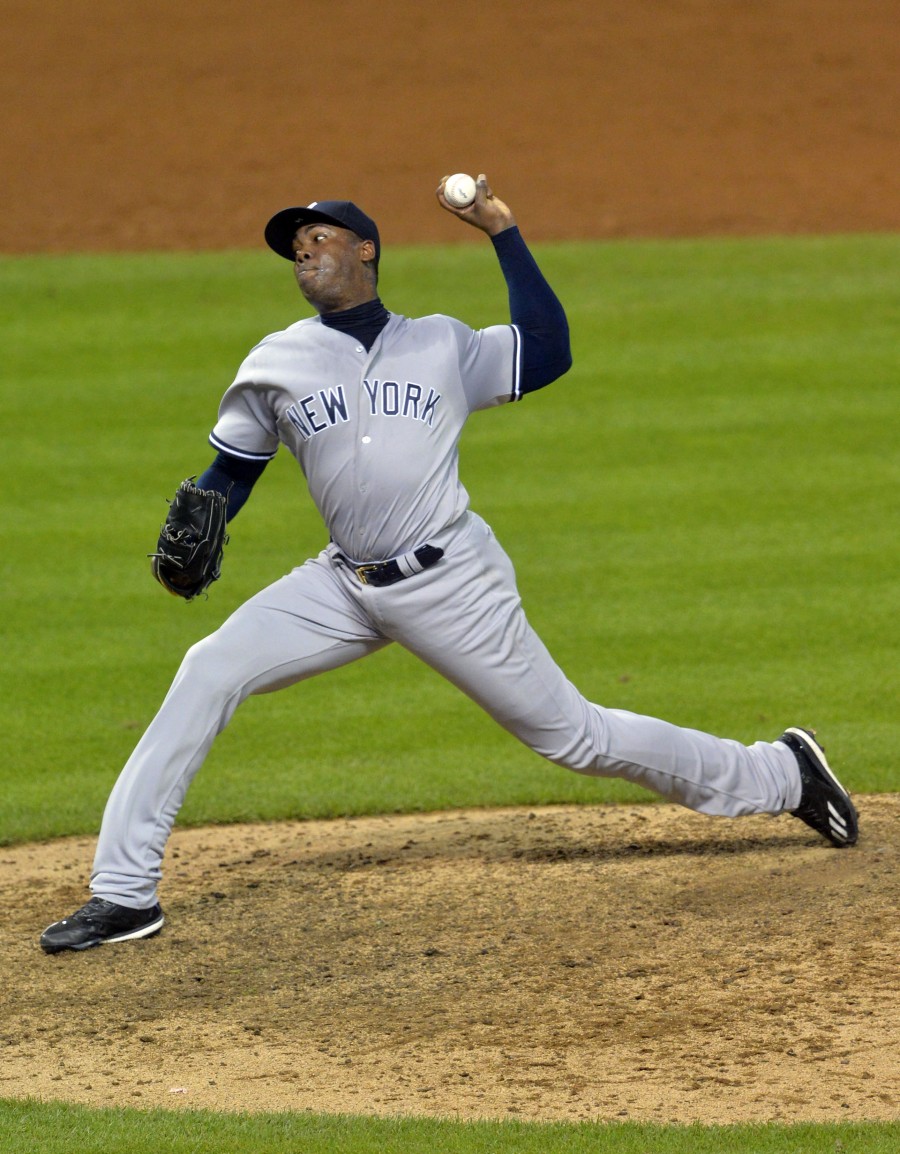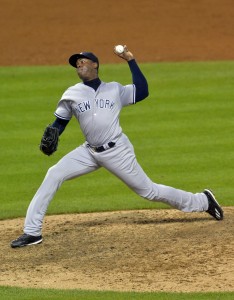 [Related: Updated New York Yankees Depth Chart]
Chapman's enormous $86MM guarantee destroys the previous record for the largest contract ever given to a free agent relief pitcher, topping Mark Melancon's recent deal with the Giants by a remarkable $24MM. The $17.2MM average annual value of Chapman's deal also easily tops the previous high for a relief pitcher, set by Melancon ($15.5MM). Chapman's deal is also the second largest for a free agent this winter, behind only Yoenis Cespedes' $110MM pact.
Still, the dollar figures of Chapman's contract aren't surprising — it had already been reported that Chapman had received a $92MM deal, a number that hardly seemed surprising given his talent. (It's possible he elected to take a deal with a slightly smaller guarantee due to the opt-out.) We here at MLBTR predicted Chapman would head back to the Yankees on a $90MM contract. The 28-year-old Chapman has a well-earned reputation as the game's most dominating relief pitcher, piling up strikeout after strikeout with ridiculous three-digit heat from the left side, as well as a slider that frequently touches 90 MPH. In his seven-year career in the big leagues, Chapman has struck out 636 batters just in 377 innings for an absurd 15.2 K/9, with a brilliant 2.08 lifetime ERA.
The Yankees and Marlins had each made five-year offers to Chapman, whose decision had turned into a linchpin of each team's Winter Meetings activity.  The Marlins had also been connected to Kenley Jansen, the other elite closer remaining, who will now likely head to Miami or back to the Dodgers.
The Marlins were, in fact, the runners-up to acquire Chapman, Rivera confirms, but Chapman says he wanted to return to the Yankees organization. "Every player dreams of being a Yankee, and if they don't it's because they never got the chance," he says.
In the end, Chapman opted to return to the Yankees, for whom he posted a 2.01 ERA, 12.6 K/9, 2.3 BB/9 and 20 saves in 31 1/3 brilliant innings before heading to the Cubs in a trade last summer. Chapman, Andrew Miller and Dellin Betances had combined to form the back end of what had been a devastating Yankees bullpen. Miller, of course, has moved on, but Chapman appears set to join Betances yet again in what should be one of the game's best late-inning combos, with Chapman closing and Betances pitching in a setup role.
The Yankees spent the last half of the 2016 season retooling, shipping out Chapman, Miller, Carlos Beltran and Ivan Nova while attempting to transition from a veteran team to a much more youthful one. The 2017 Yankees will also be without veterans Brian McCann (who was traded to the Astros) and Mark Teixeira (who has retired). With the additions of Chapman and Matt Holliday, however, the Yankees have plainly announced their intention to compete in 2017, and of course there will also be the expectation that Chapman can help well beyond that. In fact, the Yankees specifically targeted DH and closer as areas to upgrade because young players would not be blocked at those positions, Joel Sherman of the New York Post tweets.
Chapman does come with significant baggage — he was suspended for 30 games at the beginning of the 2016 season due to violation of the league's domestic violence policy. In October 2015, he allegedly choked his girlfriend, then went to his garage and fired his handgun eight times.
His contract also raises questions about how well he'll likely perform over its duration. Long-term contracts for relievers infamously frequently turn out poorly. Still, Chapman is such a unique talent that it seems unwise to judge him based on the past troubles of significantly lesser pitchers. Also, the recent successes of pitchers like Chapman and Miller, as well as the 2014-15 Royals bullpen, demonstrate the impact terrific relievers can have on contending teams. Chapman's new deal will only cover his age-29 through age-33 seasons, and if he can stay healthy, it's easy to imagine him having success throughout its duration.
Photo courtesy of USA Today Sports Images.