On the heels of the two best seasons of his career, journeyman Eduardo Nunez ranks as one of the top infielders available in free agency. Nunez, 30, played for a pair of teams in each of those seasons, so landing a multiyear contract would presumably give him some stability going forward.
Pros/Strengths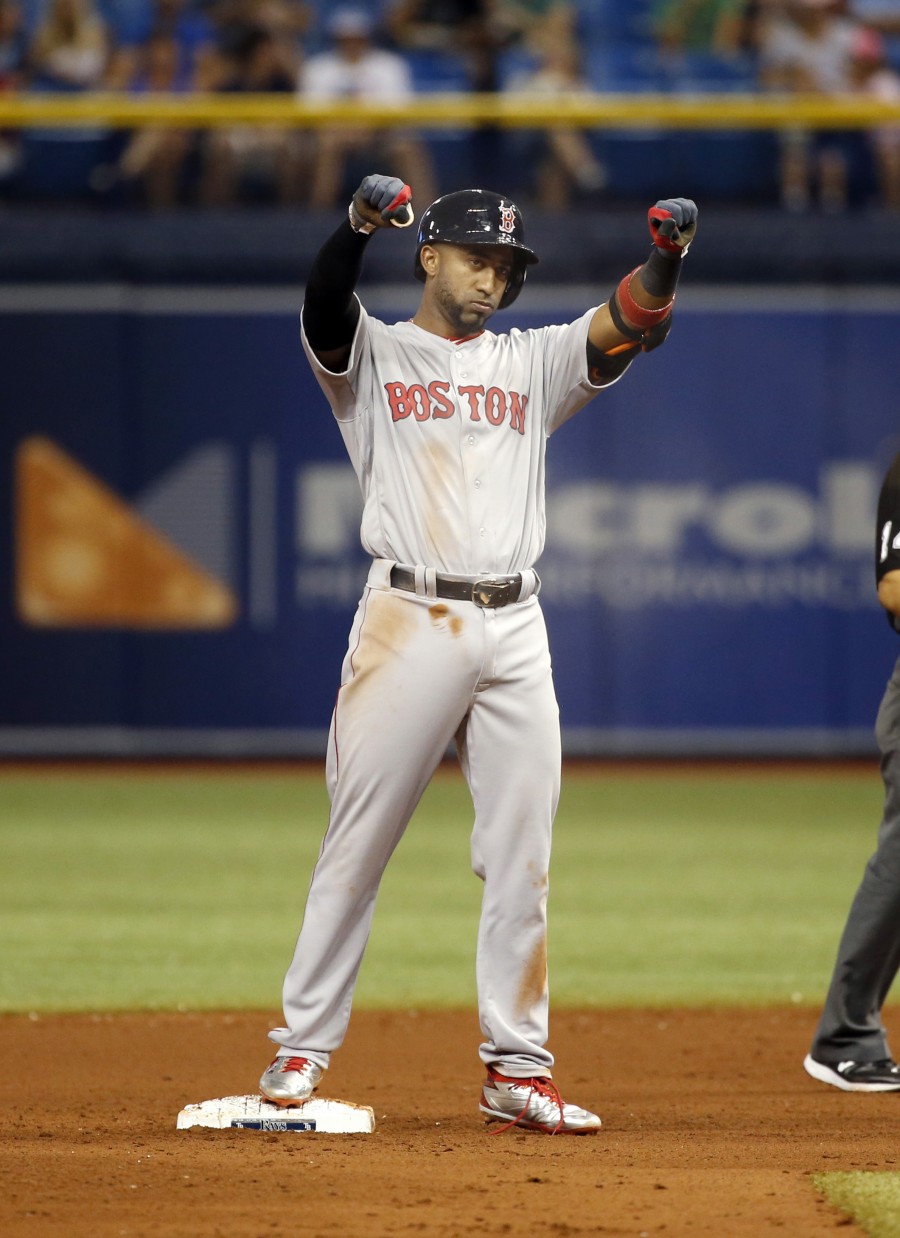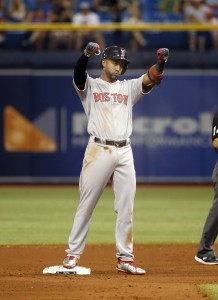 Nunez made his major league debut with the Yankees in 2010, but it took him until 2015, when he was a member of the Twins, to truly break out at the plate. While no one would call Nunez an offensive force, the right-handed hitter did post an above-average .296/.332/.443 line with 28 home runs in 1,290 plate appearances over the previous three seasons. Nunez was at his best in 2017, slashing .313/.341/.460 with 12 homers in 491 PAs between San Francisco and Boston. And when he got on base from 2016-17, Nunez was a legitimate threat, with 64 stolen bases (40 in '16) and a 4.9 BsR.
Although strikeouts have become more and more prevalent over the years (there were a record 40,104 Ks in 2017), Nunez hasn't really contributed to the trend. His lifetime strikeout rate is a meager 13 percent, and he only fanned a career-best 11 percent of the time last season. The rest of the league went down on strikes in 2017 at an average of 21.6 percent, and it made contact at a 77.5 percent clip. Nunez logged a much stronger 83.8 percent contact rate and sits at 85.5 percent for his career. He clearly excels at putting the ball in play, which is especially important for someone whose game is largely predicated on speed.
On the defensive side, Nunez's value comes from his versatility. Most of his career has been spent at shortstop (270 games) and third base (255), but he played a personal-high 26 contests at second base with the Red Sox last season. He also has 49 games' worth of outfield experience on his resume.
Weaknesses/Cons
While flexibility in the field is an obvious asset, Nunez isn't really a well-regarded defender. His stint at the keystone in 2017 didn't yield great results (minus-4 Defensive Runs Saved, minus-9.1 UZR/150), nor has he been a plus fielder at any other position during his career. In fairness to Nunez, though, he was hardly unplayable from 2016-17 at his primary spot – third base – combining for minus-2 DRS and a minus-0.3 UZR over nearly 1,100 innings.
Offensively, despite Nunez's respectable output of late, there are some concerns. He seldom walks, for one, with a career rate of 4.9 percent. He checked in at 3.7 percent this past year, ranking seventh last among hitters who amassed at least 400 at-bats. And though Nunez still managed to finish 2017 with a .348 weighted on-base average, easily bettering the .321 league mean, Statcast's xwOBA metric suggests it was far from legitimate. Among 183 hitters with at least 400 ABs, Nunez had the greatest disparity (a 73-point gap) between his wOBA and xwOBA (.275). The latter figure ranked eighth worst in the majors. Additionally, Nunez carries a weak .133 ISO for his career and registered a .148 in that category last season, falling well below the .171 league average. Of course, Nunez's speed somewhat helps make up for the fact that he doesn't pack a wallop, as he posted the league's 23rd-highest infield hit rate last season (10.5 percent; league average was 6.6 percent). For his career, Nunez has reached via the infield single at a 9.6 percent clip.
Even if Nunez sustains his production over the next couple years, history suggests his availability could come into question. Nunez spent time on the disabled list in four of the five prior seasons, including in 2017 when he missed parts of June and July with a hamstring injury and most of September with a sprained PCL in his right knee. Nunez returned for the playoffs, but he left Game 1 of Boston's ALDS matchup against Houston after aggravating that knee, causing him to miss the remainder of the series.
Background
Nunez is a native of the Dominican Republic who signed with the Yankees as an international free agent in 2004. Since then, he has been part of three trades – going from the Yankees to the Twins in 2014, the Twins to the Giants in 2016 and the Giants to the BoSox last season. A client of ISE Baseball, Nunez has collected more than $8.75MM in his career, per Baseball-Reference.com.
Market
Nunez hasn't been part of any rumors early this offseason, but a return to the Red Sox could make sense with starting second baseman Dustin Pedroia likely to miss the first couple months of 2018 after undergoing knee surgery. But if Nunez is looking for a season's worth of full-time work, he might be able to find it with several teams that should be on the hunt for a second baseman and/or a third bagger, including the Giants, Mets, Braves, Angels, Brewers and Blue Jays.
Expected Contract
MLBTR predicts Nunez will land a two-year, $14MM deal, which would represent a nice raise over the $4.2MM he earned in 2017.
Photo courtesy of USA Today Sports Images.