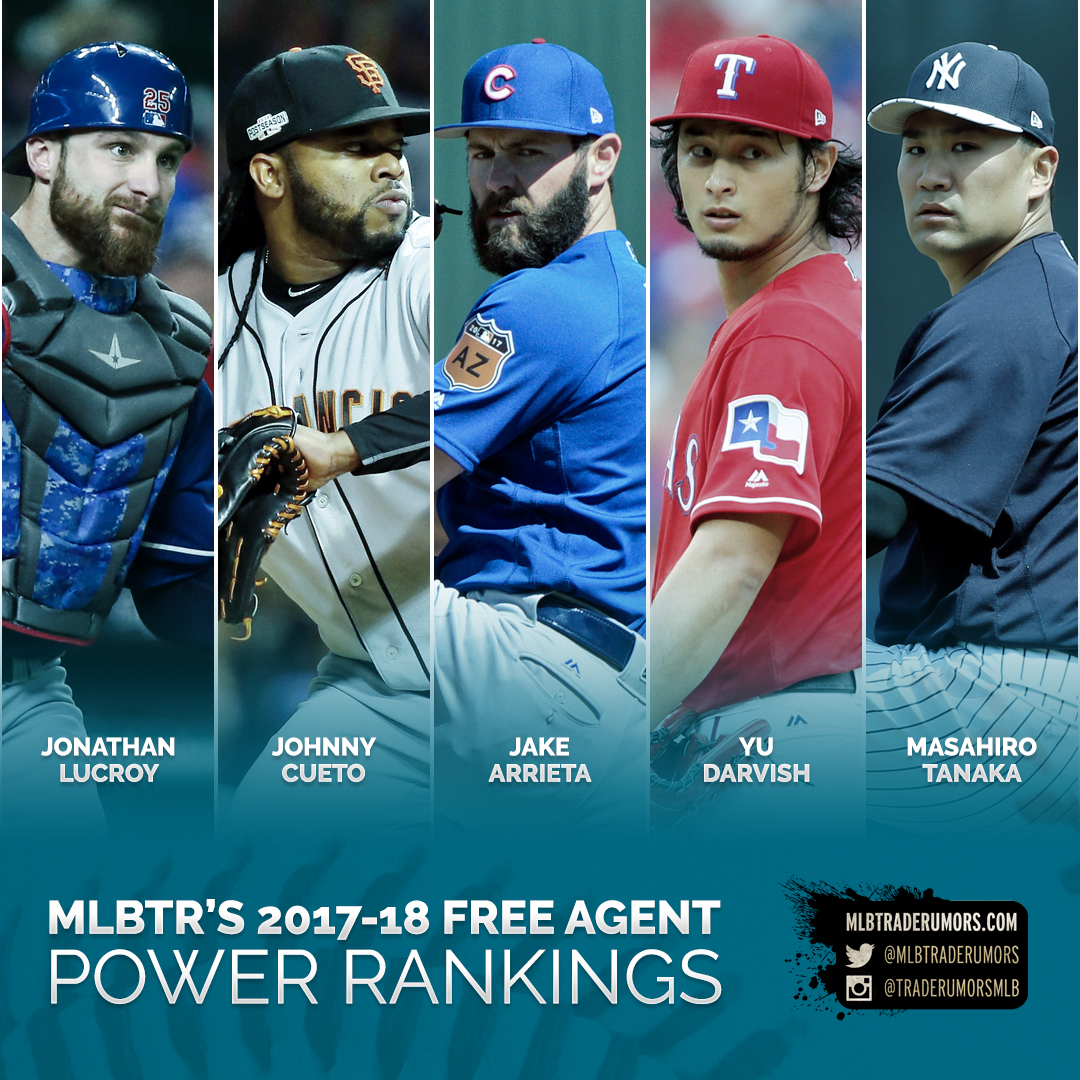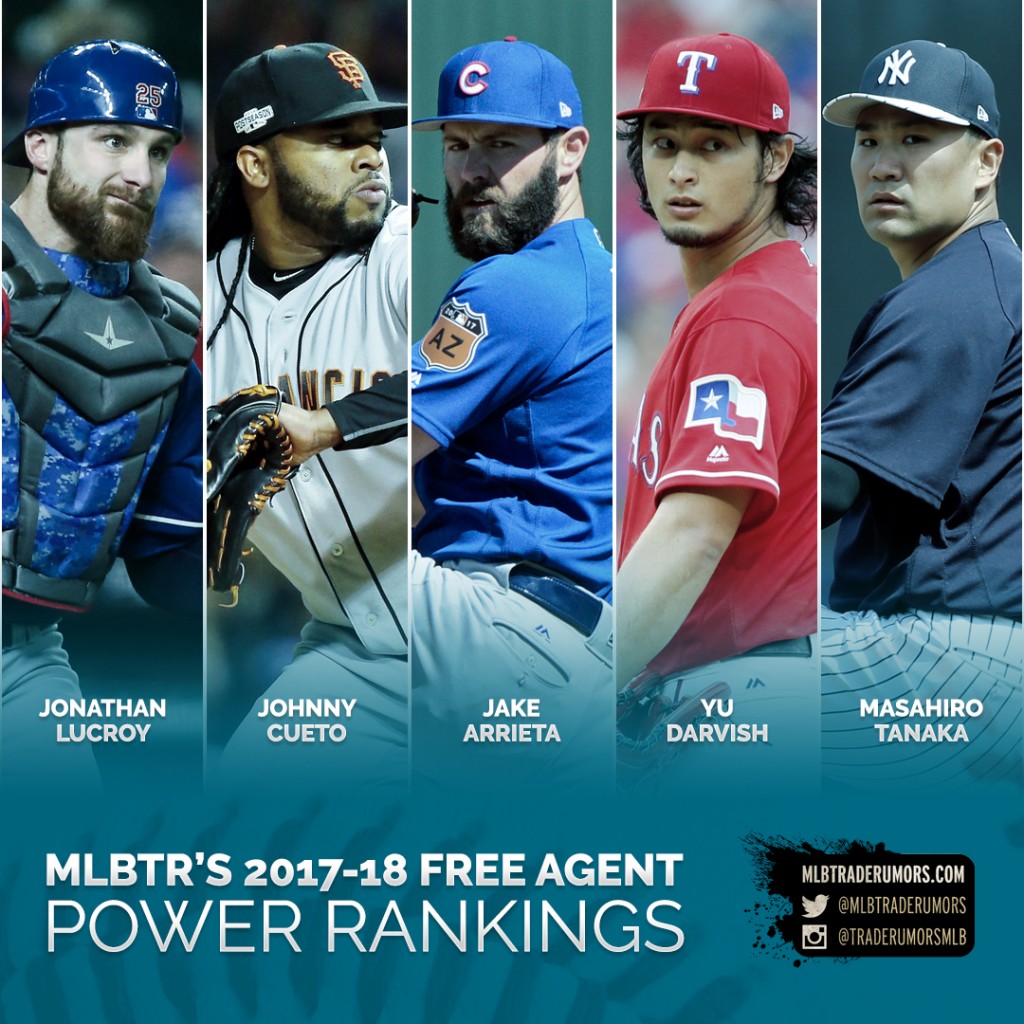 All of the top free agents from last winter have found homes, and Opening Day 2017 is less than three weeks away.  Here at MLBTR we like to keep an early eye on the next free agent class.  The players referenced in this post are scheduled to become free agents after the 2017 season.  These rankings are subject to change each month, as players drop off due to extensions, injuries, or poor performance, while others see their stock rise.  A year ago, our rankings were led by Stephen Strasburg, who signed an extension in May, and Carlos Gomez, who wound up released in August and ultimately signed the 36th-largest contract of the 2016-17 offseason.  Dexter Fowler, who ended up with the third-largest free agent contract, didn't crack our top ten until May.
The goal here is to rank earning power.  These rankings represent expected contract size, assuming each player reaches the open market and goes to the highest bidder.  For the full list of 2017-18 MLB free agents, click here.
1.  Jake Arrieta.  You could reasonably put the first three pitchers on this list in any order.  All three were born within a six-month span in 1986.  Currently, Arrieta stands as our "top gun."  Since joining the Cubs in a legendary 2013 trade, the righty boasts a 2.52 ERA and 8.9 K/9 in 634 2/3 regular season innings.  He peaked with the NL Cy Young Award in 2015, and also finished ninth in 2014 and '16.  Arrieta will pitch the 2018 season at age 32, which makes a six-year deal a long shot.  Zack Greinke is an exception, though his contract is probably one most front offices do not want to emulate.  As a player known to be in top physical condition, Arrieta at least has a case for six years (but almost certainly not seven).  He's been DL-free since a stint in early 2014 and has a relatively low pitching odometer, as agent Scott Boras likes to say.  Before Arrieta can make the six-year argument, however, he must shake off a decidedly mediocre finish to his 2016 season, as he posted a 4.05 ERA and 3.75 BB/9 over his final 20 regular season starts.  Aside from the term, there's also the question of average annual value.  That could push into the low-$30MM range, as achieved by David Price, Max Scherzer, and Greinke.
2.  Yu Darvish.  Darvish, the strikeout king of this free agent class, could ease concerns with a healthy 2017.  The big blemish on Darvish's record is his Tommy John surgery in March 2015.  As a result of the surgery, Darvish went about 22 months between Major League starts.  He made his 2016 debut in late May, and after three starts he missed another 37 days with shoulder discomfort.  That injury was seemingly connected to his long recovery from Tommy John.  Like Arrieta, Darvish may have difficulty finding teams willing to guarantee a six-year contract.  Darvish should still be able to surpass the current free agent record contract for a Tommy John survivor, the five-year, $110MM deal Jordan Zimmermann received from the Tigers in November 2015.  One point in Zimmermann's favor: his surgery was further in the rearview mirror, as he had posted five full healthy seasons after the procedure.  Darvish, of course, is a different kind of pitcher, one of the most dominant in the game.  Another season like 2013, when he finished second in the AL Cy Young Award voting, could send free agent bidding through the roof.
3.  Johnny Cueto.  Cueto's case is just about as strong as that of Arrieta or Darvish.  Cueto has pitched at least 212 regular season innings in each of the last three seasons, quieting mild concerns about his health.  He was part of the fabled free agent pitching class of 2015-16, one of seven starting pitchers to receive at least $80MM that winter.  Heading into his age-30 season, Cueto landed a six-year, $130MM deal with the Giants.  He could have done even better, but instead wisely secured an opt-out clause after the second year of the contract.  After the 2017 season, Cueto must decide whether he should opt out and try to top the four years and $84MM remaining on the contract.  With another vintage Cueto season, a five-year contract at a high-$20MM range AAV would be expected.  More than $50MM could hang in the balance.  Alternately, the Giants could just extend Cueto's contract an additional year at a strong salary, as the Yankees did under the threat of C.C. Sabathia opting out after the 2011 season.
4.  Masahiro Tanaka.  Though he's every bit as talented as the pitchers listed above, and a couple years younger, I've got Tanaka in a slightly lower tier.  Tanaka joined the Yankees from Japan for the 2014 season, but made only 44 regular season starts over his first two campaigns.  You may recall that in July of 2014, Tanaka was diagnosed with a partially torn ulnar collateral ligament in his elbow.  Tanaka chose a platelet-rich plasma injection and the rehab route.  Two and a half months later, he was pain-free and back on a big league mound.  The following season, a forearm strain knocked him out for over a month.  Tanaka surprised many by making 31 starts in 2016, though his season ended early with a seemingly minor flexor mass strain.  Like Darvish, Tanaka faces a crucial 2017 season in proving his health.  If Tanaka does finish the season healthy, he could do much better than the three years and $67MM remaining on his contract, which could prompt him to opt out.  Or, the Yankees could add a year or two to the deal.  On a brand new contract, Tanaka could get a five-year deal despite his early MLB health history.  It all depends on how his right elbow holds up this year.
5.  Jonathan Lucroy.  Lucroy currently profiles as the best position player on the 2017-18 free agent market.  The Rangers' catcher, 31 in June, signed an early-career extension in 2012 as a member of the Brewers.  Including an exercised club option, Lucroy ended up getting $17MM for what would have been four arbitration years and his first free agent year.  He's now approaching his best chance to cash in.  Lucroy was arguably the best catcher in baseball last year, and in 2014 as well.  With another strong year, he should be able to push the limits of what a free agent catcher can get, possibly surpassing the five-year, $82-85MM deals given to Russell Martin and Brian McCann.
6.  J.D. Martinez.  The bottom half of this list inspired the most debate among MLBTR writers.  Martinez, 30 in August, has proven himself as a 30 home run bat since his career renaissance with the Tigers.  After hitting 38 home runs in 2015, Martinez lost a month and a half last year with a non-displaced fracture of the radial neck at the right elbow last year.  He crushed the ball in 55 games after his return.  The concern with Martinez is his right field defense, which UZR suggested was above average in 2015 and well below-average in 2016.  Kyle Yost and Brandon Day of Bless You Boys recently took an in-depth look at Martinez's glovework, which the player acknowledges is an area of focus for him this year.  With a reasonable rebound of his defensive metrics, Martinez is a candidate for a five-year deal worth $100MM or more.  Since 2014, he's been one of the dozen best hitters in baseball, on par with Edwin Encarnacion and Freddie Freeman.
7.  Eric Hosmer.  Hosmer may be the most polarizing 2017-18 free agent.  The Royals' first baseman, who turns 28 in October, has long been considered a candidate for a megadeal in free agency.  Recently, many have been questioning that possibility.  The Wins Above Replacement metric doesn't do Hosmer any favors, as his career total of 5.9 was exceeded by 15 different players in 2016 alone.  Traditionally a low-power first baseman, Hosmer just didn't hit much in 2012, '14, or '16.  In an attempt to rationalize Hosmer's apparent earning power, Jeff Sullivan of FanGraphs noted that he's been a much better hitter in high leverage situations, and that advanced metrics may underrate his defense.  The question is whether MLB's increasingly analytical front offices will be swayed by those points and whatever else makes it into Scott Boras' binder for Hosmer.  At this point, Hosmer is propped up by excellent marketing.  For any of the knocks on him, there is a rebuttal.  The Royals love Hosmer, and if a few more teams also buy in, he should be able to land five or more years.
8.  Justin Upton.  In my discussions with the MLBTR team, several of our writers recommended Upton be omitted.  To even reach free agency, he'd have to opt out of the remaining four years and $88MM on his contract with the Tigers.  I think that's enough of a possibility to include him here, even after a disappointing first year with Detroit.  Though Upton has never hit more than 31 home runs, the 29-year-old remains capable of bigger things.  After a couple brutal months to start his 2016 season, Upton hit 28 bombs over his final 429 plate appearances.  While 40 home runs doesn't always lead to free agent riches (see Chris Carter and Mark Trumbo), Upton might be able to land a new five-year deal in excess of $100MM with a big season.  The safe move is to stick with his Tigers contract, though.
9.  Carlos Gonzalez.  In CarGo, we have another player to whom WAR is not kind.  Gonzalez, 31, has become a one-dimensional player, with power as his calling card.  He's not one to draw a walk, and he's not known for his defense.  That was a problem for Trumbo in free agency, but Gonzalez strikes out less often and doesn't carry a reputation as a terrible defender.  Gonzalez does bear a different burden, with extreme home/away splits.  Taken out of Coors Field, Gonzalez may be of limited appeal to MLB teams.  He may need another 40 home run season to keep his spot on this list.
10.  Mike Moustakas.  Moustakas, 28, had a breakout 2015 season for the Royals but missed most of last season with an ACL tear.  Given positive contributions with both offense and third base defense, as well as his relative youth, Moose could push for a four or five-year contract with a full return to form.
A half-dozen players just missed making the list: Chris Tillman, Todd Frazier, Michael Pineda, Carlos Santana, Lorenzo Cain, and Wade Davis.  We'll be updating these rankings every month during the season.