The 2015-16 MLB free agent class is winding down, and it's time to turn our attention to the 2016-17 group. These players project to become free agents after the 2016 season, unless they sign contract extensions first.  Extensions seem unlikely for the top names.  Players may be reluctant to sign now, as the 2016-17 class appears weak.  MLBTR's full list of 2016-17 free agents can be found here.
What exactly are we ranking here? The simplest explanation would be earning power. These rankings represent expected contract size, assuming each player reaches the open market and goes to the highest bidder. Of course, nothing affects a free agent's earning power more than his most recent season, so I'll be updating these rankings monthly.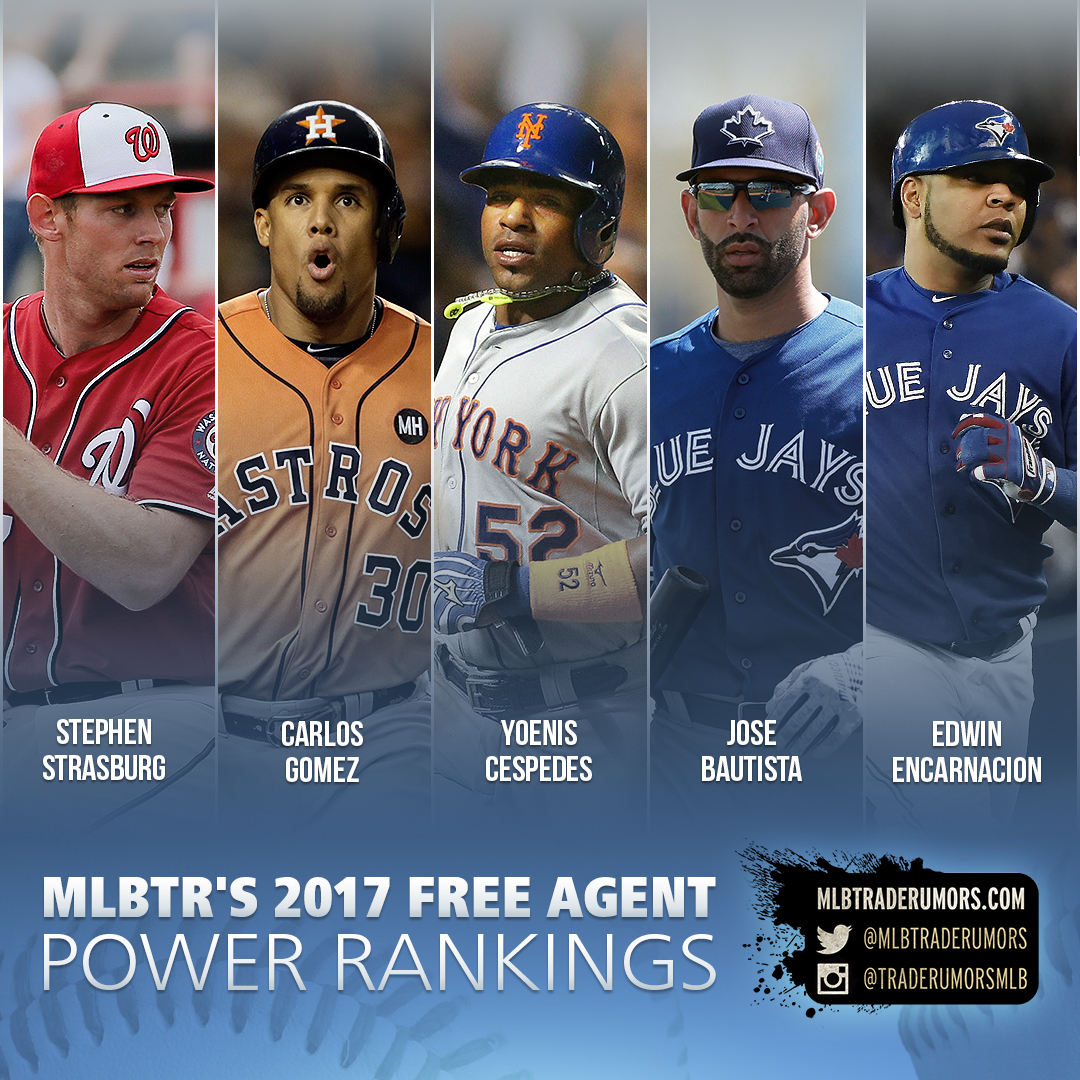 1.  Stephen Strasburg.  The first overall pick in the 2009 draft, Strasburg has been very good in his Nationals career but hasn't quite lived up to expectations.  One could draw a parallel with one of last winter's top free agents, Justin Upton.  Of course, it's different with pitchers, and over the years Strasburg's only limitation has been health.  After tying for the NL lead in strikeouts in 2014, shoulder, neck, back, and oblique issues limited Strasburg to 23 big league starts in 2015.  After the season, he had a "small, non-cancerous growth removed from his back," wrote James Wagner of the Washington Post.  Strasburg also has Tommy John surgery in his health history, with the procedure performed in September 2010.  Strasburg's agent, Scott Boras, enjoys a well-known cozy relationship with the Nationals.  The team generated controversy in 2012 when Strasburg was shut down at 159 1/3 innings with the team headed to the playoffs, a decision unsurprisingly supported by Boras.  Now, if Strasburg can muster up his second career 200-inning season along with his typical dominance, Boras will seek to shatter David Price's record contract for starting pitchers, which was for seven years and $217MM with the Red Sox.  As with Price, opt-out clauses will factor heavily into the discussion.  Strasburg doesn't turn 28 until July, so he'll be about two years younger than Price was.
2.  Carlos Gomez.  Gomez took big steps forward after being traded to the Brewers in November 2009, and posted a career-best 19 home runs in 2012.  In the spring of 2013, with free agency looming after the season, Gomez signed a surprising three-year extension with Milwaukee.  He went on to put up monster seasons in 2013 and '14, but was derailed in 2015 with hamstring and hip issues.  A near-trade to the Mets fell apart in July when New York backed out for various reasons, but he was successfully traded to the Astros the following day.  Similar to Strasburg, a healthy season will go a long way for Gomez, who is also represented by Boras.  The center fielder could land a deal north of $150MM if he returns to his 2014 level of health and production.
3.  Yoenis Cespedes.  I predicted a six-year, $140MM deal for Cespedes, who reached free agency after the 2015 season.  Instead, the 30-year-old slugger turned down multiple five-year offers and returned to the Mets in late January on an interesting high-AAV contract.  Cespedes signed a three-year, $75MM deal, with an opt out after 2016.  If exercised, Cespedes will have earned a hefty $27.5MM for the '16 season.  If he does opt out, perhaps Cespedes will be coming off a season good enough to ease whatever concerns plagued him this winter, and he can snag that six-year deal in the end.  It's a weaker market for sluggers, as Bautista and Encarnacion are considerably older.
4.  Jose Bautista.  Bautista, 36 in October, crushed 75 home runs over the last two seasons for the Blue Jays.  He's a late bloomer, having broken out with the Jays in 2010 at age 29 with 54 home runs.  While extension talks with Toronto have occurred, Bautista stated in February that he's "not willing to negotiate" from his asking price, which reports suggest could be five or six years at around $30MM per season.  Right now I'm penciling him in for four years and $120MM.  Some teams will draw a hard line because of Bautista's age, but it's certainly possible for one to throw caution out the window.
5.  Edwin Encarnacion.  Bautista's teammate has been prolific in his own right, with 151 bombs over the last four years.  He'll turn 34 prior to the 2017 season, so age is a big factor here as well.  Talks with the Jays have stalled over contract length, and you have to think Encarnacion expects at least four years.  I could see something like four years and $100MM, though he'd have a good argument for five years if Bautista gets that many first.  Encarnacion is more limited in the field, as a DH/first baseman.
6.  Josh Reddick.  Reddick doesn't carry the same health or age concerns as the other outfielders on this list.  He recently turned 29, and he played in 149 games last year.  Reddick has evolved as a hitter, dropping his strikeout rate to 11.2% last year.  He's got 20 home run pop and a good defensive reputation, if not the numbers to back up the latter in recent years.  He could be a candidate for a surprising five-year deal approaching $100MM.  The A's are at least exploring an extension.
7.  Andrew Cashner.  You might be surprised to see Cashner this high on the list.  Indeed, his position is tenuous.  But in a free agent market starved for starting pitching, Cashner is the type you can dream on.  A former 2008 first rounder, Cashner averaged a blazing 94.8 miles per hour on his fastball last year.  That ranked sixth in baseball among those with 180 innings.  On the other hand, it was Cashner's first time reaching that innings plateau, and he served up a 4.34 ERA for San Diego.  The team chose to hold onto him over the winter, perhaps sensing his value could rise in his contract year.  If Ian Kennedy can get five years and $70MM plus an opt-out clause, Cashner could do well in a free agent market for starting pitching that looks much, much worse.
8.  Kenley Jansen.  Jansen, 29 in September, may be the game's best reliever.  The Dodgers' closer boasts massive strikeout rates, and he added a career-best walk rate last year.  Jansen is practically unhittable, and he doesn't come with the off-field baggage Chapman does.  Jonathan Papelbon's record four-year, $50MM contract for relievers could fall, as it's possible Jansen could land a five-year deal.
9.  Adrian Beltre.  Though he's represented by Boras, Beltre stands a fair chance of reaching an extension with the Rangers.  The third baseman will turn 37 soon, but a three-year deal would be a fair request.  I could see three years and $60MM or more.  Though Beltre is winding down a potential Hall of Fame career, he remains a potent hitter and strong defender.
10.  Aroldis Chapman.  Chapman is right there with Jansen in terms of relief dominance, regularly punching out at least 42% of batters faced.  The 28-year-old is the hardest-throwing pitcher alive, averaging 99.5 miles per hour on his fastball last year and over 100 the year before.  However, his upcoming free agency is clouded by an incident that occurred at his home last October.  In a police report uncovered by Tim Brown and Jeff Passan of Yahoo, Chapman reportedly pushed and choked his girlfriend and fired a gun repeatedly in his garage.  Chapman denies harming his girlfriend, but chose not to appeal the 30-game suspension handed down by MLB as part of its domestic violence policy.  Even if Chapman avoids further incidents as a member of the Yankees, this one will affect his free agency after the season.  Every interested team will conduct due diligence, and perhaps several will emerge with enough comfort to offer Chapman a large four-year deal.  At this point, it's difficult to say.
In the 2015-16 offseason, ten free agents signed for at least $80MM, seven of whom were pitchers.  This year, only Strasburg seems likely to reach $80MM, highlighting the lack of depth in starting pitching in the 2016-17 market.  After Cashner, there's names like Jesse Chavez, Jorge de la Rosa, Ivan Nova, Edinson Volquez, Kris Medlen, and Brett Anderson.  James Shields and Scott Kazmir each have the ability to opt out of their current contracts and join the market, though it's unclear whether either will find that worthwhile.  On the relief side, Mark Melancon is a high quality arm likely to land in our top 20.
There are a few interesting position players who did not make my initial top ten: Justin Turner, Francisco Cervelli, Matt Wieters, and Neil Walker.  Ian Desmond and Colby Rasmus will find themselves back on the market again, barring extensions.
It doesn't seem likely that the Nippon Ham Fighters will post 21-year-old phenom pitcher Shohei Otani after this season, but if they do it would shake up the MLB free agent market.