The assignment: Write a scouting report on Shohei Otani. Paint a very clear picture of Otani's pitching repertoire – including pitch grades and major league comparisons. And that's just on the mound; gather similar information about his hitting (and perhaps even fielding) capabilities.
The reality: I haven't seen Otani pitch or hit, other than on highlight videos.
The solution: Reach out directly to those who have.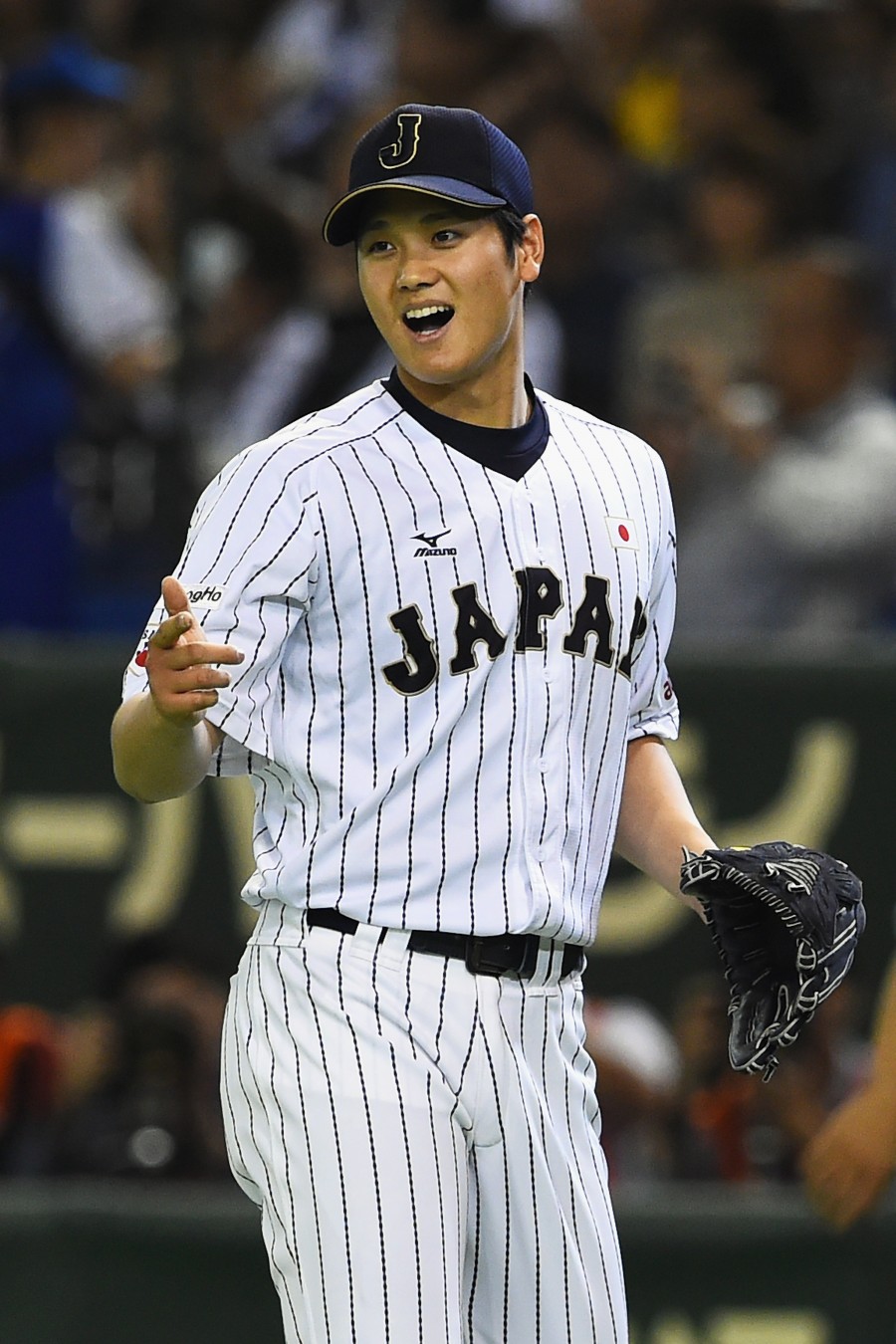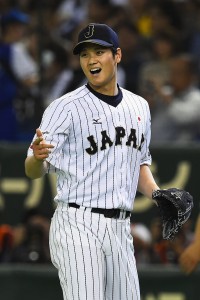 Rumors continue to swirl that the Hokkaido Nippon Ham Fighters in the Japanese Pacific League could post Otani – their star 22-year-old two-way player – as soon as this off-season. As MLBTR's Jeff Todd wrote in early April, "It has long been wondered just when he'll make it over to the majors, but rule changes have conspired to gum up that possible transition. First came the application of a $20MM cap on posting fees, which reduces the incentive for NPB clubs to make players available before their control rights are set to expire. Then, the latest iteration of the CBA put hard caps on teams' capacity to spend on international players who are under 25 years of age, thus precluding the possibility of Otani commanding a bonus befitting his ability until the 2019 season."
What is the right-hander's arsenal? What kind of power does the left-handed batter possess? Can Otani be a two-way player in the majors?
Over the past month, I spoke with five high-level officials with international scouting-related positions who work for MLB clubs – promising all of them anonymity – to talk about Otani, the 2016 Pacific League MVP. I vowed there would be no tipping off their identities; for example, you will not read a phrase even somewhat specific such as "a scout for an American League club" or "a scout with 15-plus years observing Japanese players." Another parameter was established: money was not going to be part of our discussion. At the end of the day, those decisions are not made by the scouts; therefore, let's just stick to a scouting report-related conversation.
In return, I received their thoughts on the player. And the overall consensus: They haven't seen a guy like Otani in all of their combined years of scouting.
First, a reminder that Otani is working his way back onto the field after being sidelined by a muscle strain in his left thigh area – suffering the injury in an April 8 game against the Orix Buffaloes trying to beat out an infield single.
That was his second notable medical malady this year. He did not pitch during the World Baseball Classic due to a right ankle injury suffered during last fall's Japan Series – which was re-aggravated in November. He did open this season as Nippon Ham's designated hitter – batting .407 with two homers and five doubles in 32 plate appearances before suffering the thigh injury.
When asked, none of the scouts was the least bit worried about the latest injury. "Everybody gets hurt at some point, so it doesn't change anything for me," one scout said.
When he does return to active status, Otani is looking to build upon a stellar young career. In four seasons on the mound for the Fighters, he has gone 39-13 with a 2.49 ERA in 80 games (77 starts). He has thrown 517.2 professional innings, allowing 371 hits, 22 homers and 181 walks while striking out 595 batters. His career WHIP is 1.066, his career strikeout-to-walk ratio is 3.29-to-1, and he has averaged 10.3 strikeouts per 9.0 innings.
In 21 games last season pitching for the Japan League champions, Otani was 10-4 with a 1.86 ERA – and fanned 174 batters in 140.0 innings. He allowed 89 hits and 45 walks, giving him his second consecutive sub-1.00 campaign for walks and hits per 9.0.
The Fighters have been very judicious in the way they've handled Otani on the mound. His career high for games started is 24; his career high in innings pitched is 160.2. As a point of comparison, Yu Darvish pitched for Nippon Ham from 2005 (his age-18 season) through 2011 (his age-24 season). In his seven years with the club, Darvish threw 1,268.1 innings – surpassing the 200-innings mark four times.
"I actually see it as the organization viewing him as an asset – and they've protected him," one scout said. "They've brought him along the right way, and they haven't pushed him. They recognize that he's still young and still growing, and they've really taken the time to research how the body grows. Knowing that he's still growing, they've skipped starts when they've had to and scaled back when he wasn't feeling that great. I honestly think that's a testament to the organization and the kid for knowing his body."
Said a second scout, "I think it's awesome. It shows a commitment to him on their part. Look at (Masahiro) Tanaka or Darvish or (Kenta) Maeda; at 20 years old, they were already throwing close to 200 innings. Even at a young age, it was 'Hey, you're our ace. Go get them.' But Nippon Ham has done an excellent job of protecting him. They've prolonged his career by not abusing him."
As for his offense … Otani had 382 plate appearances last season as Nippon Ham's designated hitter and recorded a triple slash of .322/.416/.588 with 18 doubles, 22 homers and 67 RBI. If there is a red flag in his game, he did show swing-and-miss potential, fanning 98 times.
"If he was a two-way guy in the States, you'd make him a position player first," one of the scouts said. "John Olerud, Ike Davis, guys like that … if they fail hitting, then we'll put them on the mound. But he's been such a special talent from both sides of the ball. Nippon Ham was smart how they did that. They drafted him out of high school and let him do both. It's almost like they told him, 'We'll let you continue to develop so that you can go to the States.'"
In putting together a scouting report, the 20-80 scouting scale was used. A grade of 50 is considered major league average; a grade of 80 is as good as it gets. Some grades – such as fastball velocity or running home-to-first – are based on actual radar gun readings or stopwatches. But specific tools like command, control, movement and athleticism – among others – are subjectively based on what the scout sees now and projects what it can become.
The present/future role grade is akin to the quick-and-dirty on a player. A lot of teams knock off the zero and use a 2-8 scale.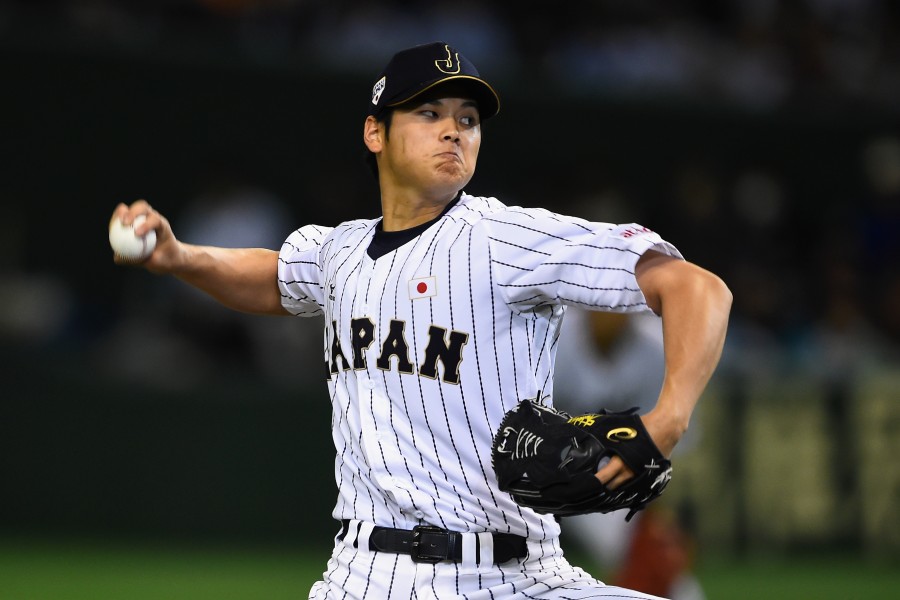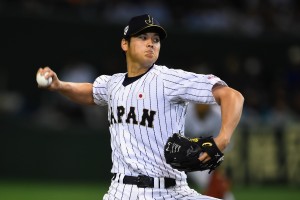 Present/Future Role (as pitcher): 6/7
After talking to the five scouts, the consensus was that Otani is a 6-7 – meaning a present grade of 6 (which translates to a No. 3 starter in the majors today) and a future grade of 7 (which is a No. 1-2 starter). For some scouts, putting a future 8 – a premium No. 1 starter – on a pitcher would take an act of Congress.
"As a scout, you hesitate to put an 8 on a guy even though your conviction may be very high," one of those canvassed said. That scout has a 6-7 on him as a pitcher. "It wouldn't be that far-fetched to put an 8 on this guy because it's easy to dream on him that way. But you know how it is with scouts; we tend to be more conservative and not want to do that. But the ability is there where – if you wanted to put your neck out there – I think it wouldn't be too much of an argument why you did it."
Another scout said the only reason he won't put a future 8 on Otani until after the pitcher has transitioned into pitching here. "There are going to be inherent changes," he said. "How is he going to adjust to pitching once every five days as opposed to once a week? How is he going to adjust to a different baseball? How is he going to adjust to the travel? There are unknowns that all these guys – (Masahiro) Tanaka, (Yu) Darvish – have to go through and have to prove. But if he adjusts like I think he's capable of adjusting, he's an 8."
Major League Comparisons
Four of the five scouts dropped the name Yu Darvish into the conversation. Two scouts said Justin Verlander. One scout brought up a handful of names, both past and present.
"I compare him to guys like Josh Beckett, Roger Clemens, Nolan Ryan … you know, power pitchers," he said. "These guys were able to pitch with their fastballs and secondary stuff. If you look at Otani's stuff and the ability to throw strikes, he's right up there with the (Dwight) Goodens, the Ryans, the Becketts, the more modern-day (Noah) Syndergaards. The power right-hander. He has an 80 fastball, but he also has plus-plus secondary stuff and the ability to throw a ton of strikes and command the strike zone."
One of the scouts discussed the Darvish comparison, but with some hesitation – about the Texas Rangers right-hander. "Pitching-wise, it's hard to compare Otani to anyone because he's 22 years old," he said. "There's nobody at 21 or 22 that has his kind of stuff – and command of the breaking stuff, too. Darvish would be the closest one. Otani's throwing friggin' 98-to-100 as a starter."
One scout kept coming back to Verlander, the six-time All-Star. "Stuff-wise, it's hard to find teams that have a pitcher with Otani's kind of stuff," he said. "He's like Verlander when he was young. He doesn't have the same kind of body, but it's the same kind of stuff. He lights up the radar gun and throws strikes – and the ability to throw wipeout breaking stuff. That's Verlander when he was young. He slots right into your big league rotation."
Another scout said he's been asked before to come up with a comparison pitcher, but can't. "I don't think there are guys out there stuff-wise that match up with him, period. Guys that can consistently sit where he sits and flash two 70[-grade] off-speed pitches and a split and a changeup. Just to mess around with you, he'll drop in a curveball every once in a while that he can throw for a strike. There's feel, there's power stuff. You just don't see that type of ability. There might be guys with better command, but it's really hard to say that there would be a guy with better stuff and the physicality this guy has to maintain it."
Fastball: 80
Every scout had Otani's fastball sitting in the 95-100 MPH range. One scout said his velocity "is the same in the seventh inning as it is in the first. I've seen him sit 97-100 for an entire game. He didn't throw a fastball below 97."
Another said, "I've seen him 95-101, so it's every bit of an 80 fastball. It's life over movement, just because of how hard he throws … it's one of those late life-type fastballs. Plus life to it."
The key to the fastball, one scout said, was his command of the pitch. "He keeps his pitch count down," the scout said. "Darvish – I remember seeing him at 120 pitches in the fifth inning because he used to nibble so much. Then he came over here and is aggressive. Otani does a really good job of keeping his pitch count down. Because of that, he doesn't lose velocity; he maintains it. He's got leverage to it; he's got angle. He maintains his fastball velocity and it gets better as the game goes on."
Split: 70
Across the board, the pitch graded out as a future 65 to 70. The velocities the scouts had ranged from the high-80s to 92-93.
"The split is at least a 70," one scout said. "It's pretty nasty. It has really good action, it's late and it's a swing-and-miss pitch. It's definitely an out pitch."
Said another scout, "It has late dive and moves enough that it misses barrels. And he's still learning this pitch."
One scout had only seen a fastball/slider combination – until last year, that is. "The split is the pitch I was probably most surprised about, as I had never seen him throw it before. It definitely looked like a pretty good pitch. He flashed a couple when the bottom dropped out. I saw a couple that had me put a 70 on it."
Slider: 65
Otani's slider is seen as a plus pitch. Two scouts have a 70 on the slider; the other three were a little more conservative at 55 or 60. The velocity readings were in the 82-87 MPH range.
One scout raved about the pitch. "The slider is every bit of a 70 when it's right. It's hard, it's got power to it. It's hard late, power tilt."
Another preferred the split to the slider, although he called the slider "a plus pitch. It's probably his third pitch, but it's not a bad pitch to have as your third pitch. His slider is his best breaking ball; it's at least a 55, maybe 60 future. I like the pitch, he just doesn't throw it as much as the other two. I've seen him throw a couple of different ones. He throws one that's more of a cutter, though I don't think he calls it a cutter. It's a short, quick pitch. And then he has more of a sweeping-type slider … you can call it a 'slurve' at times. I know he's going to have to use it more when he comes to the States. But the more he uses it, the better it's going to get. I think it will also be an out pitch."
Curve: 50
Two of the scouts have barely seen him throw the pitch; the other three have seen it enough to classify it as a 50 or 55.
Said one: "He throws it at 75-80 MPH. He gets pretty bad swings when he gets guys to swing at it. It looks like a traditional curveball, it's 11-5 … it's a softer, shorter, down break. When he wants to throw it, there's more power and life to it … he can really spin it. But when he wants to put guys away, the slider and the split are his pitches."
Another said, "His curveball is very ordinary right now. I have a 50 on it. It's a little bit inconsistent and it gets loopy on him. There is room for improvement if he wanted to keep it in his arsenal down the road. But right now, for me, it's just kind of a 'show me' pitch that he throws occasionally."
Changeup: TBD
There is a little debate amongst the scouts whether Otani has a true changeup in his repertoire. One of the scouts summed it up by saying "I think he relies on a split as his change. I haven't seen it, but we have had guys that have seen him tinker with a changeup. I'm not sure if that's something he's doing now in anticipation of coming to the States or if it's something he wants to start using more."
Another said he has no doubt that Otani has the ability to add it to his stable of pitches. "Like Darvish and guys who have come over from Japan, Otani hasn't really needed to throw a changeup. I think that's the one pitch when he comes to the States that he'll start to develop," he said. "The Japanese can learn almost any pitch. They have a great feel for learning how to throw pitches and make adjustments. Tanaka pitches differently here than he did in Japan. Maeda pitches differently in the big leagues than he did in Japan. A lot of times, what they show you in Japan … they come here and they're able to refine their stuff. Off the top of my head, I can't recall more than a few changeups out of Otani. I'm sure he hasn't had to throw them a lot. I think he'll be able to learn anything he tries to do."
– – –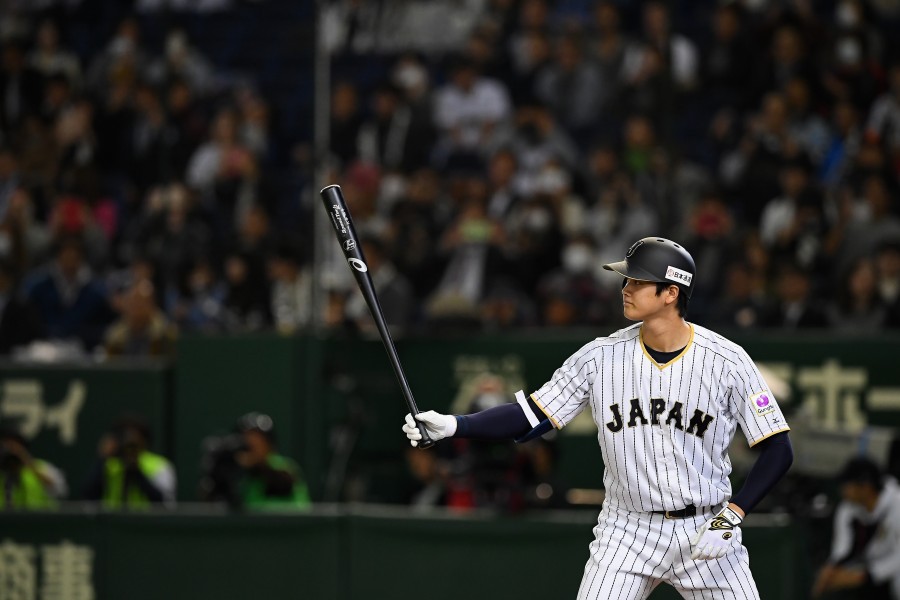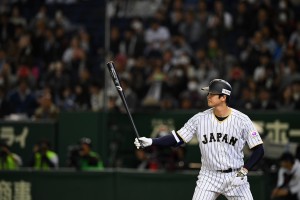 Present/Future Role (as batter): 4/6
A subhead for this section should read: Do scouts for MLB teams think Otani can be a two-way player?
For four out of five scouts, there was some hemming and hawing. They all like him as a batter – especially the left-handed power. They all love him as a pitcher.
The fifth scout, though, is willing to dream.
"I've never said this about a player, but I believe he can be a two-way player," the scout said. "There are good-hitting pitchers like Madison Bumgarner and Greg Maddux, but this guy is a legitimate offensive threat. How you balance his pitching and his hitting … that's where it really comes down to a general manager and a manager and ownership. How much do you want to risk your ace pitcher running the bases or taking at-bats? But from an evaluation standpoint, this guy … if he was on my team, he'd be the fastest baserunner, he'd have the most raw power. I absolutely feel this guy can hit on a daily basis. Or if you wanted … you can pick-and-choose when you'd DH him or pinch hit him. But absolutely, this guy can be a two-way player. If anyone can do it, he's the one."
That scout said Otani's a 6 as an offensive presence. "He's going to be an above-average major league hitter with above-average power," he said.
Another scout was put on the spot. "If your GM looked you in the eye and asked if Otani could be a two-way player, how would you respond?"
"I'd tell him, 'If you were to go the two-way route, you'd have to be careful how you use him. I think it would be in a platoon role to protect his body and what he can give you on the mound.' The upside is so important, and so hard to find," the scout said. "I'd be somewhat hesitant to let him do it, but if you did, you'd have to space him out. You'd have to do more research about how a body breaks down after playing a position and pitching. When to rest him – and when not to – because those are two different ways a body works. He might be more susceptible to injury if you're playing him every day like that – so I'd be hesitant to do it. But at the same time, if there's anybody who can do it, it's this guy."
That scout said if Otani wasn't a pitcher, he'd have a future role 6 on him as a position player.
"He has an idea at the plate; he knows what he's looking for," the scout said. "He handles off-speed very well for his age. He shows power from center to pull side, but very easily should have power to all fields as he learns a little more. I'm not really worried about him as a baserunner, but he has shown that he can be instinctive on the base paths. Overall, he has a chance to be an above-average corner outfielder if he were going to play it every day, but should settle in nicely as an average rightfielder with plus-plus power."
Major League Comparisons
One scout said, "When I first saw him as a high school player, I saw him playing right field – and he reminded me of Paul O'Neill. At the time, I thought he would develop into a position player; the tools were there. But he's become an even better pitcher than I thought. If he was a guy in the States and he was signed out of high school, I think he would have become a hitter first. His upside as a position player was pretty darn high."
A second scout said Otani could be "Curtis Granderson-ish in his prime. Bunch of home runs, lower batting average if he doesn't play every day, pretty good OBP, lots of walks, lots of strikeouts."
Another scout, after summing up Otani's offensive abilities, finished his thought by saying he couldn't come up with a player comparison. "Good question – and I haven't thought of one for him. To be honest, I haven't really thought of it because I don't think it's going to matter."
Hitting: 45
There was agreement across the board that Otani's future grade as a hitter was in the 45-to-50 range.
"I think if he plays every day in the big leagues and he gets his at bats, he'd hit .260 to .275 with 20-to-25 homers," said one scout.
Another scout echoed that assessment. "He's probably 45ish. I think he would hit in the .260s with 25-plus home runs," he said.
Power: 70
On the power scale, 20-homer potential is considered above average – a 55 grade – and 25 homers is a 60.
Considering that Otani had 22 homers in only 382 plate appearances last season, it's easy to see why the scouts all have higher grades in this category.
Four of the scouts categorized him as having 70 power. A fifth even said he's put a future 80 on that tool. "At the plate, he has an approach geared for power. Best case scenario, the hit tool will be average, but when he does connect, it's pretty special power."
Running Speed: 60
Otani has been timed at 4.1 from home plate to first base; for a left-handed hitter, that's 60 running speed.
"I'm trying to think of a 60 runner, left-handed power bat like that," one scout said. "It's a tough comparison for me. I can't come up with a hitter off the top of my head."
"He'll show you above-average running times down the line," said a second scout. "I got Otani just under 4.1 down the line on a ground ball to shortstop. So he can run, and he has very good awareness and a very high baseball IQ."
Fielding: N/A
The consensus is … the point is moot. None of the scouts envision him seeing enough outfield action to merit a grade.
That said, several of the scouts have seen him play right field. Said one, "He did show good enough instincts and read off the bat to be at least average or above. His routes and reads were solid, and he'll catch what he gets to. Obviously, he has plenty of arm strength to make all the difficult throws in the corner. But because he hasn't played out there in a while, it's hard to stick your nuts out too far and say that he has a chance to be a plus outfielder."
– – –
Makeup: 60
"Makeup-wise," one scout said, "everything checks out. The kid is a great teammate; he's got a good personality. He's been wanting to come to the States since he was in high school, so this is something that he's wanted for a long time. I don't think there's any hesitation on his part about coming over. There are no glaring red flares as far as makeup or ability or his desire to come over here and be a high-caliber pitcher or player. Every box checks out with this guy."
Said another scout, "From everything I've heard, this guy's makeup is tremendous. He's a hard worker. He's loyal. I watched him pitch last year … he pitched 8.0 innings, and he pitched great. The next day, he was the first one out for early hitting. He's a good person with great makeup."
Five scouts – and five quotes …
From Scout A … "I know he's listed at 215 pounds, but he's every bit of 6-4, 225-230 pounds from what I saw of him in the spring. This spring training was probably the first time you looked at his body and thought, 'Holy s**t, this guy's becoming a man.' He's putting on some muscle, and it was imposing when you see this guy in a uniform. You're still looking at a frame that needs to be filled out. You're now looking at a man's body."
From Scout B: "He's the best player in the world that's not in the big leagues, hands down. There's nobody that's close to him."
From Scout C: "He's a freak of nature. His running ability, his raw power, his arm. He has everything. This guy … it's unbelievable what he can do and what he's capable of doing. For me, he's a once-in-a-lifetime type player."
From Scout D: "He's a special talent. It would be interesting under the old rules to see if he was posted straight up … if all 30 teams would be putting in a bid on him. It would be off-the-charts what he would sign for. It would be record-breaking. He's that kind of a talent."
From Scout E: "It's kind of unchartered waters for all of us. As a club here in the States, you're wondering, can he do both? Does a team value the bat as much as the arm? I think most teams value the arm and what he can give you on the mound, because what comes out is premium stuff. It's four pitches of premium stuff with strikes and pretty good command. This is a kid that has continued to get better every year on the mound – and the arrow continues to point north. The command has gotten a little better every year. The strikeouts have gone in the right direction. But at the same time, everything you would want to see as a hitter has gone in the right direction as well. So, in the end, what you're getting total package-wise is a possible frontline guy that can really give you value on the mound. Who's to say this guy can't play a position and pitch?"
– – –
Chuck Wasserstrom spent 25 years in the Chicago Cubs' front office – 16 in Media Relations and nine in Baseball Operations. Now a freelance writer, his behind-the-scenes stories of his time in a big league front office can be found on www.chuckblogerstrom.com.