The Dodgers and Rangers have pulled off a last-minute stunner, striking a deal that sends star righty Yu Darvish to Los Angeles. Second baseman/outfielder Willie Calhoun is the headliner of the return, with righty A.J. Alexy and infielder Brendon Davis rounding out the package going to Texas. To clear a 40-man spot, the Dodgers designated infielder/outfielder Mike Freeman for assignment.
Heading into the deadline, it wasn't even clear whether Darvish would be available. And as the deadline approached, it seemed perhaps he'd stay with the Rangers — with a high asking price perhaps getting in the way of a swap. But even as the Dodgers added two lefties to the bullpen, they swooped in and added the high-powered righty.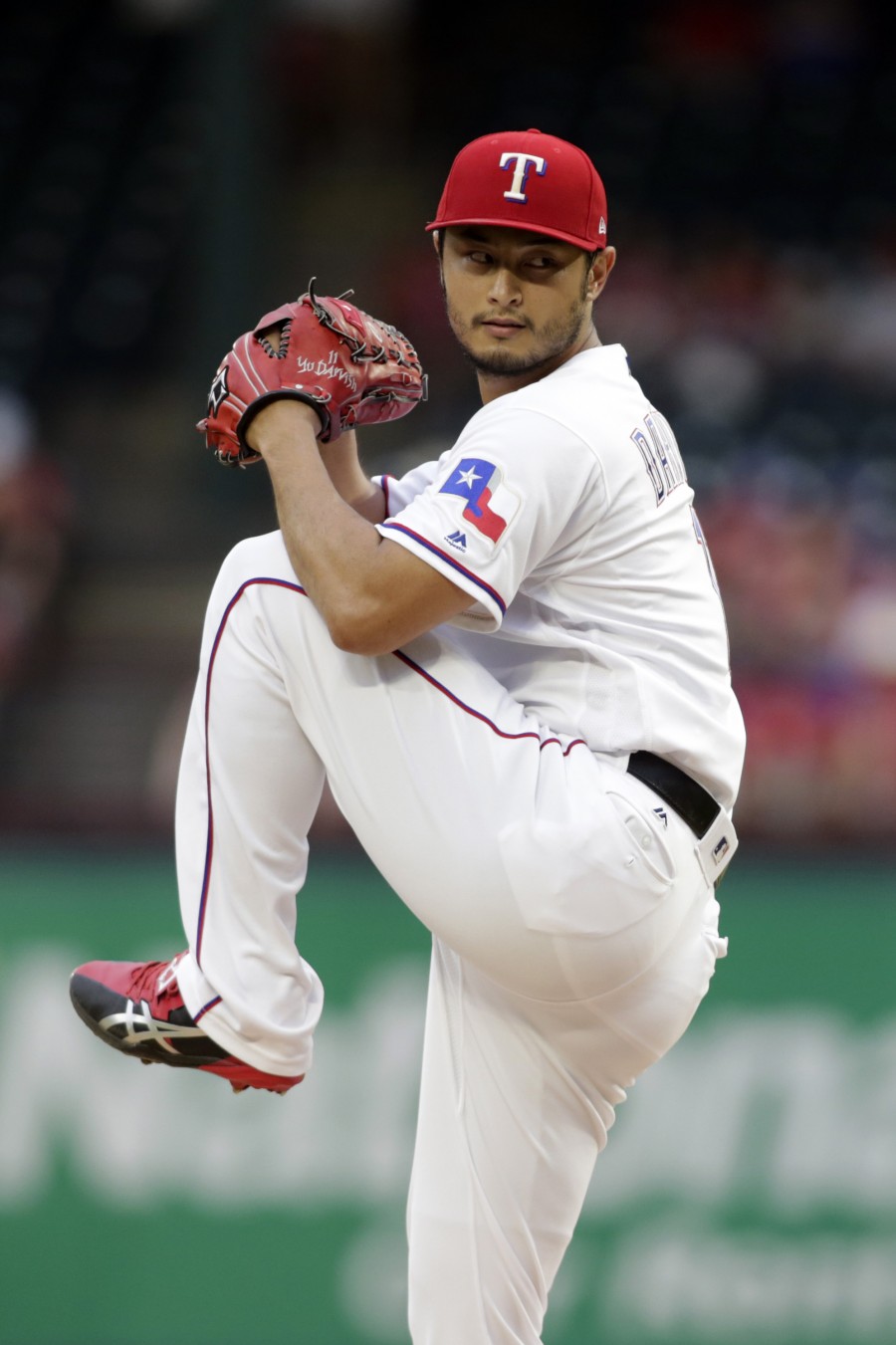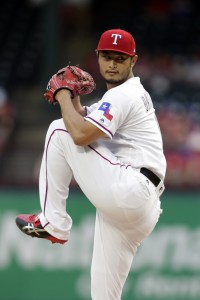 Darvish, 30, was clearly the most impactful pitching rental on the market. While he has only managed a 4.01 ERA on the year — much of that due to an awful recent start — he's still rolling with 9.7 K/9 and 3.0 BB/9. Of greater importance, perhaps, he has managed to provided 137 innings over 22 starts — putting him on pace to approach or top 200 innings for the first time since 2013.
Never a big groundball pitcher, Darvish has been hurt by the flies this year. He has allowed 1.31 homers per nine on a 15.0% HR/FB rate. But he's still managing a typical 11.9% swinging-strike rate, working in the zone more than ever, and generally pitching like himself for the most part.
Darvish, when pitching to his ability, is one of the game's top starters. Since he broke into the majors in 2012, Darvish has been one of the twenty most valuable hurlers by measure of fWAR — despite logging far fewer innings than any other pitchers in his company because he missed significant time after Tommy John surgery.
The long-term elbow question is one the Dodgers won't really need to worry about, as Darvish will be a pure rental. He is slated to hit the open market at season's end, when he'll finish the six-year, $56MM pact he signed when he came over from his native Japan. (Texas also paid over $50MM in posting fees.) Darvish is earning $11MM this year and stands to take home quite a bit more thereafter; he'll now enter free agency free and clear of any qualifying offer-related draft compensation.
Los Angeles surely didn't need this addition to win the NL West, which it currently paces in a runaway and will almost certainly take for the fifth straight season. Acquiring Darvish is designed with one goal in mind: driving the club to a World Series win for the first time since 1988. The righty will presumably slot among a group of talented lefties, led by Clayton Kershaw (when healthy) and also including Alex Wood and Rich Hill. Los Angeles can also give innings to Kenta Maeda, Brandon McCarthy, Hyun-Jin Ryu and others, with the precise alignment still to be determined. (It's worth remembering, too, that Julio Urias was expected to be a major part of the staff; had he not suffered a season-ending injury, this swap may never have taken place.)
Adding Darvish came at a cost, of course, though it did not require the team to part with its most prized prospects. Once the Rangers decided to move the righty — with an eye still to trying to re-sign him in the winter, perhaps — the club surely knew its return would be limited by market forces. While Texas won't land an elite prospect in the swap, it does add some real talent.
Calhoun is generally the highest-rated prospect in this deal. The 22-year-old is a left-handed hitter who shows big promise at the plate. He cracked top-100 prospect lists entering the season and has responded with an outstanding .298/.357/.574 batting line — with 23 home runs and just 49 strikeouts against 36 walks — over his first 414 plate appearances at Triple-A. The expectation is that he'll ultimately end up in the grass, where he could combine with Nomar Mazara to make quite a corner outfield pairing for years to come.
The other players in the deal are talented as well. Alexy is a 19-year-old hurler who was taken in the 11th round of the 2016 draft. He has advanced to the Class A level, where he carries a 3.67 ERA with 10.5 K/9 and 4.5 BB/9 through 73 2/3 innings. He's seen as having some projection left in his wiry frame, but is obviously already throwing well at an early stage. Davis, who just turned 20, was a fifth-round selection in 2015. He's seen as a raw and athletic talent who has a lot of development left, though there are signs of real progress this year. Davis recently earned a promotion to High-A after slashing .245/.357/.403 with eight long balls — with 107 strikeouts but also 47 walks — through 367 plate appearances at Class A Great Lakes.
Ken Rosenthal of MLB Network reported the trade (Twitter links). ESPN.com's Buster Olney (via Twitter) said three prospects would go in return, with MLB.com's Jon Morosi (Twitter link) and Jeff Passan of Yahoo Sports (via  Twitter) providing the names.
Photo courtesy of USA Today Sports Images.