12:02pm: The trade is now official, as the Marlins and Mariners have announced the swap.
10:40am: The Mariners and Marlins have reportedly agreed to a trade that will send right-handed setup man David Phelps from Miami to Seattle in exchange for a package of four prospects. Center field prospect Brayan Hernandez is the headliner, while the other names in the deal reportedly include right-handers Brandon Miller, Pablo Lopez and Lukas Schiraldi.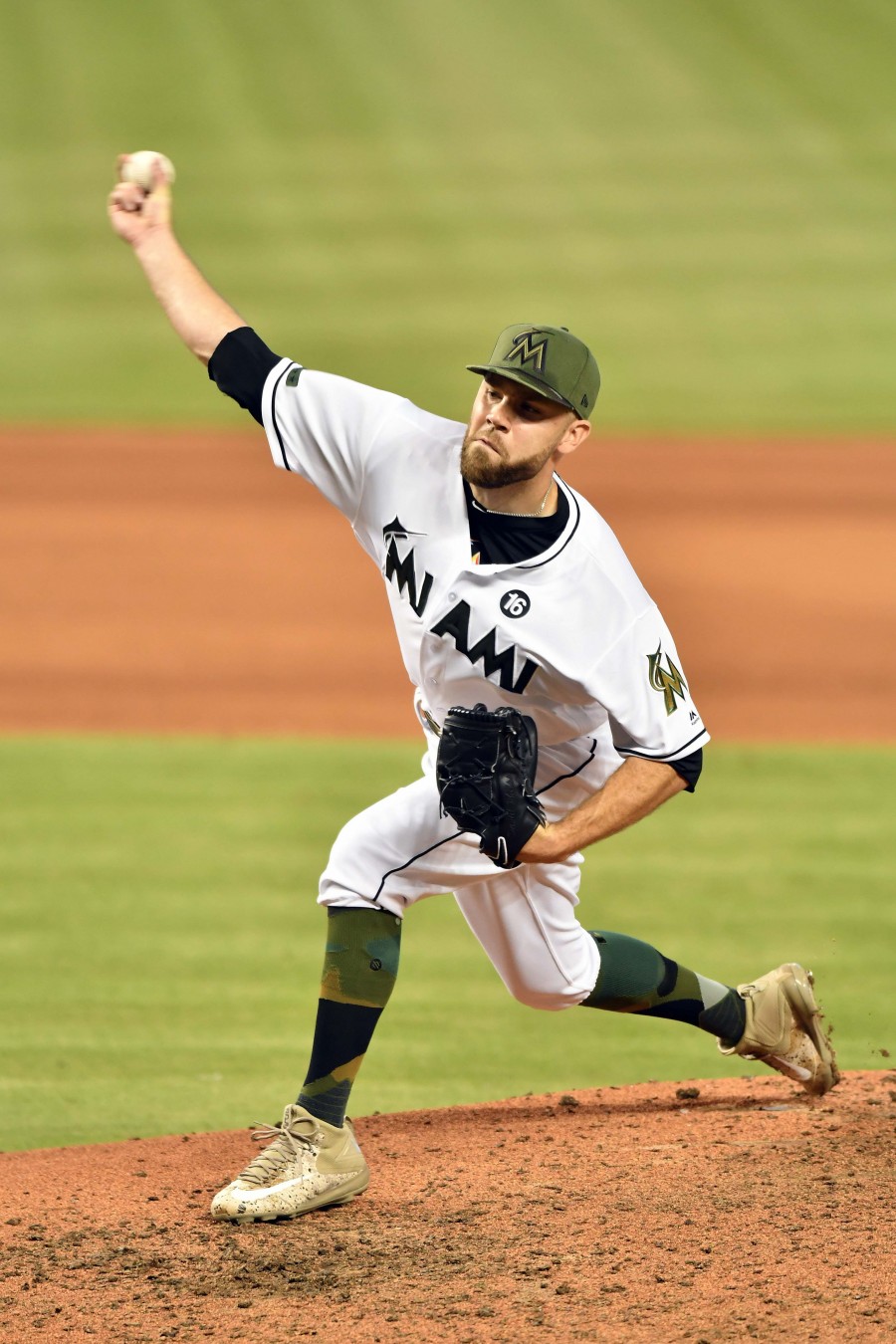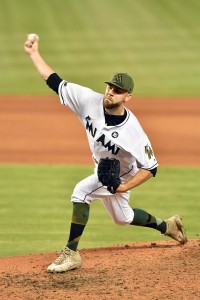 Seattle has been playing well of late, getting back to the .500 mark and drawing within 1.5 games of an American League Wild Card spot. However, the Mariners are also 15.5 games back from the Astros in the AL West, which has reportedly led them to look for assets that can be controlled beyond the current season, as their best playoff hope in 2017 is a one-game playoff.
[Related: Updated Seattle Mariners and Miami Marlins depth charts]
The 30-year-old Phelps fits the bill, in that sense, as he's controlled through the 2018 campaign via arbitration. He's earning $4.6MM in 2017, with about $1.86MM of that sum yet owed to him through season's end.
The former Yankee initially went to Miami alongside Martin Prado as part of the trade that sent Nathan Eovaldi to New York. After spending much of his career as a starter and long reliever, Phelps' career took off with a 2016 move to a late-inning role. The righty's velocity ticked from the low 90s to an average in the 93-94 mph range, and he's dramatically upped his strikeout rate while pitching in a setup capacity.
Dating back to Opening Day 2016, Phelps has worked to a 2.69 ERA with 11.1 K/9, 4.0 BB/9 and a 46.4 percent ground-ball rate through 133 2/3 innings. His strikeout rate is "down" in 2017, but he's still averaging 9.8 punchouts per nine innings pitched. His arm will be a boost to a Mariners relief corps that currently ranks 13th in baseball with a 4.05 ERA but carries more troubling marks in both FIP (4.44) and xFIP (4.45). Those ERA alternatives come in at 25th and 21st in baseball, respectively, indicating that the Mariners are perhaps fortunate to have gotten the results they have out of their bullpen to date. (Then again, Seattle boasts a superlative defense, particularly in the outfield, so perhaps it should be expected that their pitchers would outperform fielding-independent metrics.)
The Seattle 'pen is currently anchored by sophomore closer Edwin Diaz, who has been inconsistent in 2017 but can overpower opposing lineups with a triple-digit fastball and one of baseball's best strikeout rates. Nick Vincent has also been brilliant in Seattle, working to a 2.04 ERA in 39 2/3 innings, while southpaw James Pazos has averaged nearly 11 strikeouts per nine innings en route to a 3.68 ERA. Former Mariners closer Steve Cishek represents another right-handed option, but health has been an issue for him in recent years as his numbers have declined.
Beyond that, Seattle has seen some of its anticipated setup men, particularly right-hander Dan Altavilla, take a step back in 2017. Phelps figures to pick up some of that slack and will join Diaz, Vincent, Pazos, Cishek, Tony Zych and Marc Rzepczynski in the Mariner bullpen.
Hernandez is the big get for the Marlins in the deal. The 19-year-old ranked as one of the 10 best international free agents in the 2014-15 crop and inked a $1.85MM bonus with Seattle at the time. Hernandez split the 2016 season between the Dominican Summer League and the Rookie-level Arizona League, hitting a combined .278/.325/.425, and he's off to a .252/.306/.408 start with the Mariners' short-season Class-A affiliate.
Jim Callis and Jonathan Mayo of MLB.com rank Hernandez as Seattle' No. 6 prospect, noting that he flashes all five tools but is still projection over performance at the moment. He received 60 grades on his speed and arm from Callis and Mayo with a 55 on his glove, and their report notes that his overall offensive development will determine if he can reach his ceiling as an everyday center fielder. Baseball America rated him 16th among Seattle farmhands this past winter, agreeing that the defensive tools are impressive and praising his "solid, consistent contact" but also questioning his ability to generate power now or in the future.
The 22-year-old Miller has spent the season with the Mariners' Class-A affiliate in the Midwest League, working to a 3.65 ERA with 8.4 K/9, 2.0 BB/9 and a 46.8 percent ground-ball rat in 101 innings/18 starts at that level. Callis and Mayo list his heater at 90-93 mph with good command of the pitch and give him credit for a plus slider, though reports indicate that he lacks an average third offering and could be destined for a bullpen role. He ranked 16th among Mariners prospects, per MLB.com, while BA pegged him 25th among Seattle prospects this offseason. Both reports tout his fastball's exceptional spin rate. If all breaks right, Miller could pan out as a back-of-the-rotation starter.
Lopez is a 21-year-old starter that has spent the year in Class-A Advanced. While his 5.02 ERA through 100 innings doesn't look appealing, he's posted an excellent 89-to-13 K/BB ratio with a 49 percent ground-ball rate, creating some optimism that he's been hit with some poor luck. (A .341 BABIP lends further credence to that notion.) MLB.com placed him 22nd in Seattle's system and gave him three average offerings (fastball, curveball, changeup) but no plus pitch. He was 31st on BA's offseason rankings, and their report notes that he has a 2014 Tommy John surgery in his history but is a "supreme strike-thrower" with impressive ground-ball tendencies.
Schiraldi comes from good baseball genes, as his father, Calvin, played in the Majors for parts of eight seasons with the Mets, Red Sox, Padres, Cubs and Rangers. The younger Schiraldi didn't crack any Mariners top prospect rankings but has a gaudy 15.2 K/9 rate in 37 1/3 innings of work at Class-A Advanced. However, he's also not particularly young for the level at 23 years of age, and he's worked to a 4.58 ERA with a 6.5 BB/9 rate.
Ultimately, the Marlins will secure four players in exchange for a year and a half of a quality setup man while also saving a bit of cash for the remainder of the 2017 season. While it's tempting to look at the sheer volume of players and wonder how this will impact the market for other relievers — especially those that are controlled beyond the 2017 season, such as Brad Hand and Zach Britton — it's also worth emphasizing that Seattle's farm system is generally regarded as weak. That bit of context should absolutely be considered when debating the value of other relief arms, and it seems unlikely that the volume of the Phelps deal "raises the bar" for other relievers throughout the league.
MLB.com's Mark Feinsand first reported that the Mariners were in talks to acquire a reliever and that Phelps was the target. MLB.com's Jon Morosi termed the deal "fairly close," and Yahoo's Jeff Passan pushed it further to "imminent." FanRag's Jon Heyman tweeted that the trade was indeed finalized, while Joel Sherman of the New York Post tweeted that Seattle was sending multiple minor leaguers to Miami. Passan and Heyman added a bit more detail on the return (Twitter links), with Passan ultimately reporting Hernandez as the headliner. Sherman broke news of the other three players in the deal.
Photo courtesy of USA Today Sports Images.