"Knocking Down the Door" is a regular feature that identifies minor leaguers who are making a case for a big league promotion.

Ronald Acuña, OF, Atlanta Braves (Triple-A Gwinnett) | Braves Depth Chart
The Braves were non-contenders in 2016 when they surprisingly called up top prospect Dansby Swanson from Double-A and inserted him into the starting lineup. Out of playoff contention late in the season once again, would they do the same with the 19-year-old Acuña, considering how Swanson has mostly struggled in his first full MLB season?
There is one notable difference between Swanson in 2016 and Acuña in 2017. Swanson was having a decent season in Double-A (.261/.342/.402 in 84 games) at the time of his call-up. Acuña has been absolutely tearing the cover off of the ball and seemingly getting better throughout the season during stints in High-A, Double-A and Triple-A. In 26 games since a July promotion to Gwinnett, the right-handed batter is slashing .347/.426/.574 with four homers, seven doubles, 13 walks and 22 strikeouts.
While the Braves will likely explore a trade for one of their current outfielders this offseason in anticipation of Acuña's arrival as an everyday player in 2018, they could work him into the mix late this season with three-to-four starts per week.
—
Ryan Borucki, SP, Toronto Blue Jays (Double-A New Hampshire) | Blue Jays Depth Chart
The 23-year-old lefty was pitching in High-A less than a month ago, so a promotion to the Major Leagues soon after probably seems unrealistic. However, the recent trade of Francisco Liriano and the fourth disabled list stint for Aaron Sanchez has left the team's rotation so thin that journeyman Nick Tepesch is being added to the 40-man roster to start on Wednesday to replace another journeyman, Cesar Valdez, who was placed on the disabled list after allowing 12 earned runs over his past two starts.
Meanwhile, Borucki has been outstanding since a promotion to Double-A, posting three consecutive seven-inning starts with a total of 18 strikeouts while allowing only one earned run, 11 hits and three walks in 21 innings. The former 15th-round pick, who idolized Mark Buehrle as a kid and is comparable in many ways, is already on the team's 40-man roster and only at 119 innings on the season.
—
Willie Calhoun, 2B/LF, Texas Rangers (Triple-A Round Rock) | Rangers Depth Chart
In six games since the July 31st trade that sent him from the Dodgers to the Rangers for Yu Darvish, Calhoun is 7-for-25 with four homers, pushing his season total to 27. Not only can the lefty-swinging Calhoun hit for power—he also had 27 homers and 25 doubles in Double-A in 2016—he's one of the toughest hitters to strike out in the Minors. Hitting 25+ homers in the upper minors is notable, but accomplishing that feat while striking out fewer than 100 times is extremely rare. The 22-year-old struck out 65 times while drawing 45 walks in 2016. He has 36 walks and only 50 strikeouts this season.
The good thing about being traded to the American League is that Calhoun's future position in the Major Leagues, whether it's second base or the outfield, probably doesn't have to be sorted out before he gets the call to the Majors. The kid can flat out rake. With Mike Napoli struggling—he's 4 for his last 32 with 17 strikeouts— the Rangers could give Calhoun plenty of at-bats at the DH spot with an occasional look at second base or in left field.
—
J.P. Crawford, SS, Philadelphia Phillies (Triple-A Lehigh Valley) | Phillies Depth Chart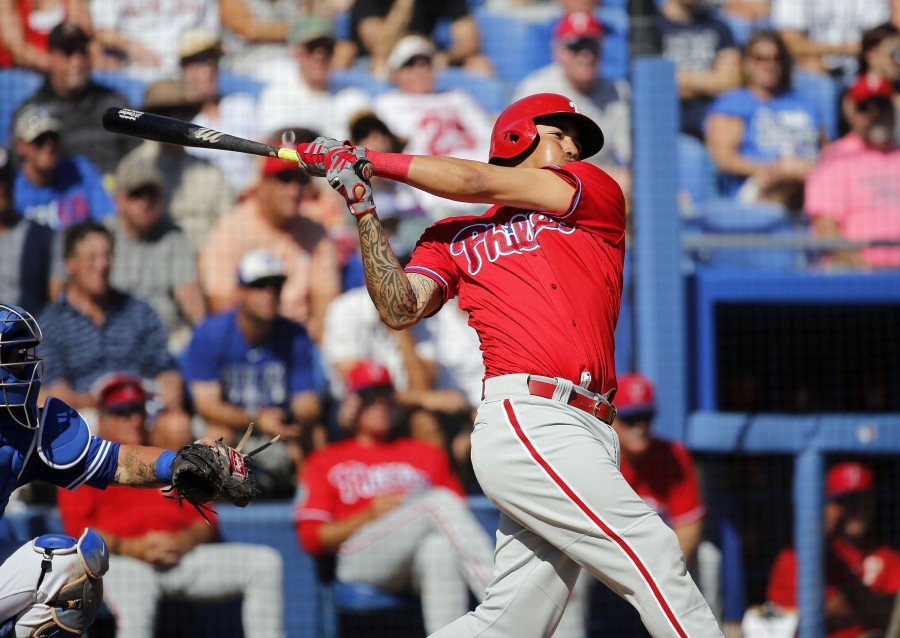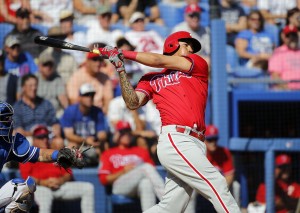 After an impressive stint in Double-A earned him an early-season promotion to Triple-A in 2016, Crawford appeared to be on the fast track to the Majors. Of course, only the "light-hitting" Freddy Galvis appeared to be standing in his way at the time. But in an unpredictable turn of events, Galvis went on a home run binge while the 21-year-old Crawford, considered one of the top prospects in baseball, struggled during his first taste of Triple-A. Since last July, Galvis has homered 24 times in 706 plate appearances while posting an OPS over .700.
Crawford was never going to simply be handed the starting shortstop job, but any chance of a 2017 promotion was dwindling unless he forced himself back into the picture. His performance in July, and so far in August, probably fits that description. With an OPS over 1.000, 10 homers, six doubles, three triples, 21 walks and 27 strikeouts over that span, Crawford has earned a late-season look as the Phillies' regular shortstop. Galvis, who will be a free agent after the 2018 season, has probably done enough over the past year to generate some offseason trade interest whether he plays regularly down the stretch or not.
—
Rhys Hoskins, 1B/LF, Philadelphia Phillies (Triple-A Lehigh Valley) | Phillies Depth Chart
With the Phillies committed to giving Tommy Joseph a full season to show what he can do as the team's starting first baseman, it appeared that Hoskins, one of the most productive hitters in the Minors over the past three seasons, would probably have to wait until 2018 before getting a chance. But following the release of Michael Saunders, the trade of Howie Kendrick, and Aaron Altherr's second trip to the disabled list, the Phillies' outfield is looking thin enough that the 24-year-old Hoskins was given the green light to play left field for the first time in his professional career on Monday. He played there again on Tuesday.
While a slight increase in defensive versatility could be a key to Hoskins arriving in the Majors this season, maybe as soon as this week, it's hard to imagine him not being the starting first baseman in 2018. Joseph is having a below-average season for a first baseman (.741 OPS, 16 HR, 97 K) and is currently in a 1-for-22 slump. Hoskins still has to prove that he can hit MLB pitching, but his current .280/.383/.571 slash line with only 75 strikeouts is a pretty good indicator that he will do just that.
Photos courtesy of USA Today Sports Images.