"Knocking Down the Door" is a regular feature that identifies minor leaguers who are making a case for a big league promotion.
Brian Anderson, 3B, Miami Marlins (Triple-A New Orleans) | Marlins Depth Chart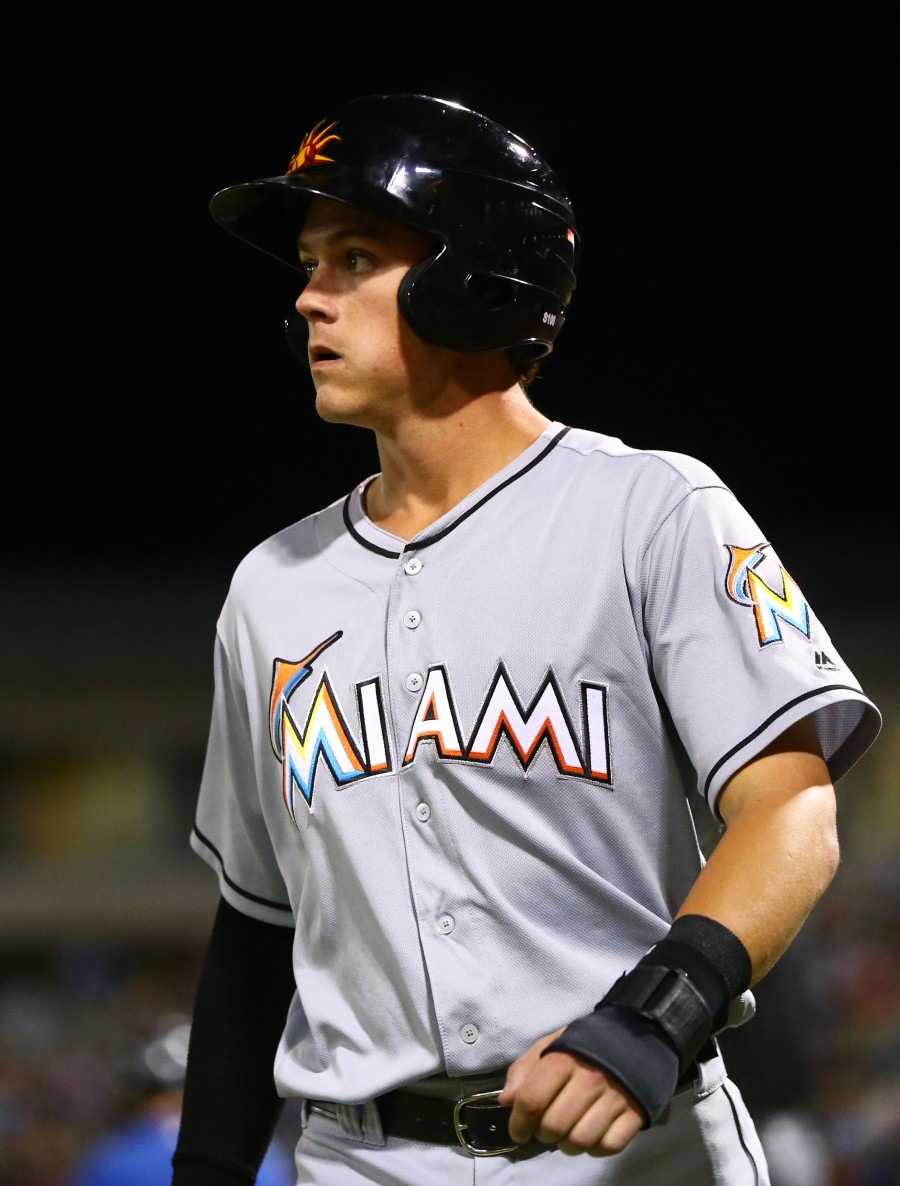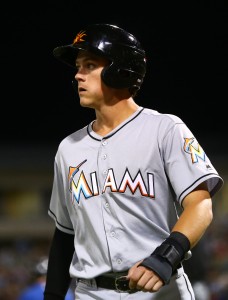 Since a mid-July promotion to Triple-A New Orleans, the 24-year-old Anderson has been hitting like someone who knows he's auditioning for a Major League job. In 29 Pacific Coast League games, the right-handed hitting third baseman is slashing .350/.420/.631 with eight home runs and 12 multi-hit games.
Dee Gordon and Martin Prado will presumably be on the trade block this offseason, and the Marlins wouldn't pull the trigger on dealing either player without knowing if they have a potential in-house replacement (Prado could move to second base if Gordon is traded). If there is a Marlins prospect who is a candidate to step into a starting role in 2018, it would be Anderson, a former third-round draft pick. Calling him up in the near future and giving him 100+ plate appearances would give the Marlins a much better idea of how capable he is of becoming their starting third baseman next season.
—
Stephen Gonsalves, SP, Minnesota Twins (Triple-A Rochester) | Twins Depth Chart
A shoulder injury that pushed Gonsalves' season debut to mid-May could be a blessing in disguise for him and the Twins. While most starting pitching prospects are usually close to their innings limit in August and not expected to contribute much at the Major League level in September and beyond, Gonsalves is at 109 2/3 innings after his latest start. Considering that he threw 140 innings during a breakout 2016 in which he appeared very much on the fast track to the Major Leagues, it wouldn't be a surprise if he's pitching for the playoff-contending Twins late this season.
The 23-year-old lefty was recently promoted to Triple-A following a dominant 28-start stint in Double-A (161 2/3 IP, 2.28 ERA, 6.1 H/9, 3.3 BB/9, 10.3 K/9) over the past two seasons. After posting back-to-back quality starts, Gonsalves struggled in his third Triple-A outing before bouncing back with another stellar effort over the weekend (6 IP, ER, 7 H, BB, 6 K). The Twins are currently in possession of a Wild Card berth with Bartolo Colon and Dillon Gee serving as their fourth and fifth starters, respectively. If they're going to hold on, they might need to turn to their farm system one more time. Gonsalves could be the difference maker.
—
Jose Lopez, SP, Cincinnati Reds (Double-A Pensacola) | Reds Depth Chart
The 23-year-old Lopez is only three months removed from pitching in the High-A Florida State League, but there are already several reasons to believe that he's not far away from the Majors. After allowing 15 earned runs in his first 27 innings with Double-A Pensacola, the right-hander has been one of the best pitchers in the Minor Leagues. In his last 10 starts, he has a 1.24 ERA with 4.8 H/9, 1.6 BB/9 and 8.0 K/9. He's completed at least six innings and hasn't allowed more than two earned runs or five hits over that span.
During Lopez's first crack at the upper minors, he's shown an ability to make adjustments, miss bats, throw strikes and pitch deep into games—he has a 68.5% strike rate and hasn't thrown more than 96 pitches in any of his 10 consecutive quality starts. Tyler Mahle, who made this list on May 1st and June 27th, became the 15th Reds' pitcher to make a start in 2017 when he made his MLB debut yesterday. Lopez deserves to be the 16th.
—
Dillon Maples, RP, Chicago Cubs (Triple-A Iowa) | Cubs Depth Chart 
The Cubs appeared to solidify what was already a deep and talented bullpen by acquiring lefty Justin Wilson at the trade deadline. Wilson has been mostly ineffective, however, while the team's other key relievers have been unreliable, to put it kindly, over the past few weeks. It's not quite a major area of concern at this point, considering the track record of the group, but it's probably alarming enough to at least take a look at adding a reinforcement from the Minors, even one that began the season in High-A.
Maples' rise didn't begin immediately after the team converted him to a reliever a few years back. His numbers out of the 'pen were unimpressive in 46 appearances in the low minors from 2015-16, but something has apparently clicked in 2017. In 51 appearances across three levels, including his last 16 with Triple-A Iowa, the 25-year-old has a 2.74 ERA, 6.2 H/9 and 14.3 K/9. The walks are a concern (5.3 BB/9), but he's only walked more than one batter in three of his combined 30 appearances in the upper minors. It's also worth noting that Carl Edwards Jr. had a 6.0 BB/9 in 24 Triple-A appearances last season but went on to finish the year as one of the best relievers on the World Series champs.
—
Christian Walker, 1B/LF, Arizona Diamondbacks (Triple-A Reno) | Diamondbacks Depth Chart
Walker's already difficult path to the Majors could not have taken a worse turn during the past offseason. With limited at-bats available in Baltimore behind Chris Davis and Mark Trumbo, the right-handed hitting first baseman was designated for assignment in February. The likelihood of a better opportunity lied ahead. But it never came. By the time the regular season started, he had been claimed on waivers by three different teams—Braves, Reds and Diamondbacks—that employed superstar first basemen who rarely miss a game. In late March, he was designated for assignment a fourth time, only to clear waivers and remain with the Diamondbacks.
To his credit, the 26-year-old did not let the limited opportunity and removal from the 40-man roster affect him at the plate. After putting up what would be slightly below-average numbers for a first baseman in Triple-A during parts of the previous three seasons, Walker has taken his game to another level in 2017. In 565 plate appearances, he's been the Diamondbacks' Triple-A version of Paul Goldschmidt, slashing .312/.384/.609 with 32 homers and 34 doubles. While the Pacific Coast League is more hitter-friendly than the International League, where Walker played previously, his improved walk and strikeout rates (145 BB, 406 K from '14-16; 58 BB, 97 K in '17) are indications that a better approach at the plate has helped lead to his success.
A September call-up is in the cards as the D-backs have gotten very little from their pinch-hitters in '17 (.636 OPS), but they'd also do Walker a huge favor by either trading him in the offseason to a team where he has a chance to play or removing him from the 40-man roster—assuming he's added in September—so he can opt for free agency.
Photos courtesy of USA Today Sports Images.