The Phillies announced that they've claimed right-handed reliever Juan Nicasio off waivers from the Pirates. Philadelphia designated first baseman/outfielder Brock Stassi for assignment to clear a spot on the 40-man roster.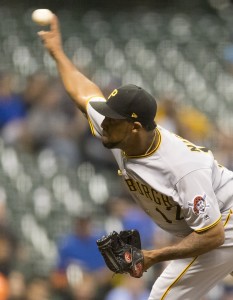 It's a surprising move for the Phils: Nicasio is slated to reach free agency at season's end; he's owed another $600K or so through the end of the year; and Philadelphia clearly is not contending in 2017. It also seems unlikely Nicasio will be flipped via trade. (He was already claimed and pulled back from revocable trade waivers, and any deal would likely need to be struck by the end of the day — which represents the deadline for adding outside players with postseason eligibility.)
Perhaps the Phils simply are willing to pay for Nicasio to help win some close ballgames over the final month of the season, though at this point the team is in position to earn the top 2018 draft pick (with the worst record in baseball — which also gave them the top waiver position). It also won't hurt to have a veteran in the bullpen with so many young pitchers on the rosters.
The cross-state rival Pirates, on the other hand, evidently saw an opportunity to save some payroll in what has turned into a lost season. GM Neal Huntington acknowledged as much, as Bill Brink of the Pittsburgh Post-Gazette (links to Twitter). Huntington also cited a desire not to "help a direct competitor" as well as to allow other hurlers a chance to pitch in the late innings.
There's little doubt that many contenders would have liked a shot at adding Nicasio down the stretch. He has thrown sixty excellent innings this year, working to a 2.85 ERA with a 60:18 K/BB ratio. Odds are, Nicasio will step into a late-inning role for the Phillies. So long as he maintains something like his current trajectory, the 30-year-old will likely be in line for a strong, multi-year contract over the winter.
As for Stassi, the 27-year-old struggled in his first taste of the majors this year. Over 90 trips to the plate, he hit just .167/.278/.295 with a pair of long balls. He has also fallen off in the upper minors after two consecutive productive campaigns.
Photo courtesy of USA Today Sports Images.