Those who have visited this website with any regularity over the past few months know that Marlins outfielders Giancarlo Stanton, Christian Yelich and Marcell Ozuna have frequently come up as potential trade chips. With the MLB offseason set to begin in earnest in a few weeks, questions regarding the trio will continue to abound, especially with a fresh ownership group at the helm. While the Marlins' new face of baseball operations, part-owner Derek Jeter, essentially did nothing but win during his acclaimed career as the Yankees' shortstop from 1995-2014, he's likely in for some tough times in Miami.
The Marlins' most recent playoff trip came in 2003 – a season in which they knocked off Jeter & Co. in the World Series – and given their limited talent in the majors, a weak farm system that Baseball America ranks last in the sport and a dire financial situation, the future Hall of Famer's newest chapter in the game will begin with at least a few lean years. Jeter realizes that, judging by some of the comments he made during the introductory press conference he and principal owner Bruce Sherman held in Miami last week. Although Jeter was reluctant to say that losing will continue for the Marlins in the near term, he did admit that there's a need to "rebuild the organization," adding that "there's going to be at times unpopular decisions that we make on behalf of the organization."
To a Marlins fan base that loathed the franchise's prior owner, Jeffrey Loria, in part because of his penny-pinching ways, there probably wouldn't be a less popular move than trading Stanton – especially after he enjoyed an MVP-caliber 2017 in which he smashed a league-high 59 home runs. But getting out from under at least some of the $295MM he could rake in through 2028 would improve the franchise's bottom line, so it seems likely Miami will consider offers for the 27-year-old. In theory, Stanton's full no-trade rights – not to mention an opt-out clause after 2020 – could scuttle a potential deal, but it doesn't seem he'd stand in the way of a swap if an acquiring team would give him a chance to play meaningful baseball into the fall.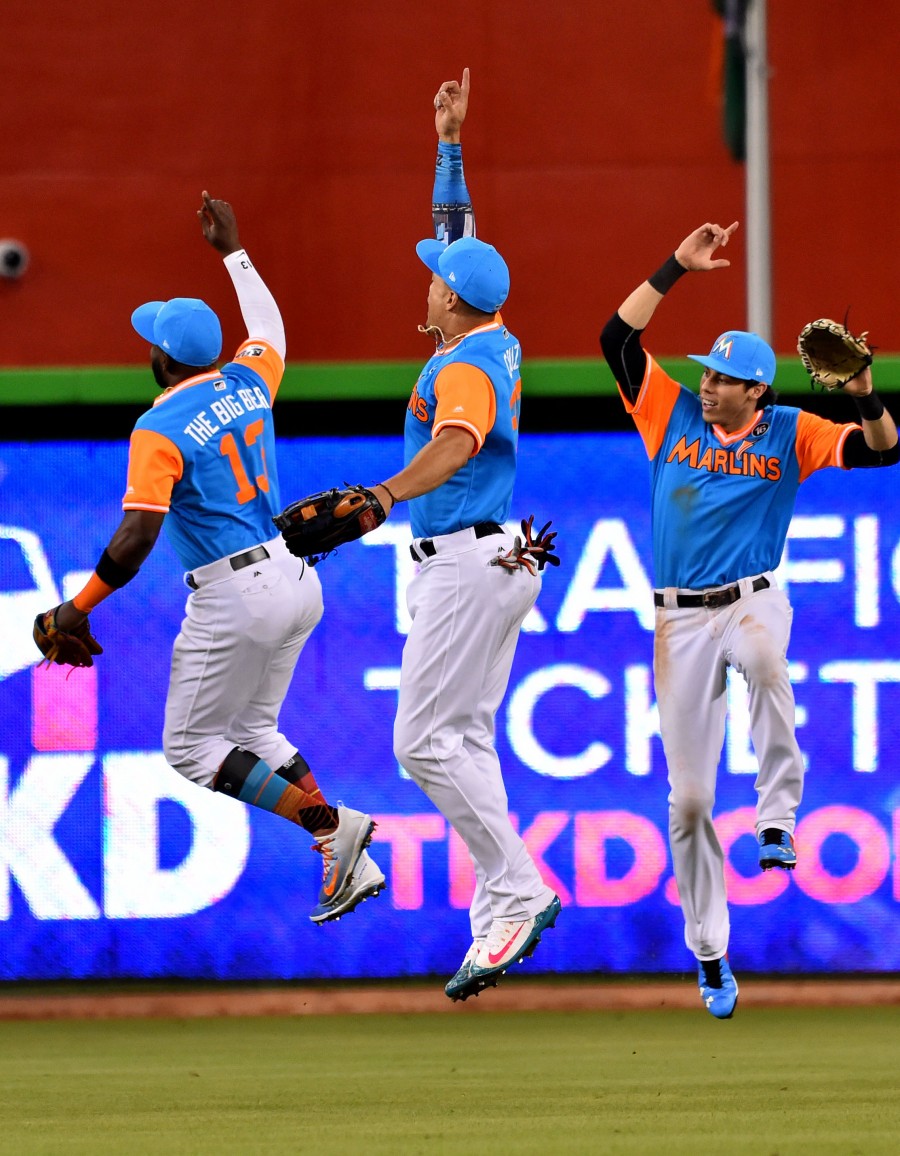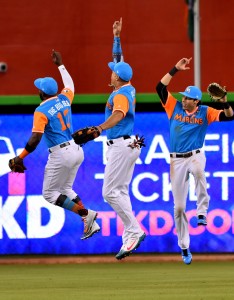 "I don't want to rebuild. I've lost for seven years," the right fielder said last month.
Despite their best efforts, Yelich and Ozuna have joined Stanton in doing plenty of losing as Marlins. Considering their affordability, moving either would be far less complicated for Miami than trading Stanton, and it would beef up the team's farm system.
Yelich, the 25-year-old center fielder, has been worth 4.5 fWAR in three of four seasons since becoming a full-time major leaguer (including in 2017) and is signed to a palatable deal. He's due a guaranteed $43.5MM through 2021 and will collect either a $15MM salary or a $1.25MM buyout in 2022. Yelich is all the more appealing when considering the best outfielders who could hit free agency next month (J.D. Martinez, Justin Upton and Lorenzo Cain) are already over 30 and will rake in far richer contracts than his.
Ozuna doesn't come with Yelich-esque team control, but the left fielder still has two arbitration-eligible years remaining after making $3.5MM in 2017, a career season. Across 159 games and 679 trips to the plate, the 26-year-old slashed .312/.376/.548 with 37 homers – much better production than he put up over the previous four years, though he was still a fairly respectable contributor from 2013-16. With an appreciable raise on the way this offseason and a trip to free agency only a couple years off, now may be the time for Miami to wave goodbye to the Scott Boras client.
There are other players the Marlins figure to market in the next few months, but their highest-profile chips are their starting outfielders, a trio that hit a combined .288/.368/.519 this year and topped the NL in fWAR (16.1). Marlins fans may not like it, but with the franchise going in a new direction, it stands to reason Stanton, Yelich and Ozuna have lined up in the same outfield together for the last time. Which player(s) do you think the Fish will part with in the offseason?
(Poll link for app users)
Photo courtesy of USA Today Sports Images.