The offseason is off to a sluggish start, due perhaps to the ongoing trade talks involving Marlins star Giancarlo Stanton and the as-yet unresolved posting situation of Shohei Ohtani. Resolution on both matters may well come before long. In the meantime, we're left to wonder which dominoes might be first to be knocked over thereafter — or, perhaps, whether some other transactions could jumpstart the action.
One player who we have consistently labeled a clear trade candidate is Ian Kinsler of the Tigers. He's a quality veteran with one year left on his contract who's currently employed by an organization that's clearly rebuilding. And Detroit's top baseball executive, Al Avila, has hardly made a secret of the club's interest in taking offers.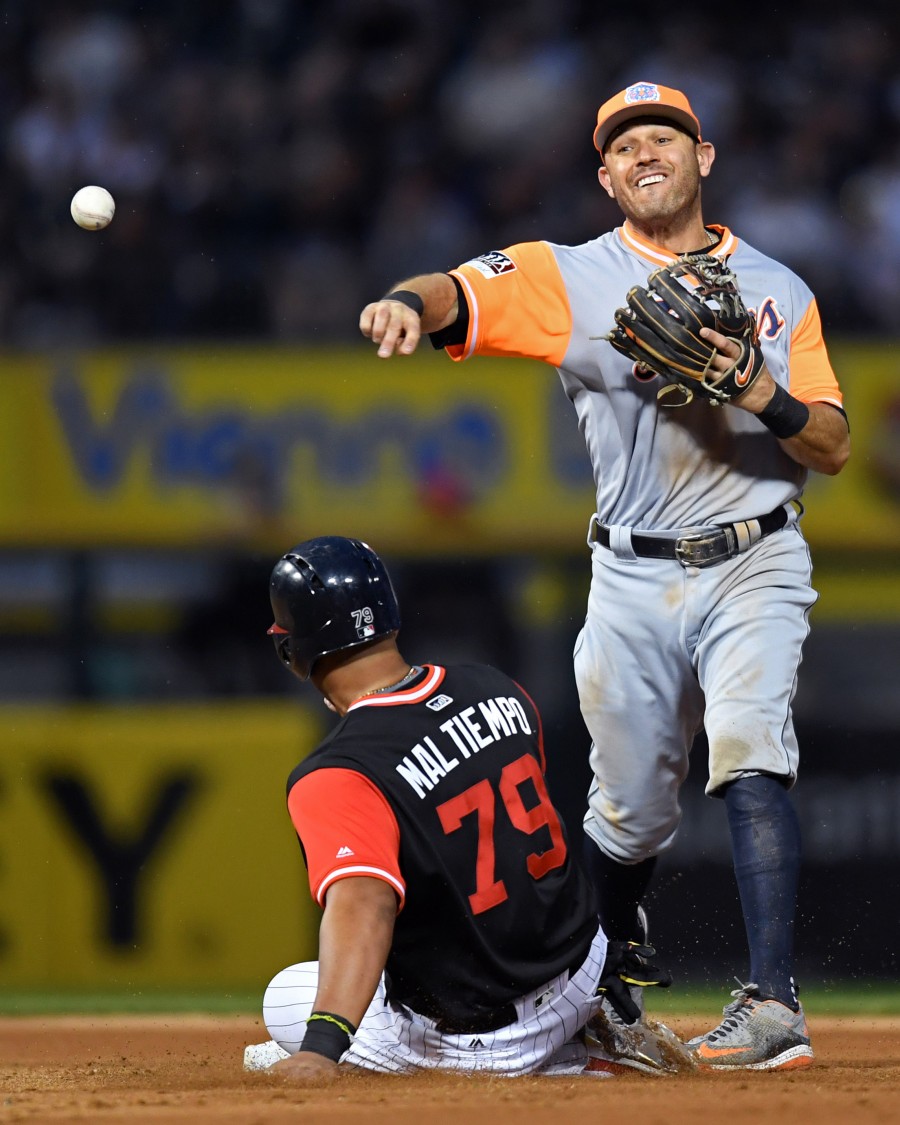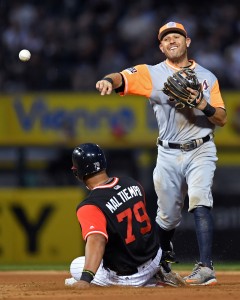 With that in mind, it's worth analyzing his market. Let's start by sketching the asset under question. Kinsler is set to earn a manageable $11MM salary this year before reaching the open market. Though he's 35 years of age and hit just .236/.313/.412 last year, Kinsler made plenty of hard contact and was likely somewhat unfortunate to carry a .244 batting average on balls in play. He also produced at a much loftier .288/.348/.484 clip the season prior and has a history of solidly above-average offensive work. Perhaps even more importantly, Kinsler has long rated as a superior defender and has been exceptionally durable, reaching 600 plate appearances every year since 2011.
There are other players available at second base, which will have an impact. On the trade side, Dee Gordon of the Marlins is much younger and comes at a similar annual cost over a three-year term, while the Phillies could be willing to deal the youthful and inexpensive Cesar Hernandez. Neil Walker is the top available free agent, with Howie Kendrick and Brandon Phillips among the other potential alternatives. Still, no other player carries quite the profile of Kinsler, whose reliability and palatable contract hold obvious appeal.
There are a few other considerations that could enter the picture. Per MLB.com's Jon Morosi, via Twitter, at least some organizations have considered acquiring Kinsler with the intention of utilizing him at third base. That's a bit of a surprise, given that Kinsler is about as entrenched as any player at his usual position and has no more than nominal experience at third as a professional. Even if he can handle the hot corner, the added uncertainty would seem to reduce some of the very features that make Kinsler such an appealing target in the first place. It also may tie into his limited no-trade rights, which allow him to block deals to ten teams (though we don't know which for the current season). While we don't know for certain just what considerations will drive Kinsler's views, it stands to reason that he'd be open to moving to a contending team at this stage.
With all that out of the way … where might Kinsler represent a match?
Angels — The Halos are already rumored to be looking at Kinsler, among other options. The organization has a clear need at second, possesses the payroll space and the competitive desire for this sort of player, and recently dealt for Justin Upton from Detroit. As fits go, this is about as clean as it gets. Of course, every other second baseman or team with one to trade will also be engaged with L.A. GM Billy Eppler, and he'll likely shop around for value.
Blue Jays — While the Jays are in need up the middle, it's not obvious from the outside that Kinser would really make the most sense. On the one hand, if Kinsler is willing to move around a bit, he'd look to be a solid match for the club's stated desire in a utility player that might see near-regular action. On the other, he may or may not embrace that sort of role — which would be of particular relevance if the Jays are on Kinsler's no-trade list. Indeed, Kinsler has reportedly nixed a move to Toronto previousy. It's conceivable that the Jays could get creative, perhaps using Devon Travis as the utility-oriented player and installing Kinsler full-time at second, but that's entering the realm of messy speculation.
Braves — Atanta is one of the organizations that could in theory view Kinsler as an option at third. He'd represent a solid veteran presence, plug a need (if he and the team are comfortable with making that position change), and avoid clogging the future balance sheet or blocking prospect Austin Riley in the future. At the same time, new GM Alex Anthopoulos is just settling in and it's not yet entirely clear how he'll proceed this winter. File the Braves under "not inconceivable but not outwardly likely."
Brewers — There was some rumored interest from Milwaukee in Kinsler at the trade deadline and the Brewers haven't yet firmed things up at second. There are options on hand, as the club struck a new contract with Eric Sogard and still has Jonathan Villar. And Milwaukee might like the idea of pursuing Neil Walker, who was the player ultimately added over the summer. Generally, though, acquiring Kinsler might allow the Brewers to boost their chances at competition without a huge outlay or long-term commitment, so they seem to be one of the more promising fits.
Giants — Third base is open; as above, then, this is a speculative fit in that regard. San Francisco has reportedly also at least engaged in some thought of trade permutations that might involve current second bagger Joe Panik, though at present it hardly seems likely that he'll end up moving. Particularly if the team ends up breaking the bank to add Giancarlo Stanton or otherwise makes significant moves toward a rebound, Kinsler could make for a good value that wouldn't compound the team's concerns about adding aging veterans on lengthy contracts.
Mets — We've seen the Mets connected to Kinsler and the team is definitely weighing its options at second, so this makes immediate sense on paper. New York is believed to be working with some payroll restraints, though, so other moves could foreclose Kinsler as a plausible option. On the other hand, the team may like the idea of gaining a boost without adding too much salary, so it's also imaginable that it would pursue Kinsler and then try to find cheaper upgrades in its other areas of need. (There are quite a few options in the first base/corner outfield market that the team is also exploring.)
Royals — Whit Merrifield established himself at second, but perhaps he or Kinsler could be options at third. The Royals will be walking a fine line this winter, weighing the risks of a big payroll with the desire to sustain competitiveness and perhaps bring back one or two of its own star free agents. It's not impossible to imagine Kinsler fitting in if the team manages to land Eric Hosmer and wants to install a solid veteran without tacking onto the future balance sheets, though it's an awfully tight fit at first glance.
That really represents the field of the most likely suitors, as things stand. Roster changes can always shake things up, of course, and organizations such as the Yankees and Cardinals could in theory end up seeing Kinsler as an option at second or third if they first line up corresponding moves involving existing players. (At least some chatter has suggested those teams are considering infield moves, though it's exceedingly speculative at present.) Somewhat similarly, the Dodgers reputedly had interest in Kinsler in the past, but they picked up their option over Logan Forsythe and it's tough to imagine both fitting sensibly on that roster. There's a match in terms of potential need for some other clubs — the Pirates, Diamondbacks, and Rays, for example — but the payroll limitations at play in those situations make it difficult to imagine without several intervening developments first coming to pass.
All told, then, the clearest matches on paper exist with three organizations. The Angels, Brewers, and Mets could all simply install Kinsler as an everyday option at second without significantly altering other aspects of their roster construction. But other transactions could create new fits, and it's also far too soon to rule out other clubs getting a bit creative.
Photo courtesy of USA Today Sports Images.