Recently, I have been discussing some of the higher-profile upcoming arbitration cases as part of MLBTR's Arbitration Breakdown series. I rely partly on my arbitration model developed exclusively for MLB Trade Rumors, but will also break out some interesting comparables and determine where the model might be wrong. Full arbitration projections for 2018 are also available.
Charlie Blackmon put up some gaudy numbers in 2017, hitting .331 to go along with 37 home runs and 104 RBIs. As a result, my model projected him for a very high raise. However, the model also utilizes something called the Kimbrel Rule– which states that no player gets projected for an increase more than $1MM higher than the record raise for his service class. This limits Blackmon to a $6.1MM raise, which lands him at a $13.4MM projection for the 2018 season. Truth be told, though, the model actually spit out a $16.8MM salary estimate!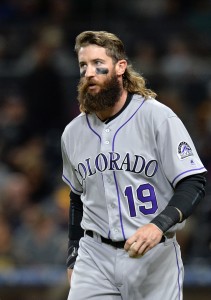 There are two different run environment factors to consider for Blackmon that could be inflating the way his number would be viewed by an arbitration panel. Blackmon plays his home games at Coors Field, a notorious home run park. FanGraphs gives Rockies' players a 116 park factor, suggesting Blackmon's 37 home runs might be the equivalent of 32 home runs in a more neutral setting.
Further inflating Blackmon's home run total is something that will affect a great number of cases this year—the dramatically increased level of home runs throughout the league. This past season set a league record with 6,105 total home runs—this was 26 percent higher than the average from the last five years. So when I look at players with similar totals over the last five years, it is unclear whether an arbitration panel (or teams and agents that are negotiating in the shadow of what an arbitration panel would say) would treat home runs from Blackmon as similar to other players with the same number of home runs, or as someone with maybe 26 percent fewer home runs.
My model does not adjust for league or park home run environment in this way; in general the data has shown that run environment is not a big consideration in arbitration. Hitters in high-scoring years benefit from being compared to hitters in lower-scoring years. Pitchers in low-scoring years benefit from being compared to pitchers in high-scoring years.
If you knock down Blackmon's home run total by league and park effects, he lands somewhere around the equivalent of 25 home runs in a neutral park in a prior season. But of course, that may not be what the panel considers. Most likely, they will just compare him (favorably) to the current record-holder in this service class, which is Chase Headley from 2013. Headley hit .286 with 31 homers, 115 RBIs and 17 stolen bases in the platform season for his final trip through the arbitration process.
Blackmon outperformed Headley in both homers and average, and he also stole 14 bags, further helping his case. It seems likely to Blackmon will be seen as favorable to Headley — especially considering the fact that Headley's case is already five years old — so I think earning a raise north of $6MM seems likely.
If we're looking for other recent players with a lot of home runs who reached arbitration, Todd Frazier's name emerges. He hit 40 home runs in his platform season, but at .225, his average was more than a hundred points below Blackmon's. Frazier got a $3.75MM raise, which Blackmon should easily crush.
Eric Hosmer is another potential comparable, but he's also clearly a player with an inferior case to that of Blackmon. In 2016, Hosmer's platform before his final trip through arbitration, he hit .266 with 25 homers and 104 RBIs. Blackmon has him handled in every category, so Hosmer's $4MM raise is another example of a potential floor for Blackmon's raise.
I think it's clear that Blackmon is going to set a new record. The "Kimbrel Rule" has worked very well since its inception, and I think it will apply well here. Look for Blackmon to land somewhere between $13-14MM, with some chance of going slightly above that if and when he settles on a one-year deal for the 2018 season.
Photo courtesy of USA Today Sports Images.