This is the latest entry in MLBTR's 2017-18 Offseason In Review series.  Click here to read the other completed reviews from around the league.
The Orioles saved their biggest spending for a much-needed rotation fix, while relying on some familiar faces and young arms to augment the back end of the roster at a low cost.
Major League Signings
Alex Cobb, SP: Four years, $57MM ($20MM deferred without interest)
Andrew Cashner, SP: Two years, $16MM (plus $10MM club option for 2020 that can either vest or become a player option with at least 340 IP over 2018-19)
Chris Tillman, SP: One year, $3MM
Michael Kelly, RHP: Major League contract, minimum salary (Kelly has since been designated for assignment)
Total spend: $76.545MM
Trades And Claims
Notable Minor League Signings
Colby Rasmus, Pedro Alvarez, Danny Valencia, Craig Gentry, Jhan Marinez, Alex Presley, Joely Rodriguez, Ruben Tejada, Josh Edgin, Luis Sardinas, Asher Wojciechowski, Ryan O'Rourke, Jeff Ferrell, Jayson Aquino, Tim Melville, Andrew Faulkner, Perci Garner (note: the Orioles selected the contracts of Rasmus, Alvarez, Valencia, and Gentry, adding $6.1MM in guaranteed salary to the payroll)
Notable Losses
Orioles 25-Man Roster & Minor League Depth Chart; Orioles Payroll Overview
Needs Addressed
If imitation is the sincerest form of flattery, then Orioles executive VP of baseball operations Dan Duquette could take Major League Baseball's offseason as a compliment.  Since taking over Baltimore's front office, Duquette's signature move has been to wait until late in the offseason to pursue free agents whose markets had stalled or even collapsed, in order to sign the players at a discounted price.
This winter, however, seemingly every team in baseball adopted Duquette's strategy, leading to an unprecedented chill in free agent activity and leaving O's fans increasingly agitated about their team's lack of action.  While the Orioles were filling some holes via minor league contracts, the club's most glaring need was being left unfilled — three spots in the team's starting rotation.
The first domino fell in mid-February, when Andrew Cashner was signed to a two-year, $16MM deal.  Next came a one-year, $3MM reunion with Chris Tillman, the longtime O's workhorse and former ace whose value cratered after a nightmarish 2017 season.  While these two signings addressed the back of the rotation, however, Baltimore still seemed in clear need of a more prominent arm to join with Dylan Bundy and Kevin Gausman as the team's frontline starters.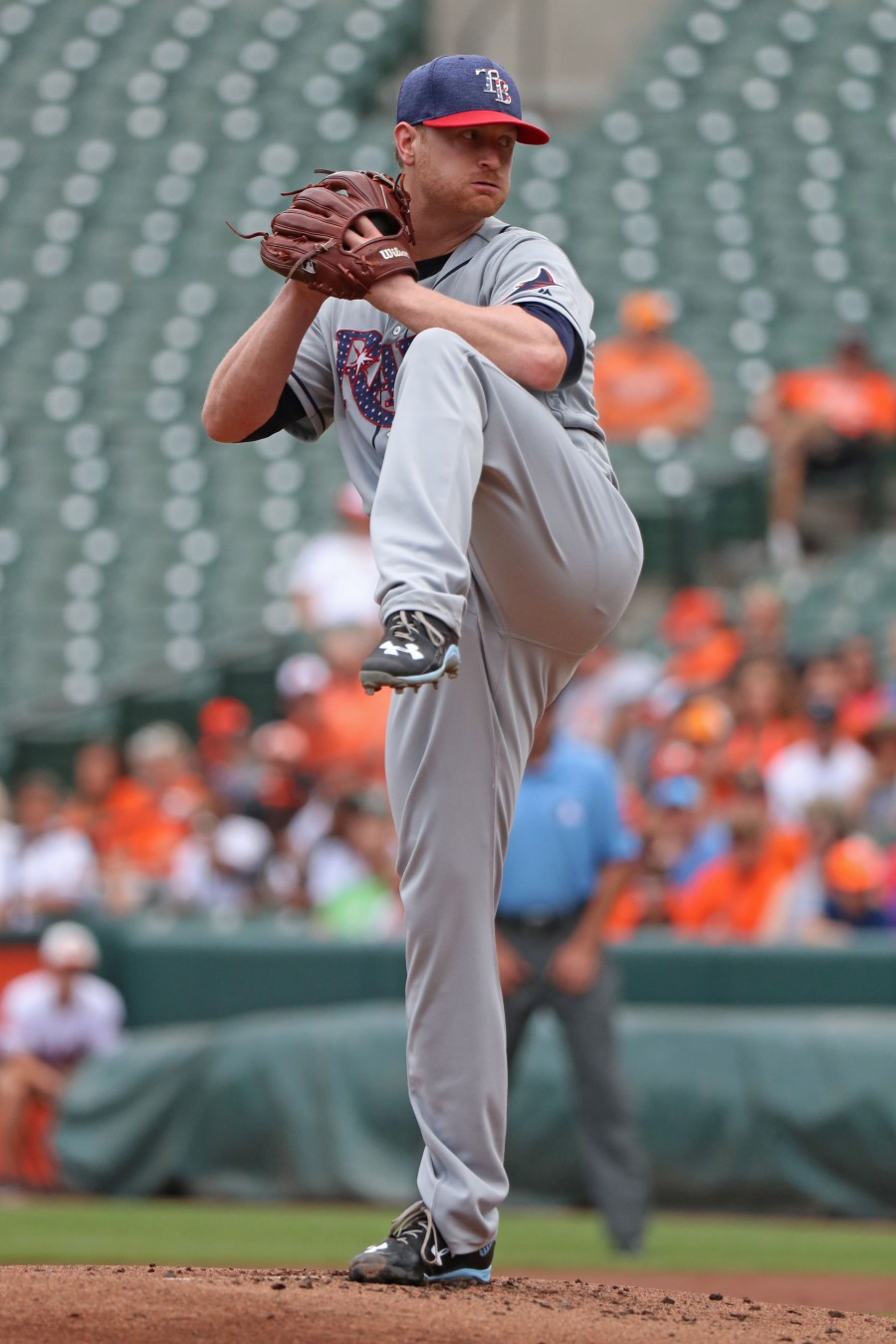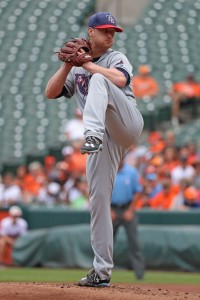 The O's weren't in particularly strong pursuit of Alex Cobb as recently as early February, though the urgency to address that pitching need continued to build, especially once Lance Lynn joined the Twins on a one-year deal even though the Orioles may have been willing to offer multiple seasons.  The time had come for the Orioles to take a plunge to solidify their pitching staff, and the result was bringing Cobb into the fold on the largest pitching contract in franchise history.
Cobb has yet to entirely recapture the form he showed prior to his May 2015 Tommy John surgery, returning from rehab to make five ugly starts in 2016 and then posting a solid-but-unspectacular 3.66 ERA, 6.4 K/9, and 2.91 K/BB rate over 179 1/3 innings for the Rays last season.  Cobb did gradually pitch better as the season developed, however, and answered some of the questions about his durability by setting a new personal best for innings.  It should be noted that even if Cobb's 2017 numbers end up representing his new normal, his performance last year still represents an enormous upgrade for the Baltimore rotation.  Cobb posted 2.4 fWAR and rWAR last season, putting him almost on par with Bundy (2.7) and Gausman (2.5 fWAR, 2.0 rWAR), and far surpasses the numbers posted by Jimenez, Tillman, Wade Miley, or Jeremy Hellickson.
The signing was an aggressive and somewhat unexpected move from Baltimore, especially given their previous record-high pitching contract (Jimenez's four-year, $50MM deal) only just came off the books and was a significant bust for the team.  Still, it was clearly a risk the Orioles felt comfortable in taking, as since 2018 could be something of a win-now season with so many star players hitting free agency next winter, the four-year length of Cobb's contract indicates that the O's still intend to be competitive over the long term.
The shorter-term fixes came in the form of some former Orioles brought back on minor league contracts.  Pedro Alvarez, Craig Gentry, and Danny Valencia all returned for another stint in Baltimore, while Colby Rasmus (rumored as an O's target for a couple of years now) joined both the team and baseball itself, after he put his career on hiatus last summer to spend time with his family and newborn child.
Mark Trumbo's season-opening DL stint and the Orioles' desire for Austin Hays to get everyday minor league work resulted in Alvarez, Gentry, Valencia, and Rasmus all having their contracts purchased for Opening Day.  Rasmus and Gentry look to form a lefty/righty platoon in right field, with Alvarez and Valencia doing the same at DH, with Valencia also available to back up first and possibly third base.
Questions Remaining
Cobb's injury history is surely a concern to the O's, though barring any further health issues, he should clearly help the rotation.  It's anyone's guess as to how Tillman can (or will) rebound, though at a cost of just $3MM and with shoulder problems potentially the culprit behind his 2017 struggles, he represents at worst a low-risk option for the fifth starter role.  If Tillman's shoulder is feeling better, he stands out as a major bargain for the Orioles at anything resembling his old form. (Tillman can earn up to $7MM more via incentives, though if he reaches a significant portion of that number, it'll likely be because he's pitching well enough to make it money well spent for Baltimore.)
Cashner, however, is more of a concern, with a checkered injury history of his own as well as some fairly questionable numbers last season.  His 3.40 ERA over 166 2/3 innings for the Rangers looked great on paper, though advanced metrics (4.61 FIP, 5.30 xFIP, 5.52 SIERA) painted a much more dire picture of Cashner's performance.  Never much of a strikeout pitcher, Cashner posted only a 4.64 K/9 last year, the second-lowest total of any qualified starter in the game.  Combine that stat with the lowest swinging-strike rate (6.1%) of any qualified starter, and Cashner's .266 BABIP and 74% strand rate suddenly look like much larger factors in his 2017 success.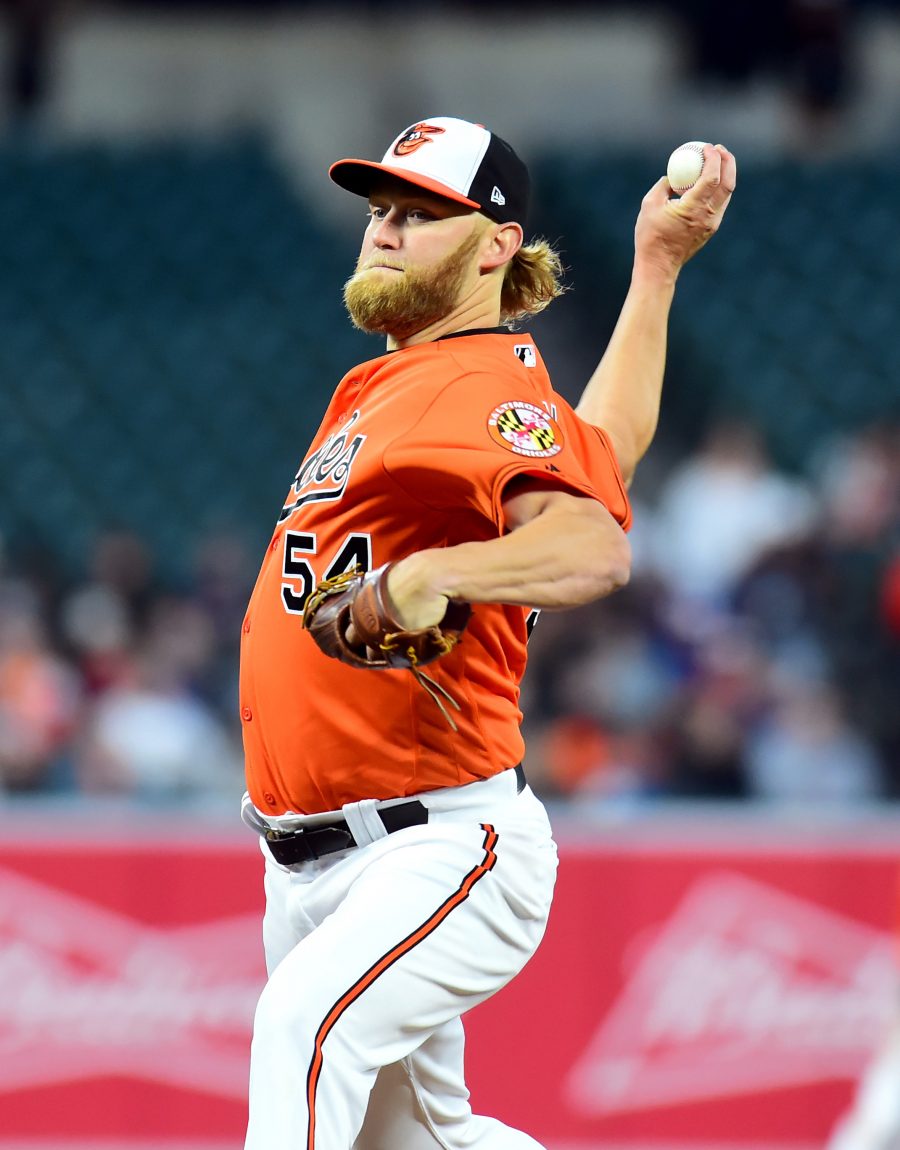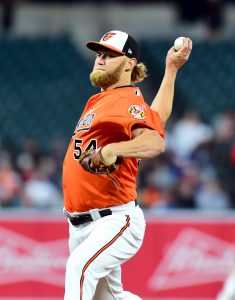 There's also the fact that Cortes and Castro could be needed in the bullpen, which took a big hit when closer Zach Britton suffered a ruptured Achilles tendon over the offseason.  Britton is said to be making good progress and could perhaps even be a bit ahead of schedule if he returns by early June or even late May, but obviously it's a major setback for a pitcher who was already looking to bounce back from an injury-hampered 2017 season.
Brad Brach, Darren O'Day, and Mychal Givens will share the late-game duties with Britton out, and the Orioles' top plan for bullpen reinforcement seems to be Cortes and Pedro Araujo, both selected in the Rule 5 Draft and required to be on Baltimore's 25-man roster all season if the team wants to keep them in the organization.  Cortes and Araujo both have live arms and either one would be an intriguing addition to the bullpen — going with both for a full season is somewhat risky, due to the sheer lack of experience.
The O's didn't have many holes around the diamond, and they gained a bit more left-handed hitting depth in the form of Rasmus, Alvarez, and top prospect Chance Sisco. None are everyday options, though Sisco likely will be at some point.  Deploying the veterans in pure platoon roles makes sense on paper, though there is a lack of infield depth on the bench, as Valencia isn't an ideal defensive choice at anything besides first base at this point in his career.  Luis Sardinas and Engelb Vielma are on hand as defense-only infield options in the minors and could eventually get the call once Trumbo returns and the O's have to engage in some roster shuffling.
The infield question stands out since it isn't clear if Tim Beckham is a reliable everyday option, though the Orioles are now wondering if Beckham can be a starting third baseman as opposed to a starting shortstop.  In a much-publicized position switch, Manny Machado is returning to shortstop after spending the bulk of his MLB career as one of baseball's best defensive third basemen.  It's a move that carries some risk for Baltimore (in an "if it ain't broke, don't fix it" sense), though Machado's defense doesn't appear to have been much affected, and if there is any worry about the position change impacting Machado's bat, it could be noted that Machado really has nowhere to go but up after a disappointing year at the plate.
Machado hit .259/.310/.471 over 690 PA in 2017, still displaying big power with 33 homers but falling behind in the average and OBP departments — the latter being particularly harmful on a team that struggled as a whole to reach base.  With Adam Jones also going through a bit of an off-year by his standards and Davis and Trumbo just having flat-out mediocre seasons, the Orioles' biggest need may simply be for these lineup cornerstones to get back on track.
There is even more pressure on Machado and Jones for turnaround years since both players will be free agents next offseason.  A big contract year could be particularly important for Jones, who turns 33 in June and is entering a free agent market that has become increasingly unfavorable to veteran position players with marginal OBPs over the past two winters.  Machado is going to score a huge deal even if he repeats his 2017 numbers, though if he proves that last year was just a fluke, he'll again be on track for a massive contract that could crack the $300MM barrier.
Whether that next contract could come from the Orioles is beginning to seem increasingly unlikely, as the team and its star shortstop seemed to barely touch base on extension negotiations this winter.  Of much more intrigue was the fact that the O's actively explored trading Machado, opening the floor to offers from any team willing to meet a gigantic asking price.  Teams like the Diamondbacks, White Sox, Yankees, Phillies, Giants, and Cardinals were all involved in the talks but, ultimately, Machado was still wearing the orange-and-black on Opening Day.
It's possible that Machado could again be shopped at the trade deadline if Baltimore falls out of the postseason race.  Owner Peter Angelos has traditionally been hesitant about unloading stars at midseason, though with his sons taking an increased role in the franchise's operations — they reportedly pushed for the Cobb signing, for instance — perhaps Angelos could be convinced that dealing free agents like Machado, Jones, Britton, or Brach would be in the team's best interest for a quick reload to contend in 2019.
Overview
Given how some of the veteran hitters struggled last year, it would be rather painfully ironic for the Orioles if they finally overhauled their rotation only to see their lineup fall apart.  The O's took steps to address their pitching weaknesses, but they're still putting a lot of faith that the core of their lineup can bring them back to their 2012-16 success.  The Orioles did shave around $18MM off the payroll from their season-ending $170MM figure, so there is room to spend at the deadline if they decide to be buyers rather than sellers, but it remains to be seen if Baltimore can hang around in the tough AL East long enough to make that decision.
What's your take on the Orioles' winter?  (Link to poll for app users)
Photos courtesy of USA Today Sports Images