The topic of whether top prospect Ronald Acuna should be in the Majors or in Triple-A is one of the most oft-discussed topics certainly among Braves fans but also among fans throughout the league. The 20-year-old, after all, has been widely billed as a phenom in the waiting and topped the majority of prospect rankings from major outlets this offseason (with the occasional exception of Shohei Ohtani, when he was deemed eligible for such lists).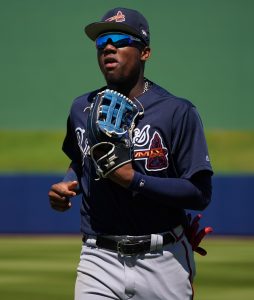 Acuna opened the 2017 season in Class-A Advanced and skyrocketed to Triple-A by season's end. The Venezuelan-born slugger didn't just move up the ladder, though; his numbers actually improved upon each promotion, culminating with a .344/.393/.548 line in Triple-A.
Overall, Acuna slashed .325/.374/.522 with 21 homers, 31 doubles, eight triples and 44 steals across three minor league levels in 2017 — and he did so all before turning 20 years of age this past December. Even before reading any of the many glowing scouting reports on Acuna, it's abundantly clear that he's a special talent. Teenagers simply don't perform that well in pro ball.
Entering the season, the thought was that the Braves, like many teams do with elite prospects, would take advantage of Major League Baseball's service time infrastructure and hold Acuna in the minors long enough to delay his free agency by a year. Doing so would only require him to be in Gwinnett until mid-April. While some may bristle at the notion, it's hard to argue, from a front-office standpoint, that the extra two weeks of games in 2018 are worth sacrificing Acuna's entire 2024 season — his age-27 campaign. Keeping Acuna in the minors for those couple of weeks makes perfect sense from a long-term view.
That date has come and gone, however, meaning the Braves can bring their vaunted wunderkind to the Majors at any point, knowing he'll be controlled through 2024. Bringing him up now would mean allowing him to reach arbitration four times as a Super Two player rather than the standard three times, but that's of relatively minimal consequence — at least when juxtaposed with the notion of losing an entire year of club control over his prime.
But although Acuna dominated Grapefruit League play in Spring Training (.432/.519/.727), that hasn't been the case in the regular season. It's only nine games and 41 plate appearances, of course, but Acuna is hitting .139/.244/.167 in Triple-A. After striking out at a 19.8 percent clip last season, he's already whiffed 14 times in 41 plate appearances (34.1 percent).
None of that does anything to change the perception that Acuna is a star in the making, but it stands to reason that the Braves may not relish the idea of taking a struggling 20-year-old and bringing him to the big leagues to face even tougher competition. It doesn't help that Preston Tucker has filled in capably at the big league level. Even though the 27-year-old likely isn't a long-term piece, and there's plenty of evidence to suggest that his start isn't sustainable, the fact remains that the Braves have gotten some production out of Acuna's would-be spot in the lineup.
That, of course, isn't deemed a good enough reason for Acuna to be in the minors for many. Narratives on his brief minor league struggles will suggest that he's pressing to earn a promotion or not engaged enough by the lack of competition. Atlanta skipper Brian Snitker went with the similarly nebulous explanation that Acuna is "trying too hard" at the moment (link via MLB.com's Mark Bowman). It's understandable if Braves fans want to see him up at all costs; it's been a lengthy rebuilding process down in Georgia, and Acuna's arrival could in many ways mark a move back toward contention. It's also true that attendance figures would likely spike, at least in the short term, the moment that Acuna is called upon for his highly anticipated debut. And if he's anything close to the player that most believe he will be, there's also an argument to be made that Acuna ought to be added to a ballclub that has played rather well and may yet be a fringe postseason contender.
All of those factors enter into the calculus of when Acuna will be brought to the big leagues. It's a decision the Atlanta front office won't make lightly, as the last thing first-year GM Alex Anthopoulos and his staff want to do is have to demote Acuna back to Gwinnett if he struggles out of the gate. At the same time, Anthopoulos & Co. are no doubt cognizant of the fanbase's desire to see Acuna attack Major League pitching and of the manner in which a strong arrival on the scene would invigorate the Atlanta faithful.
(Link to poll for Trade Rumors app users.)
Photo courtesy of USA Today Sports Images.