12:57pm: It's a four-year, $55.5MM extension for Hendricks, per The Athletic's Ken Rosethal (Twitter links). Hendricks will be paid $12MM in 2020 and $14MM annually from 2021-23. He has a $16MM vesting option for the 2024 season that comes with a $1.5MM buyout but would become guaranteed if he finishes top three in the 2020 Cy Young voting.
12:47pm: The Cubs announced Tuesday that they've signed right-hander Kyle Hendricks to a four-year contract extension spanning the 2020-23 seasons. The deal also contains an option for the 2024 season. Hendricks, who is already set to earn $7.405MM in 2019 after avoiding arbitration, was originally under control through the 2020 season. He's represented by Wasserman.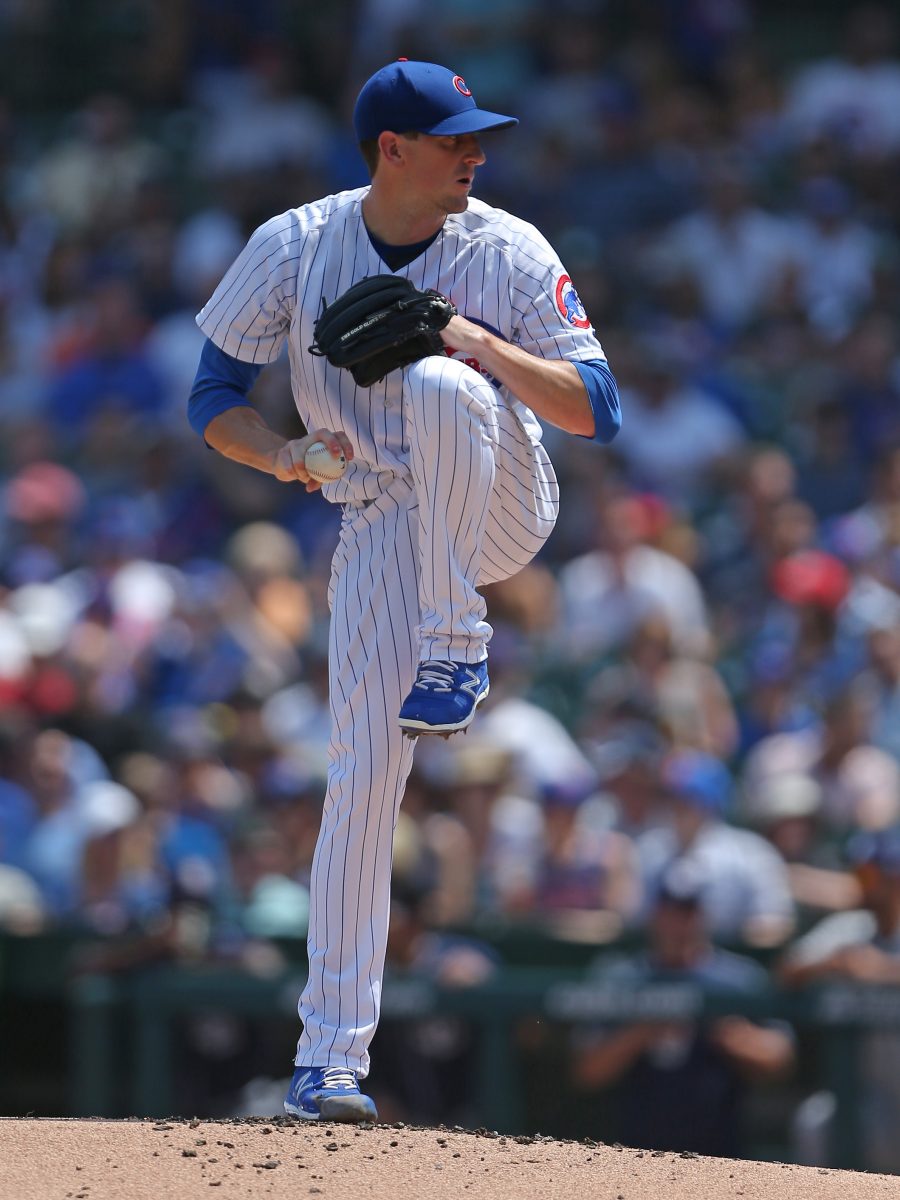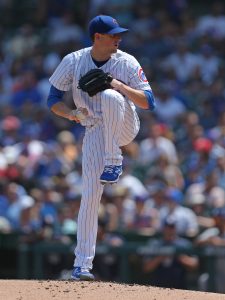 Hendricks, 29, has blossomed from unheralded prospect to steadying force in the Chicago rotation. While he's unlikely to ever match the dominance that carried him to a third-place finish in the 2016 Cy Young voting, when he pitched 190 innings of 2.13 ERA ball, he's nevertheless a rock-solid mid-rotation piece, thriving on pristine control and weak contact rather than overpowering opponents. Hendricks averages just 87 mph on his fastball, but he ranked in the top eight percent of the league in terms of average opponents' exit velocity in 2018 (85.2 mph), and the spin rate on his curveball is among the best in the game (89th percentile).
In all, since debuting in 2014, Hendricks has amassed 789 innings of 3.07 ERA ball with 7.6 K/9, 2.1 BB/9, 0.86 HR/9 and an above-average 48.9 percent ground-ball rate. His plus changeup and hook, paired with pinpoint control, allow him to generate a well-above-average swing-rate on pitches outside the strike zone (32 percent), which helps to explain how he's managed to continually limit hard contact despite laying claim to one of the slowest fastballs in the Majors.
Hendricks would've reached free agency heading into his age-31 season, and the price on his four-year extension is somewhat reflective both of his age and his proximity (or lack thereof) to an open-market setting. Both Nathan Eovaldi and Miles Mikolas, for instance, received $68MM on their own recent four-year contracts. However, Eovaldi received that sum as a 29-year-old on the free-agent market, while Mikolas received that deal with his own foray into free agency just a few months away.
For the Cubs, getting Hendricks locked up long-term was likely of particular importance given the long-term outlook of their starting staff. Lefties Jon Lester and Cole Hamels remain quality options but are both near the expiration of their contracts and are both aging. Lester has just two guaranteed years of his contract remaining, while Hamels can become a free-agent at season's end. Jose Quintana, similarly, has just one year of control remaining beyond the current season.
The Cubs do have some longer-term options, but the organization can't know exactly what to expect from Yu Darvish, who pitched just 40 innings in the first season of a six-year, $126MM contract last year. Chicago picked up Kendall Graveman this winter as he recovers from Tommy John surgery, but while he's controlled through the 2021 campaign, he won't be a plausible option until next year. Mike Montgomery is arbitration-eligible through the 2021 season as well, but he's never worked a full season as a starter. With Hendricks now in place for an additional three years beyond the point at which he'd have originally become a free agent, the Cubs have some much-needed certainty in place.
From a luxury tax standpoint, the extension does have some ramifications. Hendricks had counted as a $7.405MM hit against the team's luxury-tax bill, but that number now rises to $12.581MM. And because the Cubs were already into the second bracket of luxury tax penalties, every single dollar of that increase will come with a 32 percent tax hit. As such, even though Hendricks' salary is unchanged for the coming season, the Cubs will now pay an additional $1.656MM in surcharges. Beyond flying in the face of the audacious comments made by owner Tom Ricketts last month, in which he claimed that the Cubs "[didn't] have any more" money to spend, the Hendricks extension will give the Cubs more than $232MM of salary that counts against the luxury tax. It'll also push the Cubs' 2020 payroll to a guaranteed $114MM before the 2019 season even kicks off.
From a broader perspective, Hendricks' contract is the latest in an avalanche of long-term deals signed by players this spring against a backdrop of general unrest regarding the state of free agency. Dating back to Sonny Gray's late-January extension with the Reds, there have been a remarkable 22 multi-year deals signed by players who were still under club control (as shown in MLBTR's Extension Tracker). That number would typically constitute two, if not three year's worth of spring extensions. The series of long-term deals has not only weakened next winter's free-agent class but now, with extensions from Hendricks and Jacob deGrom, has begun to cut into the 2020-21 class of free agents as well.