This is the latest post of MLBTR's annual Offseason in Review series, in which we take stock of every team's winter dealings.
Even though they're in a rebuild, the Rangers are entering the 2019 season off an active winter. The club welcomed a new manager (former Dodgers third base coach Chris Woodward) and a bevy of free agents, lost the iconic Adrian Beltre to retirement and put an end to the Jurickson Profar era.
Major League Signings
Lance Lynn, RHP: three years, $30MM
Jesse Chavez, RP: two years, $8MM
Jeff Mathis, C: two years, $6.25MM
Asdrubal Cabrera, INF: one year, $3.25MM
Shawn Kelley, RP: one year, $2.75MM
Shelby Miller, RHP: one year, $2MM
Zach McAllister, RP: one year, $1MM
Total spend: $53.25MM
Trades And Claims
Extensions
Notable Minor League Signings
Notable Losses
Beltre, Profar, Claudio, Robinson, Robinson Chirinos, Doug Fister, Matt Moore, Tony Barnette, Bartolo Colon, Yovani Gallardo, Martin Perez Ryan Rua, Austin Bibens-Dirkx, Eddie Butler
[Texas Rangers Depth Chart | Texas Rangers Payroll Outlook]
Needs Addressed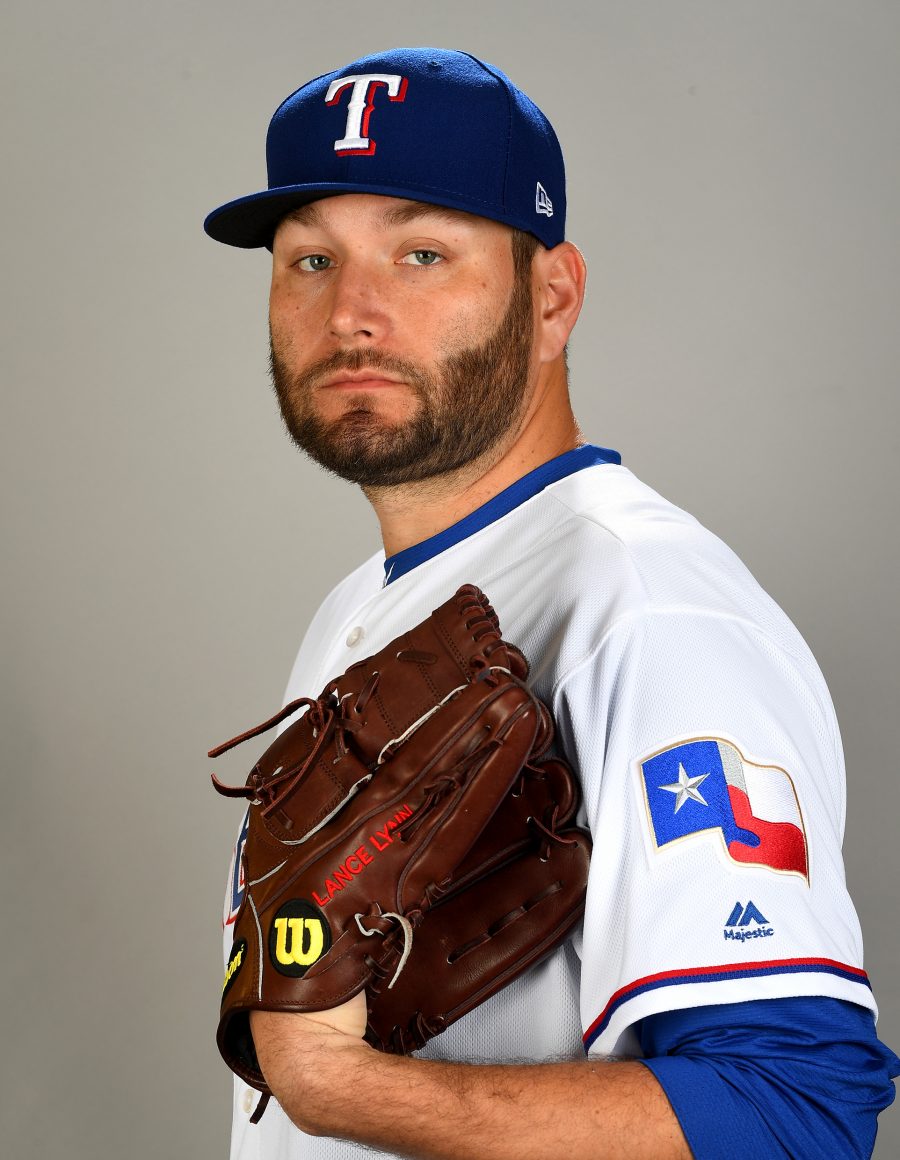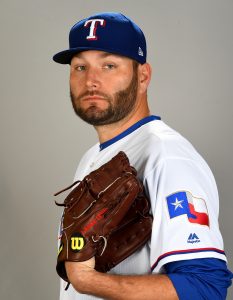 Few teams' rotations were worse off in 2018 than the Rangers', whose starters posted a bloated 5.37 ERA with a similarly horrid 5.18 FIP. Among their regular rotation possibilities, only Mike Minor and Cole Hamels, the latter of whom went to the Cubs in a midseason trade, offered passable production. Consequently, the rotation was an area of major emphasis for general manager Jon Daniels during the offseason.
Daniels swung yet another deal with the Cubs, landing southpaw Drew Smyly in a November trade that amounted to a cost-cutting move for Chicago, and then signed fellow veteran starters Lance Lynn and Shelby Miller in free agency. Smyly, Lynn and Miller are now penciled into the Rangers' season-opening rotation alongside Minor, who frequented trade rumors during the winter but ultimately stayed put, and Edinson Volquez. It's not the most inspiring group on paper, especially considering Smyly, Miller and Volquez are each coming off back-to-back injury-wrecked years; still, it does look like a clear improvement over last year's rotation – one that received flat-out awful numbers from almost every member of an eight-man crew consisting of Bartolo Colon, Yovani Gallardo, Martin Perez, Doug Fister, Matt Moore, Ariel Jurado, Yohander Mendez and Drew Hutchison. Of that octet, which combined for 99 starts in 2018, only Jurado and Mendez are still members of the Texas organization.
When enemy offenses chased Rangers starters from games last season, they turned to a mediocre bullpen that got worse when the team dealt Keone Kela, Jake Diekman and Jesse Chavez at the July 31 non-waiver trade deadline. The Rangers followed those deals by trading yet another key reliever, Alex Claudio, in December, acquiring a top 40 draft pick from the Brewers for his three years of control. It's anyone's guess whether that selection will bear fruit for the Rangers, but it's a worthwhile return for what the non-contending team believed was a superfluous reliever.
To help make up for their departed relievers, the Rangers are turning back to the 35-year-old Chavez, whom they reunited with in free agency on a reasonable contract. Chavez was terrific last season, though more so with the Cubs than the Rangers, while fellow veteran addition/inexpensive signing Shawn Kelley logged quality numbers between Washington and Oakland. The same wasn't true for the Rangers' other major league bullpen signing, Zach McAllister, who bombed in Cleveland and Detroit. But the hard-throwing McAllister entered 2018 with a nice track record, and on a $1MM salary, he's worth a try for Texas. The Rangers' hope is that Chavez, Kelley and McAllister will help form a capable bridge to lights-out closer Jose Leclerc, who tore through opposing lineups during a jaw-dropping 2018 en route to a team-friendly contract extension.
Leclerc and the other holdovers from the Rangers' 2018 staff are adjusting to a new regular catcher, free-agent signee Jeff Mathis, who's succeeding Robinson Chirinos. The swap may be a boon to the Rangers' pitchers, as Chirinos – whom the club cut in November – is nowhere near Mathis' level defensively. Whereas Chirinos has been a minus defender throughout his career, particularly in 2018, Mathis has been regarded as a top-notch backstop during his long tenure in the majors.
Defense has been the main calling card for Mathis, but it was only part of the all-around greatness of Beltre, who closed the door on both an eight-year Texas tenure and a Hall of Fame career in November. In the wake of Beltre's exit, Daniels was tasked with trying to replace a Rangers legend, one who was a cornerstone on the field and a revered leader in the clubhouse. Stepping in for Beltre is an unenviable gig, then, and veteran free-agent signing Asdrubal Cabrera and largely untested trade pickup Patrick Wisdom figure to get first dibs.
Once the crown jewel of the Rangers' farm system, Profar saw plenty of action with Beltre in the Rangers' infield in recent seasons. It took the 26-year-old Profar until 2018 to turn into a real major league asset, though, and once Beltre left, he looked like the in-house favorite to man third base. Instead, unable to extend Profar, the Rangers decided in December to send him and his remaining two seasons of control to the division-rival Athletics for a futures package. Of the players Texas landed in the trade, two – righty Brock Burke (No. 9) and infielder Eli White (No. 16) – are now among their top 20 prospects at MLB.com.
While it appears the Rangers' post-Beltre and Profar infield will consist of Cabrera and Wisdom at third, Logan Forsythe could also see time at the hot corner, among other spots. Forsythe was a valuable player with the Rays from 2015-16, an 1,182-plate appearance span in which he totaled 6.7 fWAR, but he faded with the Dodgers and Twins between 2017-18 (1.6 fWAR over 855 PAs). As a result, Forsythe had to settle for a minor league contract. He's one of several well-known veterans who accepted minors pacts from Texas, which also signed outfielder Hunter Pence, infielder/pitcher Matt Davidson and righty Jason Hammel in recent months. Pence is back in Texas, where he stood out with the Astros from 2007-11, and trying to put two straight horrendous seasons with the Giants in the rearview. It seems he and Hammel will make the Rangers' Opening Day roster, while Davidson's battling with Forsythe to do the same. As a league-average, high-strikeout hitter who offers little defensive value, Davidson's unexciting in a conventional role. However, the ability to serve as a mop-up man makes Davidson unique and could help him earn a spot over Forsythe.
Questions Remaining
As a club coming off a 67-win season, questions unsurprisingly abound in Texas. For one, there isn't a surefire star in their position player group, as only three returnees (Joey Gallo, Rougned Odor and Shin-Soo Choo) posted at least 2.0 fWAR in 2018. Meanwhile, fellow holdovers Elvis Andrus, Nomar Mazara, Ronald Guzman and Delino DeShields are all back in starting roles after notching below-average production in 2018, and the newcomers bring their own question marks.
As good as he is behind the plate, Mathis has never resembled a big league-caliber hitter, which means the Rangers will miss Chirinos in that regard. At $4.5MM, it was surprising the Rangers jettisoned the offensively solid Chirinos, defensive shortcomings be damned. Then there's the 33-year-old Cabrera, who only has 67 third base appearances on his resume and has become a defensive disaster in the middle infield as he has aged. To Cabrera's credit, he has been well above average as a hitter over the past few seasons, which is more than can be said for most of the other Rangers slated for prominent roles this year.
On the pitching side, it's up in the air whether the Rangers' starters can hold up and perform effectively. Lynn has generally done both, though the 31-year-old did have an up-and-down 2018 split between the Twins and Yankees. Smyly was quite promising during his tenures with the Tigers and Rays earlier in his career, but he hasn't pitched since 2016 and is returning from 2017 Tommy John surgery. Miller's a former standout prospect who prevented runs at an excellent clip with the Cardinals and Braves from 2012-15, but he has been awful since then and, like Smyly, underwent Tommy John surgery in 2017. He then missed nearly all of last season on account of elbow problems. And Volquez, yet another TJ patient from 2017, sat out all of last year. That aside, the 35-year-old journeyman has never been the picture of consistency in the majors.
With the Rangers unlikely to contend in 2019 and all of their starters (with the exception of Lynn) under control for two or fewer years, any of them could turn into midseason trade chips if they stay healthy and turn in respectable production. No one else on the roster – not even Leclerc – looks untouchable either, though Choo would be especially difficult to move because of the $42MM coming his way through 2020. It's also possible the Rangers would rather extend players like Gallo and Mazara, whom they hope are true linchpins, than part with them. There may be less urgency with the power-hitting Gallo, who has four years of control left (including one more pre-arb season) compared to Mazara's three. But the 25-year-old Gallo has unquestionably been the better major leaguer to this point. Mazara, 23, is teeming with upside, yet he has managed an unspectacular 92 wRC+ with 1.5 fWAR in 1,720 plate appearances.
Given that neither Mazara nor anyone else in Texas has come to the fore as a franchise player, there's a case that the team should have pursued Bryce Harper and Manny Machado during their months-long trips to free agency. Both players recently ended up with historic contracts – the Phillies gave $330MM to Harper, and the Padres committed $300MM to Machado – but it's possible the Rangers could've afforded either. After all, the franchise has been an above-average spender since Ray Davis and Bob Simpson purchased it in 2010, and Andrus and Odor are the lone pricey long-term commitments on its books. Moreover, either Harper or Machado could have generated further excitement for the Rangers as they gear up to open a new ballpark in 2020. Ultimately, though, the players' high asking prices scared off the Rangers, who – like the rest of baseball – won't have a chance to bid on a pair of 26-year-old superstar free agents again in the near future. It seems like a missed opportunity for Texas, which is devoid of a headlining major leaguer and, per ESPN's Keith Law, only has the game's 20th-best farm system.
2019 Season Outlook
If the Rangers are going to push for a playoff spot in 2019, a ton of things have to go exactly right, including health and effectiveness from their rickety rotation and high-caliber performances from position players such as Gallo, Odor, Andrus, Mazara and Willie Calhoun. More realistically, a third straight lean year seems to be in the offing for Texas, which hasn't sniffed the .500 mark since 2016. That said, it could still be a productive campaign for the Rangers if some of their young players prove to be legit building blocks and expendable veterans boost their stock leading up to the trade deadline.
How would you grade the Rangers' offseason moves?  (Link for app users.)
Photo courtesy of USA Today Sports Images.