The Rangers have struck an extension with reliever Jose Leclerc, as first reported by Evan Grant of the Dallas Morning News. Leclerc, who is represented by Munger English Sports Management, receives a $14.75MM guarantee over a four-year term. The Rangers will have a pair of options valued at $6MM (2023) and $6.25MM (2024).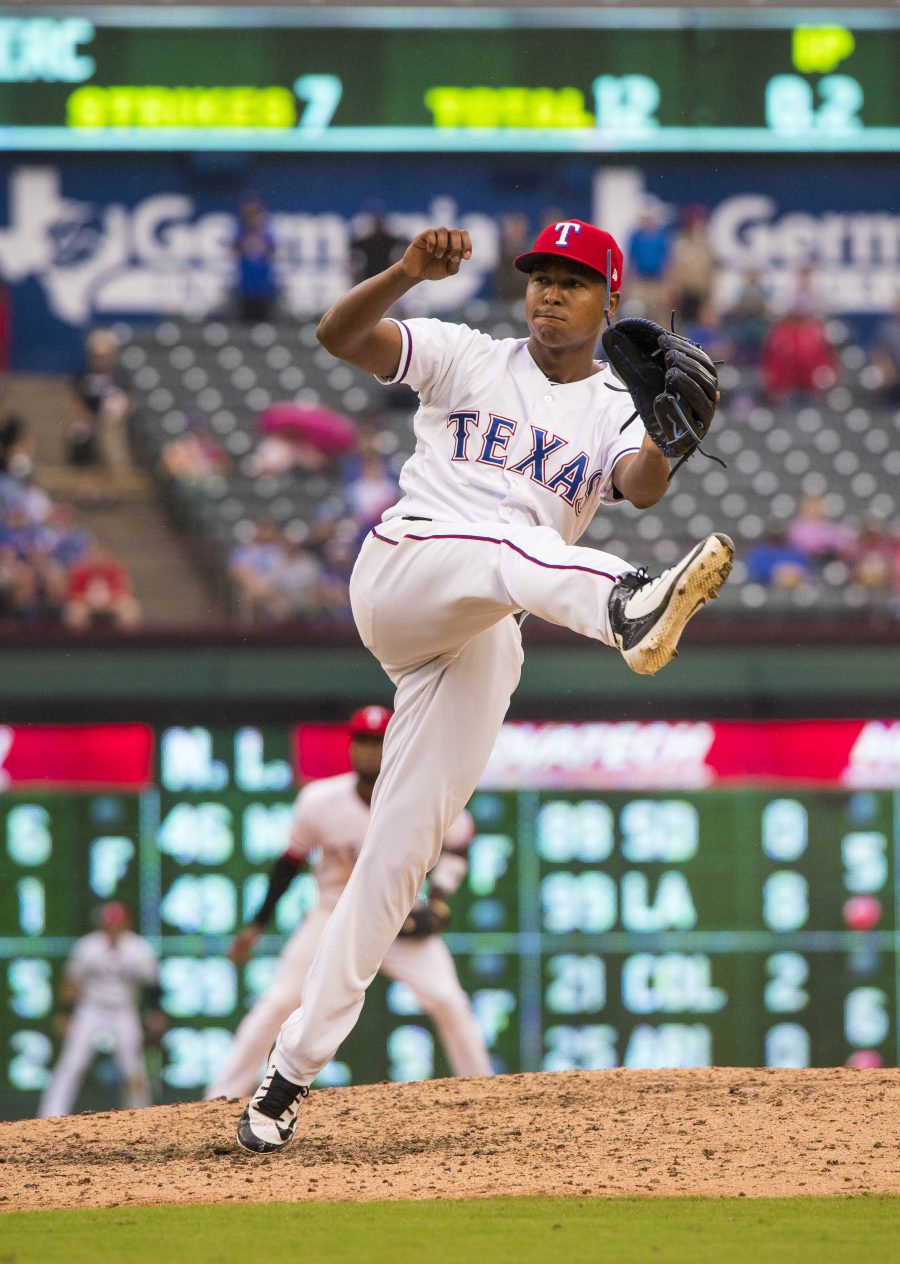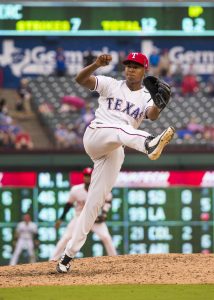 Leclerc, 25, was still one season away from reaching arbitration eligibility, so this contract will provide him with no shortage of additional financial security. The organization, in turn, will lock in cost savings and certainty for a pitcher whose prospective earnings could have risen substantially with an ongoing accumulation of saves.
The new contract covers the 2019 season along with Leclerc's three prospective arbitration-eligible campaigns. He'll receive a $2MM signing bonus, followed by $1MM, $2.25MM, $4MM and $4.75MM salaries. There's a $750K buyout on the club option years, which cover Leclerc's first two potential free-agent seasons (the hurler's age-29 and 30 seasons).
This deal comes on the heels of a breakout 2018 campaign in which Leclerc took over the Rangers closer's role and established himself as one of the game's most exciting young relievers. He ultimately worked to a 1.56 ERA in 57 2/3 innings with 13.3 K/9 and 3.9 BB/9.
Leclerc's offerings — a mid-nineties heater and splitter, primarily — have always been tough to square up. In his first two looks at the big leagues, though, Leclerc did not command them. He dished out a whopping 53 free passes in his first 60 2/3 MLB innings.
Last year, Leclerc nearly halved his walk rate (from nearly twenty percent to 11.2%) while retaining his elusiveness. MLB hitters struggled badly in all respects. Leclerc maintained an excellent 17.1% swinging-strike rate, surrendered only 3.7 hits per nine, and allowed only a single long ball on the year. He was a Statcast darling, placing among the league leaders in wOBA-against (.205), xwOBA-against (.210), exit velocity (83.7 mph), and hard-hit percentage (20.0%).
There aren't many comparable extensions for early-career relief pitchers — in large part because teams rarely feel compelled to commit future money to such players. In fact, among contracts documented in MLBTR's Extension Tracker, this is actually only the second-ever deal that expanded a team's control rights over a relief pitcher with more than two years of MLB service but not enough to qualify for Super Two status. Way back in 2011, the White Sox inked a three-year deal with Sergio Santos that promised him $8.25MM and came with three option years. His option seasons were valued at $6MM, $8MM, and $8.75MM, so there was a bit more overall earning power in that pact.
A pair of deal with two exceptional southpaw hurlers are also worth noting as comps. As a Super Two reliever, Felipe Vazquez secured $22MM in promised money while giving the Pirates control over two additional campaigns at $10MM each. That contract covered a similar arb/free agent span as Leclerc's, but Vazquez had already reached arbitration eligibility — meaning his downside was protected because he was set to receive a significant salary and had established a high starting point for his arb years.
Before that, back in 2014, Sean Doolittle and the Athletics agreed to a deal that looks like the closest comp to Leclerc's. At the time, Doolittle was one season away from highly likely Super Two qualification. He was promised $10.5MM, which boosted up to $13.5MM when he ultimately did have enough service time to join the Super Two class. That agreement came with $6MM and $6.5MM options. Doolittle was much older than Leclerc, presented a notable health risk, and was a season further away from free agency, though he was also arguably a higher-floor pitcher from a performance standpoint. As with Leclerc's contract, the Doolittle deal bought out all of the seasons that were already under the club's control (five in the A's case) and did so at a point when the player was still a full season removed from arbitration eligibility. In each case, the team's willingness to pay up was surely due to a combination of two overriding factors: first, a fear of run-away arb salaries; second, the rights to a pair of highly affordable option years.
While Leclerc's contract doesn't seem to break new ground, then, it's still a nice deal for a player who did not originally sign for big money and has only earned at the league minimum to this stage of his career. Few relievers achieve this kind of contract precisely because the earning outlook is so uncertain — especially before reaching arbitration. Leclerc could well turn into a 40-save monster who would substantially out-earn his new deal. But he's just one injury or a creeping command problem away from missing out on save opportunities and entering arbitration with fairly meager statistical record to work with.
Grant (Twitter links), MLB.com's T.R. Sullivan (in a tweet), Ken Rosenthal of The Athletic (Twitter link), and Jeff Wilson of the Fort Worth Star-Telegram (via Twitter) reported the contract terms.
Photo courtesy of USA Today Sports Images.