This is the latest post of MLBTR's annual Offseason in Review series, in which we take stock of every team's winter dealings.
The Blue Jays added some veteran stopgaps to their roster, while saying goodbye to some of the best-known members of their 2015-16 playoff teams.
Major League Signings
Freddy Galvis, SS: One year, $5MM (includes $1MM buyout of $5.5MM club option for 2020)
Matt Shoemaker, SP: One year, $3.5MM
Clay Buchholz, SP: One year, $3MM
David Phelps, RP: One year, $2.5MM (plus 2020 club option worth between $1MM-$7MM, based on games pitched)
Daniel Hudson, RP: One year, $1.5MM
Total spend: $15.5MM
Trades And Claims
Notable Minor League Signings
Notable Losses
[Blue Jays Organizational Depth Chart; Blue Jays Payroll Outlook]
Needs Addressed
The rotation was Toronto's clearest area of need going into the offseason, and as expected, the Blue Jays added some inexpensive veteran arms to bolster a very young crop of starting pitchers.  Matt Shoemaker, Clayton Richard, and (eventually) Clay Buchholz will all take turns in the rotation, backing up the incumbent top two of Marcus Stroman and Aaron Sanchez.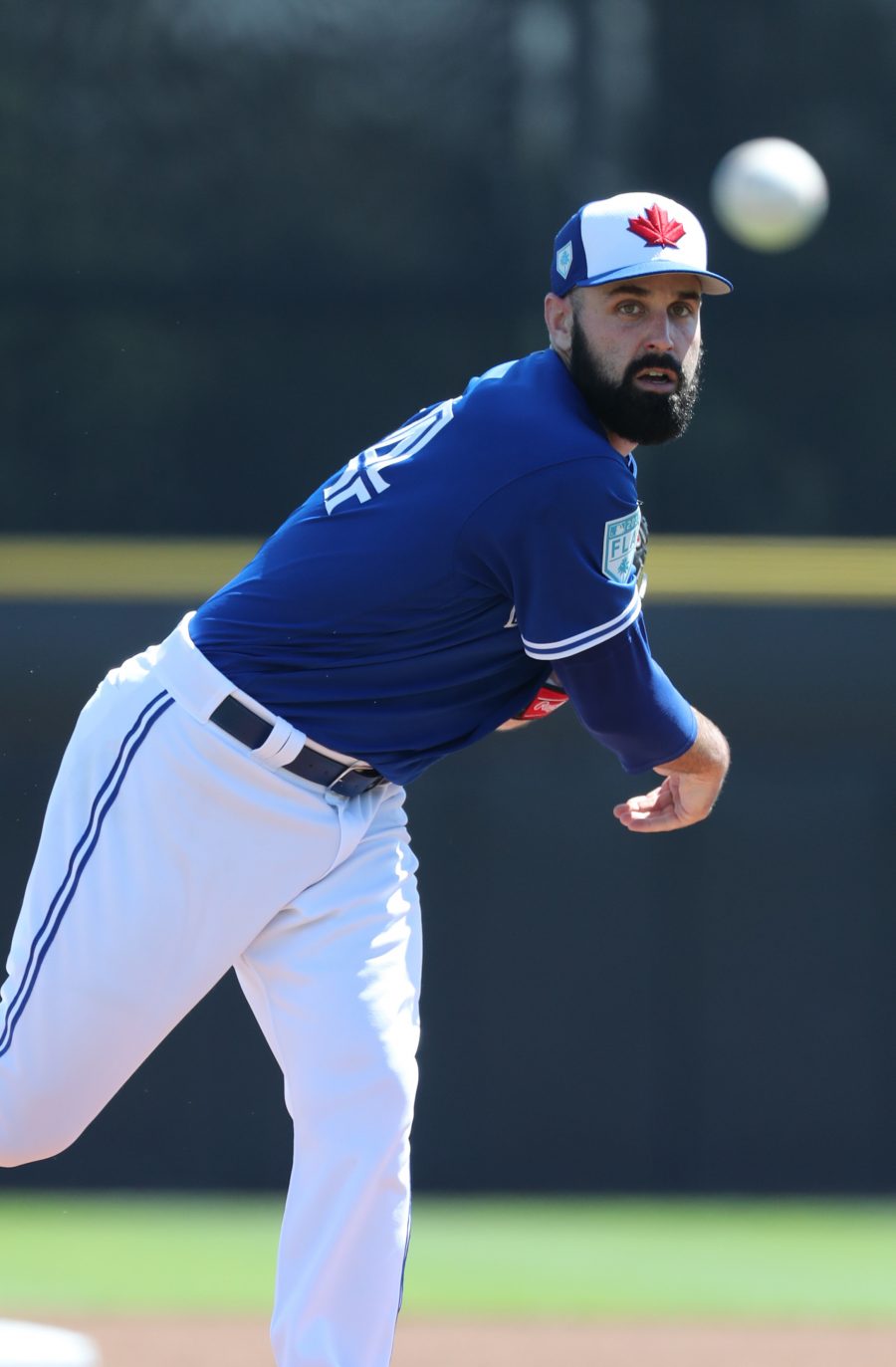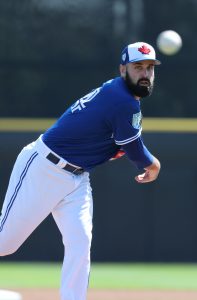 Naturally, there's a lot of uncertainty baked into that mix given the lengthy injury histories of Shoemaker, Buchholz, Sanchez, and even Stroman and Richard last season.  There's also the looming possibility that any of these pitchers could find themselves on new teams by the trade deadline.  As such, Ryan Borucki is expected to receive plenty of starts throughout the course of the year, though Borucki himself will miss some time to begin the season.  One of Sean Reid-Foley, Thomas Pannone, Sam Gaviglio, and the newly-acquired Trent Thornton will fill in while Borucki is out and until Buchholz gets game-ready, and these younger arms are likely to get their share of innings before 2019 is out.
Could Toronto's rotation end up being a quiet strength for the team?  It would require a lot of bounceback years, though it isn't out of the question, especially if Stroman is healthy after an injury-filled 2018 and Sanchez has finally gotten over the finger/blister problems that have plagued him over the last two years.  Shoemaker's last two seasons have been marred by injuries, though when he did pitch last season, his peripheral numbers were much better than his 4.94 ERA over 31 innings for the Angels would indicate.  Buchholz delivered an eye-popping 2.01 ERA over 98 1/3 innings of work for Arizona last season before a flexor mass strain in September ended his year.
Beyond the rotation, the Jays made their now-annual additions of relievers who could very well become midseason trade chips.  In the tradition of such past names as Joe Smith, Seunghwan Oh, and John Axford, this winter's crop of bullpen signings included David Phelps, Daniel Hudson, Bud Norris, and temporarily Axford again, though he was released in the wake of elbow problems that will sideline the Canadian right-hander for at least a month.  (It wouldn't be surprising, though, to see the Jays re-sign Axford to a new contract in short order.)
It should be noted that Hudson is the only of this group who is entirely healthy.  Norris has been limited in Spring Training, while Phelps won't be back until midseason due to his recovery from March 2018 Tommy John surgery.  This timeline likely means that Phelps may not be dealt at all; his contract contains a flexible club option for 2020, as both the Blue Jays and the right-hander are seemingly approaching this year as something of an extended recovery period.
As with the new starters, the new relievers also have some upside.  Norris was the Cardinals' closer for much of 2018, and Phelps was a strong contributor for the Marlins and Mariners in 2016-17 before undergoing surgery.  The combination of Hudson, Norris, Ryan Tepera (if healthy, that is) and closer Ken Giles gives the Jays a pretty solid end-game mix, and a recovered Phelps will only improve that group.  Sergio Romo and Adam Warren were a couple of the other bullpen names considered by the Blue Jays this winter.
After Aledmys Diaz was traded to Houston for Thornton, and Troy Tulowitzki was given an outright release, the shortstop position was seemingly cleared for Lourdes Gurriel Jr.  Instead, however, it now looks like the Jays have an eye towards playing Gurriel all over the diamond since he might not be ready for the defensive challenge of being an everyday shortstop.  (Indeed, it looks like Gurriel will begin the year as a second baseman, since Devon Travis is again sidelined with knee problems.)
Minor league signing Eric Sogard could end up filling the utility infield void, and for the regular shortstop role, the Blue Jays turned to Freddy Galvis.  The former Phillies and Padres infielder is the picture of durability (he has played in every game in the last two seasons and averaged 158 games per year since 2015), and he brings more defensive stability up the middle.  How much stability is perhaps a question depending on which of Galvis' strangely divergent defensive metrics you believe, as he went from a +3.2 UZR/150 and minus-5 Defensive Runs Saved in 2017 to minus-3.8 UZR.150 and +7 DRS last season.  Even just average glovework, however, represents an upgrade for a Jays team that was one of the league's worst defensive clubs in 2018.
Questions Remaining
The Blue Jays moved squarely into rebuild mode last season, and this winter continued to be about setting the table for their future young talent.  To that end, the Jays bid adieu to some stalwart veterans — Marco Estrada departed in free agency, Tulowitzki was released, and Russell Martin was dealt to the Dodgers.
The latter two moves were more about roster clearance than financial flexibility, as the Jays are still on the hook for just under $54MM total owed in remaining contract obligations to Martin (through 2019) and Tulowitzki (through 2020).  Naturally, the team had little hope of finding a trade partner to eat even more of that figure given that Tulowitzki missed all of 2018, while Martin struggled to just a .194/.338/.325 slash line through 352 plate appearances.
Even accounting for these two big contracts and the $12MM remaining on Kendrys Morales' contract, the Jays have very little in the way of future salary obligations; Gurriel is the only player owed money beyond the 2020 season.  This led to some speculation that Toronto could explore some of the bigger-name players available this winter, and the Jays did indeed raise some eyebrows when they were linked to some major Scott Boras clients (Bryce Harper, Dallas Keuchel, Marwin Gonzalez, Yusei Kikuchi) on the rumor mill.  While it seems like the Blue Jays made a legitimate bid for Kikuchi, the other talks were perhaps exploratory at best, and only Harper and Kikuchi would have fit as a true longer-term asset for a Jays club that doesn't appear ready to contend until 2021.
Until then, the Jays will focus on determining which of their group of highly-touted young players will be part of this next core.  2019 will finally see the debut of Vladimir Guerrero Jr. on the Major League stage, as attention can finally turn to Guerrero's prodigious on-field talents, rather than his status (perhaps shared with Kris Bryant) as the poster child for clubs keeping top prospects in the minors just long enough to gain an extra year of team control.  The situation became a moot point in Guerrero's case, since his recovery from an oblique strain will keep him out until at least mid-April anyway.  Still, "oblique" might also be a good description of Jays executives' increasingly far-flung arguments for why Guerrero wasn't ticketed for the Opening Day roster, since obviously they couldn't openly mention service time considerations.
The Jays' plan is to deploy Brandon Drury at third base until Guerrero arrives, then move Drury to second base, perhaps in a timeshare with Gurriel or (if healthy) Travis.  Alternatively, Gurriel could split time between second base, shortstop, and left field, joining Teoscar Hernandez and Billy McKinney in the left field mix.  Outfielder Anthony Alford has enjoyed a big Spring Training, and he'll get a longer look sometime this season if he proves capable of staying healthy and gets some more minor league seasoning.
As with the rotation, the Blue Jays' position player mix is pretty fluid since at least some of the club's veterans (Morales, Galvis, Randal Grichuk, Justin Smoak, Kevin Pillar) are likely to be wearing different uniforms come September.  Smoak and Pillar each received a bit of trade buzz over the winter, with Smoak getting some attention from the Rockies and Pillar from the Giants, though no moves involving that group have ultimately been made. (A deal prior to Opening Day is still technically possible.)
Since Toronto faces a steep uphill battle in the AL East, it wouldn't be surprising to see the team start shopping its veterans relatively early, potentially to get the jump on other sellers.  Especially now that the August trade period is no more, one wonders if the Jays might be open to trading Smoak, Pillar, and to a somewhat lesser extent Grichuk or Galvis at any time this season, rather than waiting until the July 31 trade deadline.
The same could be said of Stroman, Sanchez, or Giles, who project as Toronto's top potential trade chips.  The Jays were reportedly open to dealing Giles this winter, while Stroman and Sanchez each received attention.  Stroman in particular drew significant interest from such teams as the Reds and Padres.  Stroman has made it clear he wants to stay in Toronto and was displeased at the lack of contract extension talks as well as the fact that the team wasn't making a bigger push to contend in 2019.
Since the Jays' asking price for the two starters was, in the words of Sportsnet's Ben Nicholson-Smith, found by some suitors to be "uncomfortably high," it makes more sense for Toronto to keep Stroman and Sanchez for at least the opening portion of the season.  This allows the two right-handers to rebuild their value by proving that they're both recovered from their rough 2018 seasons.  If the Blue Jays see Stroman and Sanchez as part of the rebuild process rather than rotation cornerstones of their next contending roster, the team surely wants to maximize its return in potential trades, particularly after receiving relatively little for Martin and Josh Donaldson.  With both Stroman and Sanchez controlled through 2020, a healthy version of either pitcher would draw widespread interest.
2019 Season Outlook
Another year in the 73-78 win range seems likely for the rebuilding Jays, as a very tough division schedule will make it hard for even an improved team to gain much traction in the AL Wild Card race.  If Guerrero comes close to matching his incredible projected numbers, however, it'll be an exciting year for Toronto fans.
How would you grade the Blue Jays' offseason moves?  (Link for app users.)
Photo courtesy of USA Today Sports Images