If you're an offensive player in baseball, there is nothing more important than avoiding outs. Common sense indicates the more you get on base – whether with a hit, a walk or a hit by a pitch – the better your team's chances are of scoring and ultimately winning. That's why on-base percentage is more useful than batting average or slugging percentage, two other conventional stats that help define a hitter's value.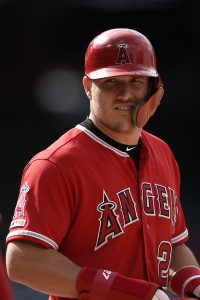 Just six qualified hitters reached the .400-OBP mark in 2018.  The group included the best player in baseball, another potential Hall of Famer, each league's MVP, an elite hitter who helped his team to a championship and a potential star in the making. Let's take a look at how that six-man club is doing in 2019…
Mike Trout, Angels (2018 OBP: .460):
Here's the "best player in baseball" mentioned above. The 27-year-old Trout has reached 45.5 percent of the time through 231 plate appearances, putting him right in line with last year's league-best effort. He's also on track for his fifth straight season with at least a .400 OBP. Trout was a .312 hitter in 2018 who walked 20.4 percent of the time. His average has noticeably dropped (to .283), but his walk rate is up a bit and opposing pitchers have helped Trout's cause by already hitting him six times. He wore 10 pitches last year in 378 more PA.
Mookie Betts, Red Sox (2018 OBP: .438):
Betts got on base a bit less than Trout last season, but the Boston superstar led the sport in fWAR en route to AL MVP honors. While Betts hasn't been quite as sharp this year, he has still avoided outs at a phenomenal clip (.400 in 255 trips to the plate). The 26-year-old has walked 14-plus percent of the time for the second consecutive season, but a 55-point decline in batting average (.346 to .291) and a 54-point BABIP drop (.368 to .314) have hurt his OBP. Plus, Betts isn't on pace to match the eight HBPs he totaled in 2018, having picked up only two so far.
Joey Votto, Reds (2018 OBP: .417):
Votto's the "potential Hall of Famer" named in the opening. The hitting savant has managed a remarkable .424 OBP dating back to his 2007 debut, in part because he has drawn nearly as many walks as strikeouts. However, that hasn't been the case in 2019. Now in his age-35 season, Votto's walk rate is at a pedestrian-by-his-standards 11.6 percent – down nearly 5 points from his career mark –  while his strikeouts have soared. Putting the ball in play less helps explain why Votto, a lifetime .309 hitter, has only mustered a .242 average this season. Worse, Statcast credits Votto with a .229 expected average, indicating a rebound may not be on the way. Despite his newfound woes, Votto has still put up an above-average .340 OBP in 215 PA this year, but it's nothing to get excited about in the venerable first baseman's case.
Brandon Nimmo, Mets (2018 OBP: .404):
Nimmo's far and away the least accomplished member of this list, but that doesn't take away that the 26-year-old was a stupendous offensive player in 2018. As only a .264 hitter, though, his high OBP came thanks in part to a league-leading 22 HBPs over 433 PA. Nimmo has not been a magnet for pitches this year, however, having taken three in 130 trips to the plate. He's also batting a mere .200 and has seen his BABIP fall from .351 to .288. Nimmo is collecting walks at a terrific clip (16.1 percent), but his .344 OBP is still a 60-point drop-off from last season.
Christian Yelich, Brewers (2018 OBP: .402):
We arrive at the other MVP on this list. What's Yelich, 26, doing for an encore? Well, he ranks third in the majors in OBP (.425), in part because his walk rate has climbed from 10.4 percent to 15.1. Yelich has also logged a .314 average even though his BABIP has sunk 87 points since last year.
J.D. Martinez, Red Sox (2018 OBP: .402):
Martinez, described above as "an elite hitter who helped his team to a championship," has been closer to very good than great this season. A .375 BABIP/.330 average helped drive Martinez's OBP last season, but he's at .315/.298 in those categories through 219 PA this season. Consequently, the 31-year-old has "only" reached base 37.9 percent of the time. But Martinez is striking out a lot less, which bodes well, and Statcast puts his expected average at .321. Another .400-OBP season certainly isn't out of the question for Martinez.
Photo courtesy of USA Today Sports Images.