June 7, 6:44pm: The team has formally announced the contract.
Jon Heyman of MLB Network has further details. (Links to Twitter.) Games-finished escalators can boost the option buyout value from the $1MM base; Kimbrel can add another $1MM apiece by reach 53 games finished in 2020 and 2021. The option vests if Kimbrel finishes 110 total games between 2020 and 2021, at least 55 of which come in the latter season, and a doctor determines that he does not have a "non-temporary" injury (the details of which are surely defined in the contract).
Kimbrel also picks up no-trade protection. He can't be dealt this season without his approval. He'll have an eight-team no-trade list for the 2020 season. The deal does not provide any limitations thereafter.
9:11am: Kimbrel has passed his physical, per Heyman (Twitter links), and an introductory press conference is set to take place prior to today's game.
June 5, 9:06PM: The deal pays Kimbrel $10MM this season, and $16MM in both 2020 and 2021, ESPN.com's Jeff Passan reports (Twitter link).  There is a vesting option for 2022 that pays Kimbrel $16MM if it vests, Heyman reports (via Twitter), while it becomes a club option if it doesn't vest.  The buyout of the option year is $1MM.
Also from Passan, Kimbrel could potentially join the Cubs before June 20.  The closer "has been electric" in workouts in front of scouts.
8:21PM: Craig Kimbrel's long wait in the free agent market is over.  The closer has agreed to a multi-year deal with the Cubs that will become official once Kimbrel passes a physical, The Athletic's Ken Rosenthal reports (links to Twitter).  Rosenthal originally reported the dollar figure as close to $45MM, and MLB Network's Jon Heyman reports that Kimbrel will be paid $43MM (via Twitter) through the 2021 season.  Kimbrel is represented by SportsMeter.
Unsurprisingly, Kimbrel's protracted time on the open market wrapped up shortly after the amateur draft.  Since Kimbrel turned down a one-year, $17.9MM qualifying offer from the Red Sox, any team that signed the veteran closer had to give up some type of compensation in the form of at least one draft pick, plus potentially international signing bonus money and even another pick depending on the identity of the team who landed Kimbrel.  However, this draft pick compensation no longer applied to Kimbrel (or fellow free agent holdout Dallas Keuchel) once draft day hit, removing one of the key hangups any interested team might have had about a signing.
As well, Kimbrel and his representatives aimed very high in their initial contract demands, reportedly looking for a nine-figure deal that would've set a new record for a free agent closer.  That said, it's very common for free agents to hit the market with a big asking price as a starting point, yet Kimbrel's market never seemed to really develop even as the offseason continued and his contract demands fell into the three-year range.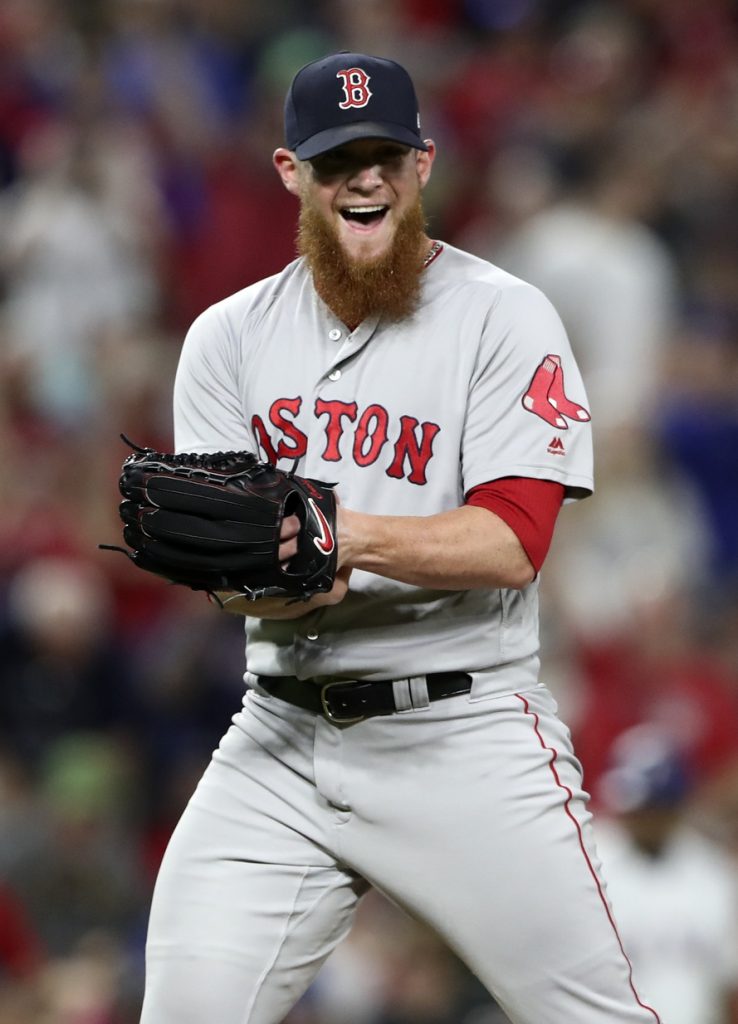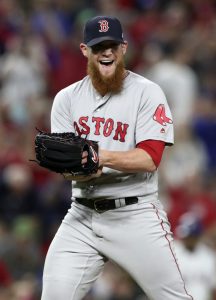 It could be that the market has simply shifted, and front offices are no willing to commit the type of long-term financial commitments (especially with draft and international market penalties involved) for free agent stoppers that were available to the likes of Aroldis Chapman, Kenley Jansen, or Mark Melancon just as recently as the 2016-17 offseason.  That said, it's still a surprise to realize that over a third of the season elapsed before any club was willing to ink a player with as sterling a track record of ninth-inning success as Kimbrel.
With a career 1.91 ERA, 14.7 K/9, and 4.23 K/BB rate over nine seasons and 532 2/3 career innings, Kimbrel's resume could very well eventually land him in Cooperstown down the road.  While 2018 wasn't as dominant as some of his past years, Kimbrel still seemed to have a viable platform year with a 2.74 ERA, 13.86 K/9, and 3.10 K/BB over 62 1/3 frames for the World Series-champion Red Sox.
Beyond the surface numbers, however, there were some red flags.  It was hard to ignore Kimbrel's increased struggles in the second half of last season, and then through Boston's playoff run (a 5.91 ERA over 10 2/3 postseason innings).  Kimbrel has also had some control issues in two of the last three seasons, with a 4.48 BB/9 last year and a 5.09 BB/9 in 2016.  These issues could have been enough for teams to hesitate about guaranteeing five or six years to a pitcher in his 30's (Kimbrel turned 31 in late May) when he was perhaps already showing some signs of slowing down.
Multiple teams were linked to Kimbrel's market at various points over the last seven months, including several showing increased interest in the last couple of weeks as the draft (or, the qualifying offer expiration date) approached on June 3.  The Rays, Phillies, Braves, Brewers, Twins, Nationals, and Red Sox all had some degree of interest while Kimbrel was available.
While the Cubs always seemed like a good on-paper fit, they seemingly only emerged late in the game due to some unexpected luxury tax room opening up.  Ben Zobrist's placement on the restricted list on May 8 means that his salary no longer counted towards Chicago's luxury tax calculations, and if Zobrist misses the entire season (which seems increasingly likely at this juncture), the Cubs would have around $9MM to work with, money has seems to have fueled their push for Kimbrel.
Theo Epstein and company headed into the offseason with a need for bullpen help, with closer Brandon Morrow undergoing elbow surgery in November and still without a clear timetable to return.  Despite needs in the pen and elsewhere on the roster, however, the Cubs were very circumspect about their winter spending, due to a desire to stay under the maximum luxury tax threshold and team chairman Tom Ricketts' controversial claim that "we don't have any more" to spend.
Prior to the Kimbrel signing, Roster Resource projected the Cubs at just over $227.7MM in luxury tax payroll, putting the team in line for a 20% tax on every dollar spent above the $206MM luxury tax line, and then an additional 12% surtax for going more than $20MM over the line.  The average annual value of Kimbrel's deal works out to $14.333MM per season, thus keeping the Cubs from exceeding the $246MM maximum penalty threshold.  Spending more than $246MM would cost the Cubs 62.5% surcharge on the overage, and their top draft pick in 2020 would be dropped by ten slots.
So it could be a win-win situation for Chicago, as the team looks to both avoid the top tax threshold while also getting a closer to bolster a bullpen that has generally been around the middle of the pack this season.  With Pedro Strop returning from the injured list and now Kimbrel's addition, the Cubs suddenly have a much deeper pen to help them in their fight to win the NL Central.  Signing Kimbrel prior to June 3 would've cost the Cubs not only more money in salary, but also $500K in international bonus pool money and their second-highest pick in the 2019 draft (which ended up being the 64th overall selection).
For Kimbrel and his representatives, landing a multi-year contract represents some measure of a victory after the long wait, as several suitors were only interested in inking Kimbrel to a one-year deal for the remainder of the 2019 campaign.  While three years and $43MM is considerably less than Kimbrel expected at the start of the winter, the term isn't far from four years/$70MM predicted by MLB Trade Rumors' Top 50 Free Agents list back at the start of November, though nobody could've expected the wild path Kimbrel could take to eventually land his next contract.  If Kimbrel ends up pitching up to expectations, one suspects several teams will be kicking themselves over not signing Kimbrel when they had the chance.
The stopper is undoubtedly relieved to simply get his focus back on baseball, as he'll now join a contender in pursuit of another World Series ring.  The question now is when Kimbrel will actually join the Cubs, as while he has been training on his own in preparation for the season, it remains to be seen how long it will take for him to ramp up to be ready for MLB hitters.  The other looming question could concern Kimbrel's effectiveness, as other players whose qualifying offer-induced long waits in free agency (Stephen Drew and Kendrys Morales in 2014) both struggled badly after sitting out months of the season.
Photo courtesy of USA Today Sports Images