In July 2016, when the Yankees were on the periphery of the American League playoff race, they made the bold decision to trade superstar reliever Andrew Miller to the Indians for four players. Outfielder Clint Frazier and left-hander Justus Sheffield, two top 100 prospects, headlined an impressive-looking haul for the Yankees. The Yankees' hope then was that Frazier and Sheffield would eventually turn into indispensable pieces of their 25-man roster, but three years later, we now know it may not happen. Sheffield's already out of the organization, which flipped him to the Mariners last winter in a package for two years of control over front-line starter James Paxton. Frazier remains, though his place with the franchise could be on shaky ground.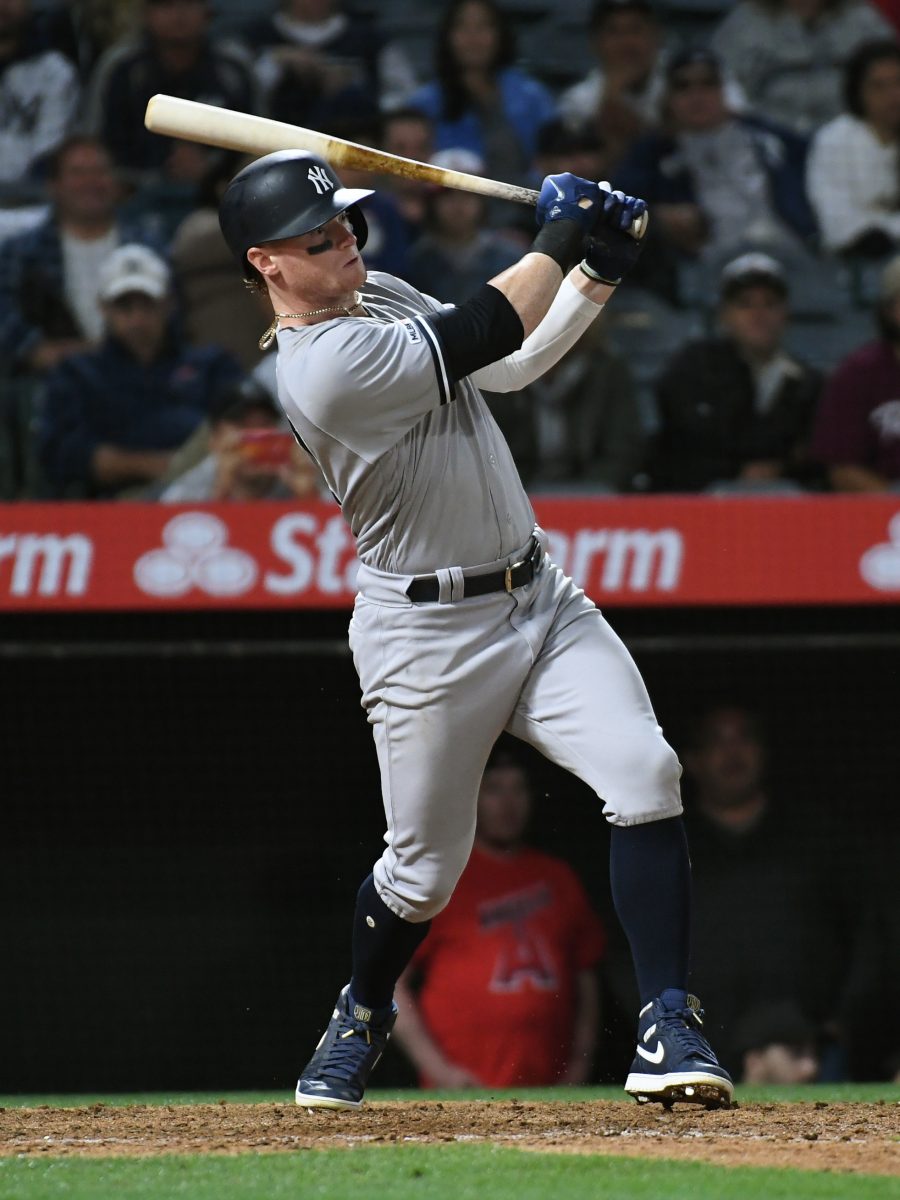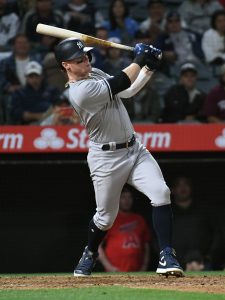 Frazier, who Yankees general manager Brian Cashman once said possesses "legendary bat speed," has already racked up his most significant major league playing time this season. Returning from a concussion-marred 2018, the 24-year-old has slashed a solid .283/.330/.513 (118 wRC+) with 11 home runs and a .230 ISO in 2019 plate appearances. Although that's starting-caliber offensive production on your typical team, a healthy Yankees lineup is anything but ordinary.
The acquisition of designated hitter/first baseman Edwin Encarnacion from the Mariners last weekend helped push Frazier out of New York, which subsequently sent him back to Triple-A Scranton. With Encarnacion and Luke Voit at DH/first and Aaron Judge, Giancarlo Stanton, Aaron Hicks, Brett Gardner and Cameron Maybin in the outfield, the team had little choice but to take advantage of its ability to option Frazier. Even with Maybin now going to the injured list, the Yankees may not recall Frazier because he'd mostly ride the bench.
Frazier was understandably displeased with the Yankees when they demoted him, though it seems they still hold him in high regard. Owner Hal Steinbrenner voiced his support for Frazier this week, saying he's going to be "a big part of this team going forward." Nevertheless, Steinbrenner's words won't quell the trade rumblings hovering around Frazier as the July 31 deadline nears. The Yankees don't have to trade Frazier, who's not on track to reach arbitration until after 2020 or free agency until the conclusion of the 2023 campaign, but they may not be able to find consistent playing time for him next year either. While Gardner and Maybin could be gone by then, most or all of Encarnacion (if his $20MM club option is exercised), Voit, Judge, Stanton and Hicks will return in prominent roles.
With little space for Frazier in the near term, the Yankees' best bet may be to flip him for help this year in an effort to boost a World Series-contending roster. Adding up Frazier's youth, production in the minors and majors, and controllable status, he'd be a valuable commodity on the trade market. New York's known to be hunting for a middle- or front-of-the-rotation starting pitcher – something it may be able to acquire by dangling Frazier in talks with other clubs. The Yankees don't boast a high-end farm system, which would make it all the more logical for them to use Frazier as trade currency this summer.
If the Yankees are going to trade Frazier in the next month-plus, it reportedly won't be for someone who's due to become a free agent. Should we take that at face value, it would rule out a deal involving Frazier and Giants left-hander Madison Bumgarner – this year's most hyped rental starter. Regardless, Bumgarner would have to waive his partial no-trade clause for the Yankees.
The Giants' outfield is abysmal, which would seem to make Frazier a fit, though it's still unclear whether they'd choose him over another team's offer that could be fronted by a top 100 prospect(s). After all, the vast outfield at Oracle Park in San Francisco is no place for a weak defender. Frazier has been that to this point. Factoring in his nationally televised misadventures in right field against the Red Sox on June 3, Frazier has posted minus-7 Defensive Runs Saved and a minus-4.0 Ultimate Zone Rating in just 319 innings as an outfielder this season. Those struggles aren't anything new for Frazier, who's at minus-12 DRS with minus-8.4 UZR during his 686-inning big league career as an outfielder.
Bumgarner's the most proven starter among likely trade chips, but he's not the most valuable. That honor belongs to Tigers lefty Matthew Boyd, who's enjoying a breakout season, makes a paltry 2019 salary ($2.6MM) and isn't set for free agency until after 2022. For all of those reasons, Frazier won't be enough to headline a package for Boyd, who should be able to net the Tigers a bounty headed by premium prospects. Besides, considering the Tigers don't want to continue their relationship with defensively limited, offensively gifted corner outfielder Nicholas Castellanos, it's fair to wonder how much they'd value a similar player in Frazier.
Meanwhile, Detroit's AL Central rental rival in Cleveland may have its own coveted trade chip in righty Trevor Bauer. The Indians are very much in the wild-card race, yet there has still been ample speculation about a Bauer trade. He's on a $13MM salary right now and controllable through 2020. Mark Feinsand of MLB.com wrote Thursday that a potential Yankees acquisition of Bauer "would probably be centered around" Frazier. There's logic behind that – the Indians are already familiar with Frazier, who'd be able to help their woeful offense on a cheap salary right away. However, Frazier alone wouldn't be able to pry Bauer and his year and a half of remaining control out of Cleveland.
It seems the Yankees would stand a better chance of using Frazier to net Blue Jays righty Marcus Stroman, who, like Bauer, is under control through 2020. Stroman doesn't have Bauer's upside, but he's enjoying a fine bounce-back season at an opportune time for rebuilding Toronto. The fact that Stroman's earning a reasonable $7.4MM will only help the Blue Jays' cause when they inevitably move him. Stroman would bring back promising prospects in a trade, but if the Jays want a more established player, Frazier's bat would fit in an outfield whose only productive full-timer has been Lourdes Gurriel Jr. Although New York and Toronto play in the same division, that wouldn't serve as a deterrent to a trade. These teams are just a year removed from a deadline deal which saw the Yankees acquire starter J.A. Happ for infielder/outfielder Brandon Drury and outfielder Billy McKinney.
Because we're discussing high-end starters who've come up in trade rumors, we would be remiss not to mention Nationals super-ace Max Scherzer and Diamondbacks No. 1 man Zack Greinke. John Harper of SNY.tv reported Friday the Yankees would love to acquire the still-dominant Scherzer (who wouldn't?), though it seems like much more of a pipe dream than a realistic hope on their part. For what it's worth, Nationals general manager Mike Rizzo shot down the idea of dealing the soon-to-be 35-year-old Scherzer last weekend. Even if Rizzo were to reverse course, Frazier wouldn't come close to leading a package for Scherzer.
Frazier would have a better chance to help the Yankees land Greinke, but there are obvious roadblocks standing in the way of that. For one, thanks in part to the 35-year-old Greinke's terrific production, the Diamondbacks are hanging in the NL playoff race. Still, if the team attempts to trade Greinke, his contract and 15-team NTC would complicate matters. Greinke, signed through 2021, is still owed upward of $90MM (including deferrals). He'll also count $34MM-plus per season against the luxury tax until his contract runs out. If the D-backs were to assume a large portion of Greinke's remaining deal, maybe they and the Yankees could work something out. Greinke would still have to sign off on a trade to the Bronx after that. All things considered, a swap around Frazier and Greinke looks like a long shot, to say the least.
More starters than the above figure to be available around the deadline, but ideal matches look hard to find from the Yankees' perspective. For instance, Texas lefty Mike Minor would give the Yankees what they want – an effective starter who's not a rental – though he probably won't wind up on the move with the Rangers in playoff contention. The same may apply to one of Greinke's D-backs rotation mates, Robbie Ray.
On paper, Frazier looks like a strong candidate to join a new organization by the end of July. However, in trading Frazier, the Yankees would likely need to acquire someone who would provide a noticeable boost to their World Series chances. We'll find out soon whether they'll be able to pull off that difficult feat.
Photo courtesy of USA Today Sports Images.