It has been almost a full year since the Yankees and Cardinals made what looked like a relatively minor trade at the time. On July 28, 2018, New York shipped relievers Chasen Shreve and Giovanny Gallegos to St. Louis for first baseman Luke Voit and international bonus pool money. There was no apparent need for Voit for the Cardinals, who had Matt Carpenter at first base and Jose Martinez capable of playing the position, and there still isn't now that Paul Goldschmidt's a Redbird. On the other hand, Voit has been manna for the Yankees, whose first base production left a lot to be desired in the few years leading up to his arrival.
Aside from a resurgent 2015, injuries and age took their toll on Mark Teixeira in the final few seasons of his career. He retired after his production nosedived in 2016. Similarly, constant injury issues have derailed the career of Greg Bird, who was once Teixeira's presumed heir apparent. The 26-year-old Bird's inability to stay on the field helped coax the Yankees into taking a flier on Voit last season.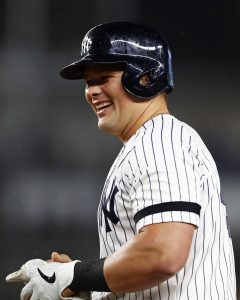 As just about everyone knows by now, Voit broke out as an absolute force after he first joined the Yankees. From his debut in pinstripes on Aug. 2 through the end of the year, Voit slashed .333/.405/.689 in 148 plate appearances and ranked second in the majors in isolated power (.356), third in wRC+ (194) and sixth in home runs (14). As you'd expect from those numbers, Voit packed a wallop.
Even in a lineup with the hard-hitting trio of Aaron Judge, Giancarlo Stanton and Gary Sanchez, Voit's ability to inflict damage on the baseball was eye-opening. Voit placed first in the majors in barrel percentage and third in rate of balls hit 95 mph or more, per Statcast, which showed little difference between his second-ranked weighted on-base average (.447) and his first-place expected wOBA (.438).
Although Voit was nothing short of marvelous in 2018, his unexpected brilliance still came over a small sample of at-bats. There was skepticism leading into this season as a result. When I asked MLBTR readers in February to predict Voit's 2019 OPS, most voters forecast a noticeable decline in comparison to what he did a year ago.
To some degree, those who expected Voit to come up well short of what he offered last season have been right. Good fortune played a part in his stunning output, after all. It would have been almost impossible for a slow runner like Voit to replicate last year's .365 batting average on balls in play. Indeed, he's down to .302 in that category as of this writing. Likewise, nearly 41 percent of his fly balls weren't going to continue leaving the yard. They haven't – he's at just under 27 percent as he approaches the 60-game mark in 2019. Thanks in part to that drop, his ISO has plummeted to a still-effective .251. Furthermore, the right-handed Voit has shown a bit of vulnerability against left-handed hurlers – whom he crushed last year – while producing far less than he did in 2018 against breaking pitches in general.
Clearly, some of Voit's marks have come to Earth this season. And yet, the 28-year-old has continued to serve as a legit offensive presence in his first full season in the Bronx. The production is hard to argue with – Voit has amassed 256 PA and hit .270/.383/.521 with 15 long balls, putting him on pace for 34, and the game's 28th-ranked wRC+ (140). It helps that he has upped his walks by almost 3 percent while cutting strikeouts by exactly 3 percent. He's also in baseball's 93rd percentile or higher in both xwOBA and expected slugging percentage, according to Statcast. Voit's .399 xwOBA outdoes an already imposing wOBA (.385), while his xSLG (.566) has a 45-point lead over his real slugging percentage (.521).
Thanks in part to Voit's production, the Yankees' lineup has weathered an early maelstrom of injuries – including to Judge and Stanton, among several others – en route to a 38-20 record. With that in mind, it's getting harder to regard Voit as anything other than a major threat at the plate. He can't flash the leather at first the way Teixeira could, but Voit looks like his real successor at the position. Not bad for someone who was a little-known minor leaguer with the Cardinals at this time in 2018.
Photo courtesy of USA Today Sports Images.