It's well known that Cubs brass has long revered Kyle Schwarber, the fourth overall pick in 2014 whom the team refused to part with in trades during ensuing seasons. The big-bodied Schwarber was a catcher in his younger days, though there was much skepticism the ex-Indiana Hoosier would carve out a future in the majors behind the plate. Indeed, despite having slimmed down in recent years, Schwarber hasn't donned the tools of ignorance at all since 2017.
With no DH spot available in the National League and Anthony Rizzo holding down first base, Schwarber has settled in as the Cubs' left fielder. Reviews have been mixed on Schwarber, who has simultaneously accounted for minus-13 Defensive Runs Saved and a plus-14.6 Ultimate Zone Rating through upward of 2,700 innings in left. The fact that Schwarber hasn't been unplayable in the outfield is a clear positive, but his left-handed bat will always be his carrying tool. However, despite the hype that has surrounded Schwarber in his career, he hasn't emerged as a great major league hitter yet.
Schwarber was a tremendous college and minor league offensive performer who immediately made his mark in Chicago as a rookie in 2015, when he slashed .246/.355/.487 (131 wRC+) with 16 home runs across 273 plate appearances. In light of his stellar introduction, expectations were Schwarber would further cement himself as a linchpin of the Cubs' lineup in 2016. Instead, though, he suffered a torn left ACL and LCL in April of that year and wound up missing all but two regular-season games. To his immense credit, Schwarber became something of a Chicago folk hero in rehabbing quickly enough to return for the World Series that autumn. Schwarber put the exclamation point on his Fall Classic comeback by slashing a fantastic .412/.500/.471 in 20 PA against the Indians to help the Cubs win their first title in 108 years.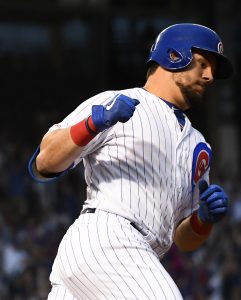 The good times were supposed to keep rolling for Schwarber, but his output has been underwhelming since his triumphant return. Dating back to 2017, Schwarber has batted .226/.333/.466 with 74 homers, a 107 wRC+ and 5.6 fWAR over 1,340 trips to the plate. The 26-year-old has essentially been a league-average hitter (101 wRC+) through 344 PA this season, making him an unspectacular part of a team whose weeks-long slump has led to frustration from its higher-ups.
Here's some much-needed positive news for the Cubs, though: Better days may be ahead for Schwarber. His hard-hit percentage ranks second among all qualified hitters who have totaled at least 100 batted ball-events this year, per Statcast, while his average exit velocity on line drives and fly balls checks in at 13th. Among batters who have accumulated at least 300 PA in 2019, FanGraphs credits Schwarber with the game's seventh-lowest soft-contact percentage (10.8). Adding to the encouragement, Schwarber has increased his flies/liners while decreasing his grounders compared to 2018. He's also making more contact while swinging and missing less than he did a year ago. All of that has helped Schwarber maintain his prodigious power despite so-so overall results this year, as he has chipped in 18 HRs with a .234 ISO.
With the above considered, it's no surprise Schwarber's expected weighted on-base average (.358) far outdoes his real wOBA (.331). However, just because Schwarber's hitting the ball hard doesn't automatically mean his production will positively regress. It doesn't appear the strikeout-prone Schwarber is a sure bet to ever complement his power with a high batting average or a lofty BABIP (the latter's at .269 this year, right in line with his career mark), so he has to compensate by drawing walks. Schwarber collected free passes a personal-best 15.3 percent of the time in 2018, assisting in a career-high .356 OBP and helping cancel out a .238 average. But his walk percentage has dropped to 12.5 – not far from his lifetime figure – this year. That's still easily above average, but the 3 percent fall has limited Schwarber to a .326 OBP that's barely better than the .322 MLB mean.
Average offensive numbers aren't going to suffice for Schwarber, who Baseball America wrote in 2015 had a chance to become a ".300-hitting, 30-homer" force in the majors. While Schwarber's power potential has indeed transferred to the bigs since then, the Cubs continue waiting for the rest of the offensive package to arrive.
Photo courtesy of USA Today Sports Images.