When I was a kid, prior to the 1994 strike, it was common for about a dozen MLB players to hit 30+ home runs in a season.  The only notable exception was in 1987, when the so-called "rabbit ball" led to 28 players hitting 30+ home runs.  There was an apparent over-correction in 1988, when only five players managed the feat.  Outside of those seasons, it was pretty much a lock that 10-13 different players would have 30 home run power in a given season.
Something changed again in 1993, as David Schoenfield of ESPN noted, and it wasn't just the addition of the Rockies or the dawning of the PED era.  After the strike, from 1996 through 2004, it became common to see 30 or more players able to hit 30 home runs in a season.  The peak was from 1999-2001, a period in which 40 or more players were able to reach the 30 home run plateau annually.
The year 2000 bears similarities to the just-finished 2019 campaign.  Unlike the preceding seasons, which saw the single-season home run record of 61 being challenged and broken by Ken Griffey Jr., Sammy Sosa, and Mark McGwire, in 2000, Sosa led MLB with 50 home runs.  But the distribution was widespread – 47 different players hit 30+ home runs in 2000, a record that stood until this year.  As in 2000, only one player reached the 50 mark in the homer-happy 2019 season, rookie Pete Alonso.
Once steroid testing began in 2005, we entered a five-year period in which about 30 players were capable of hitting 30 home runs in a season.  Then from 2010-15, there was a further reduction in 30 home run bats, as typically only about 20 players would reach that level each year.
The pendulum started to swing back upward in 2016, and in 2019 a new record was set: 58 different players hit 30 or more home runs. Players such as Renato Nunez, Yuli Gurriel, Mitch Garver, Ketel Marte, and Eduardo Escobar – not generally thought of as 30 home run threats – are included in that group.  The chart below shows the number of hitters with 30+ home runs per season, from 1996 through 2019.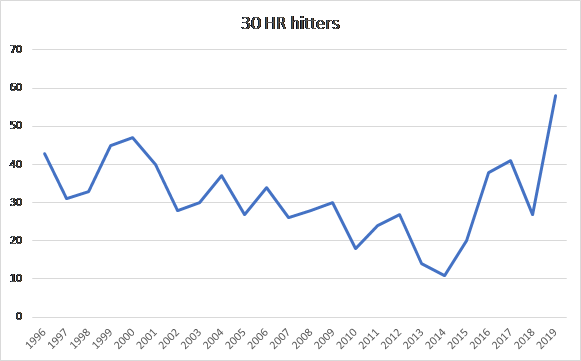 With MLB Commissioner Rob Manfred planning to make changes to the baseball, it's likely this home run trend will be reversed by 2021.  While you may be pondering how to account for 30 home runs being the new 20 home runs in your 2020 fantasy draft, we should also expect continued ramifications in player compensation.  When there's a surplus of home run hitters available, those players are not able to command the same prices as before.  In 2014, only 11 MLB players hit 30 or more home runs, and only two of them were free agents.  Is it any surprise that Pablo Sandoval, Hanley Ramirez, Yasmany Tomas, Victor Martinez, Nelson Cruz, Chase Headley, Nick Markakis, and Melky Cabrera received free agent contracts totaling over half a billion dollars?
Now, players like Kole Calhoun or Jose Abreu will reach free agency coming off 33 home run seasons and stand no chance of receiving the $42MM contract Melky Cabrera got coming off a 16 home run season.  The arbitration system will become increasingly out of step with the open market, leading to an increased supply of free agents, further depressing salaries.  The juiced ball of the last few seasons is just one more reason free agent salaries will be suppressed this winter.
It is at least positive that MLB and the players' union are having discussions with two years remaining on the current collective bargaining agreement, but the owners are in the catbird seat.  Unlike in 1994, it is the players who now seek to drastically change the status quo.  I imagine that whatever scant public support players had 25 years ago in resisting the owners' imposition of a salary cap, they'll somehow have even less this time around in trying to upend the system.  The devaluing of the home run is just one more way in which the chips are stacked in the owners' favor in the labor negotiations.