Two and a half months after GM Ross Atkins vowed to find pitching that could "contribute in significant ways," the Blue Jays have formally announced the signing of one of the best pitchers on the market, left-hander Hyun-Jin Ryu, to a four-year contract. The Boras Corporation client will reportedly be guaranteed $80MM, which will be paid out evenly at $20MM per season. Ryu's deal doesn't have any opt-out provisions but is said to contain a partial no-trade clause.
The news ends a spirited market for Ryu's services, as at least six teams (the Dodgers, Angels, Braves, Padres, Cardinals, and Twins) were all known to have some degree of interest in the southpaw this offseason.  While all of those teams were either playoff clubs in 2019 or are planning to contend in 2020, it was the rebuilding Blue Jays who made the big strike, signaling that their own effort to return to contention is coming sooner rather than later.  The Jays were known to be looking at both the top tier and the lower tiers of the pitching market, though the signing still comes as a surprise, given how Toronto's previous acquisitions had been more modest.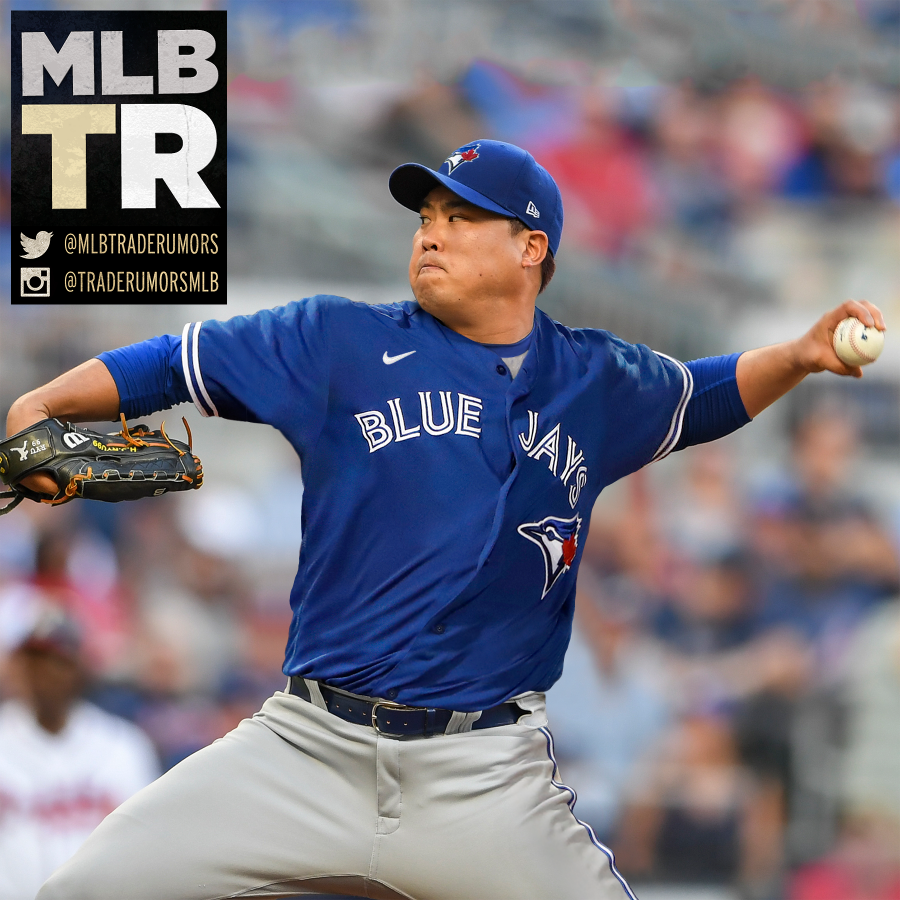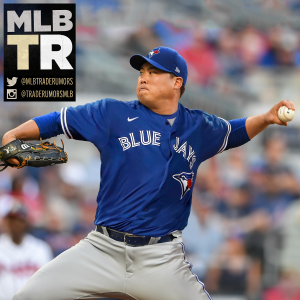 Ryu joins Tanner Roark, Chase Anderson, and Shun Yamaguchi as newly-acquired members of Toronto's rotation, completely overhauling a starting staff that was expected to be a major point of emphasis this winter.  Yamaguchi could wind up in the bullpen if the Jays go with some combination of in-house candidates Matt Shoemaker, Trent Thornton, Ryan Borucki, Anthony Kay, or Jacob Waguespack for the final two rotation places.  Star prospect Nate Pearson is also expected to make his big league debut at some point in 2020, so one of those rotation spots could ultimately be earmarked for him down the stretch, or the Jays could ease Pearson into the majors as a reliever.
While Pearson may be the ace of the future, Ryu is now firmly the ace of the present.  The lefty finished second in NL Cy Young Award voting last season on the heels of a league-best 2.32 ERA and 1.2 BB/9, as well as a 6.79 K/BB rate, 8.0 K/9, and 50.4% grounder rate.  ERA predictors weren't quite as impressed (3.10 FIP, 3.32 xFIP, 3.77 SIERA) with Ryu's performance, while his modest 90.6mph fastball finished in the bottom 11th percentile in both fastball velocity and spin rate.
On the plus side of the Statcast coin, Ryu was also one of the league's best pitchers in limiting hard-hit balls and exit velocity, and his .263 wOBA was only slightly lower than his .281 xwOBA.  Despite the lack of fastball velocity, Ryu still had the 26th most effective heater of any qualified pitcher in the sport according to Fangraphs' Pitch Value metrics, while his changeup was one of the ten most effective pitches in all of baseball in 2019.
Perhaps most importantly, Ryu also tossed 182 2/3 innings last year, his highest workload since his 2013 debut season in MLB and the first time he'd topped even the 126 2/3 inning plateau since 2014.  Ryu had only a couple of minimal injured list stints for minor neck and groin soreness in 2019, as opposed to the much more serious setbacks that plagued him earlier in his career.  Shoulder and elbow surgeries limited Ryu to just a single game in 2015-16, he missed close to three months in 2018 due to a torn groin, and IL stints for foot and hip problems limited him to 126 2/3 IP in 2017.
This injury history and Ryu's age (he turns 33 in March) were reasons why MLBTR projected him to only land a three-year, $54MM deal, despite his superb 2019 campaign and his overall strong track record in 740 1/3 career innings in the majors.  The Blue Jays could have been compelled to go to four years to convince Ryu to join a team that didn't offer as clear a path to immediate contention as some of his other suitors.
Even with Ryu signed, it remains to be seen if the Jays will emerge as a threat to return to the playoffs after three straight losing seasons.  The team will be counting on its young core of Vladimir Guerrero Jr., Lourdes Gurriel Jr., Bo Bichette, Cavan Biggio, and Danny Jansen to all take steps forward, while more experienced hands like Randal Grichuk (who had been Toronto's highest-paid player prior to the Ryu signing) and the newly-acquired Travis Shaw will need to improve on mediocre 2019 performances.
The Ryu signing also re-aligns expectations for the rest of the Jays' offseason.  On paper, this could be Toronto's version of the Cubs' deal with Jon Lester prior to the 2015 season — the big-ticket veteran pitching acquisition that indicated the rebuilding Cubs had enough faith in their up-and-coming young team to go for it after a lengthy rebuild.  If the Jays are serious about challenging for the postseason as soon as 2020, more substantial veteran upgrades could be made to center field, the bullpen, the first base/DH mix beyond Shaw and Rowdy Tellez, or even the rotation.  Closer Ken Giles was widely assumed to be a trade candidate, but now the Blue Jays could perhaps keep Giles for the final year of his contract in order to keep the ninth inning locked down.
The Jays' current 2020 payroll (as per Roster Resource) projects to be just under $122.2MM, so considering that the 2016-18 clubs all finished the season with payrolls in the $164MM-$167MM range, GM Ross Atkins could have more spending room for further moves.  Ryu is the third-highest contract even given out by the franchise, topped only by Vernon Wells' $126MM extension in the 2006-07 offseason and the five-year, $82MM free agent deal for Russell Martin prior to the 2015 season.
Ryu is the latest arm to leave what has been a scorching hot market for free agent starting pitchers.  Returning to MLBTR's Top 50 Free Agents list, Alex Wood (at #39) is now the highest-ranked starter still on the board, as the 14 pitchers ahead of him have all found new deals before Christmas.  As Heyman notes on Twitter, the many teams still looking for rotation upgrades could now be forced to explore the trade market, which could lead to a flurry of deals before Opening Day.
MLB Network's Jon Heyman first reported the deal (Twitter link). MLB.com's Jesse Sanchez reported that Ryu would receive a partial no-trade clause. The Toronto Star's Gregor Chsholm reported the annual breakdown.