Plenty went wrong for the Mets in 2019, their third straight season without a playoff berth, but the oft-maligned franchise nonetheless turned in a fairly respectable campaign. They got off the mat after an awful start to win 86 games, right-hander Jacob deGrom won his second consecutive National League Cy Young Award, and slugging first baseman Pete Alonso burst on the scene to mash 53 home runs en route to NL Rookie of the Year honors. Aside from Alonso, there were other legitimately encouraging developments among the Mets' position player group, including the performance of fellow first baseman Dominic Smith.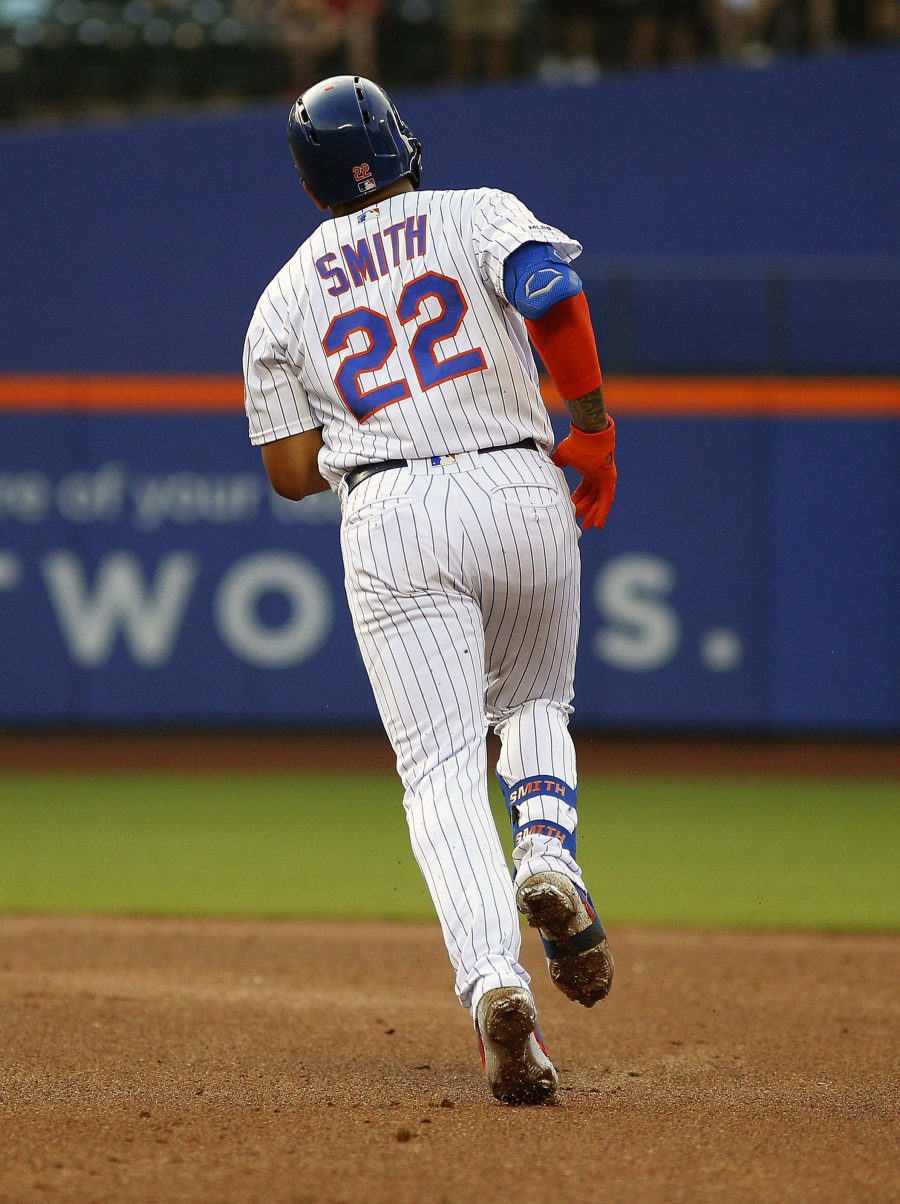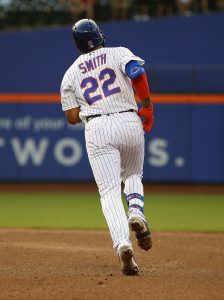 It appeared entering the season that Smith was teetering on the brink of irrelevance, even though he wasn't far removed from his days as a touted prospect. The 11th overall pick of the Mets in 2013, Smith debuted in the majors in 2017 as one of the game's 100 best farmhands, but he fell way short of the hype at the outset of his career.
From 2017-18, a 332-plate appearance span, the lefty-swinging Smith put up a dismal .210/.259/.406 batting line. Smith's minus-1.0 fWAR in that time frame ranked dead last among all 79 Mets who racked up at-bats, and he also struggled badly at the Triple-A level during the latter of the two seasons. As a result, fans, media and maybe even the organization were down on Smith, though he came back in 2019 to produce far better results than the average major league hitter.
Alonso's presence and injuries to Smith helped keep him from playing a full season, but he still impressed during an 89-game, 197-PA sample. Playing his age-24 season, Smith batted .282/.355/.525 (133 wRC+) with 11 home runs and a lofty .243 ISO. Plus, after combining for a 28.4 percent strikeout rate with a 5.4 percent walk rate during the prior two years, he made serious strides in those departments. Smith went down on strikes at a 22.3 percent clip and drew free passes 9.6 percent of the time. He also chased fewer pitches outside the zone, made more contact and was equally effective against southpaws (132 wRC+) and righties (133 wRC+), though his success versus same-handed pitchers came over a much smaller sample size.
While Smith did take real steps forward last season, it appears there was some good fortune involved. Smith finished the season with a .368 weighted on-base average, but his .327 xwOBA (via Statcast) didn't measure up. Even if you're unconcerned by that and regard Smith as someone who could be a long-term offensive linchpin, it's up in the air whether he'll play another game for the Mets. Consider: Alonso has first base on lockdown, there's no designated hitter option in the NL, and although Smith did get most of his playing time last season in the corner outfield, he's part of a logjam there for the Mets. Not only could Yoenis Cespedes come back after a couple injury-crushed seasons, but the corner OF-capable foursome of Michael Conforto, Brandon Nimmo, Jeff McNeil and J.D. Davis remains on hand. Those players' presences could help push Smith to the trade block and out of Queens.
As mentioned, Smith's coming off a season in which he made clear progress. He also has another pre-arbitration season left and isn't on track to reach free agency until after the 2024 campaign. All of those factors should buoy Smith's trade value, as should the dearth of high-end first basemen in free agency, yet he's still not going to bring back any kind of haul. Smith's position, his lack of a track record in the bigs and a lack of demand for first basemen have likely tamped down his appeal on the market. Ultimately, it seems possible New York will use Smith to get rid of one of its undesirable contracts (Jed Lowrie? Jeurys Familia?), as Ken Rosenthal recently reported the Mets and Rangers were in talks on such a deal. The Rangers still haven't upgraded at first, where Ronald Guzman was a disaster in 2019, so they might remain interested in Smith. The Red Sox, Royals and Twins also make for a few debatable landing spots.
For now, Smith looks like one of the most logical trade candidates in baseball. However, if the Mets don't receive an offer to their liking, they keep Smith as a bench player or stash him as depth in Triple-A ball. Smith still has a pair of minor league options left, but he seems overqualified for anything below the majors at this point. Regardless, it doesn't appear Smith will be able to carve out a regular role for himself as a Met, so a trade could be the best move for his career.
Photo courtesy of USA Today Sports Images.