Padres right-hander Dinelson Lamet may not be among Major League Baseball's household names yet, but it could be only a matter of time before he joins those ranks. While Lamet hasn't come close to preventing runs at an elite clip since he made his MLB debut in 2017, he has shown flashes that suggest a true breakout may not be out of the question.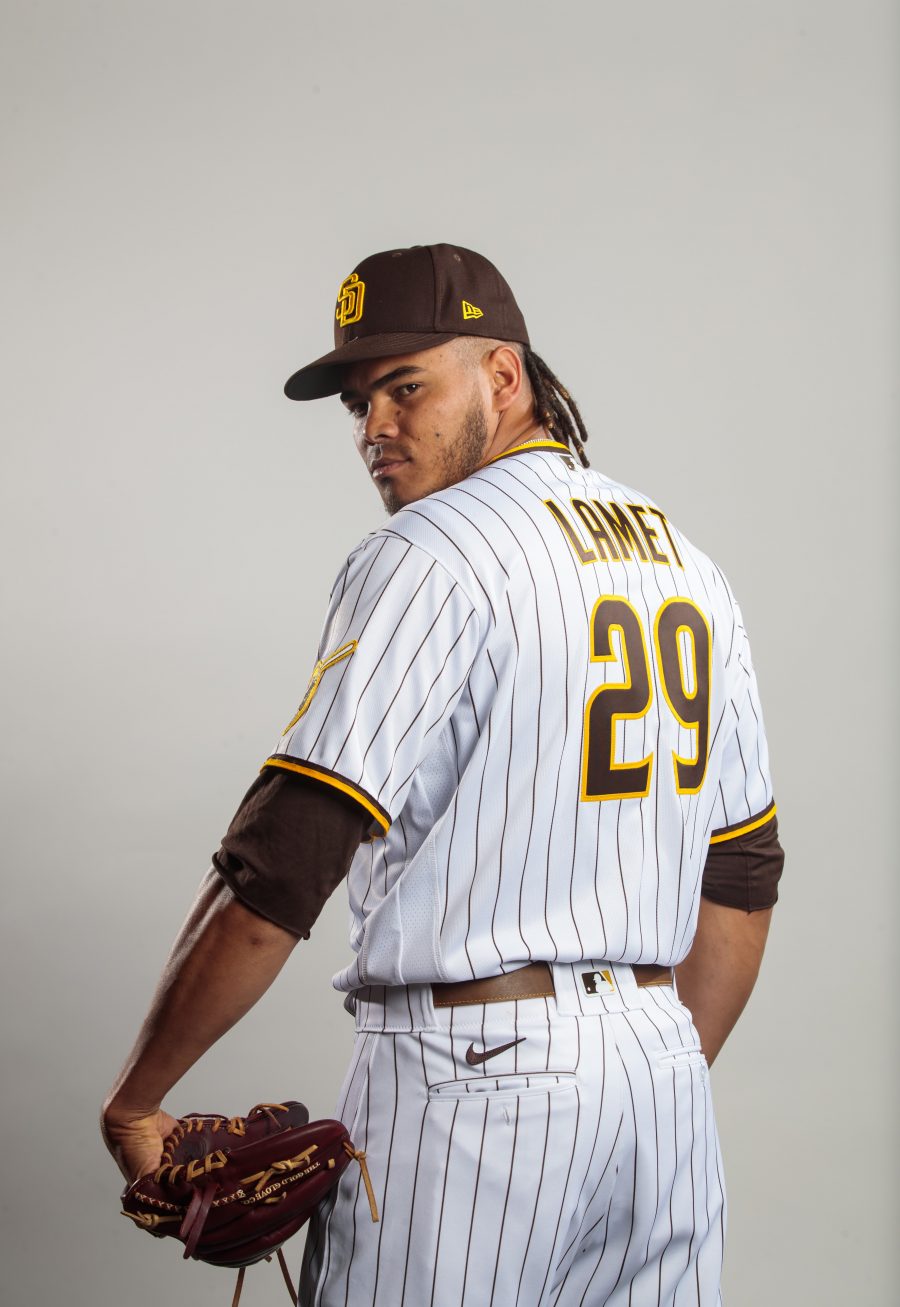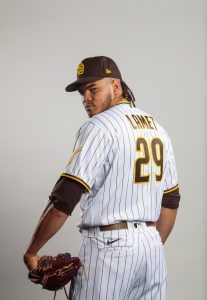 Now 27 years old, Lamet caught on with the Padres out of the Dominican Republic in 2014. The franchise brought in Lamet, then 21, for $100K two years after a deal with the Phillies fell through. San Diego has since benefited from that fairly low-risk move.
After ascending through the minors, where he didn't garner a significant amount of Triple-A experience, Lamet showed off a tantalizing fastball-slider mix during his first taste of MLB action three years ago. He wound up making 21 starts and tossing 114 1/3 innings of 4.57 ERA/4.35 FIP ball with 10.94 K/9 and 4.25 BB/9.
The hope, of course, was that Lamet would build on his respectable first-year effort the next season. Instead, though, he was forced to undergo Tommy John surgery on his pitching elbow in April 2018. The procedure cost Lamet that entire year and the majority of his last season, but he enjoyed an extremely promising showing after returning July 4.
Lamet shook off the rust with 14 starts and 73 frames of 4.07 ERA/3.91 FIP pitching. Those run prevention totals may not look sensational, but a deeper dive gives reason to believe that Lamet will continue his rise. Not only did Lamet cut his walk rate (3.7 per nine), but his strikeout rate rose to a jaw-dropping 12.95. Among 146 starters who threw at least 70 innings, Lamet ranked behind only Gerrit Cole and Chris Sale in K/9. His strikeout percentage (33.6) trailed just Cole, Sale, Justin Verlander, Max Scherzer and Mike Clevinger. The other members of the top 10? Blake Snell, Lucas Giolito, Jacob deGrom and Robbie Ray. With the exceptions of Lamet and Ray (a solid starter in his own right), there isn't a single pitcher there who's not a front-line option.
Adding to the good news, Lamet was something of a Statcast hero during his abbreviated 2019. Take a look at where he ranked in these categories…
Hard-hit rate: 69th percentile
Expected weighted on-base average: 71st percentile
Average exit velocity: 77th percentile
Curve spin: 79th percentile
Fastball spin: 81st percentile
Average fastball velocity: 89th percentile
Strikeout percentage: 93rd percentile
Well above average across the board. Lamet got there owing in part to an increase in velo (his average fastball reached 96.1 mph) and a slider that, according to Fangraphs' pitch values, was among the most dominant offerings of its kind. As Ben Clemens of FanGraphs explained last August, Lamet was benefiting at the time from adding a second slider to his repertoire.
Lamet's repertoire may have him on the cusp of busting out, though he'll have to get the home runs under control. Granted, last season was a homer-happy year across baseball, but Lamet's HR-to-fly ball percentage (19.7) was still bloated compared to most starters'. And that's not going to work for someone who has induced grounders at a paltry 36.8 percent rate since he first set foot in the majors.
Aside from a need to cut down on HRs moving forward, Lamet also must show he can continue to stay healthy. That's obviously not always easy for any hurler, let alone one with such a serious surgery in his past. But if Lamet can hold up, the Padres may have a potential breakout starter on their hands. That would be all the more welcome for a team that already has Chris Paddack fronting its rotation with MacKenzie Gore and Luis Patino among its prospects getting closer to the bigs.
Photo courtesy of USA Today Sports Images.