If you followed Major League Baseball for most of the this century, you probably remember David DeJesus. The now-retired outfielder posted a solid career as part of a few different teams from 2003-15, during which he amassed 25.5 fWAR. DeJesus spent one of his seasons in Oakland, and though he didn't have a banner year then, the franchise is still benefiting from his acquisition – one that could pay dividends for at least a few more years.
Back in November 2010, DeJesus was coming off one of the most productive seasons of his career. Although he only played in 91 games that year with the Royals, DeJesus batted .318/.384/.443 (127 wRC+) with 2.5 fWAR. However, after spending the first eight seasons of his career in Kansas City, the non-contenders traded him and his $6MM salary to Oakland for pitchers Vin Mazzaro and Justin Marks. The Royals received little to no value from either of those players, though. Mazzaro threw 72 1/3 innings of 6.72 ERA ball in their uniform, and the Royals dealt him to the Pirates after that. Marks tossed just two frames in KC (both in 2014) and was out of the organization after that.
Oakland made out far better, though it took some time for that to become the case. Both the team and DeJesus underwhelmed in 2011, in which the A's went 74-88 and DeJesus saw his line plummet to .240/.323/.376 (96 wRC+) with 1.7 fWAR over 506 trips to the plate. DeJesus became a free agent after that, and the A's let him leave for the Cubs on a two-year, $10MM contract (fun fact: He was president of baseball operations Theo Epstein's first free-agent signing in Chicago). So the trade was close to a wash for the A's, right? Not quite.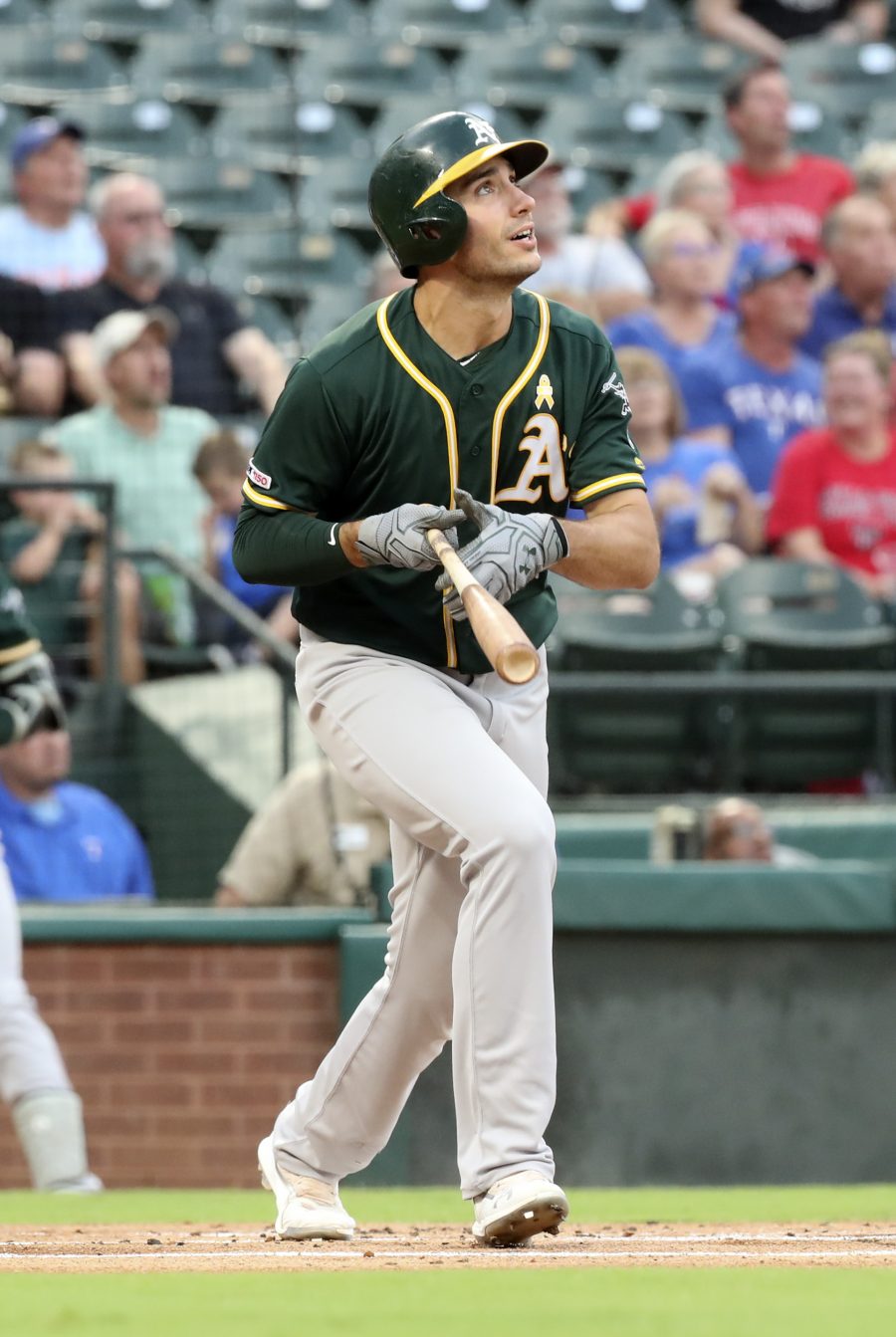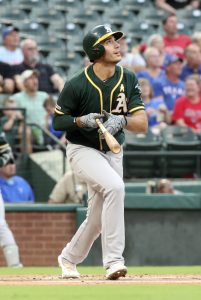 As MLBTR's Tim Dierkes wrote when DeJesus joined the Cubs, "DeJesus was offered arbitration by the A's last week, so they'll receive a supplemental draft pick in 2012 for their loss."
This is where it gets good for the Athletics. With selection No. 47, the one the club received for DeJesus, it chose a Georgia-born high school first baseman named Matt Olson.
"The A's see Olson as a future middle-of-the-order hitter," Baseball America wrote at the time. And though Olson was long a well-regarded part of the A's system, he was never a premium prospect across the league. Now, though, he's one of the most valuable players on the A's and among the most well-rounded first basemen in the sport.
After a run as a productive minor leaguer, Olson made it to Oakland in 2016, though he struggled over a mere 26 plate appearances. The next season, however, Olson turned into a monster at the MLB level. The lefty swinger racked up 216 PA and slashed .259/.352/.651 (164 wRC+) with 24 home runs. To this point, that has been Olson's lone elite showing as a hitter, but that's not to say he hasn't been easily above average since then. Dating back to 2018, Olson has slashed .256/.342/.495 (126 wRC+) with 65 homers over 1,207 PA. Those numbers, not to mention his all-world defense, helped him post 7.3 fWAR during the previous two seasons.
Among all major leaguers dating back to 2018, Olson ranks seventh in Ultimate Zone Rating (18.1) and eighth in Defensive Runs Saved (31). One of the few better defenders than Olson has been teammate and third baseman Matt Chapman. He and Olson comprise one of the premier corner infield tandems in the game, and they've done it at affordable prices for low-budget Oakland. That's going to start changing soon – b0th players will enter arbitration for the first of three potential trips next winter. Whether the A's will be able to keep either around beyond their arb years remains to be seen, but there's no denying they've already gotten excellent value from the two. In Olson's case, it all began with a trade that didn't bring potentially strong returns in the beginning.
Photo courtesy of USA Today Sports Images.