Today is Bartolo Colon's 47th birthday, and I think I join just about every baseball fan in hoping that "Big Sexy" can fulfill his goal of making it back to the majors for one more go-around.  While that extra year would be a nice bonus, Colon has already established an incredible legacy over his 21 MLB seasons, with a list of memories ranging from his 2005 AL Cy Young Award to perhaps the most popular home run of the decade.  Colon has accomplished so much since he first broke into the bigs with the Indians at age 24….and yet though it has been close to 18 years since he last donned a Cleveland uniform, the Tribe continues to benefit from Colon's time with the franchise.
Let's flash back to 2002.  After establishing himself as a solid member of the rotation during his first five seasons, Colon was on pace for his lowest ERA yet, as he had posted a 2.55 mark over his first 16 starts and 116 1/3 innings of the 2002 campaign.  (Even if a 3.75 FIP indicates that Colon was perhaps somewhat fortunate to manage that 2.55 ERA.)  The downside was that that the Indians were struggling, as the club was preparing for a rebuild after its long run of winning seasons and frequent playoff appearances from 1994-2001.  That made Colon expendable, and the righty was dealt to the Montreal Expos in a blockbuster trade near the end of June.
While Colon pitched well for the Expos, they came up short in their bid for the postseason in what ended up being their third-to-last year in Montreal.  With the Expos controlled by Major League Baseball at the time and rumors swirling that a new owner would likely move the team, then-general manager Omar Minaya decided that a bold move was necessary to try and reinvigorate both Montreal fans and potential local investors.
As such, Minaya threw all caution to the wind in sending a four-player package of Cliff Lee, Grady Sizemore, Brandon Phillips, and Lee Stevens to Cleveland in exchange for Colon's services.  The veteran Stevens (who didn't play in the big leagues again after the 2002 season) was something of a throw-in, but let's look at the other three Expos prospects obtained….
Phillips: The second baseman didn't break out and reach his All-Star form until after he was dealt to the Reds in April 2006, though indirectly, Phillips helped the Indians land Chris Perez.  Phillips went to Cincinnati for righty Jeff Stevens, who was dealt in December 2008 as part of a three-player package (that also included Chris Archer) to the Cubs for Mark DeRosa.  Cleveland sent DeRosa to the Cardinals in June 2009 for a player to be named later and Perez, who recorded 124 saves and reached two All-Star games over his four-plus seasons with the Tribe.
Sizemore:  The Indians received a more direct contribution from Sizemore, as the center fielder soon blossomed into one of the game's better all-around players.  Sizemore hit .281/.372/.496 from 2005-08, with the fourth-most fWAR (27.3) of any player in baseball during that four-year stretch.  Unfortunately for both Sizemore and the Indians, injuries curtailed what was looking like a special career, and Sizemore played only 419 games total from 2009-15.
Lee: The southpaw's 182-game tenure in Cleveland had its ups and downs, though he saved the best for last with an outstanding 2008 season.  Lee won the AL Cy Young Award by leading the league in ERA (2.54), ERA+ (167), BB/9 (1.4), and HR/9 (0.5), while also tossing 223 1/3 innings.
He continued to pitch well into the 2009 season, which leads us to the next offshoot of the Colon trade: the deal that sent Lee to the Phillies at the 2009 trade deadline.  Cleveland picked up another four-player package, this time consisting of Carlos Carrasco, Jason Donald, Lou Marson, and minor league righty Jason Knapp.  Baseball America ranked Carrasco, Donald, and Marson within their top 100 prospects list prior to the 2009 season, and Knapp made the 2010 list, though Knapp never ended up reaching the big leagues.  Marson ended up playing 261 games in the Show (253 as a part-time catcher for the Indians), hitting .219/.309/.299 over a career that stretched across six seasons.
The other two pieces of the trade went on to become noteworthy parts of Cleveland baseball history…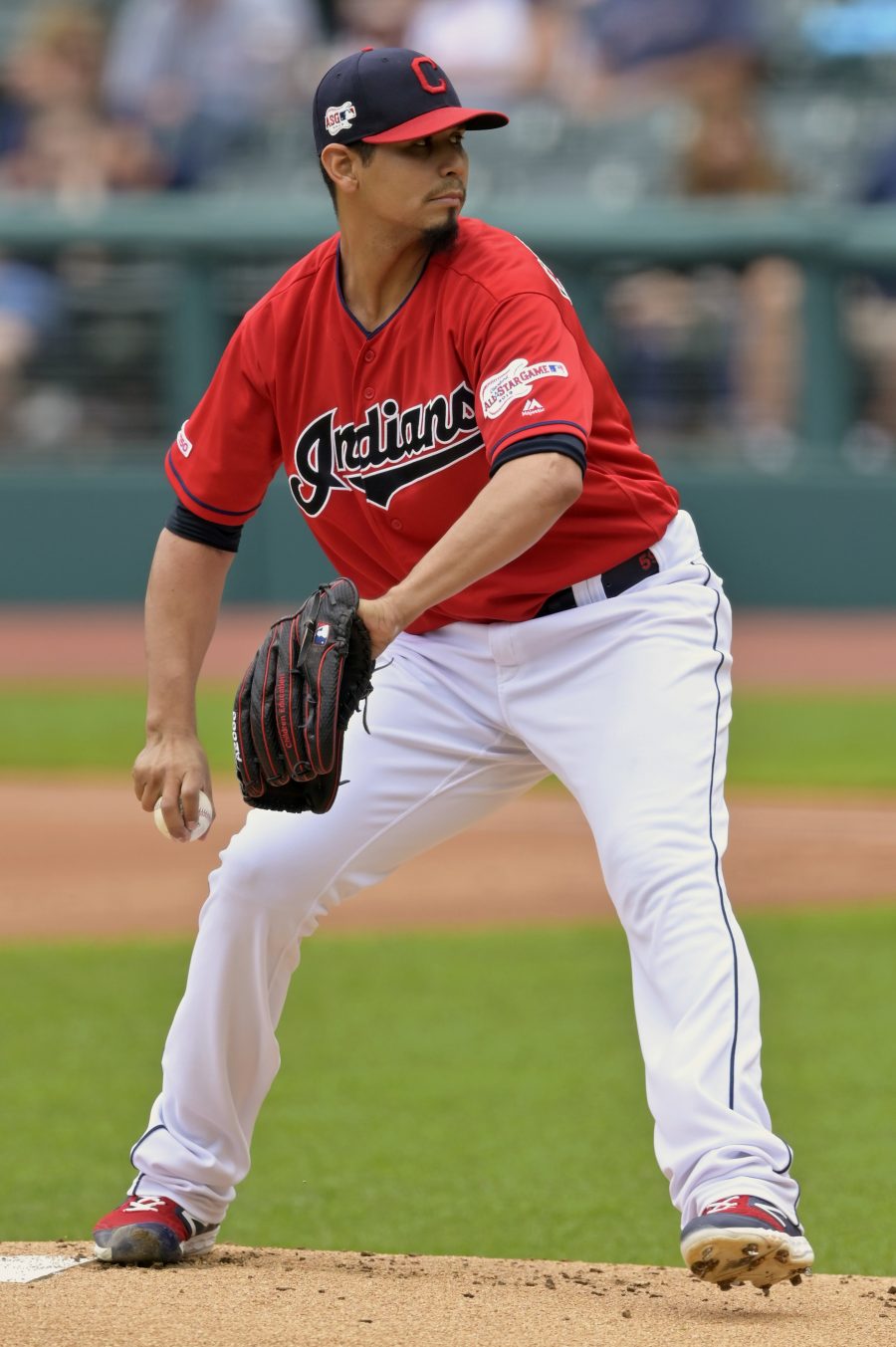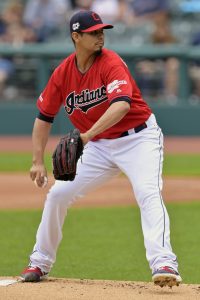 Carrasco: The man they call "Cookie" is still on the Tribe's roster, evolving from prospect to a stalwart member of the rotation.  Beyond his contributions on the field, Carrasco has become a popular leader both in the Indians' clubhouse and around the sport, as witnessed by the outpouring of support he received last season while battling (and ultimately returning from) a leukemia diagnosis.
Donald: After posting a .672 OPS over 603 plate appearances and 170 games with the Indians from 2010-12, Donald never again played in the Majors.  Since perhaps his most memorable baseball moment was his (ahem) infield single to break up Armando Galarraga's would-be perfect game in June 2010, you may wonder why Donald merits a "noteworthy" designation.
In short, it's because Donald was part of one of Cleveland's most memorable trades of the decade.  Granted, nobody refers to the three-team deal between the Indians, Reds, and Diamondbacks in December 2012 as "the Jason Donald trade" given the other big names (namely Shin-Soo Choo and Didi Gregorius) involved.  That said, given the complexity of such multi-team swaps, perhaps the whole negotiation would have fallen apart if the Tribe hadn't agreed to send Donald to Cincinnati.
Even if Donald didn't play a headline role in the exchange, the main point is that the Indians received another four-player package on their end of the trade: Trevor Bauer, Matt Albers, Bryan Shaw, and Drew Stubbs.  Albers pitched well out of the Tribe's bullpen in 2013 before departing in free agency.  Stubbs only spent one year in Cleveland before being traded to Colorado in December 2013 for Josh Outman, who gave the Indians 24 2/3 relief innings of 3.28 ERA ball before being swapped to the Yankees for cash considerations.  Looking at the other two names…
Shaw: The biggest bullpen reinforcement of the group, Shaw became a workhorse of a setup man from 2013-17.  Three times a league-leader in appearances during that five-year stretch, Shaw posted a 3.11 ERA, 8.4 K/9, and 2.8 K/BB rate over 358 2/3 frames in Cleveland.
Bauer: The right-hander was no stranger to controversy over his six-plus seasons with the Indians, though he developed from solid starter to an ace in 2018, posting a 2.21 ERA over 175 1/3 innings and finishing sixth in AL Cy Young voting.  Somewhat similar to Lee's situation, Bauer continued to pitch well enough into the next season that he became part of a major pre-deadline trade.
This three-team swap is a bit fresher in our memory banks, but as a reminder, the Padres, Reds, and Indians combined on a blockbuster that saw Bauer go to Cincinnati while top Reds outfield prospect Taylor Trammell went to San Diego.  The other five players involved in the trade all went to the Indians: Yasiel Puig, Franmil Reyes, and prospects Logan Allen, Scott Moss, and Victor Nova.
The "Wild Horse" has already come and gone from Cleveland, as Puig departed for free agency and was still looking for a new team prior to the league-wide transactions freeze.  Acquired to help offset salary and add some pop to the ever-shifting Tribe outfield, Puig hit pretty well during his brief stint with the Indians, slashing .297/.377/.423 over 207 PA, though he managed only two home runs (as opposed to his 22 in 404 PA with the Reds).  Nova is a 20-year-old rookie ball prospect, while MLB Pipeline ranks Moss ranks 18th among all Indians prospects and projects him as a possible back-of-the-rotation starter if he can harness his control.  As for the other two…
Allen: Going into 2019 as a consensus top-100 prospect in baseball, Allen badly struggled at the Triple-A level last year.  His hopes at a rebound have been hampered the possibility that the minor league season could be canceled entirely, though Allen could potentially find a role on the 20-player taxi squad backing up an expanded 30-player Cleveland roster.  The southpaw was badly hurt by home runs last season, so the Tribe hope that getting more used to the livelier ball will help Allen get back on track.
Reyes: The 24-year-old slugger got off to a slow start after the trade to Cleveland, but recovered to hit .237/.304/.468 with 10 homers over 194 PA in an Indians uniform.  Reyes will now have to cut down on the strikeouts and become a bit more of a well-rounded hitter in order to fully unlock the hitting potential that is clearly evident from his power numbers.
So to recap, trading Colon in 2002 has led to five current members of the Indians organization.  Over those 18 years since the Expos trade, dealing Colon also directly and indirectly led to a Cy Young Award winner (Lee), another starter with at least one Cy Young-caliber campaign (Bauer), two relievers who delivered consistent results over multiple seasons (Shaw and Perez), four years from an MVP candidate (Sizemore), and other small contributions from a host of other players.  This group all contributed to at least one of the Tribe's five postseason appearances from 2007-18, and the club now hopes that Carrasco, Reyes, Allen, and company can call be part of Cleveland's next playoff team.
That adds up to at least two windows of contention, and who knows if future trades or transactions could spin some of those current players on the roster into even bigger contributors down the road.  While the Indians have already gotten so much in return from that 2002 deal, as with seemingly all things involving Bartolo Colon, you never know when another delightful surprise could emerge.
Photo courtesy of USA Today Sports Images