In a stunning deadline blockbuster, the Dodgers acquired stars Max Scherzer and Trea Turner from the Nationals. In exchange, Los Angeles sent back four prospects, including two of the top young talents in baseball. Catcher Keibert Ruiz, right-handers Josiah Gray and Gerardo Carrillo, and outfielder Donovan Casey are go to Washington. Scherzer waived his no-trade rights to facilitate the deal.
It had become clear in recent days the Nationals were likely to trade Scherzer, but the saga took its share of twists and turns along the way. The division-rival Padres were reportedly close to landing the three-time Cy Young award winner earlier in the afternoon. Other teams — the Dodgers among them — lurked on the periphery, though, and Los Angeles jumped in as the Nationals' talks with San Diego never got across the finish line. In the process, the Dodgers also add one of the game's best position players as part of a jaw-dropping package deal.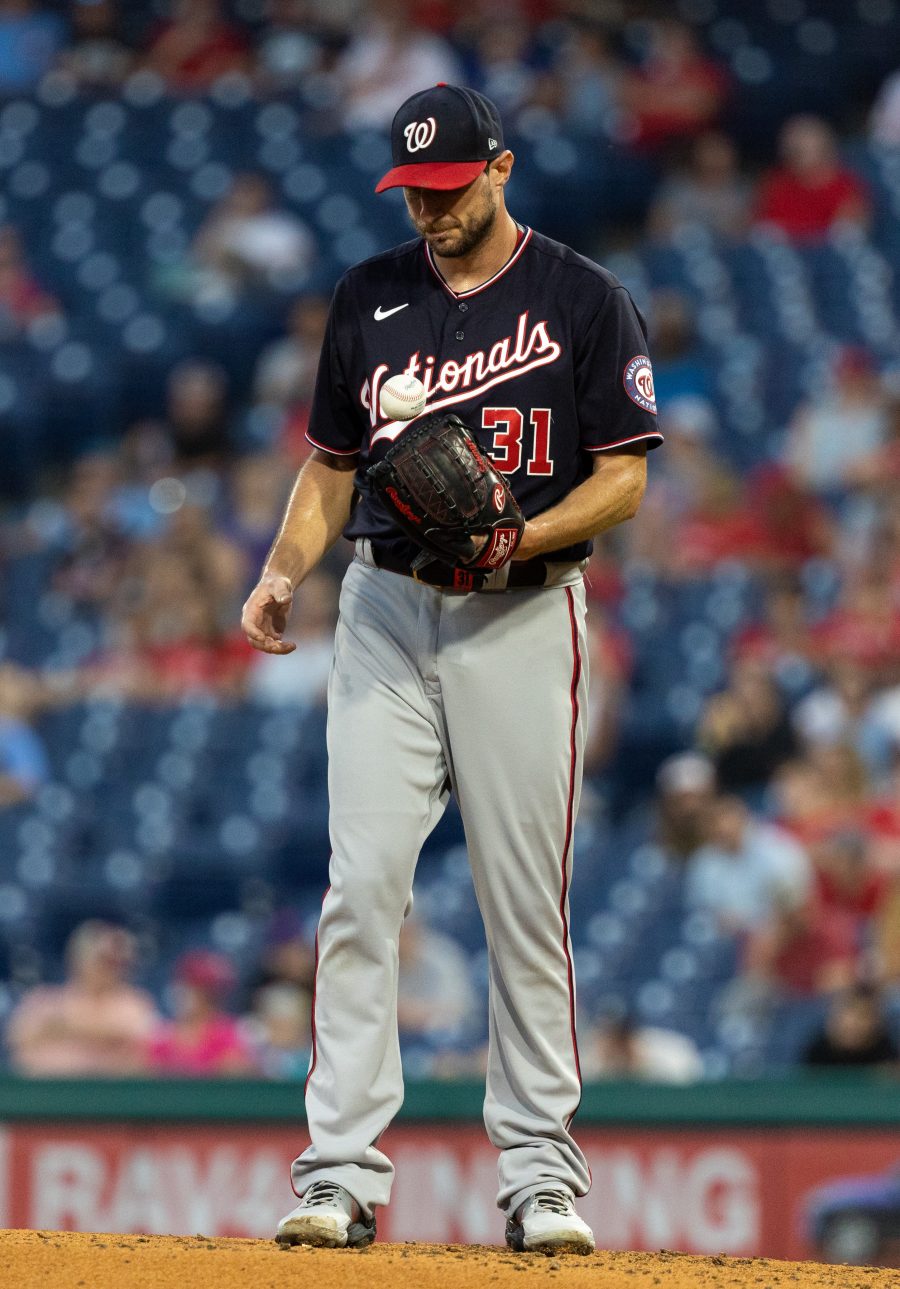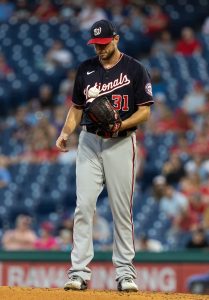 Scherzer is one of the best pitchers of his generation, and the future Hall of Famer has continued to pitch at a level close to peak form. He's tossed 111 innings across nineteen starts, working to a 2.76 ERA/3.59 FIP. He's given up a few home runs (1.46 HR/9), but Scherzer's strikeout and walk numbers are still among the game's best. The eight-time All-Star has punched out 34.3% of batters faced while handing out free passes to a meager 6.5% of opponents. Among starters with 50+ innings pitched, only Jacob deGrom, Tyler Glasnow, Patrick Sandoval and Shane Bieber have generated swinging strikes at a higher clip than Scherzer's 16.5% mark.
It's the continuation of what was a remarkable tenure in Washington. Signed to a seven-year, $210MM deal over the 2014-15 offseason, the right-hander entered today's outing with a 2.80 ERA/2.91 FIP across 1223 innings for the Nats. That deal proved to be one of the most successful free agent investments in recent memory. Scherzer won back-to-back NL Cy Young awards in 2016-17 and was selected to the All-Star game six times, with the lone exception due to the cancelation of last year's festivities. Perhaps most importantly, Scherzer was integral to the Nationals' 2019 World Series title, tossing 30 frames of 2.40 ERA ball during that year's postseason run.
Scherzer now joins a rotation that already includes Walker Buehler and is expected to soon welcome back Clayton Kershaw from the injured list. That trio would make for an incredible top three in any postseason series, to say nothing of the presence of David Price and Tony Gonsolin as options for a fourth game and/or multi-inning work out of the bullpen. (Trevor Bauer remains on administrative leave after being accused of assault; it's not clear if/when he'll return to the team this season).
Of course, the Dodgers still need to solidify their chances of making a playoff series to unleash that three-headed monster in October. The Dodgers are almost certain to make the playoffs in some capacity, but the Giants somewhat surprisingly remain three games up on them in the NL West race. The competition at the top of the division from San Francisco and San Diego could leave the Dodgers staring down a one-game playoff. Acquiring Scherzer gives Los Angeles another ace to potentially take the ball in a Wild Card game, but it also increases their odds of winning the division and avoiding the contest altogether.
Incredibly, Scherzer is likely the second-most valuable part of the Dodgers' haul. While Scherzer's slated to hit free agency at the end of this season, Turner is controllable through 2022 via arbitration and every bit as productive. Turner has been a quality player since breaking into the big leagues in 2015, but he's developed into a true superstar over the past couple seasons. Since the start of the 2020 campaign, the 28-year-old is hitting .327/.378/.546 (145 wRC+) with 30 home runs and 33 stolen bases across 155 games and 679 plate appearances.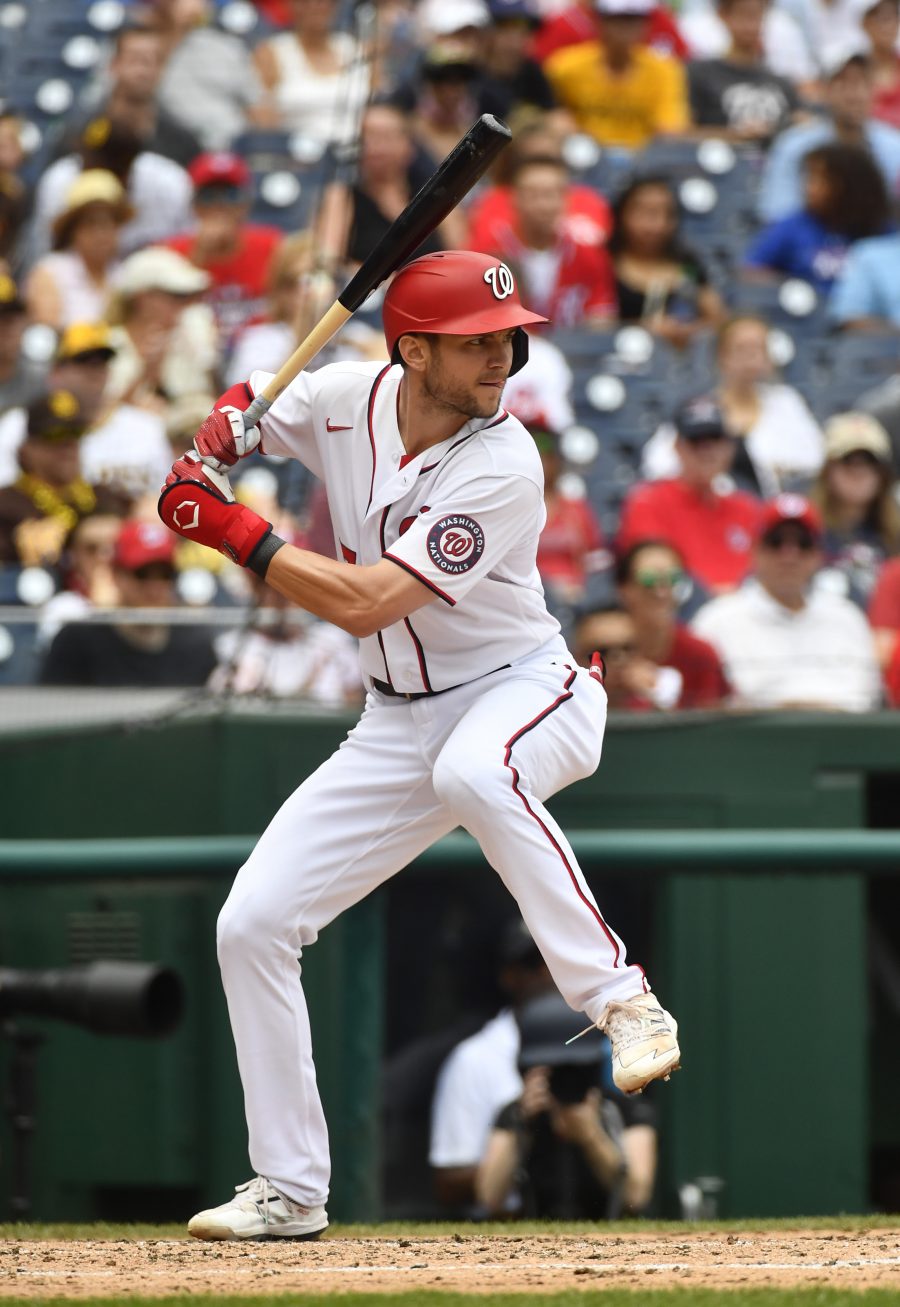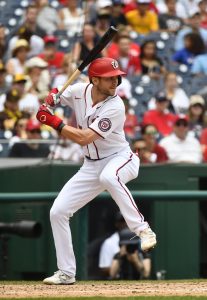 Turner's one of the top few players in the sport, even if he rather remarkably didn't make an All-Star team until this season. In addition to that high-end offense, he's one of the game's most dangerous baserunners and a fine defensive shortstop. FanGraphs estimates Turner's been worth seven wins above replacement over the past two years, a mark that trails only Fernando Tatís Jr. among position players.
A good portion of Turner's overall value comes from his aforementioned ability to play shortstop. It's not precisely clear whether he'll continue to do so in Los Angeles, where Corey Seager is also one of the game's stars. Turner has some experience manning second base and in center field, and the Dodgers have never been shy about moving players around the diamond defensively.
Seager is slated to hit free agency at the end of the season, and he'll be one of the top options on the open market. The Dodgers could use Turner in a utility-type capacity for the remainder of this season and plug him in as their regular shortstop come 2022 if Seager signs elsewhere.
Regardless of their long-term vision, it's unquestionable that adding Turner to the roster will be a massive boon to a position player group that was already among the league's best. Seager has missed two months after fracturing his hand, but he's expected to return to the lineup this weekend. Turner, who landed on the injured list this week after testing positive for COVID-19 in what'll apparently be his final game as a National, is out for at least the next week-plus.
Unsurprisingly, adding two of the sport's best players will cost quite a bit — both financially and from a talent perspective. Scherzer is playing out the year on a $35MM salary, a little less than $12MM of which remains to be paid. That money is entirely deferred until 2028, part of a broader trend throughout the term of his deal. While Scherzer is an impending free agent, he'll still be owed $15MM every year from 2022-28 in deferrals. The Dodgers are reportedly assuming the entirety of Scherzer's remaining salary for 2021 (which won't actually be paid out for seven years). Presumably, the Nationals will remain on the hook for all the deferred payments for time he's already spent in Washington.
Turner, meanwhile, is making $13MM in his penultimate year of arbitration, which the Dodgers will also assume. Around $4.5MM of that sum remains to be paid, and he'll surely be in line for a sizable raise this winter during his final trip through the arb process.
In addition to those salaries, the Dodgers are set to take on rather significant expenditures in luxury tax payments. The remainder of Scherzer's contract contains a luxury tax hit in the $10MM range, while Turner's CBT number exactly matches that of his real salary. Altogether, the Dodgers are adding something in the realm of $14.5MM to their luxury tax ledger.
That's significant but apparently not much of a deterrent. Even before today's acquisitions, the Dodgers had a CBT number north of $260MM, in the estimation of Jason Martinez of Roster Resource. That places them in the highest tax bracket, with Los Angeles subject to a 62.5% tax on any dollar spent over that mark. By assuming the remainder of Scherzer's and Turner's deals, the Dodgers are agreeing to pay somewhere in the range of $9MM in penalties on top of the money they'll owe to the players.
Ownership is apparently willing to do exactly that in service of constructing a potential super-team. The defending World Series champions were arguably the most talented club in the league already, and they've added Scherzer, Turner and Danny Duffy to that loaded roster the day before the trade deadline.
To make that happen, Los Angeles has parted with a couple of baseball's most talented young players. Ruiz has seemingly been on top prospect lists forever, but he's still just 23 years old. He's only picked up 15 MLB plate appearances over the past two seasons, but he'd likely have accrued far more playing time were he playing in most other organizations.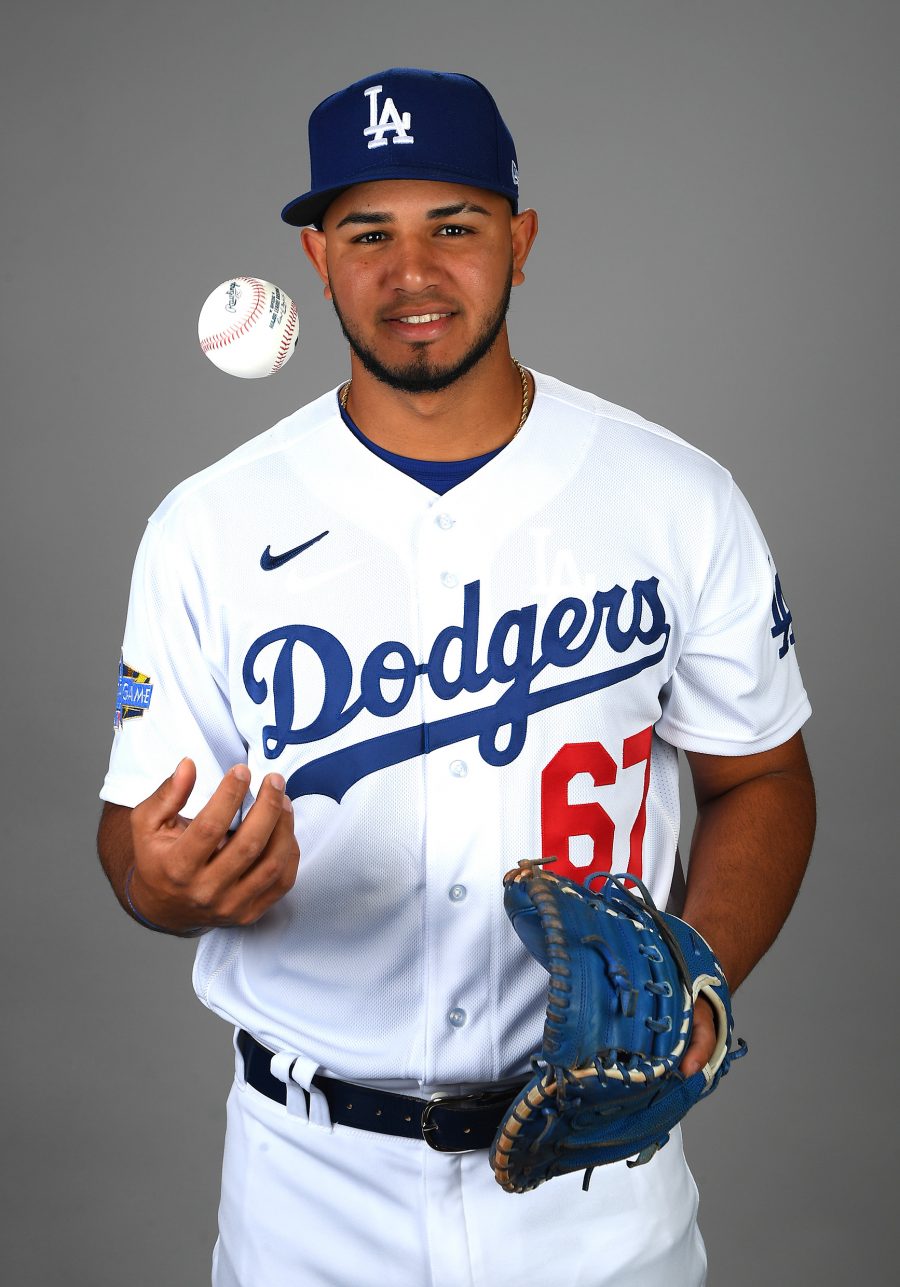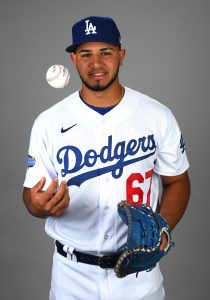 With Will Smith entrenched as the Dodgers' current and long-term catcher, there simply hasn't been much opportunity for Ruiz. That said, the switch-hitting backstop has earned a major league look. He's performed well at basically every minor league stop, and that's continued in 2021.
Ruiz is hitting a massive .311/.381/.631 with 16 home runs across 231 plate appearances with Triple-A Oklahoma City. Baseball America just ranked him the league's #16 overall prospect in their midseason top 100 update, lauding his elite bat-to-ball skills and suggesting he's a solid enough defender to stick behind the plate. It's not unreasonable to expect Ruiz to settle in as an above-average or All-Star caliber catcher given his rare offensive upside for the position.
Ruiz is already on the 40-man roster and would seem to be a big league caliber option for the Nats this season. He's in his final minor league option year, so he'll need to break camp with the Nationals in 2022.
Gray wasn't too far behind Ruiz on BA's top 100 list, checking in 56th overall and second in the Los Angeles system. The young starter draws praise for his fastball-slider combination and fantastic athleticism, which allows him to throw strikes at a strong rate. Eric Longenhagen of FanGraphs slotted Gray as the sport's #29 prospect entering the season (he's up to 21st following other players' graduations), calling him a likely "mid-rotation stalwart" at his peak.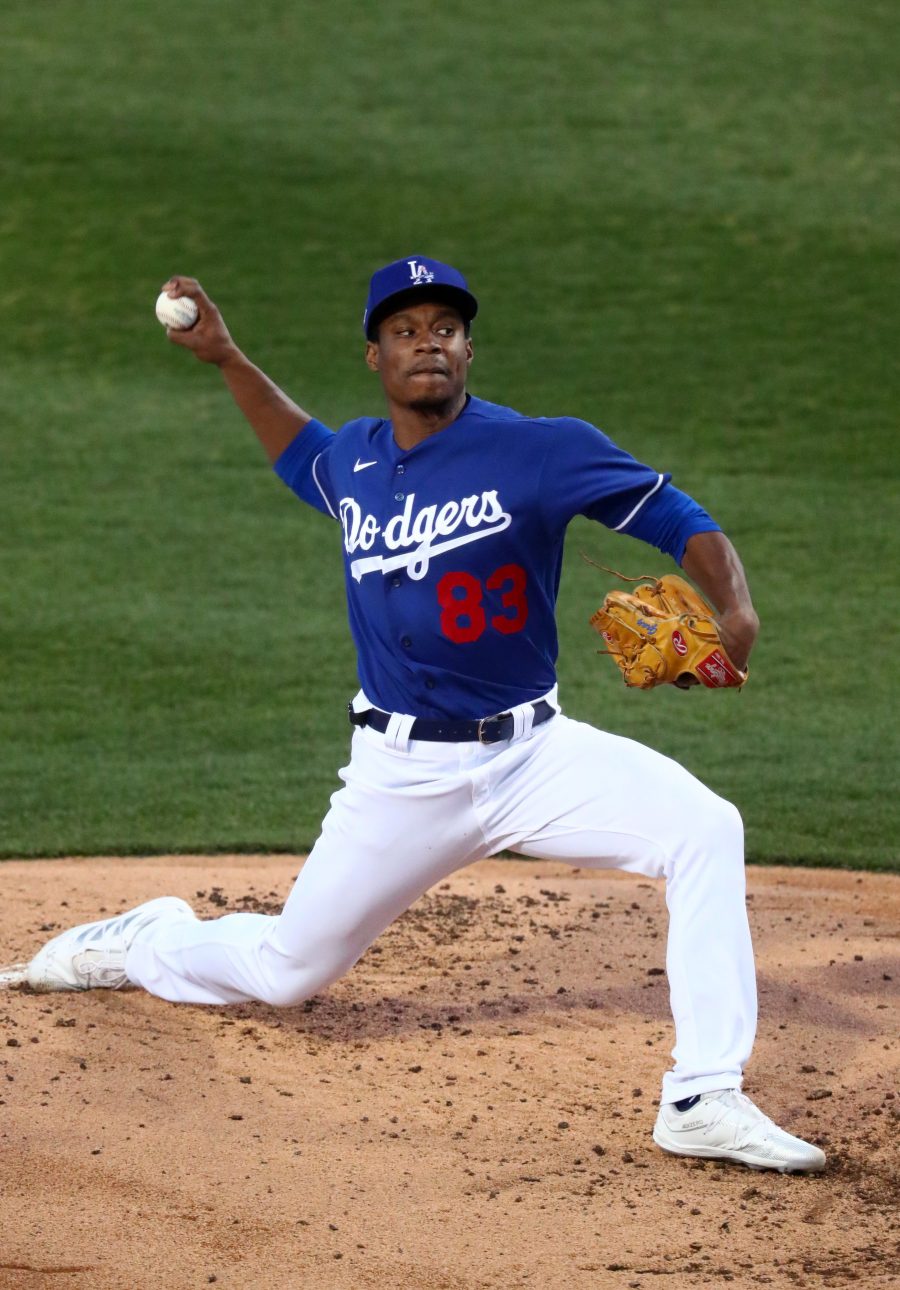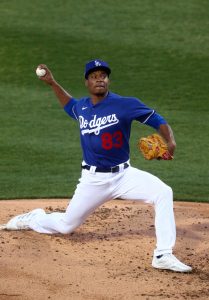 The 23-year-old made his major league debut last week and has pitched in a pair of big league games. Gray spent the rest of the year with Triple-A Oklahoma City, although an injured list stint caused him to miss a fair amount of time. He tossed 15 2/3 innings of 2.87 ERA ball before his promotion, his first crack at the minors' top level.
Neither Ruiz nor Gray will accrue enough big league time to reach a full year of service in 2021. They won't reach free agency until after the 2027 season and aren't likely to qualify for arbitration until the 2024-25 offseason. Both players have the opportunity to be long-term stalwarts in D.C., with many potential games featuring a Gray-Ruiz battery over the coming years. Gray still has all three options remaining.
Carrillo will also step directly onto Washington's 40-man roster. His contract was selected last winter to prevent him from being taken in the Rule 5 draft, but Carrillo hasn't yet appeared in the majors. He's spent the entire season with Double-A Tulsa, tossing 59 1/3 innings of 4.25 ERA ball. The 22-year-old has struck out a strong 26.2% of batters faced but walked an alarming 10.9% of opponents.
Both Baseball America and FanGraphs suggest that lack of control is likely to eventually push Carrillo to the bullpen, but his mid-90's sinker and power breaking ball could suit him quite well in short stints. Longenhagen slots Carrillo tenth in the Nationals system assuming the trade is completed.
Casey will need to be added to the 40-man roster this offseason or he'll be exposed to the Rule 5 draft. The former 20th-round pick (2017) isn't seen as a particularly strong prospect, but he's having a quality season in a pitcher-friendly Double-A environment. The 25-year-old is hitting .296/.362/.462 with 11 home runs across 334 plate appearances with Tulsa. Casey has seen action at all three outfield positions.
The blockbuster completely changes the National League outlook. The Dodgers add two of the game's best players to a tight divisional race, seemingly acquiring Scherzer out of the Padres grasp. With a few high-profile targets (José Berríos, Trevor Story and Kris Bryant chief among them) still having a chance to wind up on the move, the Dodgers' in-state division rivals figure to be active themselves as the deadline approaches.
Jeff Passan of ESPN was first to report the Nationals and Dodgers were in serious discussions about a deal involving Scherzer and Turner. Ken Rosenthal of the Athletic reported Ruiz's and Casey's involvement in the deal. Jon Heyman of MLB Network reported Gray's inclusion, while Jim Bowden of the Athletic was first to identify Carrillo as part of the deal. Jesse Dougherty of the Washington Post was first to report Scherzer's willingness to waive his no-trade rights, and Chelsea Janes of the Washington Post reported that the Dodgers would assume Scherzer's and Turner's remaining 2021 financial obligations.