With the exception of a major injury, nearly everything that could wrong in a pitcher's season went wrong for Robbie Ray in 2020. The longtime D-backs lefty posted a career-worst 17.9 percent walk rate, logged his lowest strikeout rate since 2015 and gave up home runs not only at the highest rate of his career — but at the second-highest rate of any pitcher to throw at least 50 innings last year. Things got a bit better following a trade from Arizona to Toronto, but Ray still surrendered 13 runs in 20 2/3 innings, yielded four homers and walked 14 of the 97 batters he faced.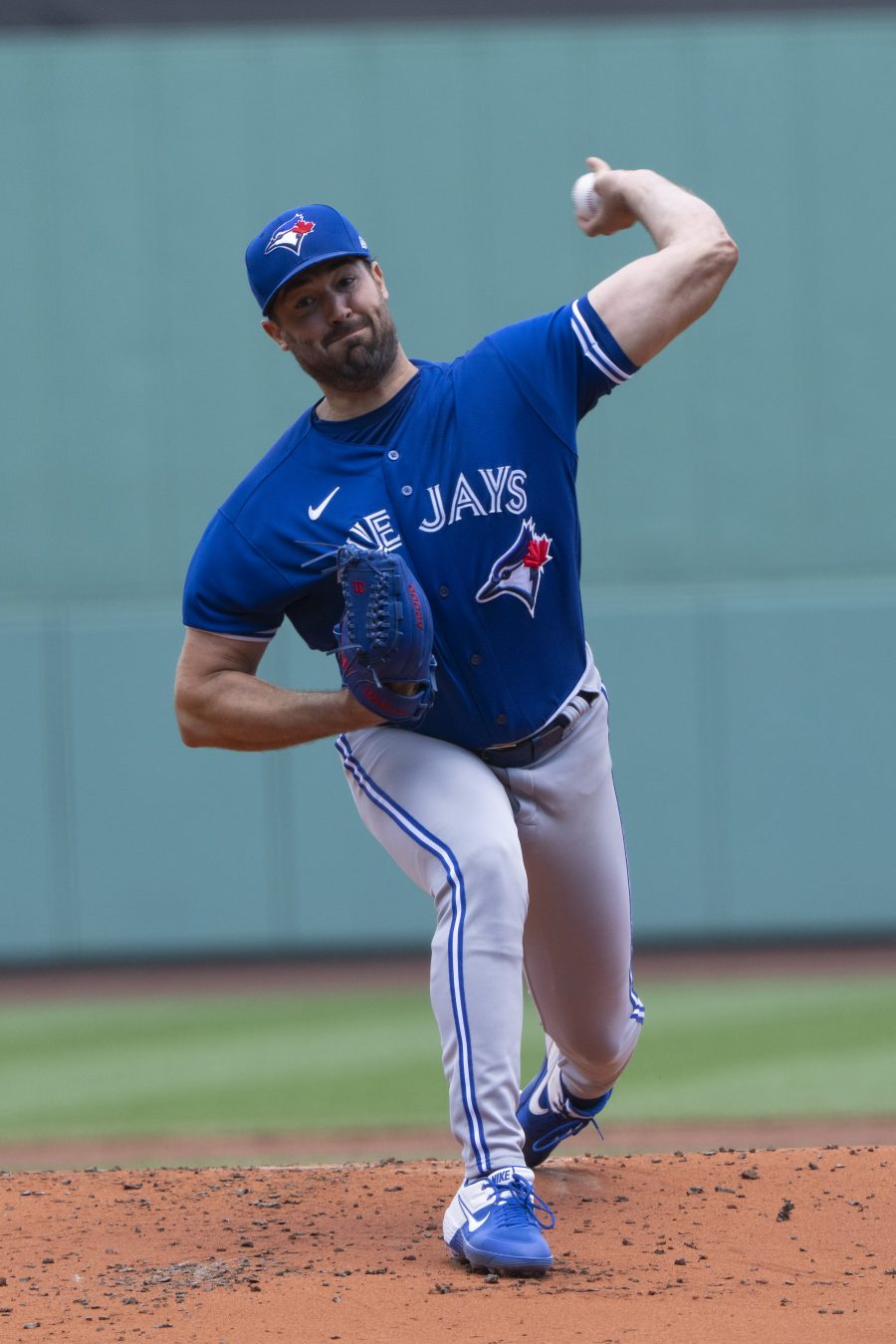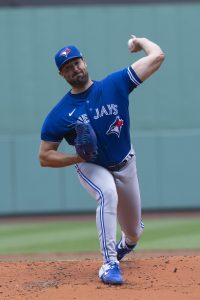 The subsequent 6.62 ERA marked an alarming decline for a lefty who'd previously solidified himself as a durable mid-rotation arm in Arizona. He'd always been a high-strikeout, high-walk, high-home-run rate pitcher, but from 2015-19 Ray tossed 762 innings of 3.96 ERA ball. That ERA was supported by fielding-independent marks such as FIP (3.92), SIERA (3.80) and xFIP (3.68). All of those numbers went in the wrong direction in 2020.
Prior to last spring's league shutdown, Ray placed sixth on the initial version of MLBTR's 2020-21 Free Agent Power Rankings. He landed ahead of Marcus Stroman on that February ranking, with MLBTR's Tim Dierkes writing at the time that both would likely be eyeing deals north of the four-year, $68MM pacts inked by Miles Mikolas and Nathan Eovaldi. Five years seemed plausible with a big platform year. Instead, Ray's poor 2020 showing turned him into a clear rebound candidate, which led to him re-upping with the Blue Jays on a one-year deal worth $8MM.
The Jays struck quickly to re-sign Ray, inking that $8MM pact on Nov. 7 of last offseason. Ray was the first free agent of note to sign a Major League deal, and the signing was met with some skepticism when it came to jumping the market to pay him at a relatively strong rate. No one, however, is questioning the signing now.
Ray has been nothing short of brilliant in his second go-around with the Jays. He's not only bounced back and reestablished himself as a quality big league hurler — he's elevated his status to another level entirely. Ray's 2.90 ERA on the season is right in line with his 2.89 mark from a career-best 2017 season, but the other elements of his game suggest this is the best version of the lefty we've ever seen.
First and foremost, the strike-throwing issues that have previously plagued Ray with such great frequency have dissipated. He's walking 6.8 percent of his opponents in 2021 — a career-low mark and an astonishing drop of more than 12 percent from last year's rate. Ray's 62.5 percent first-pitch strike rate is the best of his career, as is his 14.9 percent swinging-strike rate and 32.5 percent opponents' chase rate. His 94.9 mph average fastball, meanwhile, is back in line with peak levels from 2016 after dipping to 92.5 mph as recently as 2019.
As one might expect, the drop in walks and the increasing frequency with which Ray is getting ahead in the count has allowed him to pitch deeper into games. While he's long been a solid mid-rotation arm, Ray previously averaged about 5 1/3 innings per start (5.44), regularly running up high pitch counts and leaving plenty of outs for his bullpen to pick up. This year, he's averaging just shy of six inning per outing (5.92) — and getting stronger as the season goes on. He's completed five frames in all but two of his starts this year and, since June 1, he's averaging better than six innings per outing with six-plus frames completed in 11 of those 13 appearances.
An extra couple of outs per game might not sound that substantial, but it's the difference between a starter pitching 175-180 frames or pitching about 195-200 innings over the course of a full season. And, at a time when other starters are pitching fewer innings than ever before, that extra handful of outs every time Ray takes the mound goes a long way toward helping to keep the team's relief corps fresh.
So, what's driving the changes? Ray's pitch mix has changed somewhat, as he's throwing his four-seamer at a career-high 60.6 percent rate and has upped his slider usage to 27.6 percent. He's largely a two-pitch starter at this point, although he throws his curveball and changeup just enough — 7.5 percent and 4.2 percent — to keep those offerings in the back of his opponents' minds. It's a definite change from recent years, where Ray was throwing his curveball anywhere from 15 to 21 percent of the time.
Ray also spoke in Spring Training of how he suspected that changes to his arm slot early in the 2020 campaign contributed to his struggles. A look at his profile on Brooks Baseball indeed supports that thinking; both the horizontal and vertical release points on Ray's four-seamer and slider have changed considerably since his early 2020 work. During his current hot streak (since June 1), the vertical release point on Ray's four-seamer, in particular, has dipped to previously unseen levels. It's always possible that hitters will adjust to these mechanical changes, but it's easier to buy into a rebound when there are tangible changes to a player's approach, which is the case in this instance.
It should be noted that Ray, like most pitchers, still has his flaws. He's far too homer prone, yielding 1.59 long balls per nine innings pitched, and no one should expect him to sustain a 90.1 percent strand rate when the league average is 72 percent. His .264 batting average on balls in play is also a career-low and is probably due to tick upward toward his career .307 mark — particularly since Ray's hard-hit rate and opponents' exit velocity are higher than the league average.
That said, Ray also ranks alongside some of the game's best pitchers — and among the upcoming class of free agents — with his brilliant strikeout/walk profile. Among pitchers who have thrown at least 100 innings this season, Ray ranks eighth with a 30.2 percent strikeout rate and is tied for 35th with that better-than-average 6.8 percent walk rate. His 23.4 K-BB% sits tenth in that same set of pitchers. He's leading American League pitchers with 4.4 wins above replacement, per Baseball-Reference's version of the stat.
There will undoubtedly be some skeptics when Ray returns to the open market this offseason. His 2020 season was an unmitigated disaster, and we only have one season's worth of data showing this newfound command of the strike zone and ability to work six-plus innings on the regular. That said, even the 2015-19 version of Ray was a very solid starter, and it's the 2020 campaign that looks like the clear outlier at this point.
Outside of 28 2/3 innings as a rookie with the Tigers back in 2014, he's also spent his entire career pitching in rather hitter-friendly settings. A club in a more spacious park would surely be intrigued by whether the move to a more advantageous home setting might help to curb some of that penchant for serving up the long ball, at least to a slight extent. He's given up 1.50 homers per nine when pitching at home in his career, compared to 1.22 on the road. Unsurprisingly, there's a spacious gap in ERA as well (4.54 at home, 3.65 on the road).
With a strong, healthy finish to the season, Ray should return to the market as one of the most in-demand arms. It's a deep crop of free-agent starters, as he'll join the likes of Max Scherzer, Clayton Kershaw, Kevin Gausman, Justin Verlander, Zack Greinke, Marcus Stroman, Anthony DeSclafani, Noah Syndergaard, Jon Gray and the breakout Carlos Rodon. At 30 years old, Ray will be among the youngest of the bunch, however, and he's never been on the injured list with a major arm injury.
There's a good chance the Jays will make a qualifying offer and that he'll reject said offer in search of a lucrative multi-year deal. Even with draft compensation attached to him, Ray ought to have a wide range of suitors this time around. The four- or five-year deal that seemed feasible back in Spring Training 2020 looks more plausible than ever.