Very little went right for the Nationals in 2022. They limped to an MLB-worst 55-107 record but lost out on the first overall pick in the inaugural draft lottery. Their year was primarily defined by ownership uncertainty and the continuation of a rebuild they'd kicked off at the 2021 trade deadline — culminating in perhaps the biggest deadline blockbuster in recent memory.
That sell-off opened a spot on their 40-man roster. They plugged it by selecting the contract of minor league veteran first baseman Joey Meneses. While it was surely a life-changing moment for a 30-year-old who had played professionally for 12 seasons before receiving his big league call, that transaction didn't generate much attention outside the nation's capital. In all likelihood, the Nats' front office wasn't convinced Meneses would even hold that roster spot through the offseason.
Meneses instead seized his first MLB opportunity in a way no one would've anticipated. He popped 13 home runs and 14 doubles through his first 56 games, compiling a .324/.367/.563 line across 240 plate appearances. That offensive production was 56 percentage points better than league average, as measured by wRC+. That tied for 12th among qualified hitters in that span, with Meneses placed right alongside a number of All-Stars and Silver Slugger winners.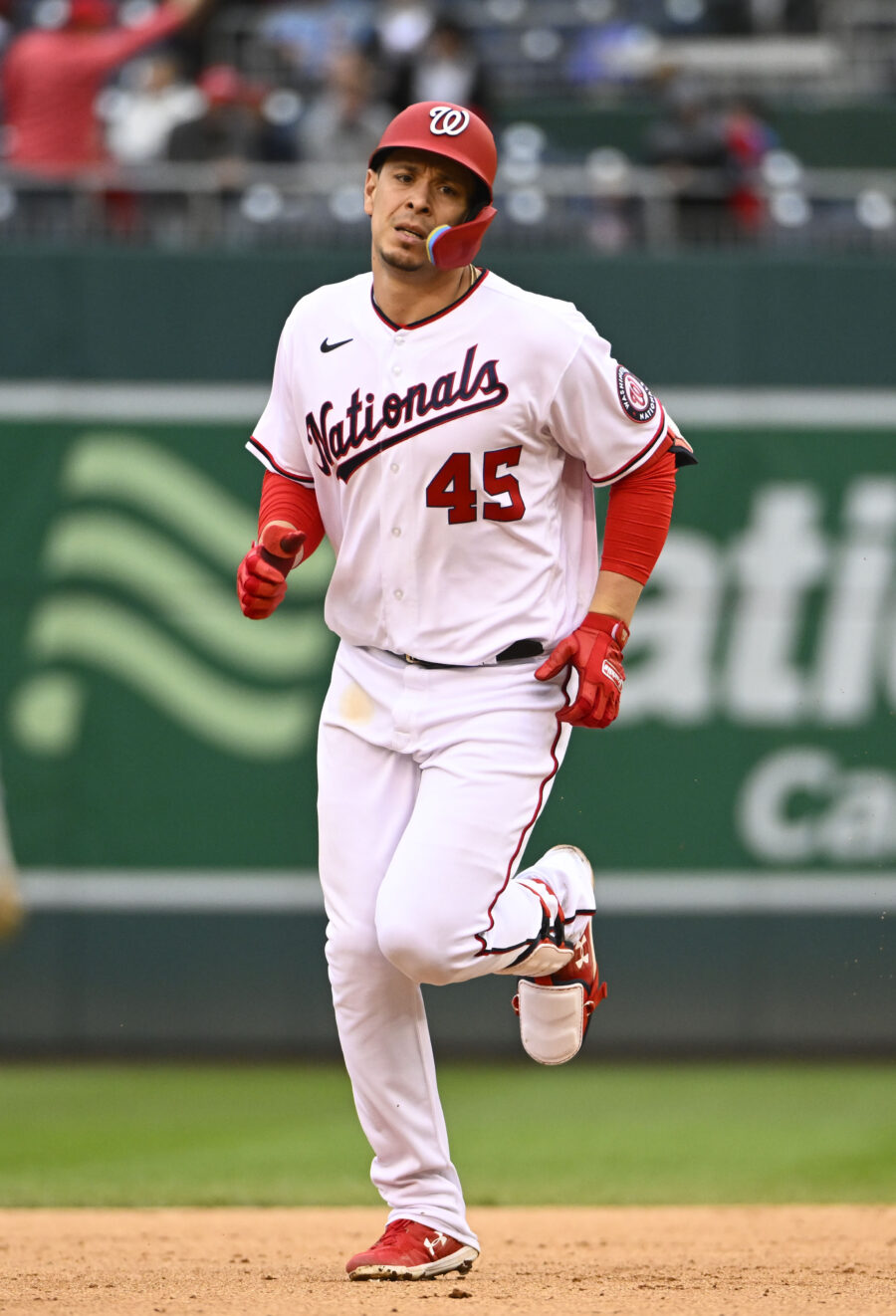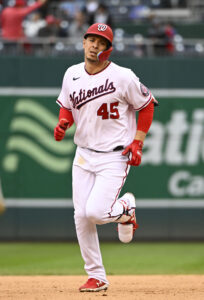 It's not entirely fair to say that production came out of nowhere. Meneses had been having a strong season for Triple-A Rochester, where he hit .286/.341/.489 with 20 longballs through 96 games. The right-handed hitter has typically performed well against minor league arms. That was often against younger competition, however. Paired with his lack of defensive versatility, that kept him from getting an MLB chance until last summer. Meneses holding his own offensively at the MLB level wouldn't have been surprising, but the extent of his production was.
Meneses will certainly need more than two great months to demonstrate he's capable of sustaining middle-of-the-order production over the long haul. His rookie year isn't too dissimilar from the .342/.389/.613 line Frank Schwindel posted over 56 games as a 29-year-old rookie for the Cubs in 2021. Schwindel stumbled to a .229/.277/.358 mark in 75 games in year two and is headed to Japan's Nippon Professional Baseball for the upcoming season. Maintaining consistency over multiple years at the major league level is a challenge.
That said, Meneses couldn't have drawn up a much better start. In addition to his excellent production, he demonstrated some impressive underlying marks. Meneses made contact on an above-average 78.9% of his swings, getting the bat on the ball against pitches both within and outside the strike zone. His plate discipline metrics were roughly average.
Most notably, he made consistent quality contact. Meneses hit the ball hard (an exit velocity above 95 MPH) on 47% of his batted balls. That ranked 42nd among 334 hitters with 150+ batted balls, per Statcast. He hit plenty of line drives and took the ball to all fields with regularity. Meneses isn't likely to sustain a .371 batting average on balls in play over a full season, but his contact profile suggests that probably won't regress all the way to the .290 league mark either.
The rebuilding Nationals are in position to give Meneses a chance to cement himself as a regular. Washington took a buy-low flier on Dom Smith to play first base this offseason, though the designated hitter role is still up for grabs. Jeimer Candelario could factor in there but seems likely to play regularly at third base after Carter Kieboom missed the entire 2022 season due to an elbow injury that required Tommy John surgery. Smith and Candelario themselves are far from sure things after struggling last year.
Meneses isn't going to continue at last season's level, but there's room for his production to regress while remaining better than average. If he can mostly back up his early promise, he'd potentially be a useful trade chip for the Washington club. As a soon to be 31-year-old first baseman, he's not going to be a long-term core piece coming out of the rebuild.
Another strong first half would make him an intriguing deadline target for a more immediate contender looking for offensive help. Even if he establishes himself as a permanent big leaguer, Meneses won't reach arbitration until after the 2025 season. That affordability would be of obvious appeal to both low-budget franchises and bigger spenders that are approaching or into luxury tax territory.
Whether he can play his way into legitimate trade candidacy, Meneses makes for one of the better stories on the Washington roster. The Nats aren't likely to win many games during the upcoming season, with the organization's greater emphasis on the performance of individual players. Younger former top prospects like CJ Abrams, MacKenzie Gore, Josiah Gray and Keibert Ruiz are the players the front office and fanbase will be most focused on. There's room on the margins for role players to perform well enough to net the club some future value in trade as well. Bounceback candidates like Smith, Candelario and Corey Dickerson fit a more traditional mold, though Meneses could be more interesting than any of those established veterans if he can build off a revelatory rookie showing.
Image courtesy of USA Today Sports.