The Padres pulled off the biggest deadline deal in years, announcing the acquisition of both Juan Soto and Josh Bell from the Nationals. San Diego sent back a haul of young talent to complete the blockbuster. Rookie shortstop C.J. Abrams and left-hander MacKenzie Gore are headed to Washington, as are a trio of highly-regarded prospects: outfielders Robert Hassell III and James Wood, and pitcher Jarlin Susana. To round out the deal, the Nats are picking up big league first baseman Luke Voit.
It's a stunning blockbuster, one of the most seismic trades in major league history. There's almost no precedent for a player of Soto's caliber being dealt, particularly not with multiple seasons of remaining club control. The lefty-hitting outfielder is among the game's top handful of players, a superstar performer who has amazingly yet to turn 24 years old. Soto debuted in the big leagues as a 19-year-old in 2018, having played just eight games above A-ball at the time. Even holding his head above water would've been impressive in that context, but Soto immediately stepped into the majors as of its best hitters.
Soto hit .292/.406/.517 in 116 games as a rookie. He's followed that up with successively elite offensive seasons, looking well on his way to being an all-time great hitter. Between 2019-21, Soto hit .304/.440/.561. He averaged more than 25 home runs per year (even with the 2020 schedule being dramatically shortened) and drew plenty more walks than strikeouts. Soto finished in the top ten in NL MVP balloting each season, including a runner-up finish last year. He was an integral part of the Nationals' World Series winner in 2019, following up a .282/.401/.548 regular season performance with a .277/.373/.554 showing during that year's postseason. Along the way, Soto claimed a pair of Silver Slugger Awards and was selected to the All-Star Game in 2021.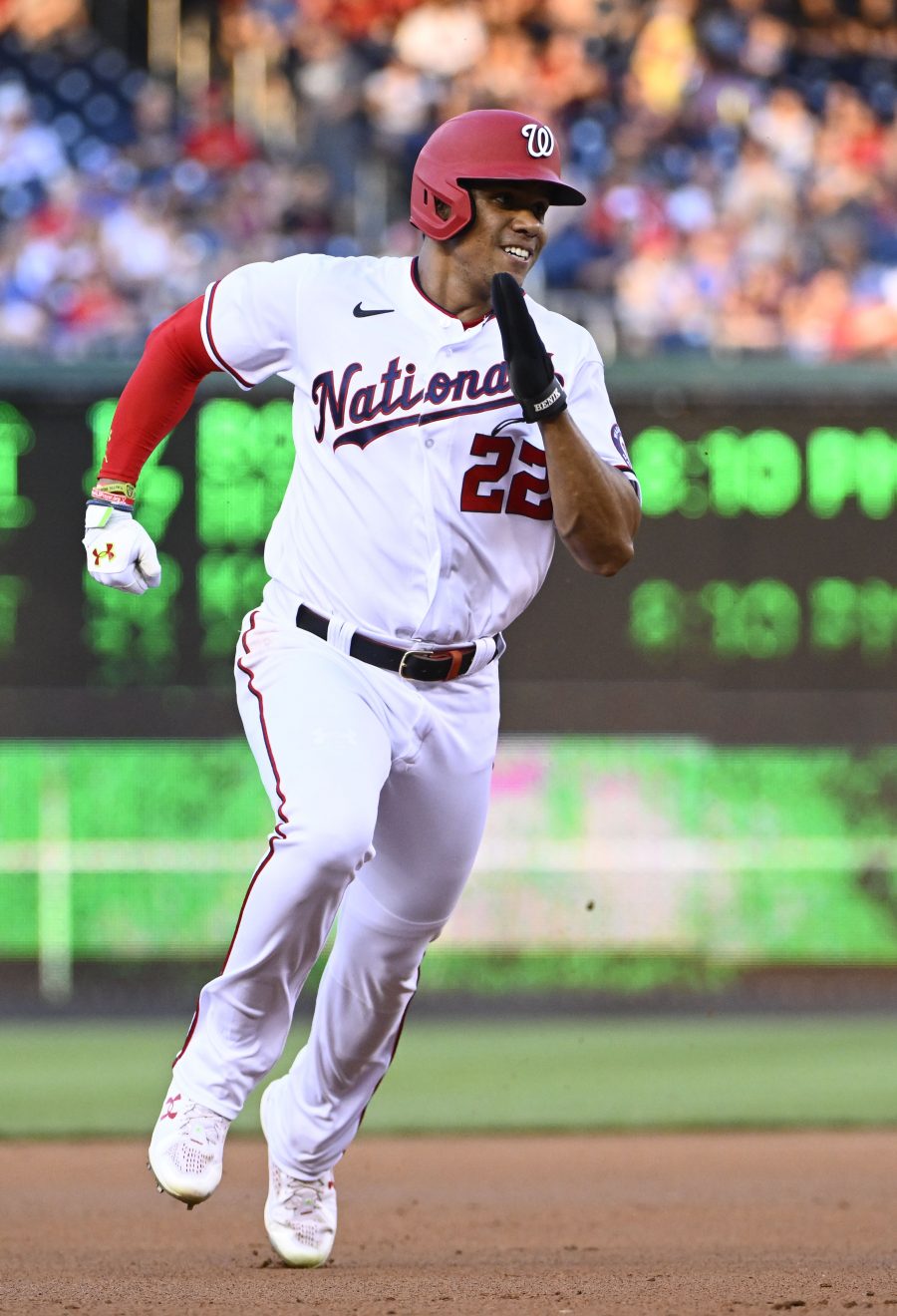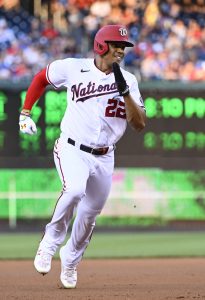 The 2022 campaign hasn't been Soto's best, but a "down" season by his standards would be a career year for most players. Through 436 plate appearances, he's hitting .246/.408/.485. He's drawn walks in an MLB-best 20.9% of his trips to the dish while striking out just 14.2% of the time. He's tied for 17th in the majors with 21 longballs, and he's third among hitters with 200+ plate appearances in on-base percentage (.408). That's in spite of a .243 batting average on balls in play that's easily the lowest mark of his career, nowhere close to .330 figure he carried into the season. The lesser ball in play results do reflect a slight downturn in his batted ball quality, but Soto's batted ball metrics and exit velocities are better than his actual batting average and slugging output might suggest.
It wasn't long ago that trading a hitter of this caliber would've seemed unfathomable. The Nationals are less than three years removed from their aforementioned championship. Even after a last place finish in 2020, Washington was in win-now mode heading into 2021. A swoon just before last summer's trade deadline dropped them near the bottom of the National League and kicked off a major reboot that saw stars like Max Scherzer, Trea Turner and Kyle Schwarber traded. All those players were within their final season and a half of remaining control, however, while Soto was still more than three years from free agency at the time. There was seemingly never any consideration on the Nats part to dealing him either last summer or over the offseason.
That remained the case just two months ago, when Washington general manager Mike Rizzo flatly declared the club was "not trading" Soto. That was before their latest (and ultimately final) attempt to sign him to a long-term deal. After Soto rejected a 13-year, $350MM extension offer last offseason, the Nationals reengaged with his representatives this summer. Soto again turned down the Nationals overtures — this time a 15-year, $440MM proposal — and the club pivoted to the trade market.
One could certainly argue whether that was the right course of action for the franchise to take. Even if the organization were convinced that signing Soto to an extension was untenable, they didn't have to move him this summer. Soto is arbitration-eligible through 2024, so Washington could've held onto him until next winter or merely proceeded year-by-year through the arb process and tried to put a contending roster back around him. Rizzo and his staff decided against that course of action. The Nationals have a barren farm system and have curtailed payroll in recent seasons while the Lerner family explores a sale of the franchise. Turning around a team with an NL-worst 35-69 record within the next two years would've been an immense challenge even with Soto on the roster, and the Nats are now fully embracing a rebuild that'll likely take multiple seasons.
That decision will be a tough pill to swallow for at least some segment of the fanbase. Washington has now seen the departures of Scherzer, Turner, Anthony Rendon and Soto within the past few years — dramatically overhauling the franchise's best clubs since it moved to Washington. They're surely hopeful that players like Josiah Gray, Keibert Ruiz and the package of young players they're receiving in the Soto deal will comprise a core of another contender down the road, but there's no denying how quickly the Nationals fell from the top after winning the title three seasons back.
On the other side of the equation, the Padres are landing one of the sport's preeminent superstars to bolster an already star-studded roster. The Friars have gone in the opposite direction of the Nationals over the past few years, coming out of their rebuild in 2020 with an excellent young core after years of building the farm system. President of baseball operations A.J. Preller and his group have shown a willingness to swing for marquee talent time and again. They've signed Manny Machado to a huge free agent contract and swung blockbuster trades for players like Yu Darvish, Blake Snell and Mike Clevinger. For as aggressive as Preller's been over his eight years running baseball ops, he's never had a two-day stretch like this. The Friars sent closer Taylor Rogers, righty Dinelson Lamet and two prospects to land star reliever Josh Hader from the Brewers yesterday. He's now followed up with the kind of blockbuster that'll define his front office tenure.
The Padres enter play Tuesday with a 58-46 record. They're in possession of the National League's second Wild Card spot and a likely playoff team, but even adding Soto and Hader is unlikely to give them much of a chance at erasing a 12-game deficit to the Dodgers in the NL West. The acquisition is both about solidifying their hold on a playoff spot for this season and adding another impact bat alongside Fernando Tatis Jr. and Machado for the next few seasons. The Padres could theoretically try to reengage Soto's reps at the Boras Corporation about a possible long-term pact, but the more likely scenario would seem to be that he'll spend the remainder of his arbitration seasons in San Diego.
To get the deal done, the Friars reportedly outbid some of their National League competitors. The Cardinals and Dodgers were generally viewed among San Diego's top rivals in the bidding for Soto, and there's surely an added bonus in keeping him away from teams whom San Diego could plausibly meet in the postseason for the next few years. Preller and his staff probably have no small amount of satisfaction in topping the Dodgers' offers after Los Angeles stepped in to land Scherzer from Washington last summer — not long after reports emerged that San Diego was closing in on a Scherzer agreement with the Nats.
While Soto is obviously the headlining piece of the deal, Bell is far more than an ancillary throw-in. He's one of the top bats to change hands this summer himself, a player who ranked #3 on MLBTR's list of the top deadline trade candidates. Bell is one of the more well-rounded hitters in the sport. He's a switch-hitting power bat who topped out with 37 home runs with the Pirates back in 2019. While that was probably inflated somewhat by the livelier baseball used during that season, Bell has continued to hit for above-average power in the years since then. After a down year in the shortened 2020 campaign, Bell rebounded to connect on 27 longballs during his first season in Washington. He's hit another 14 homers and 24 doubles through 437 plate appearances this season.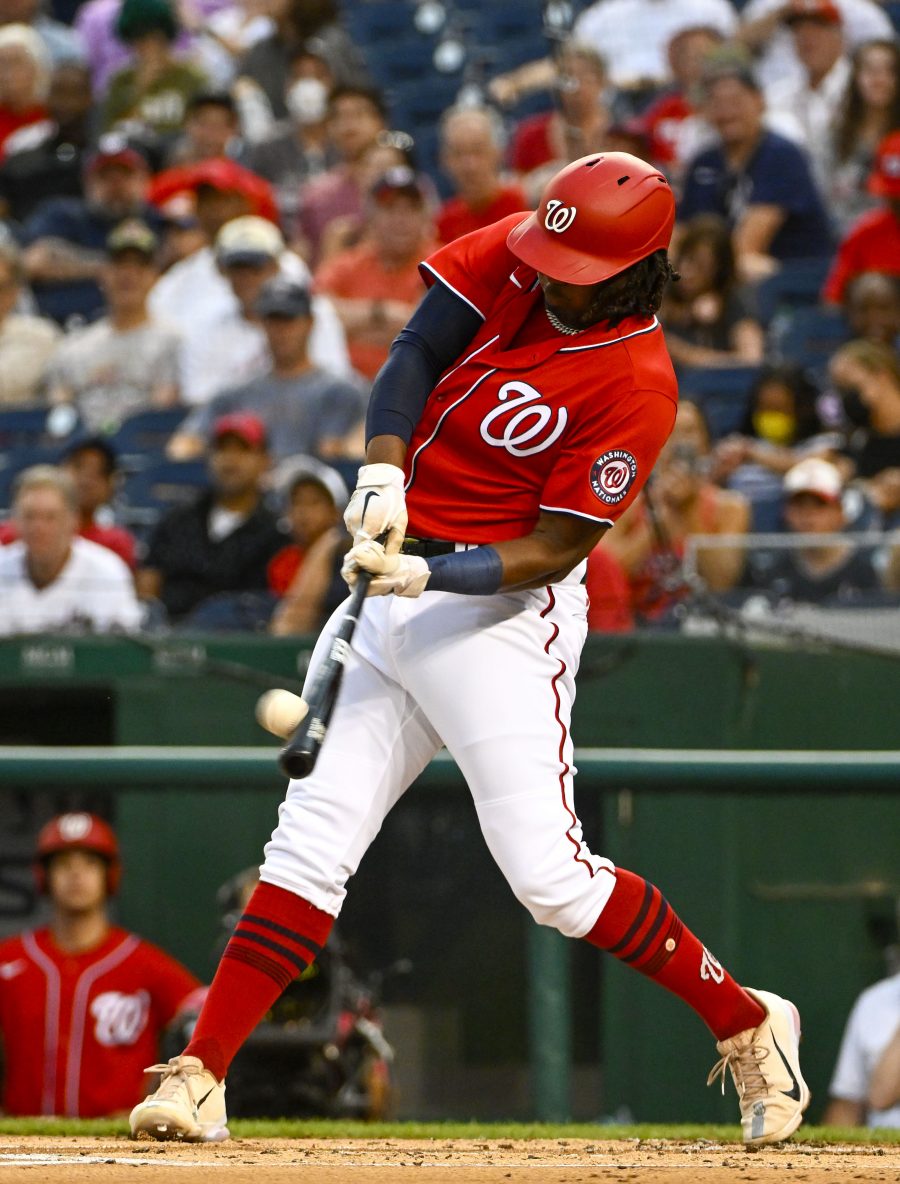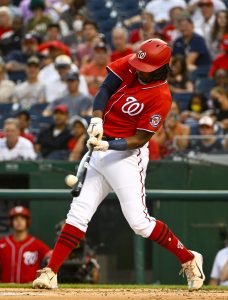 Unlike most power hitters of his ilk, Bell also brings strong bat-to-ball skills to the table. He's striking out in only 14% of his trips this season, his lowest rate since his rookie year and markedly below the league average. Bell has paired that with quality plate discipline manifesting in an 11.2% walk rate and an overall .302/.384/.493 line. Since being traded to Washington heading into the 2021 season, he's a .278/.363/.483 hitter in a hair above 1000 plate appearances.
Bell is a pure rental, as he'll be a free agent for the first time after this season. He's playing the year on a $10MM salary, around $3.57MM of which is yet to be paid out. He's limited to first base or designated hitter, but most public metrics agree Bell has played his way to roughly average at first after posting well below-average numbers earlier in his career. While he's unlikely to ever win a Gold Glove Award, Bell should be a perfectly fine first baseman for the final few months.
A midseason trade not only affords Bell the opportunity to depart a last place club for a contender, it should also boost his free agent stock next offseason. The Nationals were likely to make him a qualifying offer, which would've required a signing team to forfeit draft picks and/or international signing bonus space after Bell rejected. Players traded midseason the year before free agency are ineligible for a QO, however, so a trade means Bell's market won't be hampered by compensation a few months from now.
Taking on what remains of Soto's $17.1MM salary (approximately $6.1MM) and Bell's remaining money — coupled with the Hader trade — is sure to push the Friars beyond the luxury tax threshold. Ownership had reportedly been reluctant to exceed that marker for a second straight year, but the opportunity to add this kind of impact talent compelled them to change their thinking. Jason Martinez of Roster Resource estimates the franchise's post-trade deadline CBT number around $242MM, a fair bit north of the $230MM base threshold. As a payor for a second straight year, they'll be taxed at a 30% rate on their first $20MM above the threshold, coming out to approximately $3.7MM in extra fees.
With the chance to transform their roster, majority owner Peter Seidler and company signed off on the addition to an already franchise-record payroll. San Diego presumably plans to remain among the league's highest-payroll clubs in the coming years, as Martinez projects them for $128MM in guaranteed commitments (with a $157MM CBT figure) for next season. That doesn't include what's sure to be another massive arbitration raise for Soto — likely into the $25+MM range — although Bell could depart this winter. It's a territory with which the franchise is evidently now comfortable, and they'll be rewarded for their aggressiveness with one of the sport's most entertaining rosters.
In order to add that kind of star power, the Padres had to be prepared to part with a massive package of young talent. The Nationals had reportedly set an asking price of five-plus young major leaguers and/or prospects in any Soto talks, and that's what they'll receive. Abrams is presumably the first player of the deal Washington fans will see at Nationals park, as he's likely to soon join the MLB roster.
The sixth overall pick in the 2019 draft, Abrams almost immediately played his way towards the top of prospect lists in pro ball. A left-handed hitter with plus bat-to-ball skills and elite speed, he performed quite well in the low minors. The Georgia native missed a fair bit of action, with the cancelation of the 2020 minor league season and a left leg injury that ended his 2021 campaign in July. That kept Abrams to just 42 games above A-ball entering this year, but the Friars nevertheless carried him on the big league roster after losing Tatis to a wrist fracture.
The 21-year-old has struggled in his big league experience to date, hitting .232/.285/.320 through his first 46 games. That's not unexpected for a player with his lack of experience, though, and Abrams remains a very highly-touted young player. Optioned to Triple-A El Paso midway through the year, he responded with a .314/.364/.507 showing through 30 games to earn another MLB call. He's played sporadically at each of shortstop, second base and in the outfield with a win-now team in San Diego, but he should have a clearer path to everyday playing time at shortstop on the Nationals.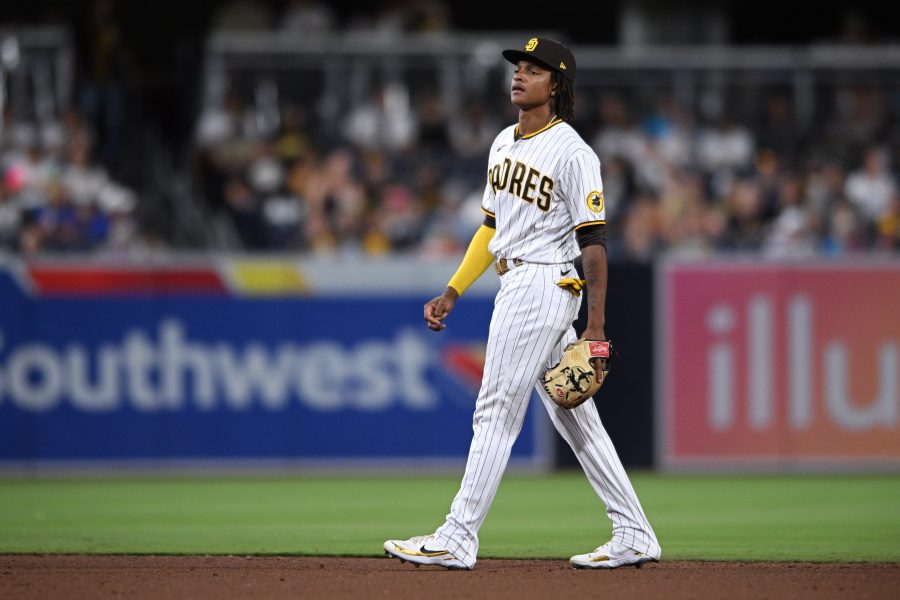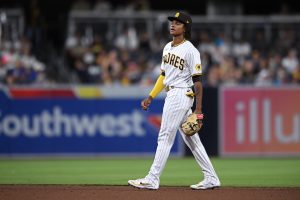 Abrams checked in as the game's #11 prospect on Baseball America's recent top 100, with the outlet reaffirming that his bat-to-ball skills and athleticism give him a chance to be a franchise shortstop. Abrams' relatively narrow frame doesn't lead to huge power projection, but he's credited with possible 15-20 homer pop at his peak. There's some debate whether he'll stick at shortstop or should eventually move to second base or center field, but he's certain to play up the middle somewhere and could be a traditional top-of-the-order type.
The Padres decision to option Abrams to Triple-A was quite likely more motivated by his struggles at the MLB level than any kind of service time gaming. It did have the effect, however, of ensuring he won't reach a full year of service this season. He remains controllable through the end of the 2028 season, and future optional assignments could push that trajectory back even further.
Gore would've joined Abrams in soon appearing on the MLB roster, but he's currently on the injured list due to elbow inflammation. The Padres were targeting a September return for the 23-year-old southpaw, although it's seemingly possible he doesn't make it back to the mound this season. That's largely immaterial for the Nationals, who are obviously looking well into the future anyhow. It doesn't seem the club has real long-term concerns about Gore's arm health.
If healthy, Gore is among the more interesting young arms in the sport. The third overall pick in the 2017 draft, he quickly developed into the game's top pitching prospect after dominating lower level hitters. Then came a rough two-season stretch between 2020-21. Gore reportedly struggled with his mechanics and battled extreme wildness at the alternate training site the former year, then had an up-and-down 2021 season that saw the club send him back to the complex for a stretch to reset in a lower-pressure environment. Gore righted the ship to some extent, returned to an affiliate late in the year, and began this season at Triple-A.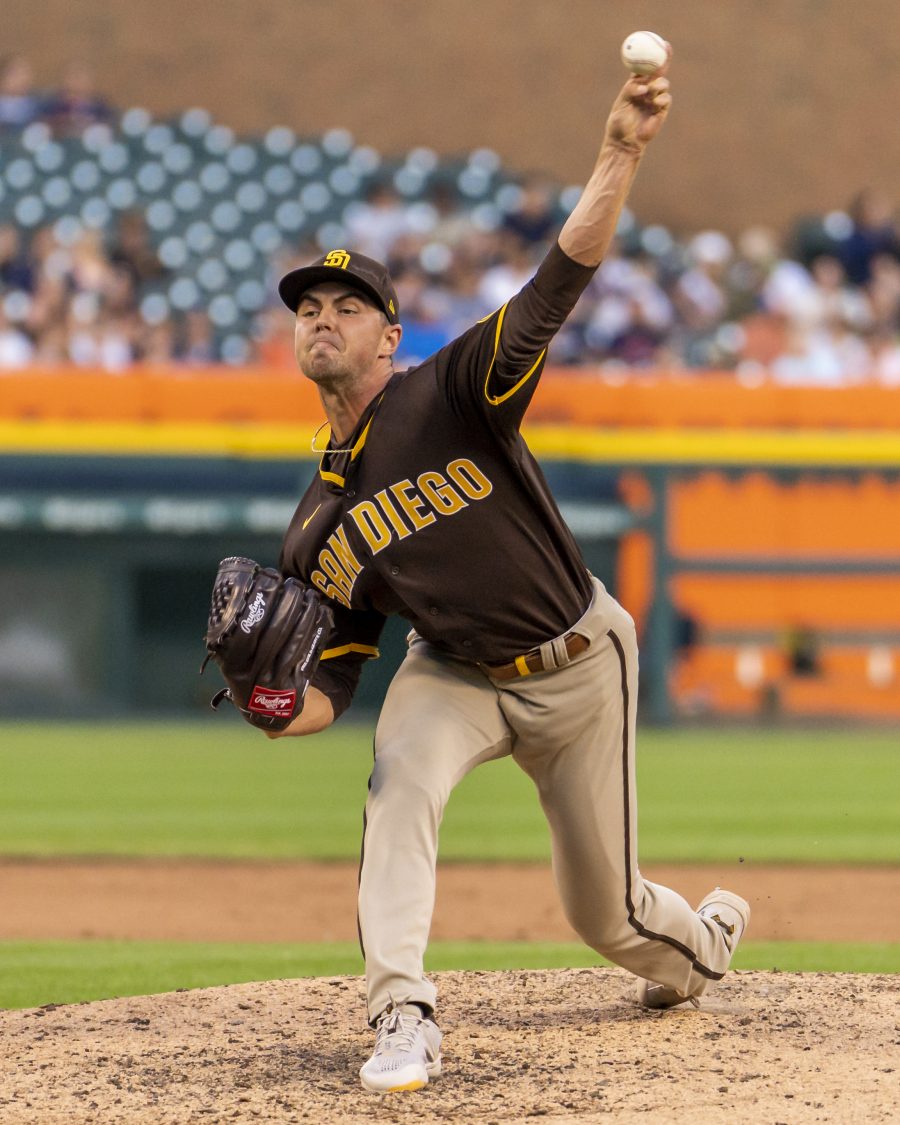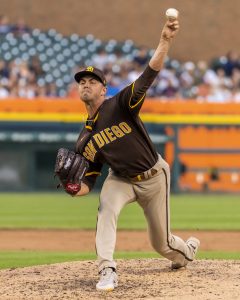 After one appearance, Gore was promoted to make his major league debut. He went on to make 13 starts while the club navigated injuries to Blake Snell and Mike Clevinger, pitching to a 4.27 ERA with a solid 23.1% strikeout rate. Gore's 11.5% walk percentage remained a bit high, but it wasn't anywhere near the level of control concerns he'd had in prior seasons. San Diego moved him to the bullpen for three outings in order to keep tabs on his innings, and Gore was hit hard before going on the IL.
Whether the elbow issue played into Gore's late struggles or not, he's still a plenty sensible inclusion in the deal for the Nationals. He's a high-end athlete with a fastball that averages just under 95 MPH and a pair of promising breaking pitches. Gore is likely to eclipse a full year of service in 2022, putting him on track to potentially reach free agency after the 2027 campaign. He still has all three minor league option years remaining, however, and any future optional stints could push back his path to the market.
Alongside the two big leaguers, the Nationals bring in a trio of highly-regarded prospects. Like Abrams, Hassell and Wood are regarded as top five prospects in the Padres farm system and among the top 60 minor league players in the game, according to Baseball America. Susana's not quite at that level, but BA recently slotted him as the Padres #10 prospect.
Hassell, 21 this month, was the eighth overall pick in the 2020 draft. He's a lefty-hitting outfielder who brings a generally well-rounded center field profile. The Tennessee native is regarded as a future plus hitter, and while he doesn't have overwhelming power, he brings strong bat-to-ball skills and plenty of defensive value. Through 346 plate appearances in High-A this season, Hassell owns a .299/.379/.467 line with ten homers, 20 stolen bases, a lofty 11% walk rate and a solid 19.1% strikeout percentage.
Wood, 19, was the Friars second-round pick last season. A toolsy high school outfielder from Florida, he had swing-and-miss concerns as a draft prospect that led to some questions about his ability to consistently tap into his huge power potential. The 6'7″ outfielder has reportedly made major changes to his mechanics since entering pro ball, however, and he's tearing the cover off the ball in Low-A. Across 236 plate appearances, the lefty-hitting Wood owns a .337/.453/.601 line. He's popped 10 homers, swiped 15 bases and has a robust 15.7% walk rate against a more than manageable 17.8% strikeout rate. BA suggests he could be a middle-of-the-order bat capable of swatting 30-plus homers annually at his peak.
Susana, 18, just signed in this past international amateur class. A 6'6″ right-hander, he's already been clocked into the mid-upper 90s with a plus slider. Susana's youth and distance from the majors — he's yet to advance past the complex level — make him a high-risk prospect, but BA notes that he's a similar caliber of prospect as the same-aged high school pitchers who went in the first round of last month's domestic amateur draft.
Finally, the Nationals round out the return with Voit. A late entrant to the discussions after Eric Hosmer refused to waive his no-trade rights to go to Washington (leading to his subsequent trade to the Red Sox), Voit moves to both replace Bell in the Washington lineup and offset some salary. Acquired from the Yankees over the offseason, Voit has played in 82 games with San Diego. The 2020 home run champ, he hasn't managed to replicate that kind of production over the last two seasons. He hit a slightly above-average level in the Bronx last year while battling injuries, and it's been a fairly similar story in San Diego.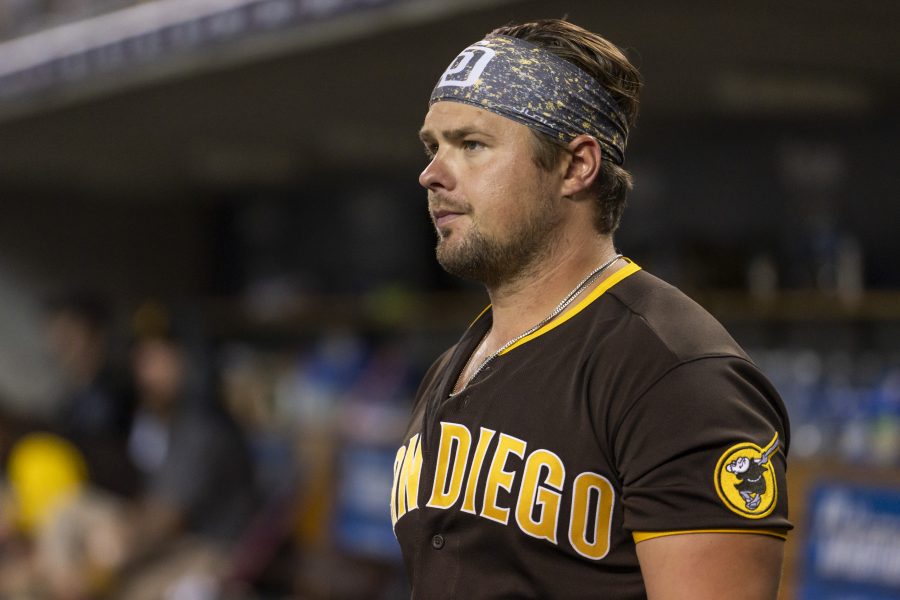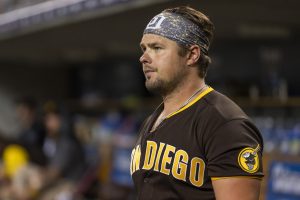 Through 344 plate appearances, Voit owns a .225/.317/.416 line with 13 homers. He's striking out at a personal-worst 32% rate, but he's hit for decent enough power to post overall offensive production a bit above par. He'll presumably see the bulk of first base playing time down the stretch in the nation's capital. Voit is arbitration-eligible through 2024, although he may be a non-tender candidate, since he'd otherwise be due a raise on this year's $5.45MM salary.
It's a blockbuster that'll have reverberations around the game for years. San Diego is anticipating Soto will go down as one of the most impactful trade pickups in MLB history, and he and Bell will immediately feature in the middle of a lineup the club hopes is set to embark on a long-term playoff run. For the Nationals, it's an emphatic closing of the book on the franchise's previous stretch of success — one that brings in an influx of new faces Washington hopes can eventually form the core of another contender in the NL East years down the line.
Bob Nightengale of USA Today first reported the Padres and Nationals were moving close on a Soto deal. Jon Morosi of MLB.com reported the sides had agreed on a deal sending Bell and Soto to San Diego, as well as the inclusion of each of Abrams, Hassell, Wood and Susana. Jim Bowden of the Athletic reported Gore's inclusion, while Nightengale was first to report Voit was being dealt.
Images courtesy of USA Today Sports.