The Angels are pushing the chips in. The Halos swung a late-night trade for Lucas Giolito and Reynaldo López from the White Sox, the teams announced. Prospects Edgar Quero and Ky Bush are going back to Chicago.
Los Angeles declared themselves buyers this evening when they formally took Shohei Ohtani off the trade market. Once they committed to making a push in Ohtani's final season of club control, there was little reason not to act boldly. They've done just that, surrendering two of their top prospects for the top rental starter available and a relief upgrade.
Ironically, Giolito and López both landed with the White Sox in the same trade nearly seven years ago. Both had debuted with the Nationals in 2016 before being included in the Adam Eaton package during that year's Winter Meetings. They've spent the past six-plus seasons on Chicago's South Side.
Giolito has developed into the more valuable of the duo. After a disastrous 2018 season, the Southern California native blossomed into an upper mid-rotation starter. He has posted a sub-4.00 ERA in four of the past five years, including a 3.79 mark through 121 frames this season.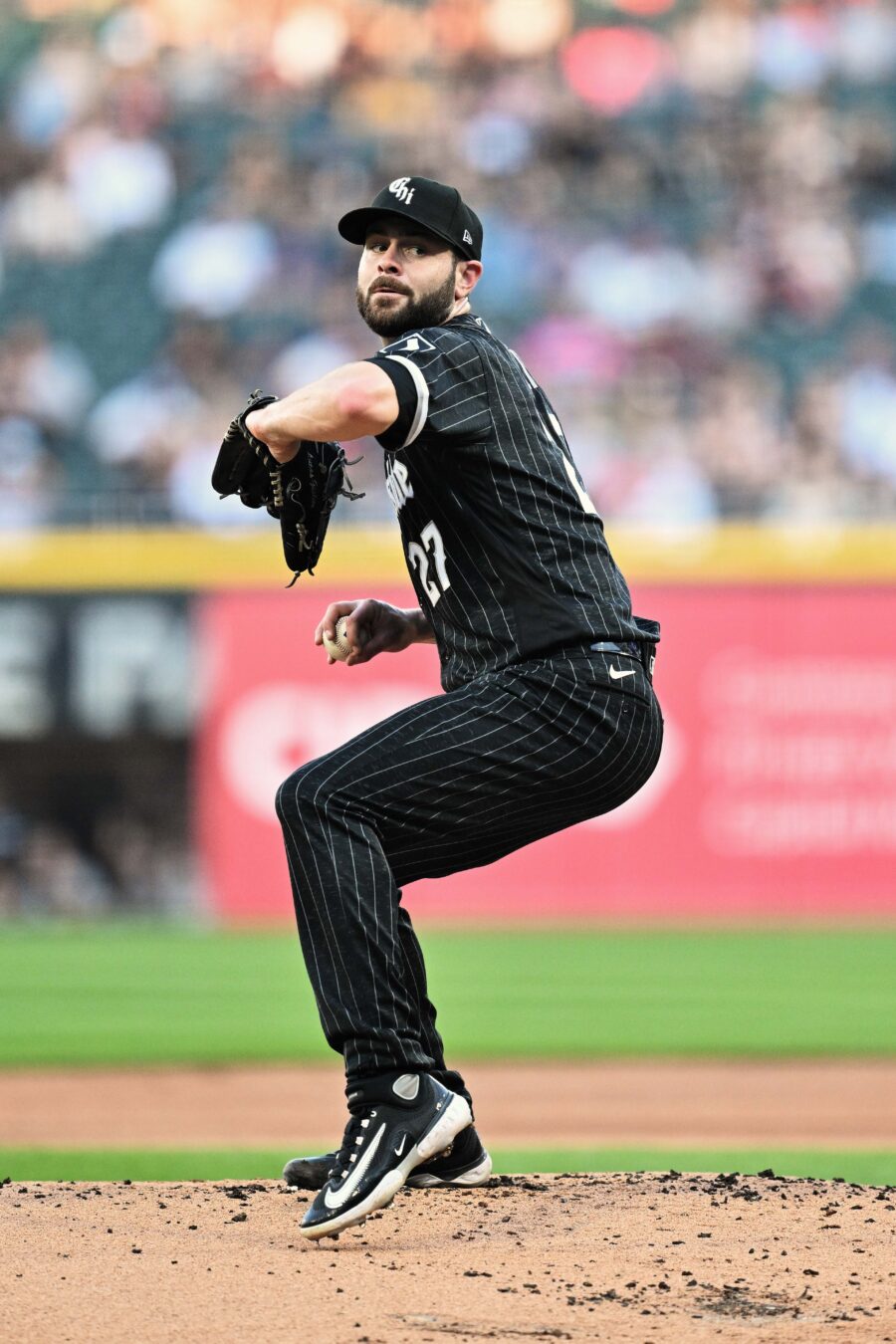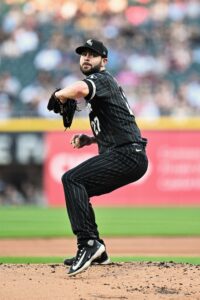 He has backed up that solid run prevention with above-average peripherals. Giolito is striking out 25.8% of opponents against an 8.3% walk rate. He's generating swinging strikes on 11.9% of his offerings. It's a third consecutive season in which he's been above-average across the board.
Giolito hasn't quite developed into the ace it seemed he might become when he finished in the top 10 in Cy Young balloting in 2019-20. His average fastball speed is down a tick from those peak seasons, and he's lost a few whiffs on each of his offerings. Still, the 29-year-old is a clear playoff caliber starter. He averages just under six innings per start while holding opponents to a .232/.301/.430 batting line. Giolito is effective against hitters of either handedness and has essentially avoided any major injuries in his MLB career.
That kind of durability and effectiveness should be a major boost to a Halos' rotation that entered play Wednesday ranked 20th in the majors in ERA. Ohtani is the one pitcher allowing fewer than four earned runs per nine on the season. Reid Detmers has a 4.38 ERA but a strikeout rate north of 29% that suggests he fits well in the middle of a rotation. Patrick Sandoval and Griffin Canning have been fine back-end arms. Tyler Anderson has underperformed in the first season of a three-year deal, working to a 5.18 ERA. He slots sixth in the Halos' six-man starting staff, while Giolito's addition should firmly push Jaime Barria into long relief if the rest of the group stays healthy.
Barria has been more effective out of the bullpen than when pressed into rotation work. Giolito's acquisition indirectly upgrades the relief corps in that regard, while the addition of López helps the bullpen in a more straightforward way.
The 29-year-old righty moved to relief for good by the start of the 2022 season. He was excellent in that role last year, pitching to a 2.76 ERA across 65 1/3 frames. It has been more of a mixed bag in 2023. López carries a 4.29 ERA in 42 innings. His walks have jumped from a minuscule 4.3% clip last year to a concerning 12.4% rate.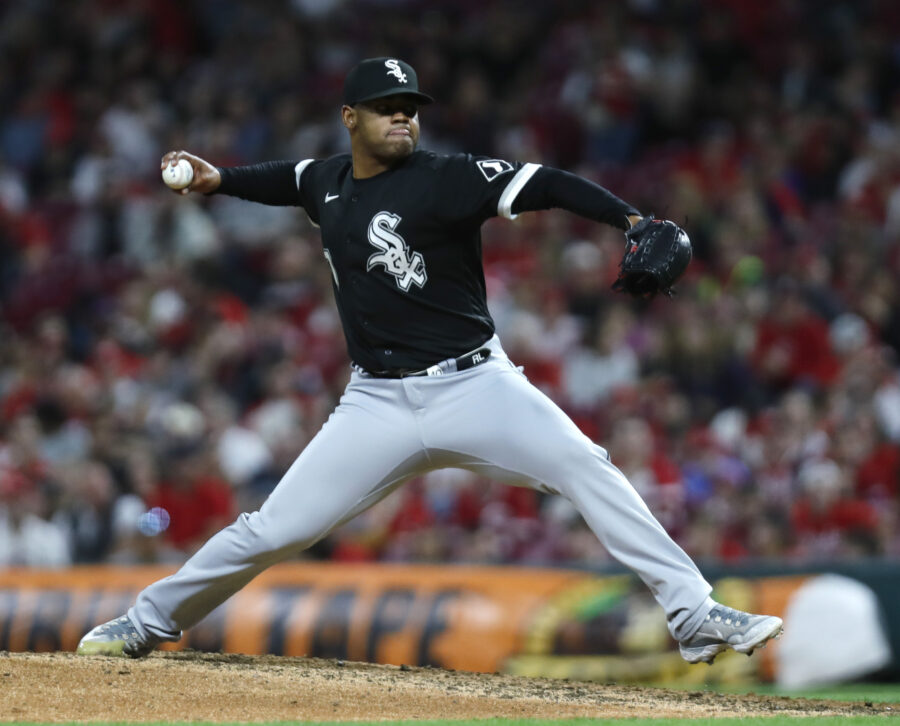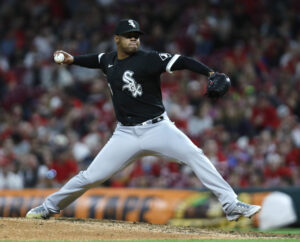 However, the uptick in free passes has been paired with a jump in whiffs. López has punched out a career-best 29.2% of batters faced. He's picking up swinging strikes on 13.4% of his offerings while averaging 98.3 MPH on his heater and 87.9 MPH on the slider. López is a high-octane arm to pair with Matt Moore as setup options in front of closer Carlos Estévez. The Halos could look for additional ways of bolstering the middle innings mix between now and the August 1 trade deadline.
Both Giolito and López are firmly win-now pieces. Each is an impending free agent. Giolito is arguably the top non-Ohtani starter who'll hit the open market. He's on his way to exceeding nine figures. That always made it likely the White Sox — whose franchise-record expenditure is the $75MM Andrew Benintendi pact — would not re-sign him.
A midseason deal, while not unexpected, is a nice boost to Giolito's eventual earning power. Players traded midseason cannot be tagged with a qualifying offer. Giolito would obviously have received one had the Sox retained him past the deadline, but he'll now hit the open market without a signing team needing to forfeit draft capital.
The more immediate benefit, of course, is that both pitchers will get a chance to compete for a postseason spot. The Halos are four games out in the Wild Card race and seven back in the AL West. They're clearly pushing the chips in for this season and figure to continue to be aggressive in the next few days. Adding corner infield help with Anthony Rendon and Brandon Drury on the shelf and Jared Walsh struggling enough to be optioned to Triple-A makes plenty of sense; to that end, the Halos have reportedly been in touch with the Nationals regarding third baseman Jeimer Candelario.
As part of that all-in mentality, the Angels relinquished a pair of their most talented prospects. Quero is one of the game's top minor league backstops. The switch-hitter reached Double-A by his 20th birthday and is holding his own in a pitcher-friendly setting. Over 317 plate appearances, Quero owns a .245/.385/.332 batting line. He's only hit three home runs but is walking at a massive 17% clip while striking out just 16.7% of the time.
That kind of plate discipline is exceptionally rare for a hitter so young. The Cuban-born backstop is the sport's #61 overall prospect at FanGraphs and 85th at Baseball America. Scouting reports predictably rave about his advanced offensive skills and suggest he has a good chance to be a regular in the long term.
The Halos already have a potential catcher of the future in Logan O'Hoppe. Acquired from the Phillies last summer, O'Hoppe has been limited to 21 big league contests because of a labrum tear in his shoulder. He's controllable for five seasons beyond this one, though, perhaps making Quero a little more expendable to the organization.
Chicago had no such long-term answer behind the dish. Yasmani Grandal is headed to free agency on the heels of a fine but unexceptional year. It's probably unreasonable to expect Quero to immediately succeed Grandal as the #1 backstop next season, but it doesn't seem out of the question he could reach the majors at some point in 2024. That upper minors proximity is surely appealing to a Chicago team reloading for next year.
Bush, a 23-year-old southpaw, was also at Double-A. A second-round pick out of St. Mary's in 2021, he ranked ninth among Angels' prospects in Eric Longenhagen's recent organizational rankings at FanGraphs. Both Longenhagen and Kiley McDaniel of ESPN (on Twitter) suggest the 6'6″ hurler has a chance to stick as a starter and praise his slider, though Longenhagen raises concerns about his low-90s fastball. Bush has been a little homer-prone in his first six Double-A starts but is striking out nearly 30% of opponents there.
It's a strong return for a pair of impending free agents, with Quero the clear headliner. Yet it's understandable the Angels would part with those players (particularly with O'Hoppe in the fold) to make a push this season. Their aggressiveness extends beyond the prospect capital, as the trade officially pushed them into luxury tax territory.
The Halos were right around the $233MM competitive balance tax threshold before the move. They're taking on what remains of the respective $10.4MM and $3.625MM arbitration salaries for Giolito and López. That's around $3.75MM on Giolito and $1.31MM on López. That'll push their estimated CBT figure to around $238MM pending future additions.
It's clear owner Arte Moreno will sign off on paying the tax for the first time. The financial penalties of doing so are rather minimal. As a first-time payor, they'll pay a 20% tax on expenditures between $233MM and $253MM. The tax money they're taking on with today's trade is just over $1MM, a marginal amount in comparison to the team's overall spending.
More notably, surpassing the CBT reduces the draft compensation they'd receive if they lose a qualified free agent. Teams that pay the luxury tax receive a compensation pick after the fourth round if a player rejects a qualifying offer and signs elsewhere. Clubs that stay below the threshold get a compensatory choice between Competitive Balance Round B and the third round.
Ohtani will obviously reject a QO. If the Angels don't re-sign him, going past the CBT means they're moving the draft compensation back a couple rounds. That's a risk worth taking to maximize the chances of getting to the playoffs in Ohtani's final season of arbitration. The Angels are all-in, and while this'll probably be their biggest move of deadline season, there's no reason to think it's their last.
Jeff Passan of ESPN first reported the Angels and White Sox were finalizing a trade of Giolito and López for Quero and Bush.
Images courtesy of USA Today Sports.